A fancy dessert, soft and luscious almond cream pudding that is so easy to make yet can impress your guests. Or you can devour it all by yourself! It's packed with nutrients, vegan, gluten free, and refined sugar free!
If you are here often my reader, you would know now, that I can't hide my love for puddings, weather they are vegetarian , or vegan! I can't really think of a comfort dessert that can make you feel happy, warm, like a pudding! It's like a hug for your soul.
Almond cream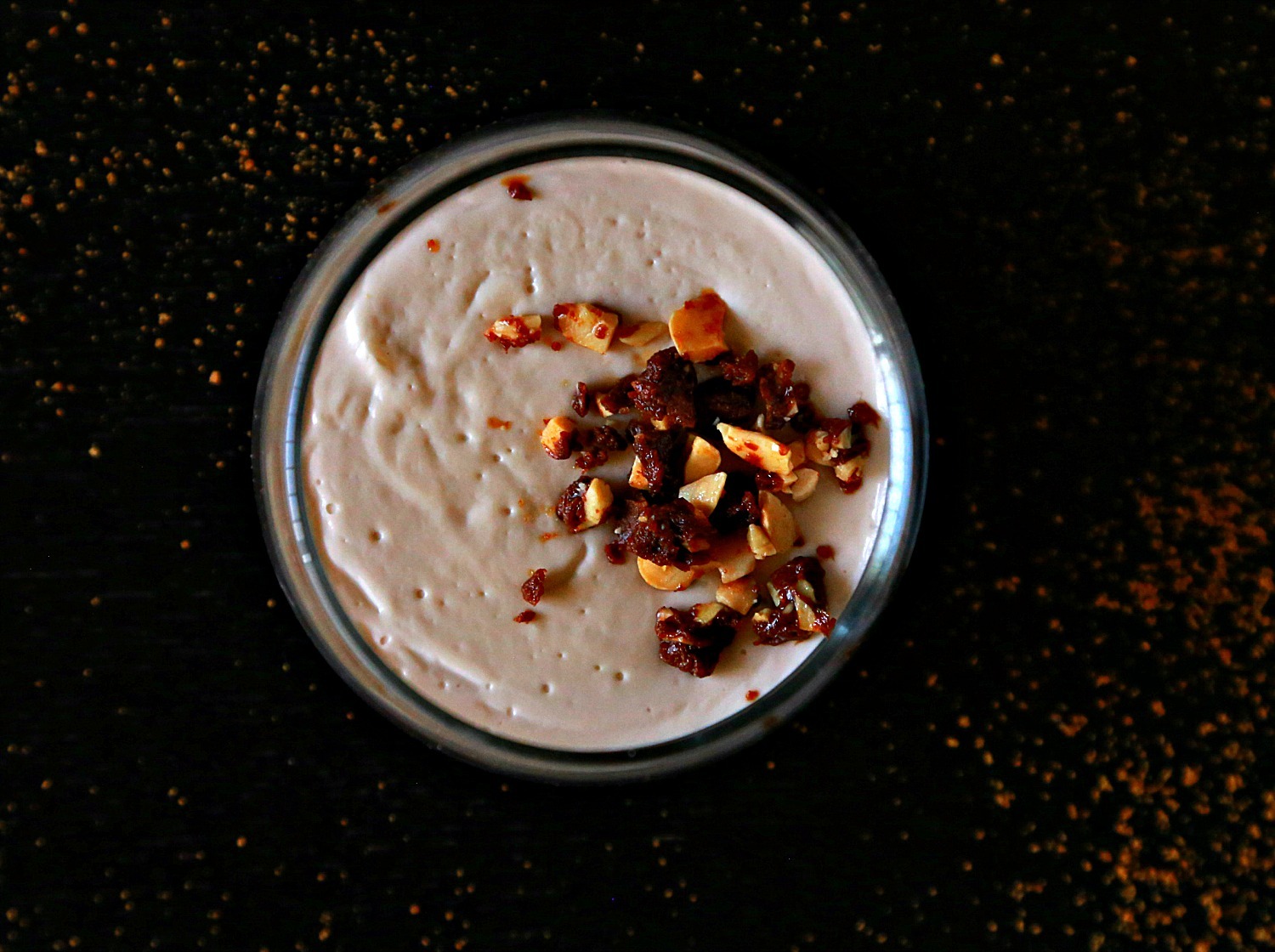 I just recently started using almond cream , I made a delicious pear oatmeal with it , and I'm planning to make savory dishes as well. It's an amazing product,  taste better than almond milk, lighter than heavy cow milk cream. and has a great flavor on itself.  And full of calcium! What one could ask more ?
Some enthusiastic cooks make their own almond milk or almond cream. However, I just bough one, it tastes delicious and has a great texture .
Why this almond cream pudding
Because it's creamy and luscious.
Because it has coconut sugar , that is unrefined and a good alternative for white sugar.
Because it's packed with nutrients.
Easy to make and so delicious of course.
Enjoy!
Almond cream pudding
Ingredients
200ml almond cream
½ Tb coconut sugar
½ tsp vanilla extract
¼ tsp or less almond extract (Optional)
1 Tb and 1 tsp corn starch dissolved in same amounts of water
ِِAlmond brittle
1 Tb coconut oil
2 Tb coconut sugar
2 Tb crushed almonds
Instructions
In a small pot, on a medium heat, add almond cream, coconut sugar, vanilla extract
When its warm enough and before boiling , add dissolved corn starch.
Remove from heat , add to desired cups and let it cool, then keep in the refrigerator.
For the brittle, in a small skillet, add coconut oil and coconut sugar. Watch out, coconut sugar dissolve quickly and become like a paste.
Add crushed almond and pour on a greased dish.
Wait until it's completely cool, and break into small pieces , and add to the just before serving.
Serve cold, and its better on the next day.