We ran a 10km fun race with a team, promoting "Nutrizonia"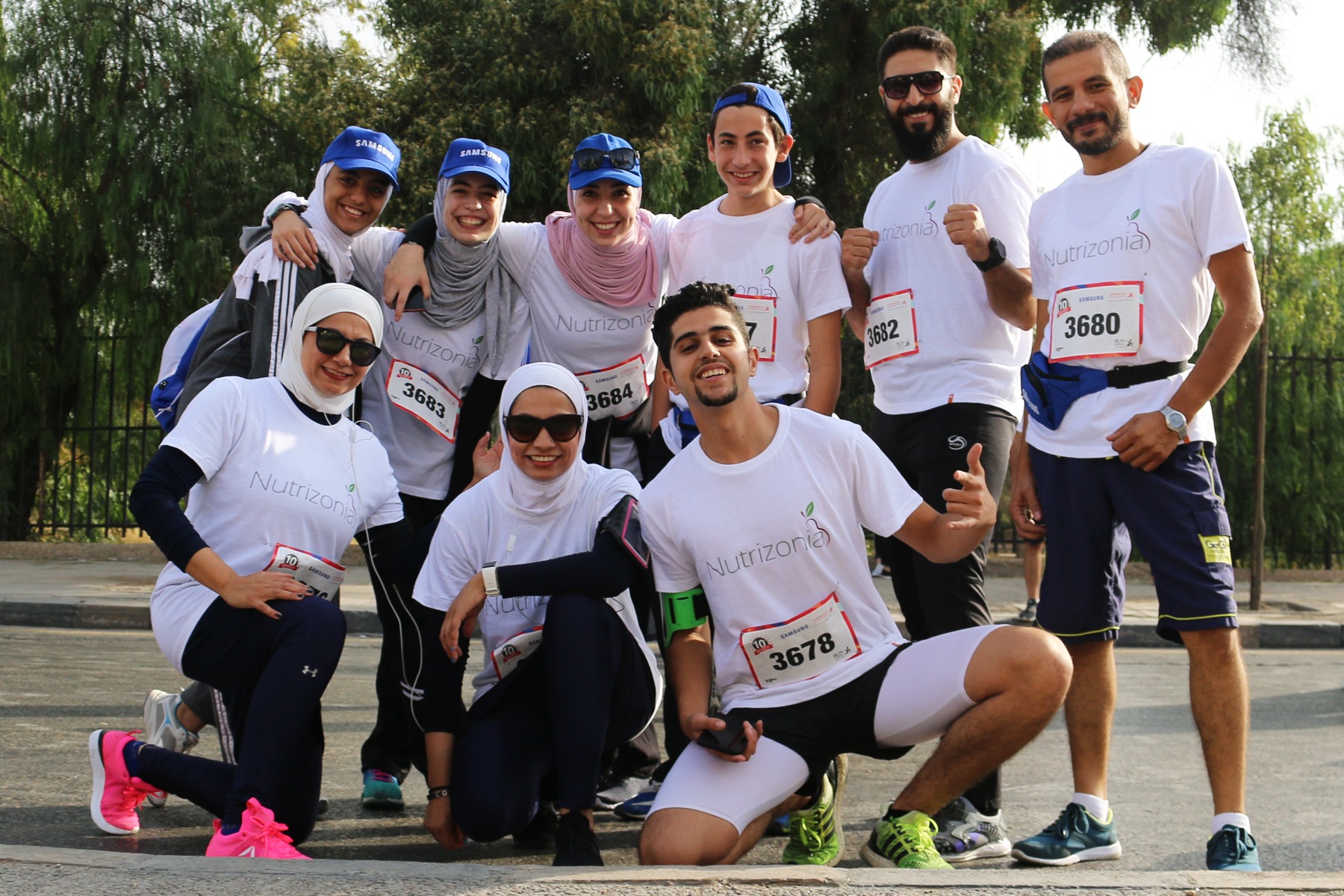 If you follow me on Instagram and Facebook, you will know how much I love running and workout. They take daily part in my life. I ran 10km and a half marathon before, and I can truly say running made me change the way I think about life and goal settings. .
Me as a multipotentialite  (while this is about having many interest in lifre that can be unrelated, I suffer from this in food and cooking filed) person, I have a real problem of deciding what to do for a career- yes have not had– or a dream . I love to do so many things, I find many things interesting. Starting with cooking food, trying new food, baking, decorating cakes, catering, food photography ..etc . Every few months I try to focus on one area, saying to myself this is my thing, I love it so much and I'm gonna proceed in it until my last breath. But in reality, I loose motivation and shift my passion and focus to another one.
I couldn't find a solution, but after deep thinking and analyzing what YOU my friends (aka readers and followers) like of Nutrizonia. And based on my main goal and vision for Nutriozonia , I decided, it's gonna be all. While this is tiresome and maybe not right from a business point of view for growth sake.  I decided that's what I want.
Nutrizonia started as a blog 6 years ago, and now is expanding in many areas of healthy food field, cooking classes, workshops, food photography and some products too
I wanted to promote Nutrizonia as a brand of a healthy lifestyle, in a big event just like a marathon. Amman marathon has been for 10 years now, and I thought there is no better way to promote Nutrizonia but running.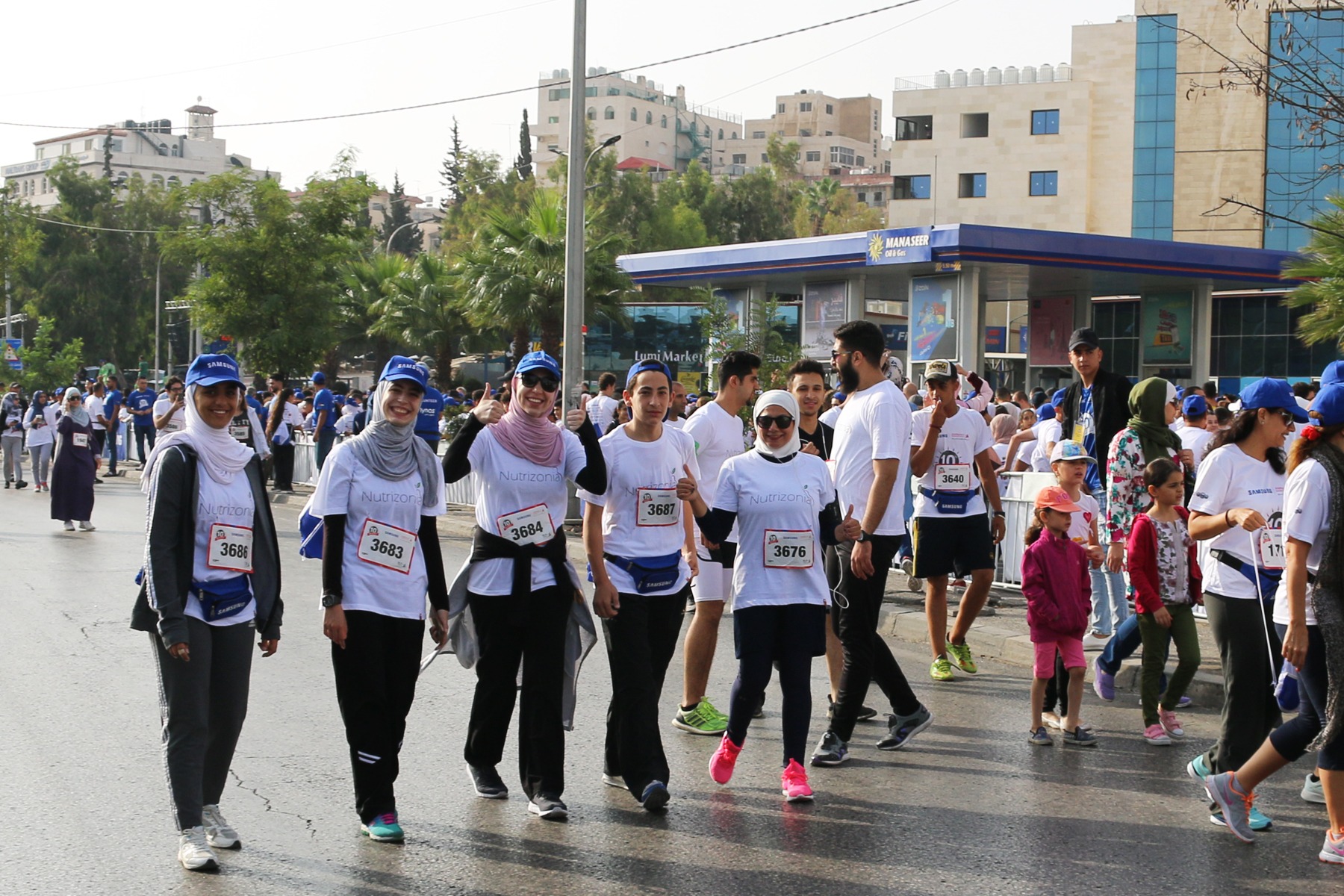 I chose running
Because,
It's an easy access sport for many people, no minimum or maximum age.
It doesn't need equipment or tools, and it doesn't need space space at gym or home.
You can run morning or night, summer or winter, you can run any time. You can just do it  (I love Nike slogan)
There are no words can describe my joy, happiness and actually pride, in a brand that I have created. To see it on people's t-shirt, like a real brand 🙂  . YOU my readers, who really made it possible for me to be able to continue giving by your support and love.
I can't thank my friends enough for running with me, supporting Nutrizonia. Some of then, were running for the first time, and I was glad they have enjoyed the experience, and want to do it again.  And also I want to give special thanks to the talented food photographer  moody the foodie  for capturing these precious moments. He supports me a lot, actually I consider him my mentor.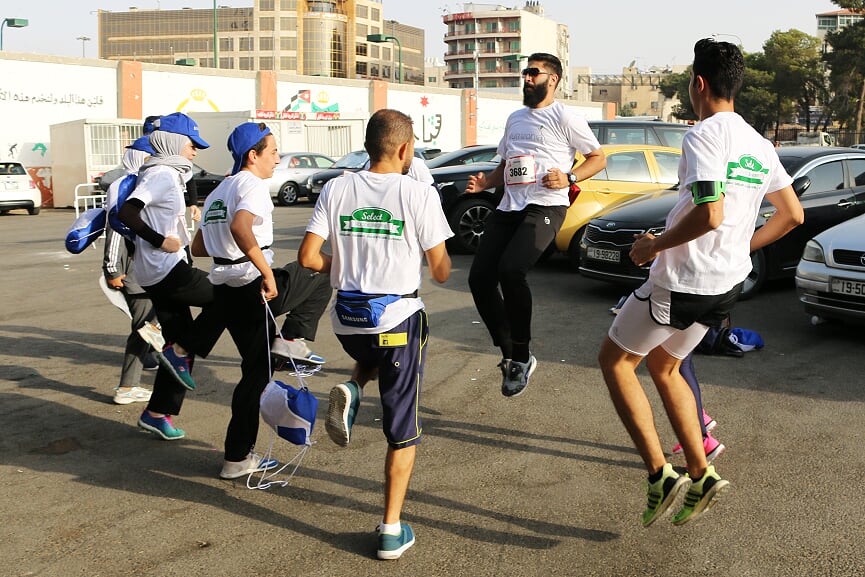 And my ultimate supporter here is, my twin, Jumana, a coach to be. She broke her record this time, she finished the 10 km race in 56 min ! She supports me in every way possible, in work and in life in general. I'm so blessed to have her in my life.
And now let's talk a bit about my sponsor, Select FOOD SHOPPE specialty grocery store. They supported me and my team for the 2nd year in a row in  Amman marathon. The owner loves sports, and believes in it's importance in balancing healthy life equation.
His company imports organic healthy food and non organic as well and other gourmet food. His shop is a dream come true, reasonable prices for gourmet food and specialty food. Like super food and different baking basic ingredients like baking flours for food allergies. Also different pastas, delicious oils, and large gourmet collection of vinegar and cheese.
I love that the owner himself, follows up with all the products he shipped. He pays lots attention to all details to insure high quality of the products. I usually buy non-dairy creams, gluten free products and flours ,non refined sugars like real maple syrup and coconut sugar.
Here is my team with the logo 🙂
And here is the owner with his daughter, they were participating too in the marathon.
Thanks again to my team, and you my reader for supporting Nutrizonia!