An easy to make silky milk pudding with carob swirled in that you can make in 20 mins! This pudding is a traditional Arabic one. It's flavorsome, nutritious, and gluten free too!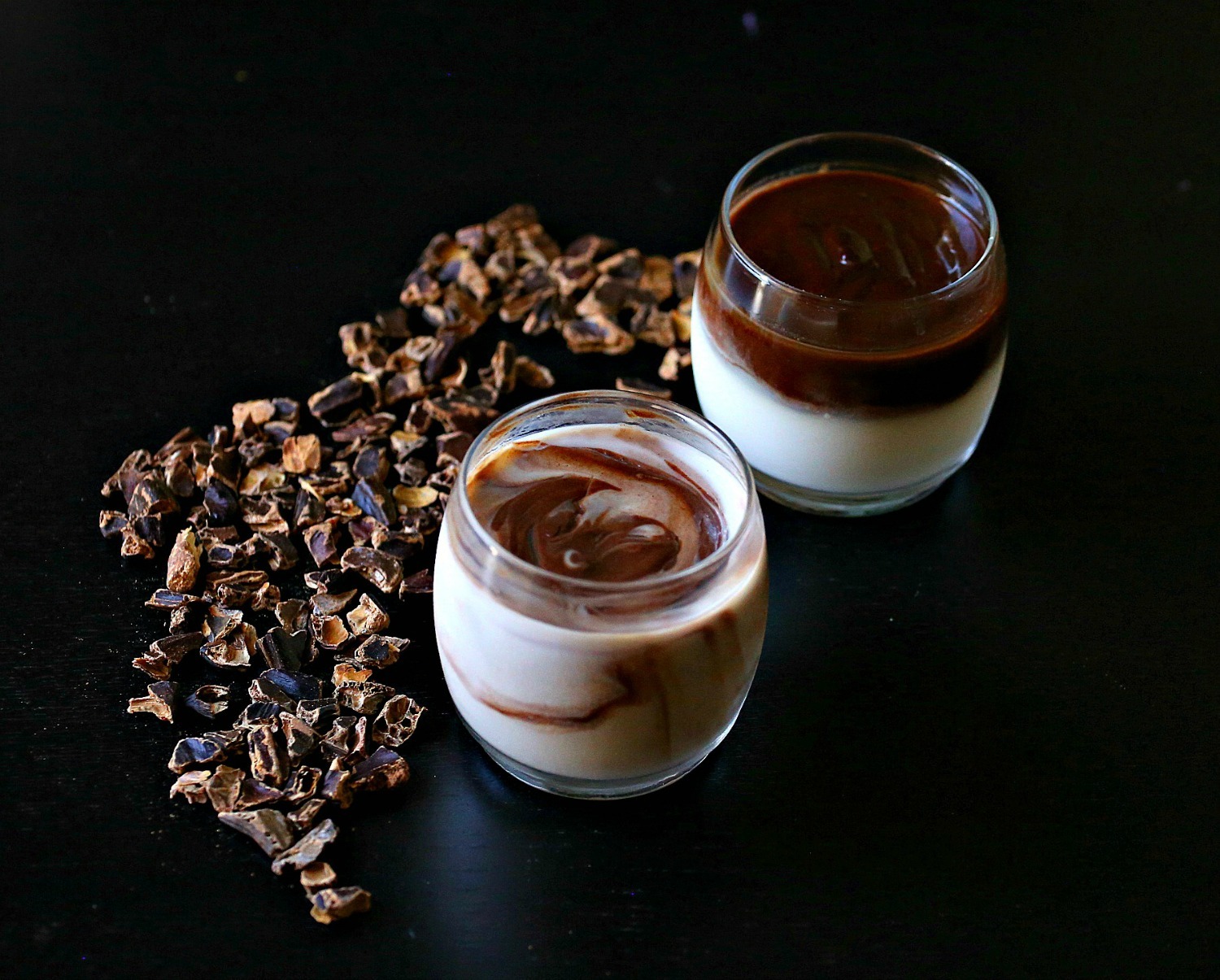 Do I need to say more about my love for puddings ? They are the ultimate comfort dessert that is easy on the stomach, and you can just let your imagination flaw, the options are limitless! Especially with a milk base. There is some unspoken harmony between layers, the silky rich milk and the other flavors, especially fruits ones. Plus, a bonus when you can add unique ingredients with distinctive flavors that don't add extra fat and calories to the pudding. Today's flavor is Carob.
Carob
It's an ancient evergreen shrub, that is native to the Mediterranean, most likely the middle east. Nowadays, you can find it in Greece and Italy too and now is cultivated in California. Most popular use of carob in the Arabic cuisine is the carob drink that served in Ramadan. It's very nutritious, has sugar in it, which gives instant energy supply, which the one needs after long hours of fasting, that why  also it tastes like molasses somehow, and now its used as substitute for chocolate, because it's composition and as thickener agent and stabilizer in baked goods, and cocoa-products also have other uses than in food and drink, but here I'll focus how benefit for our bodies.
Why do you need to include carob in your diet
There are so many health benefits of carob, let's mention a few:
Eating carob helps in lowering cholesterol levels, due to the high fiber content and other polyphenols.
High in fiber, which helps to improve the digestion.
High in B vitamins , like B2, B3 , and B6. Also in minerals like calcium and magnesium
High in antioxidant and polyphenols.
Because of the unique characteristics of carob, there are some studies shows that its flour can be used to for fortification in pasta, and they can get create milk-based beverage too. It's better if you can make the carob powder yourself, or just soak the dried beans. I got the carob powder from Turkey, well there was fresh pods too, but when I saw them It was too late already! However, you can buy it online or from big health stores. I trust Bob's Red Mills products,  so you can try theirs.
It's been a while since I made a recipe from the Arabic cuisine , well mostly, because I don't make them often because I feel it's time to explore other cuisines and flavors, but I love it because is rich in flavorful mains and desserts, mostly healthy. Today's recipe is Palestinian, called 5habesa, not sure why actually.
This pudding wasn't something my mom makes often because we don't have it around all year, mostly around in Ramadan, but in Palestine where this pudding is created, you can find fresh pods there. But I remember one time, my dad's friend bring this pudding, it was homemade, I was amazed by the great swirls, and I thought it's chocolate since it's brown, but oh no something is really different in flavor, and delicious too.
This recipe was in my drafts for so long and it's time to show you how carob is almost a gym. I intended to make it in summer, since it's pudding but didn't have the chance to make it. Now, even if it's cold where you are now, you still can make it. Carob is like molasses, it has a feeling of warmth in its taste, so it didn't get really cold in the fridge.
Note: This time, I used the powder, next time I will use the dried pieces, and give you the updates!
Enjoy!
Arabic Carob Pudding
Ingredients
Milk layer:
1½ cup of milk
1 Tb sugar
1½ Tb corn starch
Carob layer:
4 Tb carob powder
1 Tb corn starch
1 Tb sugar
Instructions
In a small bowl ,mix 2 Tb corn strach with cold water and set aside.
Add milk, sugar in medium pot, on medium heat until it's hot.
Stir in corn starch and keep stirring until it becomes thick then pour in your desire cup or bowl.
In another small pot , add carob powder, sugar, and water, mix together, and keep it on a medium heat.
When it becomes hot enough, add corn starch mix, and stir again until it's thick enough, pour over the milk layer.
You can swirl the carob mix in , or add it as second layer.
Refrigerate and eat it cold. It tastes better the next day.
Notes
Please don't keep it for more than 3 days including the day you made it, because the layers will separate and liquid start to come out, so it won't taste good.
I recommend using <g class="gr_ gr_128 gr-alert gr_spell gr_inline_cards gr_run_anim ContextualSpelling multiReplace" id="128" data-gr-id="128">high fat</g> milk, I used dairy, you can choose coconut milk too. Skim and <g class="gr_ gr_129 gr-alert gr_spell gr_inline_cards gr_run_anim ContextualSpelling multiReplace" id="129" data-gr-id="129">low fat</g> <g class="gr_ gr_130 gr-alert gr_spell gr_inline_cards gr_run_anim ContextualSpelling only-del replaceWithoutSep" id="130" data-gr-id="130">milk milk</g> will result in thin puddings.