A sweet and tangy beef curry  stew with apples that is inspired by Asian flavors. It's very nutritious, full of antioxidants and protein, and it's naturally gluten free!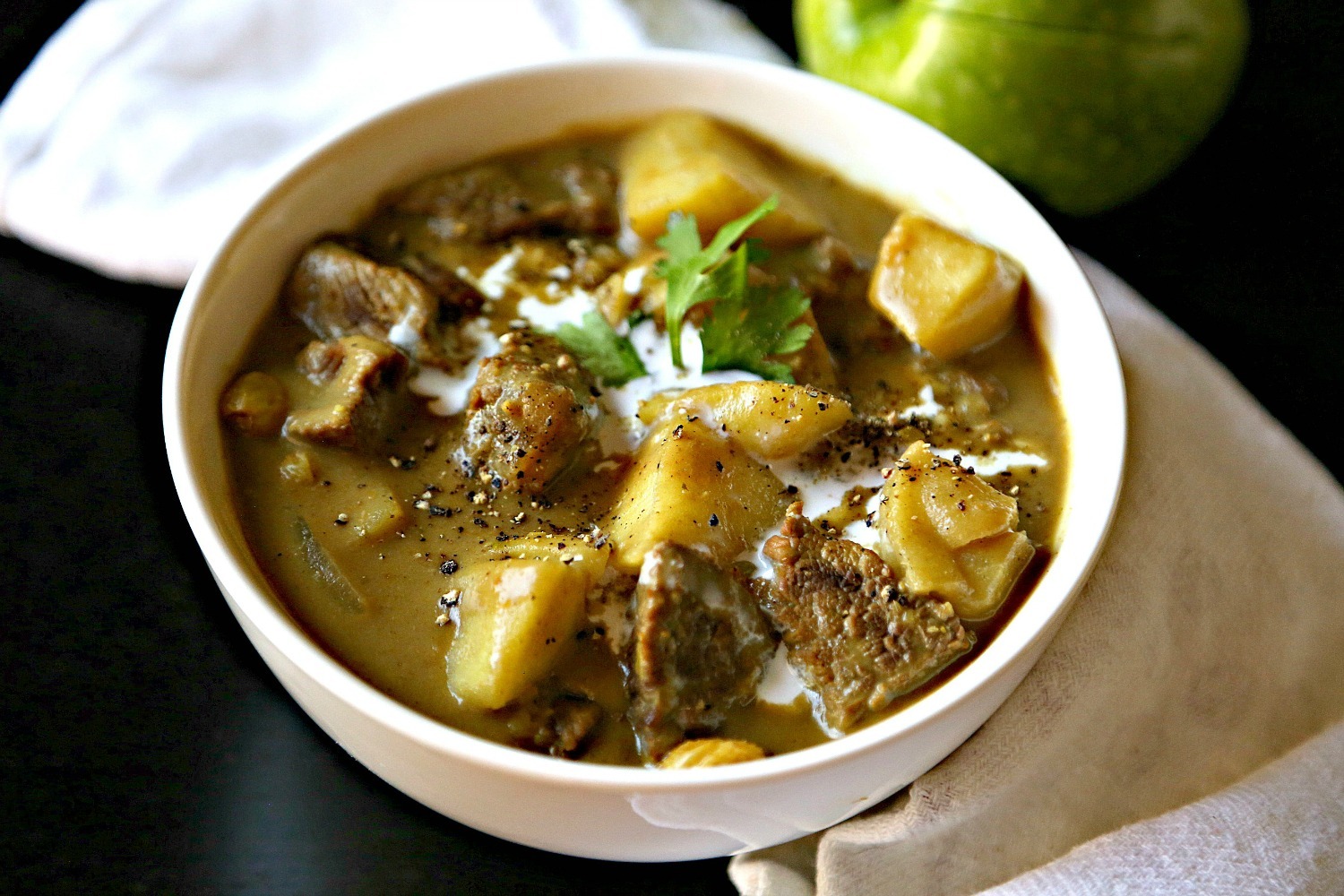 This is a republished recipe, means I did it puplish it before on the blog. But I wasn't satisfied with photos, and I thought there is room for improvement in this recipe, so it becomes a new one now! At first I adapted this beef apples recipe from this cookbook. (That was a long time ago, I don't have it now). It's a great book, for anyone who is looking for easy "meat and poultry" international dishes. But now I changed a lot in this recipe, but the one in the cookbook is really good!
This is the first time I do post a recipe for apples. Usually, I eat them fresh, or just mixed with other fruits. Pies, desserts, and other dishes with apples are very tempting. But usually they contain lots of sugar. Hence, I made for you this main course with no sugar added.
You know the old golden say : "An apple a day keep the doctor away" ? I'm sure you do. Recently, a study found that this is not necessarily true, and they couldn't prove an evidence for this proverb. However, that doesn't mean that we should abandon apples!
Why you should eat apples: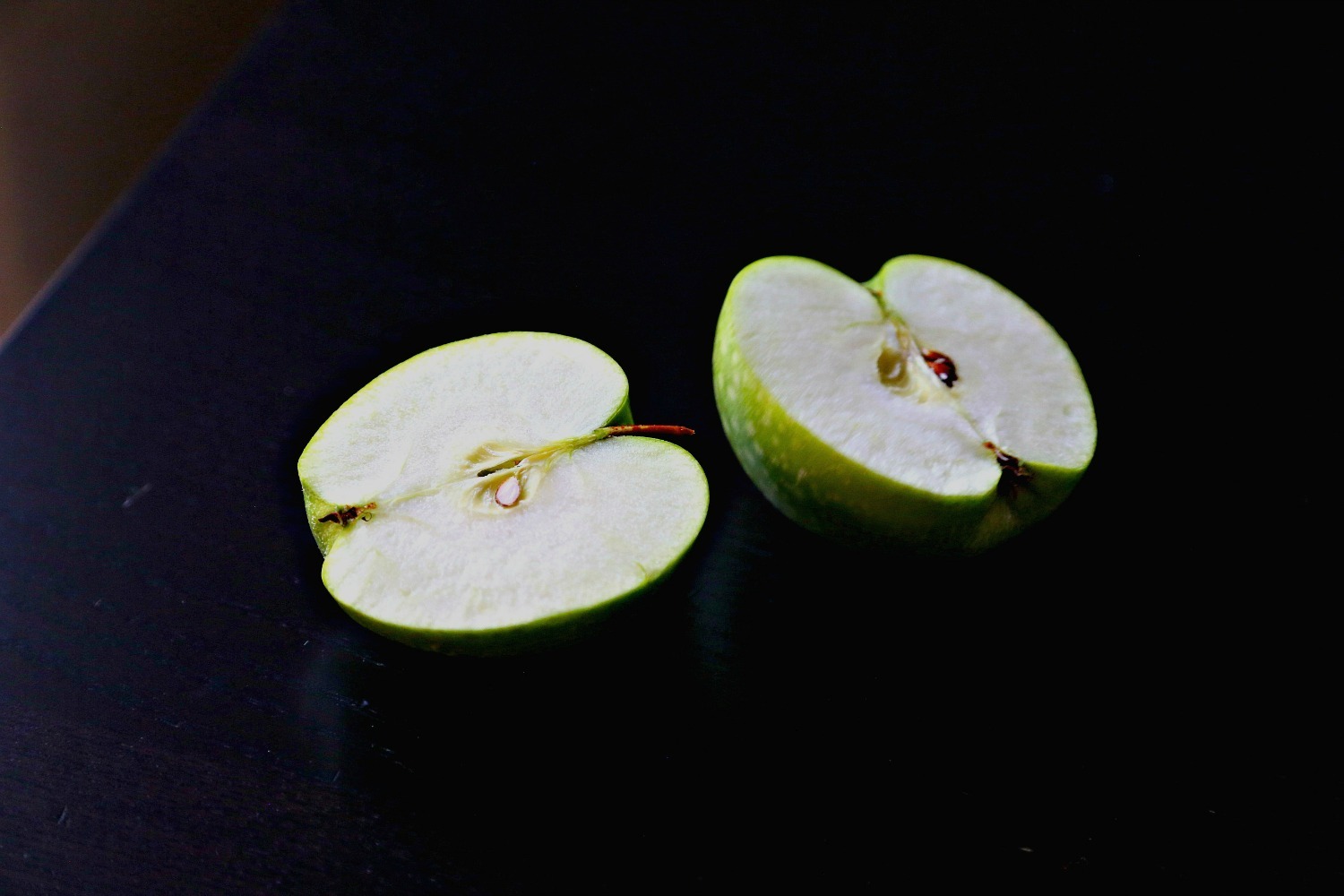 Apples are very healthy, and like other fruits, it's best eaten fresh, but that doesn't mean we can't eat it cooked, here some health benefits for apples:
It has great amounts of antioxidants, flavanoids, and fibers. 
It's a low calorie food, and has a high content of water, which makes you feel full. 
It can lower the bad cholesterol , and reduce risk of diabetes, and other chronic diseases too.  
Unfortunately, Apples are heavily sprayed with pesticides. If you can afford organic produce go for it. If you can't, make sure to wash apples, thoroughly under running water in a clean bowl. Also look for local produce. Many of them are already sell organic produce, even when they are not certified.  
Ginger 
It is one of the healthiest plants. It has ant-inflammatory properties, and can eliminate gastrointestinal distress. I will discuss more health benefits of ginger in the future posts.
While this recipe takes time to be ready, it's easy to put together, and it's a comfort meal at its best! It fits fall weather, very healthy for you, and easy on your stomach. Adding coconut milk to this recipe made it really good! The combination of sweetness from coconut milk, and the tangy flavor from apples, made this dish extra special.
Serve this curry with Basmati rice , or Nann bread if you wish.
Enjoy!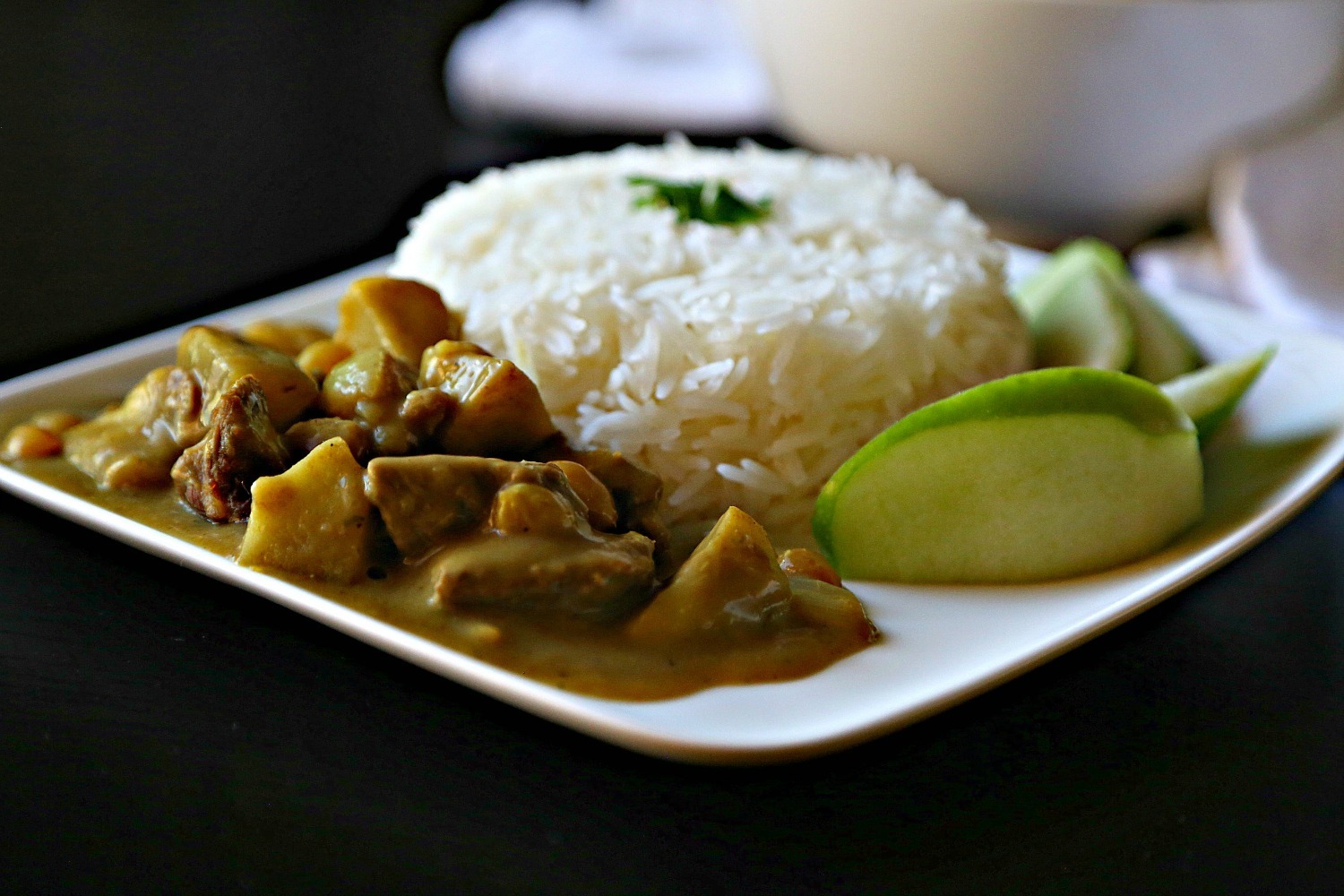 Asian beef curry with apples
Ingredients
1 lb of beef cubed
2 tsp sunflower oil
1 small onion sliced
Fresh ginger (up to taste)
2 medium apple in cubes
75 ml coconut milk
1 cup chicken broth
1 Tb soy sauce
1 tsp lemon grass paste
1 tsp curry powder
1 tsp ginger powder
Optional but recommended:
1 Tb corn starch
1 Tb cold water
Instructions
In a medium pot , add a tsp of sunflower oil on high heat, saute beef cubes just to brown them for 2 minutes. Then remove the meat from the stove, and put it aside.
In the same pot, add another tsp of oil and lower heat to medium.
Add onions, fresh ginger, apple, and saute for 5 minutes.
Add a tsp of curry powder, lemon grass paste and ginger powder, and soy sauce and stir.
Add meat, and stir well all ingredients, and keep them for 5 minutes.
Add chicken broth and cover the pot with a tight lid and keep it for an hour or until the meat is tender.
Add coconut milk, season again with curry powder if needed , keep it for 10 minutes.
Optional step:
Dissolve corn starch in cold water, add it to curry , and stir , keep it for 5 minutes.
Serve with white basmati rice or bread like naan.
Refrigerate any leftovers.