Today I have for you another blog post in the guest bloggers series.
It's not common in the blogsphere to find a male food blogger, but there are quite some that stand out from the crowd with their unique creations. I do follow some occasionally, but I do follow Kevin almost everywhere. I came across Kevin's blog, when I was looking for some cooking and baking tips, and I was hooked since then. He is talented cook and baker, I love his bold flavors, and his love for middle eastern food. He has a great collection of recipes, and mouthwatering desserts! And I'm excited to have him as guest here on Nutrizonia.
Now I'll hand it over to him. 
******************************************
First I would like to thank Farida for asking me to guest blog and share one of my recipes. I love Middle Eastern food and came across her healthy and tasty food blog Nutrizonia a while ago. Isn't the world of food blogging wonderful? I love how it brings different cultures and backgrounds together, sharing ideas and experiences, all around food.
So I am writing today about a fantastic and healthy baked, not fried, falafel recipe. What make this is the orange tahini sauce that each gets dipped in prior to eating.
I hope your readers enjoy them and thanks again Farida. I hope your kitchen and pantry are set up soon after your move and everyone is safe and happy.
About me:
I'm Kevin from Keviniscooking, I love to share my favorite recipes that I've been creating, adapting and collecting on my culinary journey with someone who doesn't like the same meals over and over again. You want something you can put together in around 30 minutes, is big and bold in flavor and is adventurous.
From sweet to savory, you will find international tastes and easy to follow recipes usually with step by step photos if needed. I try to convey it's not as hard as you might think to be creative in the kitchen and use, for the most part, everyday pantry items.
You can count on me to explain a new spice or technique and it's something to add to your culinary tool belt, to impress the family and guests. Life's too short to be bland!
I like to call my style of cooking International Modern Comfort Food. I want people to know that everyone can cook and bake, it just takes practice! And with some knowledge, experimentation, fearlessness and a passion to awaken the taste buds, the sky's the limit. I hopefully can demystify the process and help you learn and explore new tastes from around the world and good old comfort favorites. The dishes will be from around the world, as I love travel and the many different ethnic flavors I've encountered along the way.
Baked Saffron Falafel with Orange Tahini Sauce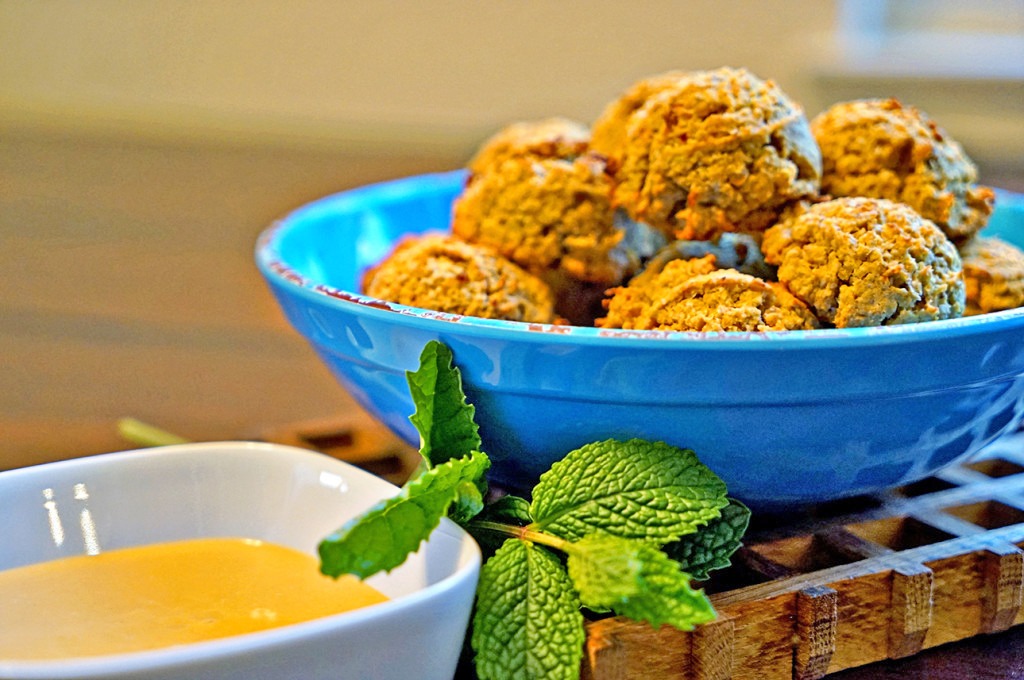 So the chickpea craze continues over at my kitchen. What can I say, they are so versatile!
You see it all started from this incredible ceramic bowl brimming with these perfectly round, yellow falafel that stood out from the Bon Appetit magazine and I just had to try making them.
I love Middle Eastern food and falafel was introduced to me many years ago on a college campus. What I love about these are they are baked, not deep fried.
Now I have to be honest here, the first time I made these I followed their recipe to the letter for ingredients and amounts, but mine was way too wet. I needed to add another 2 cups more of chickpeas just so I could form these lovely little nuggets into balls. Maybe it was the size of my onion? I don't know exactly, but mine needed a little more filler so more chickpeas and buckwheat flour went in the mix.
What came out was so much better than I expected. Sometimes these amazing pictures of delicious foods don't quite live up to the photograph. You ever find that? These had the wonderful nutty flavor from the sunflower seed, the floral, exotic flavor from the saffron and the insides. Let me tell you they were so soft, with a fantastic, almost al denté exterior crunch that delivered on many levels. I was very happy.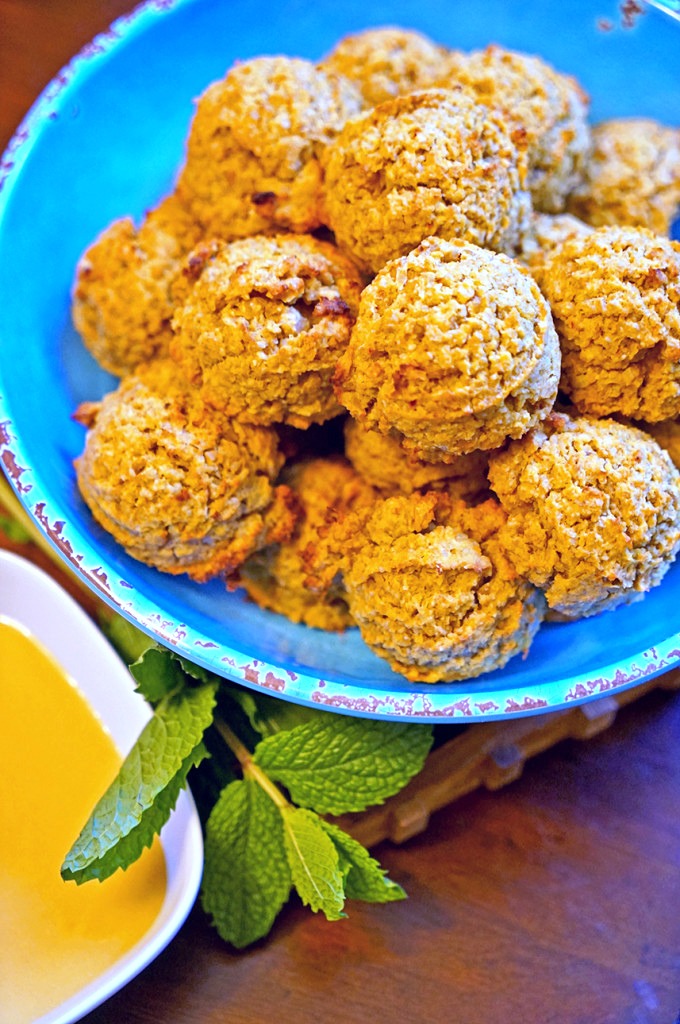 What really made these interesting was that the tahini sauce was nuanced with the orange citrus juice. I omitted the garlic as I ended up bumping that up a bit in the mix itself as was the spice. I added red pepper flakes and lemon zest the second time I made these and BAM, here is my adaption.
Baked Saffron Falafel with Orange Tahini Sauce
Ingredients
¾ cup roasted/salted sunflower seeds
4 cups cooked or canned chickpeas, rinsed, drained
1 small onion
3 garlic cloves
3 tbsp olive oil
¼ cup fresh lemon juice
3 tbsp buckwheat flour
2 tsp baking powder
pinch red pepper flakes
1 tbsp lemon zest
¼ tsp saffron threads
¼ cup tahini (sesame seed paste)
¼ cup fresh orange juice
pinch kosher salt
Instructions
Preheat oven to 375°F.
Pulse sunflower seeds in a food processor for about 30 seconds. Add onion and pulse 1 minute longer. Add chickpeas, garlic, olive oil, lemon juice, buckwheat flour, baking powder, red pepper flakes, lemon zest and pulse, occasionally scraping down sides of work bowl, until mixture is slightly coarse and well combined. Add the saffron threads and pulse once or twice to just mix through, but not pulverize.
With a small scoop make 24 small round falafels and place on a baking sheet with a parchment paper, a Silpat or silicone baking mat.
Bake until falafels are evenly golden brown, about 15-20 minutes, depending on oven.
Whisk together the tahini, orange juice, and kosher salt in a bowl until creamy dressing forms. Set aside.
Allow falafel to come to room temperature and serve with dipping sauce or drizzle over top.