An easy delicious appetizer of brown rice and sauteed mushrooms and kale. It is flavorsome, very nutritious, and it happens to be vegan and gluten free too!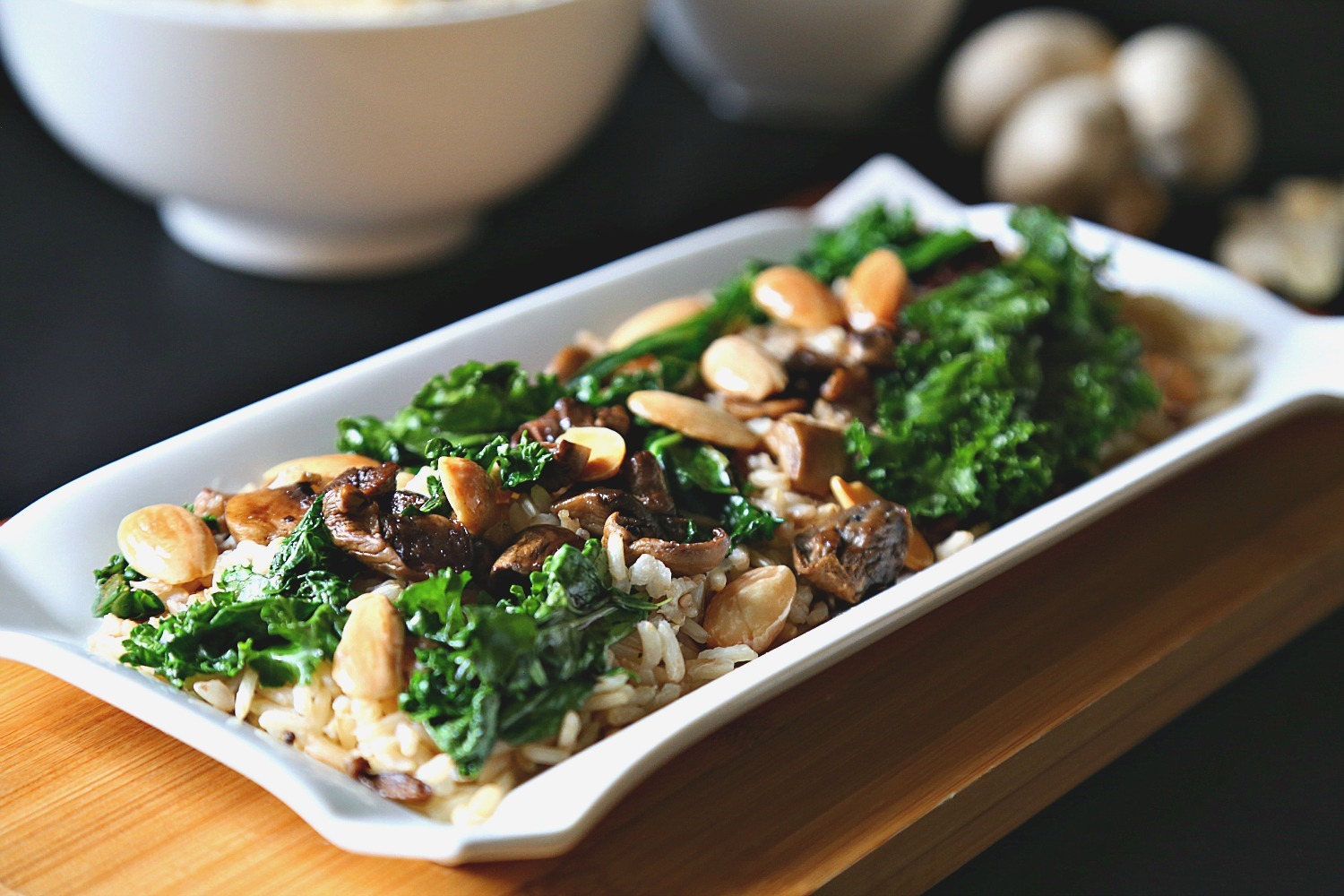 I haven't tried brown rice before, because mainly I don't want to cook two different meals everyday. So I stick to white rice, even it's not the healthiest choice. I really didn't know about brown rice until college, because white rice was the staple at my parents house. but in the last few years, I started to see it in the grocery store, and read more about it. I compared it before to white rice, in the series I posted before "Which is healthier" to see if it is really worth trying. However,  I looked for some brown rice brands, and I find them are really expensive for everyday meals, that was not helping . But recently, I just found a brand with a reasonable price, so I did buy it finally, and it's a long grain that I used.
Brown rice
Why brown rice is good for you
There are so many health benefits of eating brown rice, let's mention some:
It's an excellent source of Manganese, and has good amounts of selenium and magnesium too.
It also has good amount of B Vitamins like thiamine, B6 and Niacin, also good amounts of fibers and protein.
It can lower cholesterol too, whether it's due to the presence of the bran oil or/and the fibers.
It's naturally gluten free, and whole grain!
Brown rice and diabetes
Brown rice has lower glycemic index value than white rice, that means it doesn't raise the blood sugar level in short time after consuming it. There are many studies done on substituting white rice with brown one to see if it reduce glucose level. In this study  they found that short term is not very effective, but this study ,and this one they found that it really did.
Arsenic
According to Medical News Today Arsenic is a natural semi-metallic chemical that is found all over the world in groundwater. It is dangerous, and long consumption of it, is associated with chronic disease like cancer, and liver diseases. In consumer reports they found that brown rice is higher in Arsenic than white one. However, rinsing the rice thoroughly before soaking, and cooking will reduce the amount of arsenic. So you should do that whether you choose white or brown.
For this recipe, I used the long grain variety, because I want the dish to be more like salad or an appetizer rather than main one.  I followed these directions , and I made the rice little chewy to fit with meaty texture of mushrooms and the leafy kale.  I choose to mix kale because has a mild flavor, you can add anything to it; literally anything! I was inspired by this casserole , I thought the addition of mushrooms is a brilliant idea. It's a low calorie one, good source of protein- especially for vegans- plus its gluten- free. Also it has a meaty texture so it goes well with kale.
brown rice with mushrroms and kale
Ingredients
1 cup long grain brown rice
1.5 cup water
200 g of chopped Kale
2 Tbsp. of Olive Oil
3 medium pieces of Crimini Mushrooms (diced)
1 tsp. of Soy Sauce (gluten-free)
1 tsp. of minced Garlic
Salt and Black Pepper up to taste
Optional:
Toasted Almond (about 5 pieces)
Instructions
In a medium pot, boil water and brown rice on a high heat.
Then simmer with lid covering the pot for 20 minutes.
Turn off the heat, and keep the rice with lid on for 10 minutes at least before serving.
Heat a skillet on a medium heat, add 1 Tbsp. of olive oil.
Add garlic and saute it for 2 mints. Then add mushrooms, saute it for 2 min, In the meantime, heat another skillet on a medium heat, add 1 Tbsp. of olive oil and toast the almond.
Add kale and soy sauce to the 1st skillet, saute them for 5 min. Finally add salt & pepper as desired.
On the serving plate, add brown rice to kale and mushroom mix and enjoy!
Refrigerate any leftovers