A decadent carob cashew pie, that is smooth and perfectly healthy. This easy to make pie tastes just like chocolate! It's vegan, gluten-free, and refined sugar-free!
This cashew pie recipe is inspired by two of my favorite food bloggers. First is Kevin, if you follow my blog, you must know him. I love his style of cooking, comfort and mainly quick, but flavorsome. I got inspired by many of his creations. He made a cashew tart years ago. I wanted to recreate it or at least make a healthier version, and finally, I made it. I couldn't be happier with the results I got, and I'm very thankful for Kevin for his creative delicious ideas.
The other one is Nadia from Instagram. She is specialized in vegan recipes, mainly treats.  She uses cashew a lot, and I was wondering how does it taste. I believe it's a great option due to it's natural creaminess when it got blended with other ingredients.
Cashew
It's the first time that I use cashew in a recipe with this generous amount. It's a very distinctive nut with a savory taste, and very different from almonds for example, that are on the sweet note.
So let's highlight some of it's health benefits:
It has good amounts of monounsaturated fatty acids that are good for your heart. Also, it has good amounts of manganese, and magnesium.
It has good amounts of protein and fibers too, which make it very fulfilling and gives satiety.
They blend very well and have a creamy texture, suitable for desserts and soups
Carob
I talked a lot about carob in recipes on the blog. It has a unique flavor, that fits into recipes for desserts and drinks in a very pleasant way. You can buy carob powder online, if you can't find it in the stores. I trust Bob's Red Mills one. What I find here has a texture like molasses, and it's sweetened. And it's not necessary since carob has a naturally sweet flavor. However, I still want to try it with raw carob, I believe you can, but you may need more cornflour. I'll try and let you know, but then again carob is seasonal.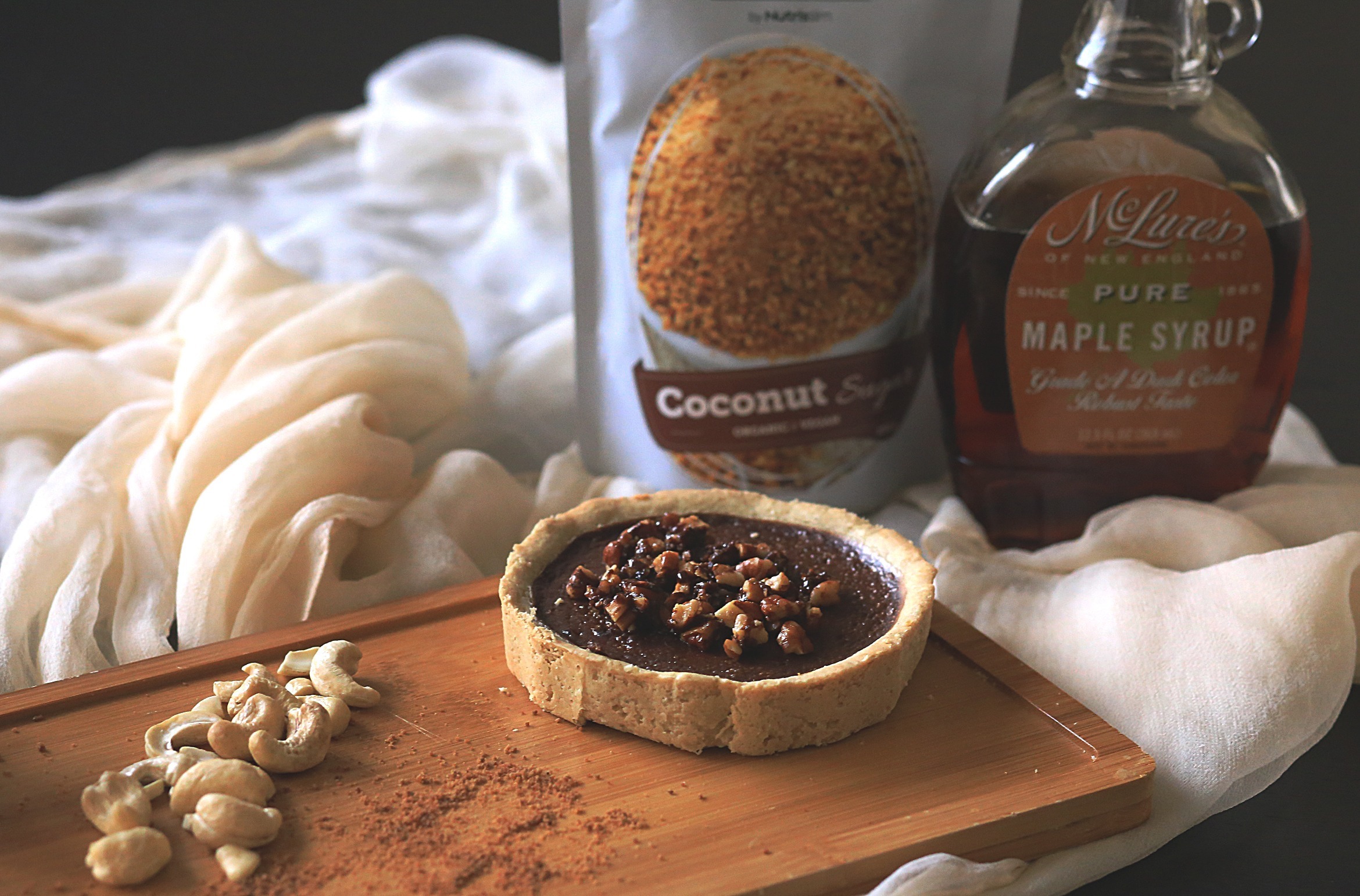 For this recipe you need cashew cream, you can make it yourself. I made it at home, but  I didn't 100% liked it . And you definitely need a high power blender, a basic one won't give you the desired consistency of cream.  You can just buy it to spare some time. I used this one, which is fantastic!
This is not the first healthy pie I post on the blog, I made a chocolate one before, which was fantastic too and totally raw. But it's vegetarian and has some sugar. This one is an upgraded one, with healthier ingredients.
Enjoy 🙂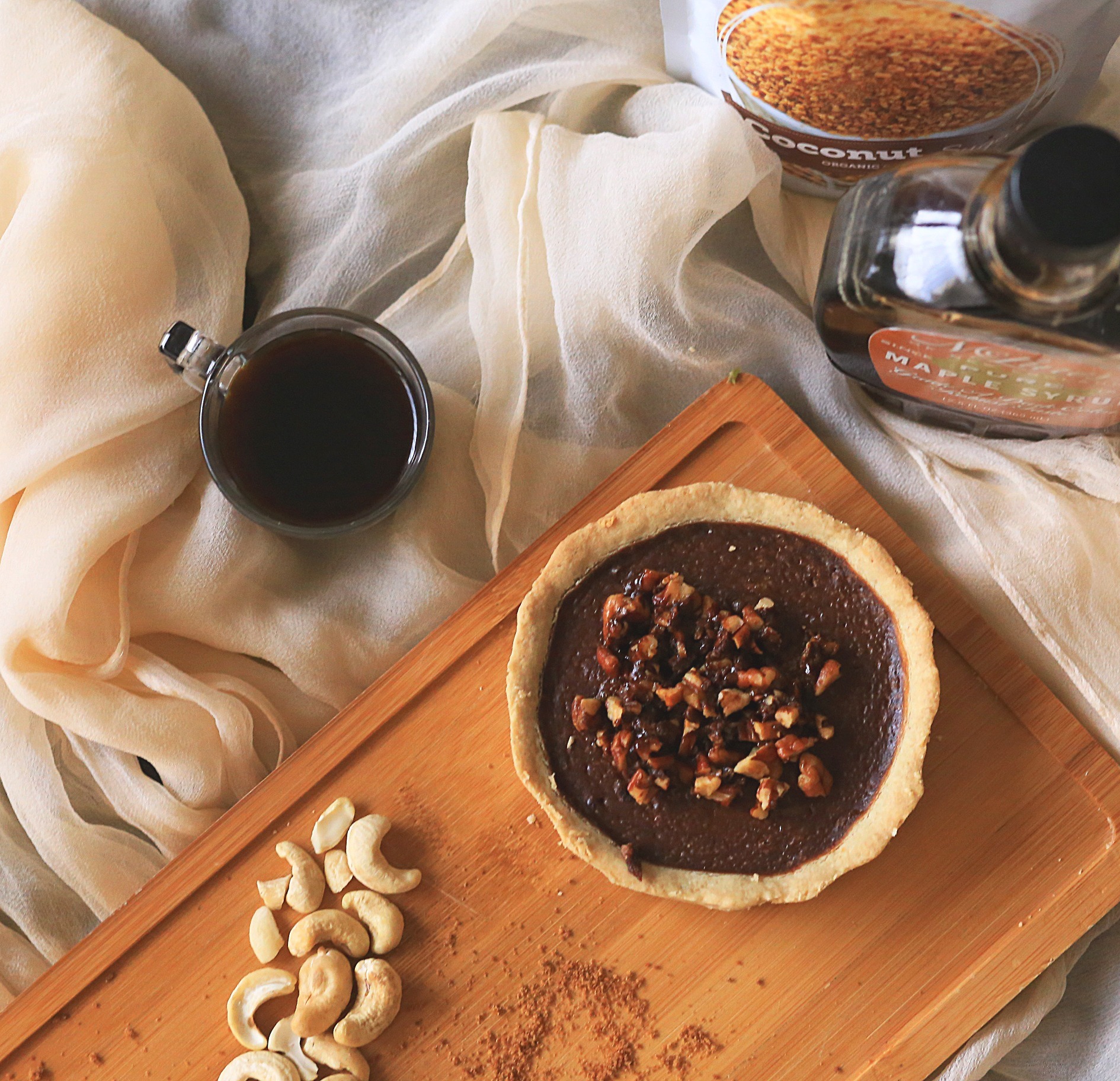 Carob Cashew Pie with Pecan crumbs
Ingredients
Base:
175g raw unsalted cashews
100g instant oats (certified gluten-free if necessary)
2.5 Tb real maple syrup
2 Tb coconut oil
Filing:
200 ml cashew cream
3Tb carob powder
2 Tb corn flour
2 Tb coconut sugar
Optional:
Toasted Pecan with coconut oil and coconut sugar
Instructions
In a food processor, add cashews and instant oat.
Blend until it comes together like dough, and add maple syrup, coconut oil gradually.
Transfer the dough to a pie dish.
Spare 2 Tb of cashew cream and mix them with corn flour.
In a small pot, add all ingredients of filling except the cornflour.
Heat the mixture until it reaches soft boiling.
Pour the filling over the crust, and bake for 20 minutes or until the crust is golden brown and the filling is set.
Let it cold completely and serve it at room temperature or cold.
Refrigerate any leftovers if any!