These carob oat flour muffins are fluffy and moist muffins are subtly sweet but bursting with winter flavors! Carob, molasses, and cinnamon! They are delicious , nutritious and they are gluten free too!
These carob oat flour muffins are so easy to make, you can make in 30 minutes for breakfast or make ahead, for afternoon tea or snack. Also they are perfect for grab and go, and leaves you truly fulfilled and full too!
Well, I'm not a muffin person, mainly because I love savory breakfast over sweet one. However, now it's very cold and windy here in Jordan, and I feel the need to eat something warm and comfy, and to turn on the oven too! I was looking in my cupboard for quick and flavorful item, and I found carob! It's really healthy, and can be great add on or an ingredients for many dishes. And since it tastes like chocolate and with molasses and cinnamon, they are just perfect togther and it doesn't hurt if I add coffee too!
Oat flour
A flour that made of grinding oats, it's a great alternative for white flour, with reasonable price. However in baked goods, you any need to add other type of flour or any ingredient that you believe substitute flour. In these muffins I used gluten free flour blend  by Bob's red mill, I tried more than once, and it always give me a great result. I wish I can use oat flour only , since it's more affordable, but oat flour add fluffiness to the outcome, and if you add so much, the cake or muffin won't hold itself.
Why is oat flour good for you:
High in soluble fibers that help with reducing bad cholesterol.
it's has b vitamins like B1 and B2 and folate, and some minerals like.
It's a great substitute for gluten.
I used it before in these pistachio cookies, and they were fluffy and chewy too! You can made your own oat flour by food processor at home, but you need a good one, and its better to use steel cut oatmeal rather than instant. You can buy Bob's red mills one too, I used and loved it!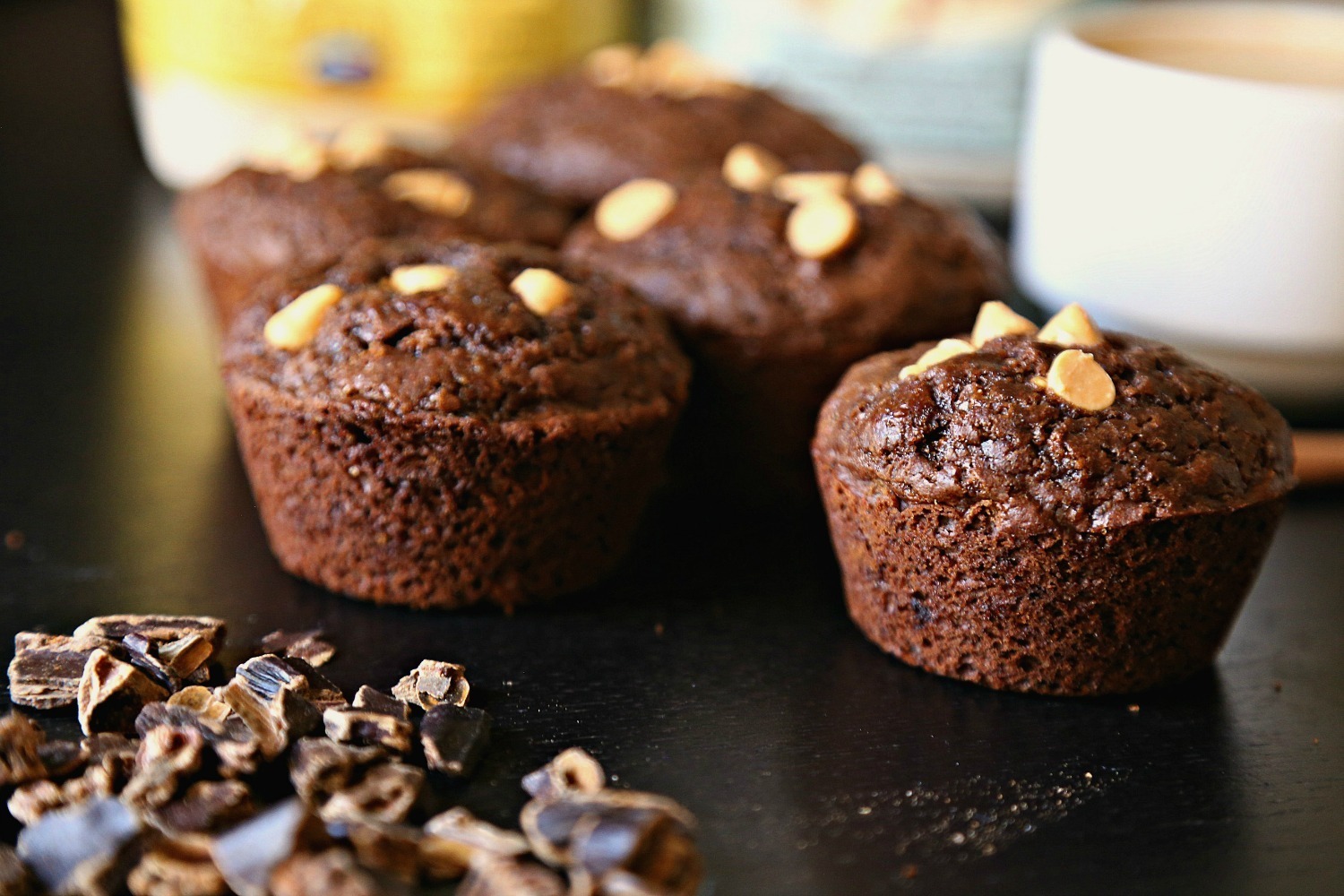 Carob
An ancient evergreen shrub that is native to the middle east. Now is cultivated in California. It has a unique flavor, but tastes like chocolate and has a hint of sweetness similar to molasses. I made a pudding with it before, and today I made for you these muffins, and I can't wait to make other recipes with it.
A reminder why it's healthy for you:
It helps in lowering cholesterol levels, due to the high fiber content and other polyphenols.
High in fiber, which helps to improve the digestion.
High in B vitamins , like B2, B3 , and B6. Also in minerals like calcium and magnesium
High in antioxidant and polyphenols.
These muffins are comfy but not dense, subtly sweet, and flavorful! They are all what you need for a morning muffin this winter, and maybe for your holiday breakfast!
Enjoy!
Carob oat flour muffins
Ingredients
¼ cup oat flour
½ cup gluten free flour blend
2 Tb brown sugar
3 Tb molasses
4 Tb vegetable oil
2 tsp baking powder
1 Tb cinnamon powder
½ tsp cloves powder
½ tsp vanilla essence
2 Tb Carob powder
1 Egg
¼ cup milk
Optional toppings:
butterscotch, cinnamon, or dark chocolate chips.
Instructions
Preheat the oven at 375 f-180 C.
In one bowl mix carob powder, oat flour, gluten free flour, cinnamon, brown sugar, cloves, and baking powder.
In a large bowl mix oil, molasses, vanilla essence, and egg. Don't over mix
Add milk , and flour mix , and alternate between them.
Pour the batter in a greased or non stick muffin pan. Add butterscotch chips if desired
Put in the oven for 10-15 minutes, keep an eye on them.
Remove from the oven , put the pan over the rack , and wait 10 minutes, then get out the muffins.
Keep any leftovers in a tight air container for few days.