A cheesy zucchini polenta baked fries that are so delicious, and fun to make and eat! They are gluten free, and packed with protein,  along with a creamy dip!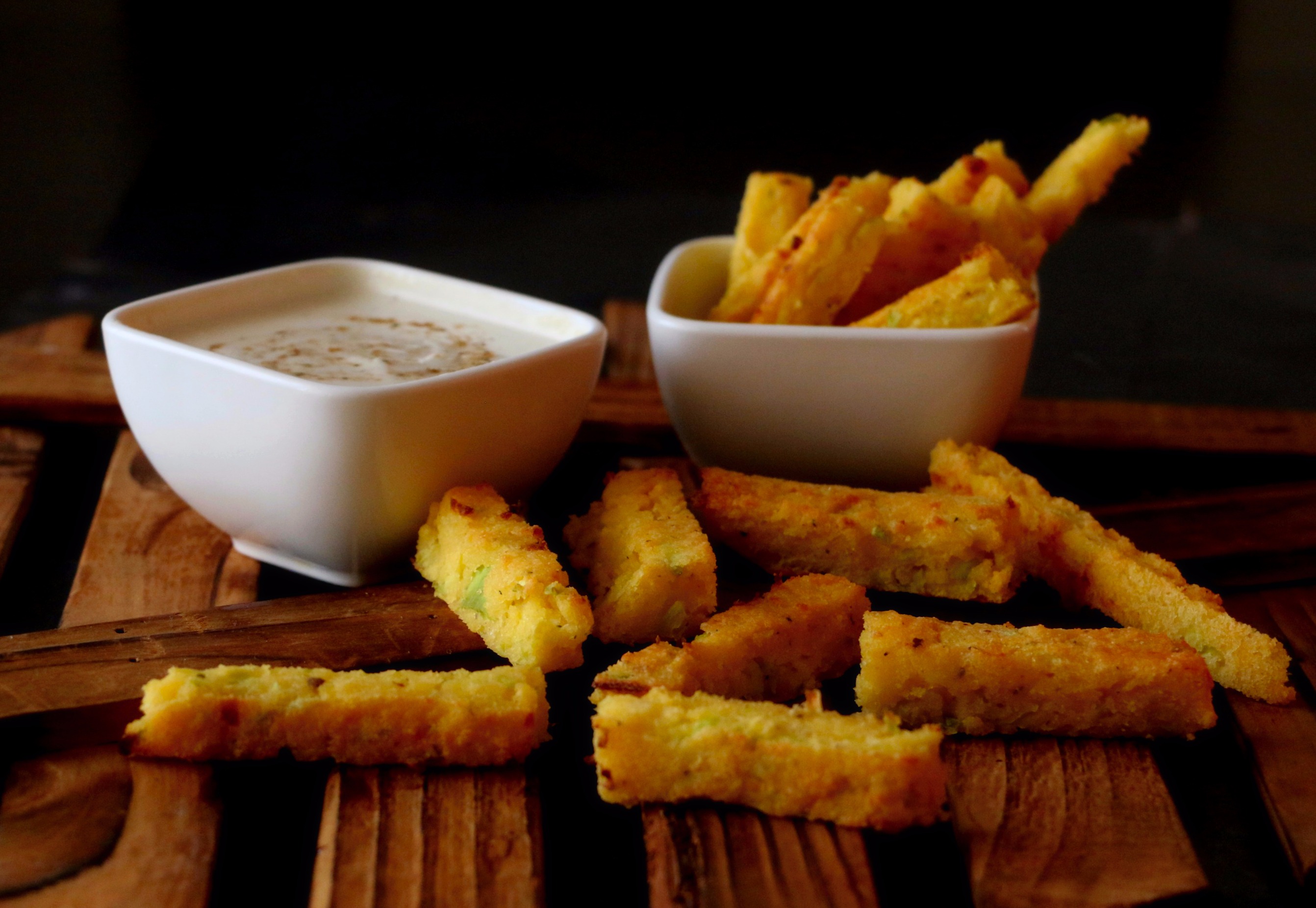 I have a thing for polenta , I guess 😀 . It's so versatile, you just shape it, flavor it , and mix it your way. Savory or sweet, it's so good always! So creamy, and comfort. Like you fell in a bed, full of soft comfortable cushions, or just like you are dancing and no one is watching. Just you and these crispy polenta fries, cheesy ones. And then dip it, in a creamy dip to ensure the feeling of warmth and completion!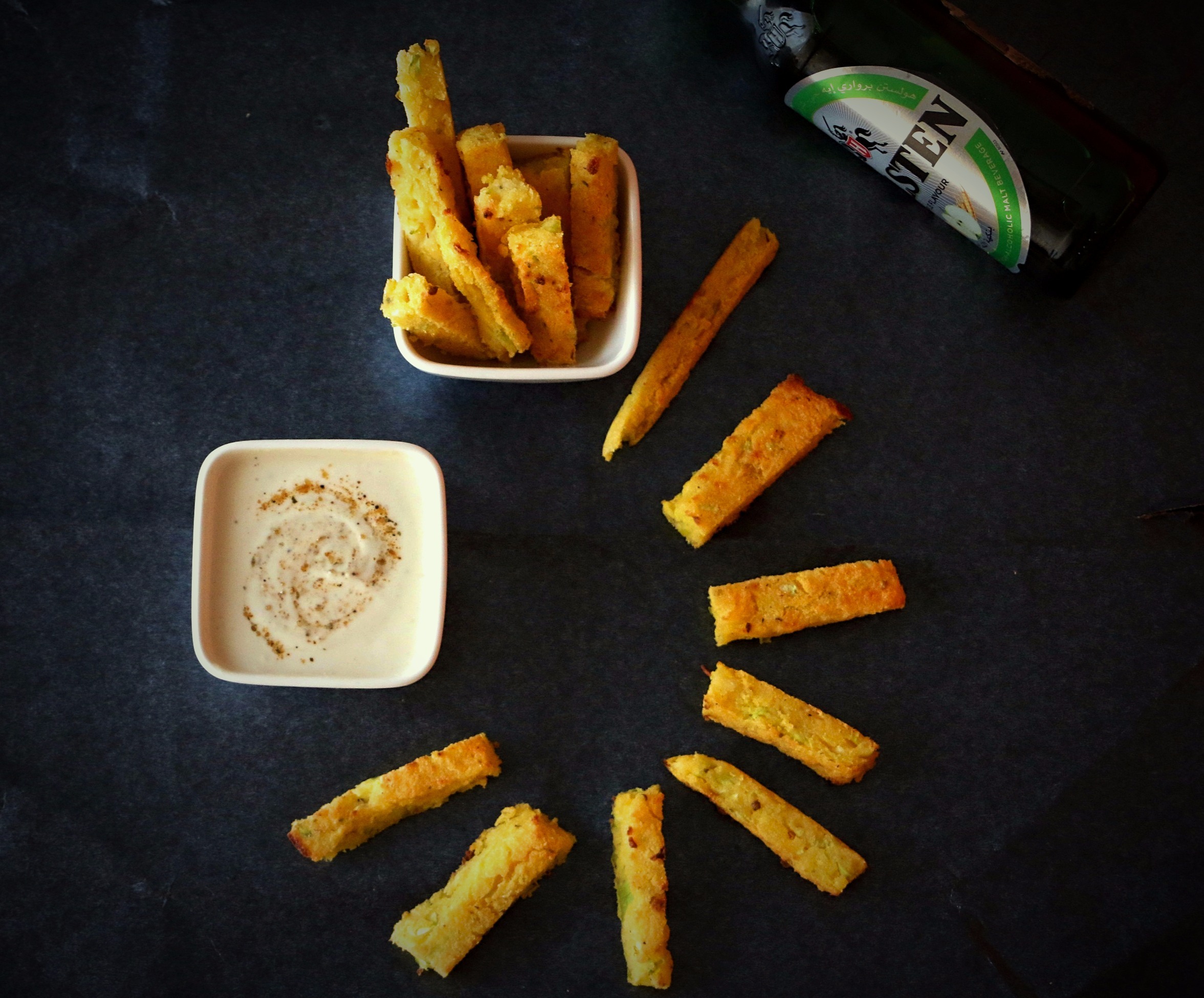 I supposed to get this recipe published days ago, but if  you follow me on Facebook , and Instagram , you will see I was busy practicing for the marathon. The race was last Friday. And this time, again I ran for a cause, to support a young initiation to support mental health. As I here, encourage you to take care of your physical health thru healthy recipe. I believe that mental health is important as mush as physical if not even more! You can check here the other marathon I ran to support autism.
Why these polenta baked fries
Because polenta is so versatile and low in calories and fats.
Because it has lots of zucchinis ,and it has High water content, it's almost 95% which is really good for hydration, and keep your digestive system health. It's low in calories, fats, cholesterol, and carbs which makes it perfect choice for weight loss. It's high in vitamin A and C which they are powerful antioxidants.
They are baked (with melted cheese 😀) and milk, its high in protein , fulfilling and delicious, and fun to nibble on 🙂
I've talked a lot about polenta , and why I truly love it. I made a savory one with tomato pesto and a sweet one with orange blossom water, and you can find the rest of recipes here.  You can easily find polenta in big stores, and you can always buy it online, well I recommend you buy the Italian one, the fine one. And, for less hassles, get the instant one, it will take shorter time to get done.
Enjoy!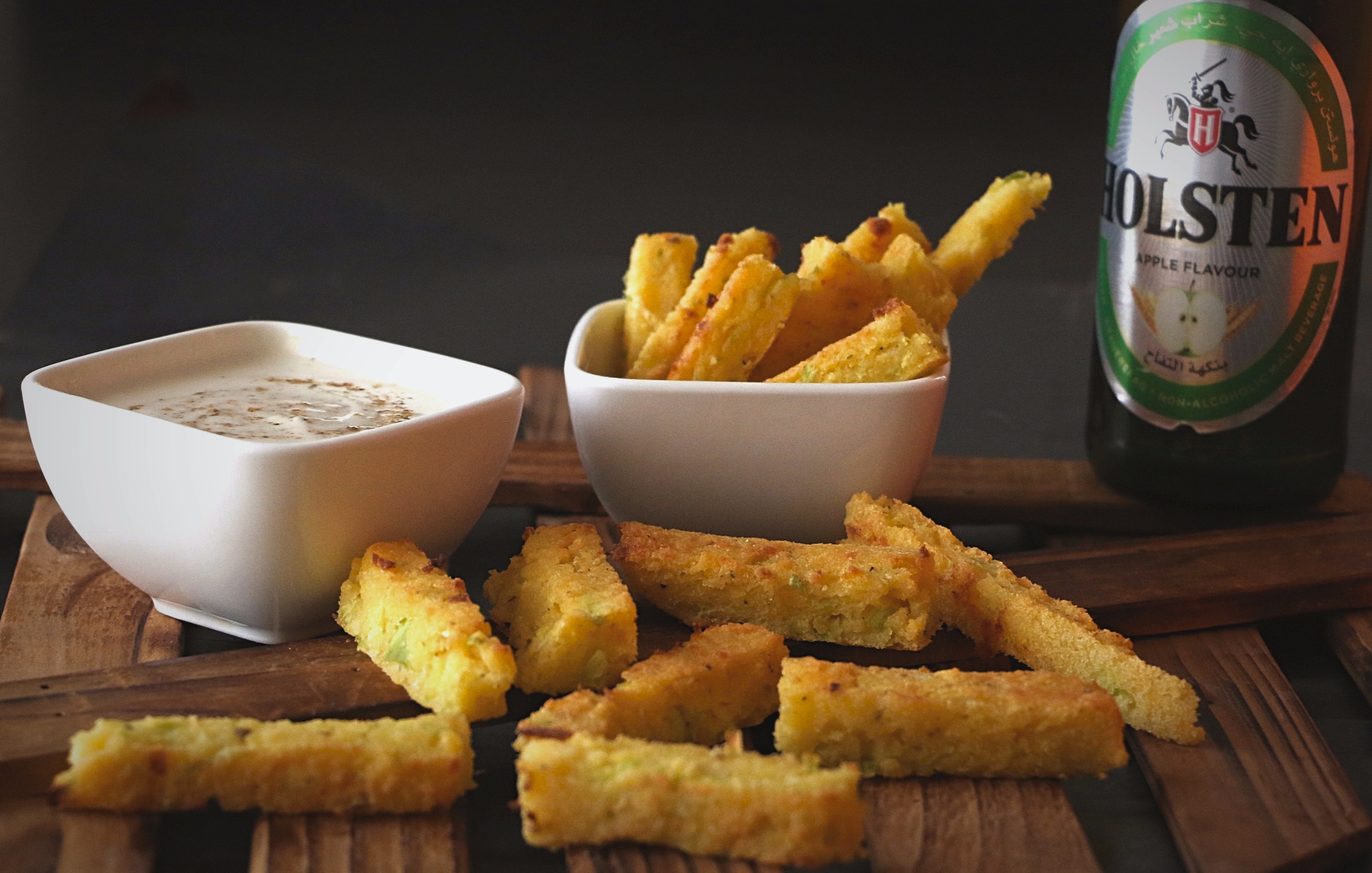 Cheesy Zucchini Polenta Baked Fries
Ingredients
1 cup polenta
1 cup of water
1 cup of your milk of choice ( I highly recommended cow milk)
2 tsp of garlic powder
1 tsp of onion powder
1 cup of grated zucchini. (variety doesn't matter here)
100 g grated mozzarella cheese
2 Tb fine grated Parmesan
Optional:
*1/2 cup Vegetable or chicken broth
Dressing:
5tb yogurrt
1 Tb water 1 Tb lemon juice
2 Tb tahini
Ground Spices : (upon desire)
Black pepper, salt, onion powder, garlic powder, cajun
Instructions
In a medium pot, mix water, milk, polenta, and broth if using , on a low to e medium heat.
With a continuous stirring, add spices and zucchini.
When the polenta becomes thick to stir, add the cheese, and recuse the heat to the lowest , keep it for 5 minutes, then pour it in a rectangle Pyrex or any pan.
Wait until it's completely cool**, then cut in your favorite shape (fries here!) then bake until its it the fries becomes lightly gold.
Serve hot with tahini yogurt dip or any dip you wish.
Notes
*If you want to use the broth, you need to reduce the amount of water to the half.
** It's better to wait overnight for a firmer texture, but few hours is enough, but it also depends on the polenta type.