An easy salad to prepare that has unique  flavors and textures, a chest nut salad with spinach !  This salad is bursting with nutrients, vitamins and antioxidants.  Moreover, this chestnut salad is also vegan and gluten free!
It's chestnut season , and I always look for new ways to eat it. I read about boiling it and mixing in savory food, but I never tried it, and thought it's time to do that, and I just did in this salad. It was one of the best decisions I ever made (joking, not joking). Boiling chestnuts, made it soft which I like food to be, but still has the intensive rich nutty flavor. However, if you boil it for a long time, it will be mushy, and you don't want that to happen.
And this is a vegan fulfilling salad, but if you are not a restrict vegan , sprinkle Parmesan cheese on top , or use vegan cashew cheese, which is on my list to try!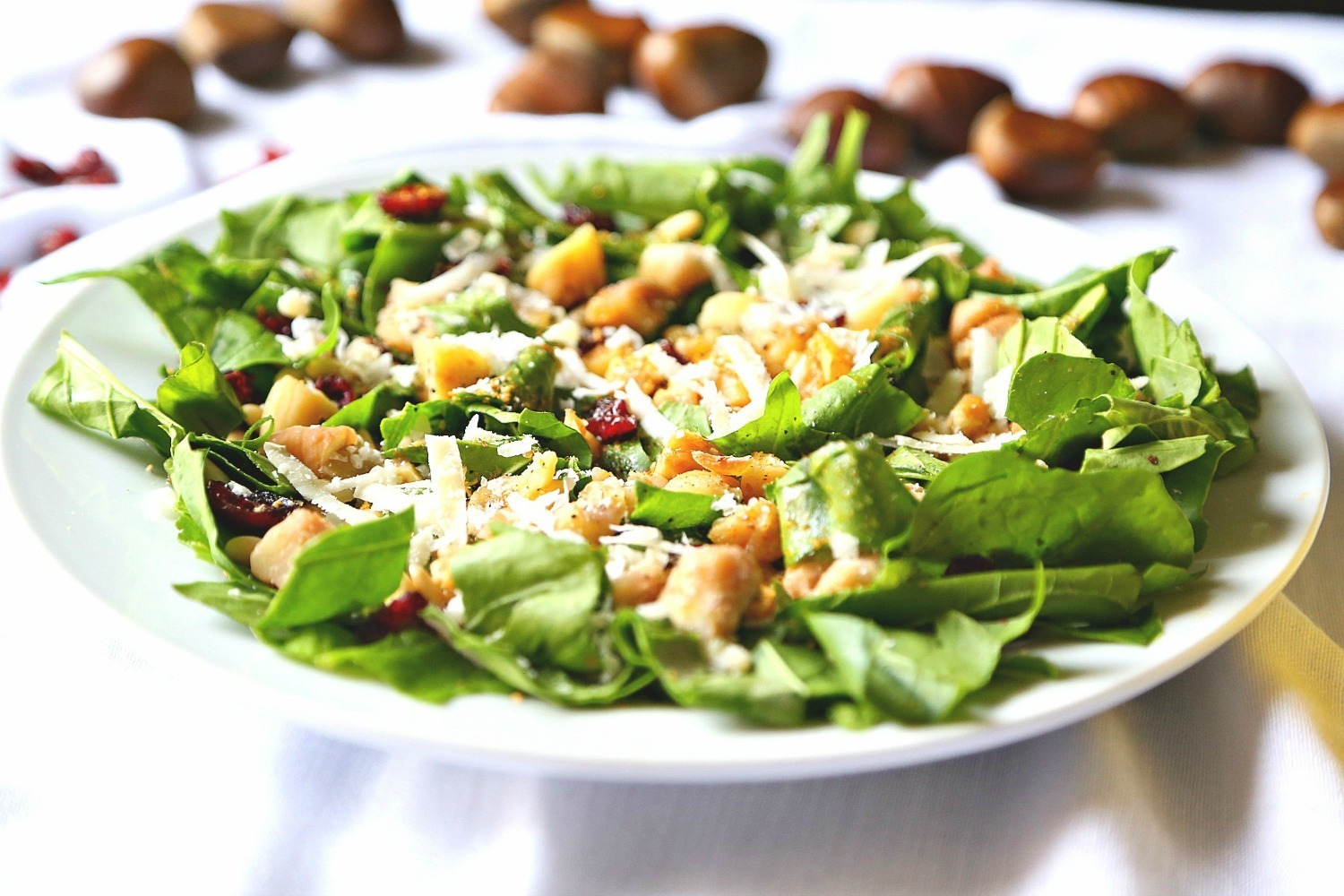 Another easy recipe for you friend, well maybe not so easy , since you need to prepare chestnuts, i was intending to make this salad earlier, however life is becoming tougher and you need to juggle between things, having a blooming blog and business and perfect relationship with husband and kid, is something easy to be said than done. I don't why i have a thing for complicated recipes, but I really cant find the time to do so, that's why I'm sharing this easy recipe with few ingredients, so you can enjoy it and relax and have good time with your family or loved ones too. 
 I don't think ever I would make a chestnut salad, raw salads is not something I would like to eat every day. I can eat an apple, an orange, or sauteed spinach, but raw doesn't appeal to me that much. But I still feel it's a missing part in my day. And since chestnut already has high carb amount and calories, why not pair it with a low calorie item, like spinach, healthy and fulfilling, something can also be just as delicious as a smoothie, or a dessert!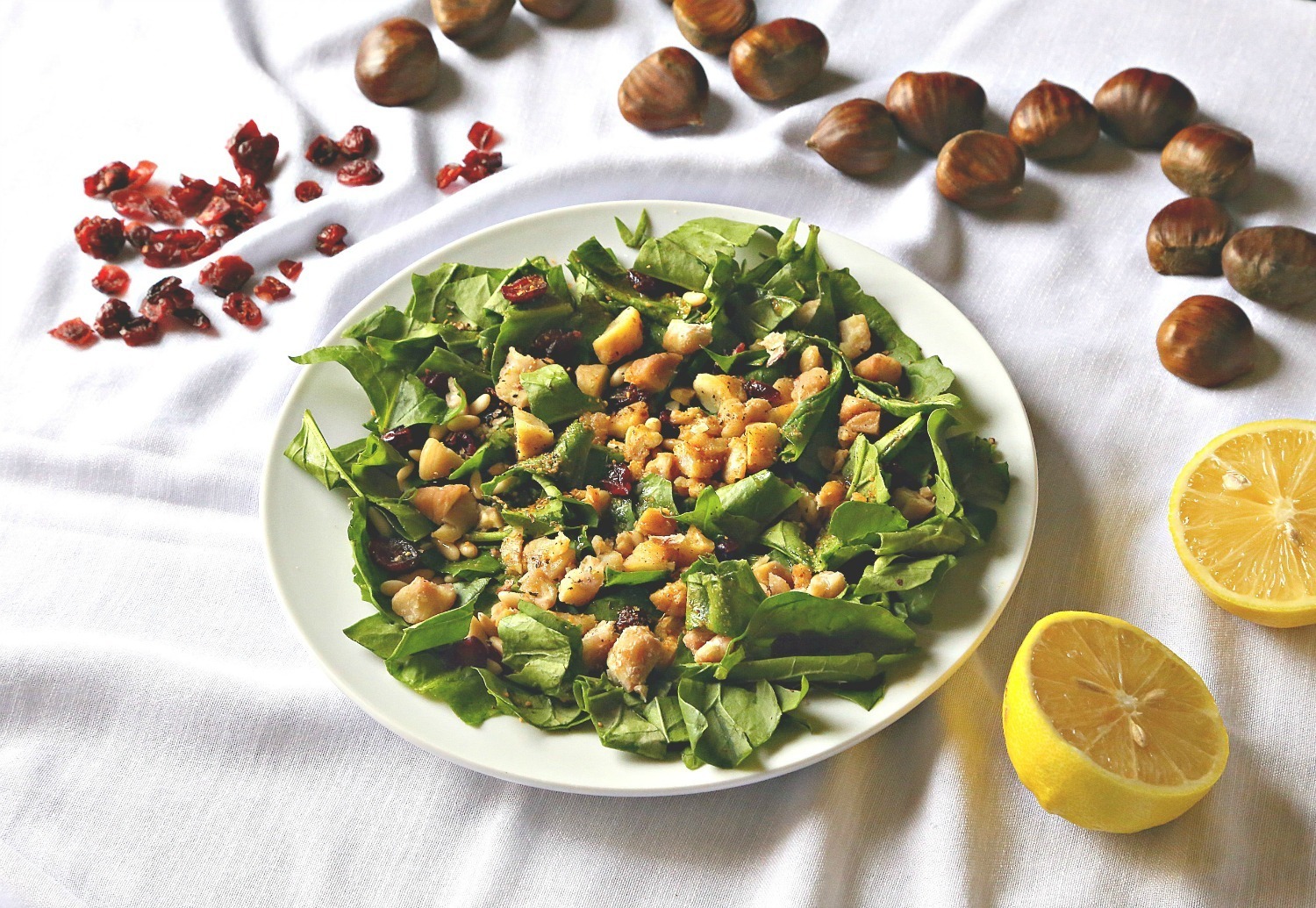 Why this chestnut salad is good for you:
With sweet cranberry and pine nuts, and a hint of lemon juice and olive oil, this chestnut salad is the perfect lunch!
It has chestnuts which is low in fats and cholestrol, and high in Vitamin c and manganese.

It has spinach that is high in B vitamins like C, B2 and folate that is critical for pregnant women, and it has good amounts of minerals like iron and calcium too.

It has pine nuts that is high is magnesium which plays and important role in the body in enzyme synthesis and other functions.

It has olive oil that is made of unsaturated fatty acids that helps lower the risk of developing heart diseases.
It has lemon juice and that has ascorbic acid is critical for the body and it helps it functioning properly, and offers protection against heart disease, and degenerative diseases too.
And because this chestnut salad is pretty too!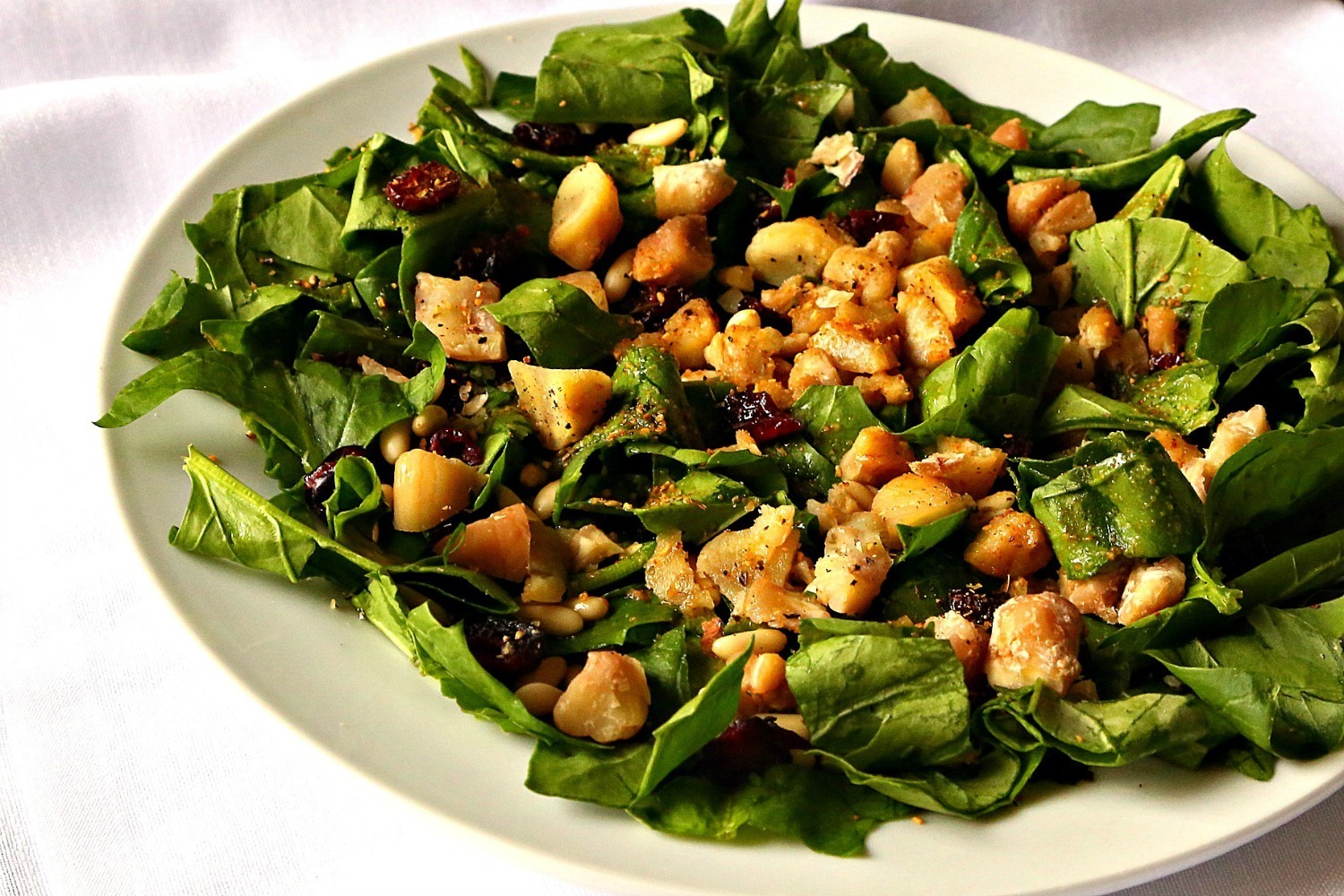 Spanish chestnut salad
Ingredients
2 Tb pine nuts
2 Tb dried cranberry
3 cups of chopped spinach
8 boiled Chestnuts
Dressing:
1 Tb olive oil, 2 Tb lemon juice, paprika , Cajun, garlic and onion powder.
Instructions
First boil chestnuts in salted water for 20 minutes.
Remove from the stove, let them cool for five minutes, then peel them.
In your preferred bowl , mix spinach , cranberry and pine nuts, and chestnuts
Drizzle the the dressing over, and enjoy
Refrigerate any leftovers up to 4 days
Notes
You can use "packaged chestnuts that is peeled" but the fresh one tastes much better.