A warm creamy chestnut soup with brie and thyme. A soup that combine earthy flavors, naturally sweet, and sharp too! Full of fibers , nutrients, and antioxidants, plus it's naturally gluten free too, and vegan friendly!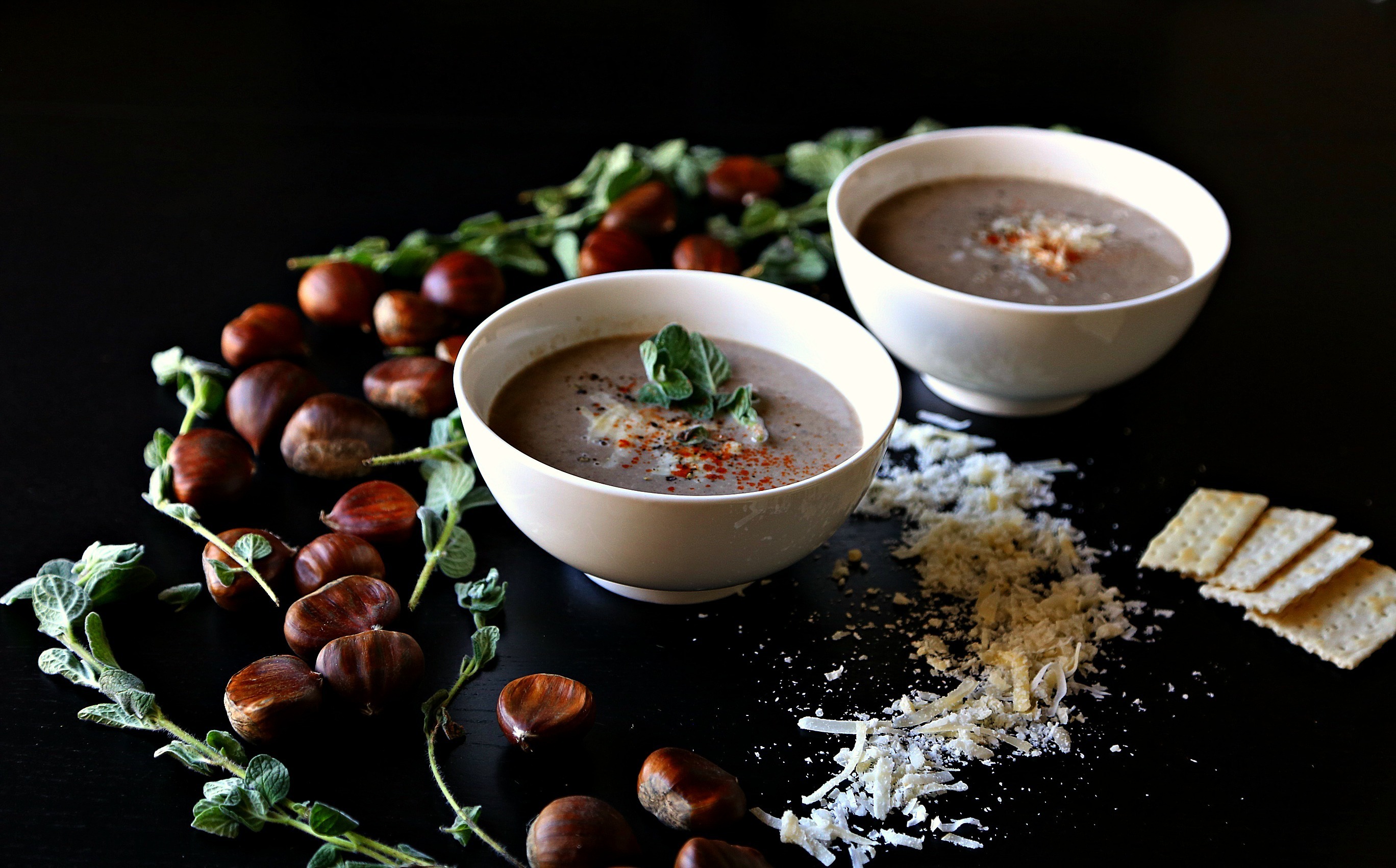 Yes I have a thing for brie! Every time I go to the market, I look at cheese and start thinking, should I buy brie today? What's really holding me back is brie is high in saturated fats, well most of cheeses! But when you combine brie with nuts, sugar or maple syrup, that is guaranteed to double or triple the fats and the calories. I'm a person and dietitian that don't really pay so much attention to numbers, because as numbers are indicators, we don't have to be obsessed with them! We just need to live a balanced life as much as possible, well eating brie and salad just like the french do, and maybe oatmeal bars too. And hence the chestnut soup recipe for today with brie of course. 
Well to be clear, I don't think I bought brie more than 2 -3 times, but having it as dessert or breakfast is haunting me, always…
Then comes thyme, the most inserting herb ever,, the middle eastern version is so different from English thyme which is you see often in u.s too. It adds a depth of herbal flavor to this soup that counters the sweet brie taste.
Why chestnut soup?
Because I was dying to mix chestnut with brie, the nutty earthy chestnut, with warm, goey, sharp, brie that has kind of weird taste to me, but god so addictive! 
So a soup because chestnut has that earthy texture that can substitute meaty in my opinion and very fulfilling and creamy which means no need to add cream to my soup, I don't really like to add cream , because its really overpower the soup in most times, and because this way we can add not so much of brie,,, This soup is
Warm,
Comfy,
Nutritious,
Cheesy,
Gooey,
And fulfilling
I think it satisfies the soul too!
And why chestnut?
It's high in vitamins such as vitamin C, folate and thiamin. And minerals like copper, potassium and manganese.

It's low in fat, and has good amounts of fiber and protein too.

Even when it has high carb amount, the carbs are complex, which means they stabilize blood sugar level by digesting and absorbing it slowly.
Enjoy!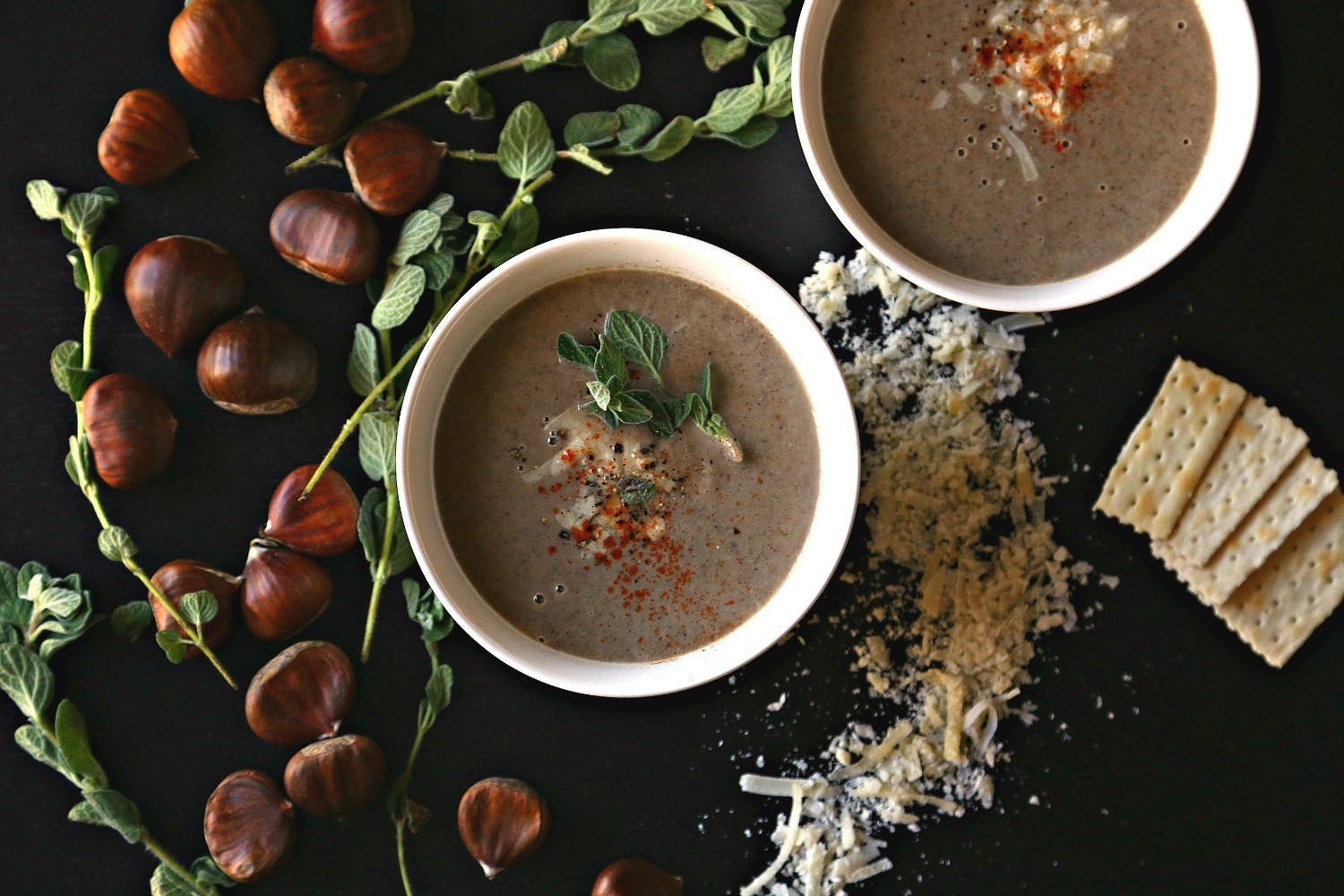 Chestnut soup with brie and wild thyme
Ingredients
1 packed cup of chopped roasted and peeled chestnut
100g brie cheese cubed
Thyme leaves chopped 3 Tb
Salt and lots of black pepper
2 small onions chopped
4 garlic cloves chopped
2 Tb Olive oil
3 medium to big mushrooms chopped
2½ cup water
Topping:
Parmesan cheese
freshly grounded black pepper
Instructions
Heat a medium pot on medium heat and add 1 Tb of olive oil.
Add onions and garlic, and saute for 3 minutes, then add mushroom and thyme, and saute again for 5 minutes on low heat.
Add 1 Tb of olive and chopped chestnuts. season with salt and black pepper.
Add water , and cover the pot, and let it simmer for 30 minutes or until the chestnut is tender and soft.
Remove the soup from the stove, then put it in a blender, mix it well, and then put it back again on the stove.
Add brie cheese, season again if needed, let it simmer for 5-10 minutes.
Serve immediately , and refrigerate any leftovers.
Notes
The preparation time is for roasting and peeling chestnuts. You can use ready chestnuts from the market that is sealed or if you have leftover roasted chestnuts, but i find it at its best when its freshly roasted.