A chicken with mango stew , a comfort healthy meal that you can make in 30 minutes. It's aromatic, delicious and nutritious too! This meal is gluten free, and you can make it vegan too!
This was my second recipe on the blog, a recipe that I made years ago and fell in love with it, well  the whole family, which was me and my husband only at that time, then I made for may family too and my husband cooked it too for his friends.  whenever I have an abundance of mango, I make this dish , easy to make, healthy, aromatic and so delicious.
Making recipes that you made at certain stage of your life or maybe in another country you have lived in! It made you think about life, and how things always change. And the feel of nostalgia maybe? What do you think? It was a good time when I first made this, from a cookbook that my husband convinced me to buy,  "Meats & Poultry" cookbook  by Williams- Sonoma. I made many recipes from it. Really it's a must have, especially for new cooks, who loves poultry and meat , and want to start with some basic recipes, and other easy international recipes.
Now let's talk about Mango and the recipe ==>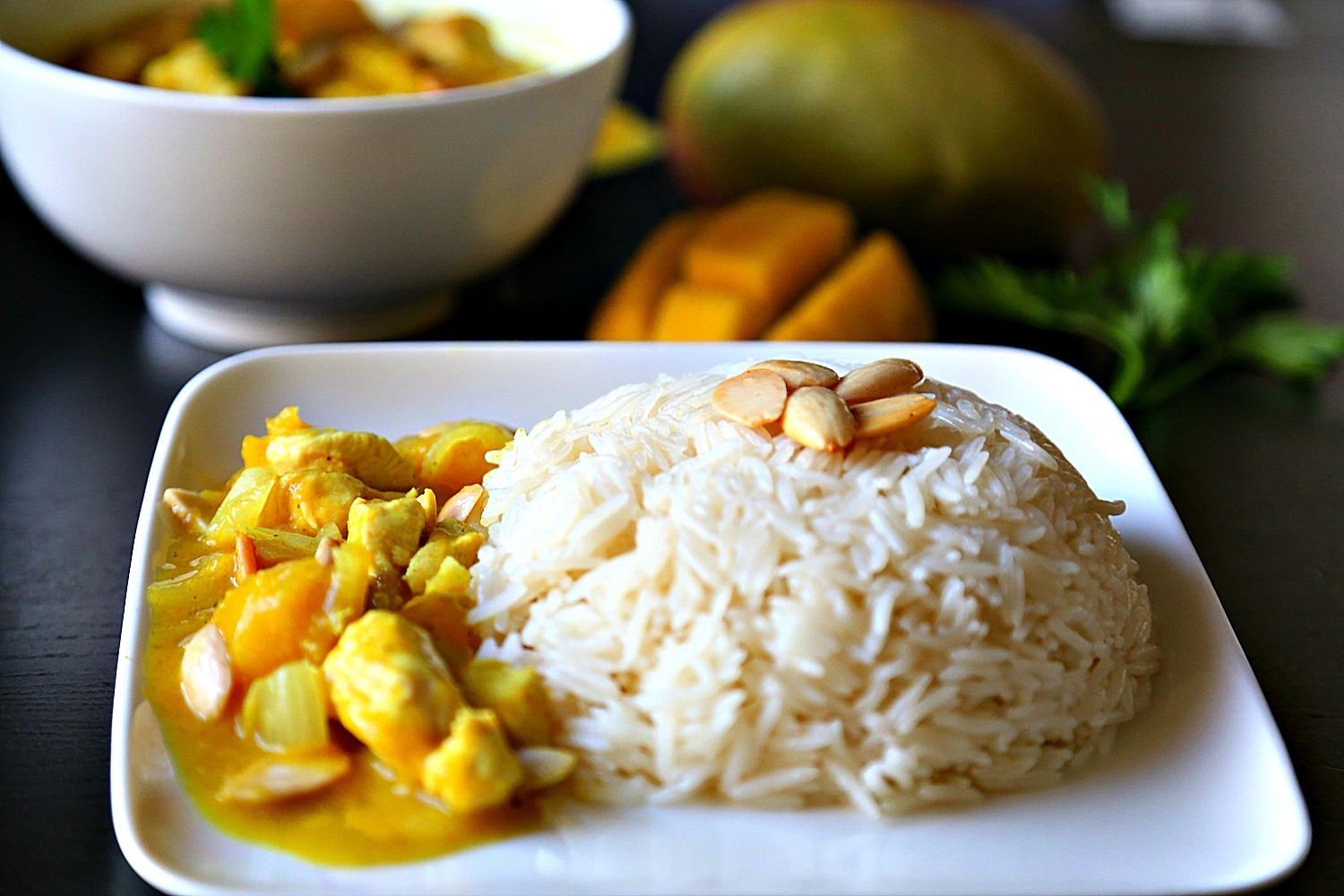 Mango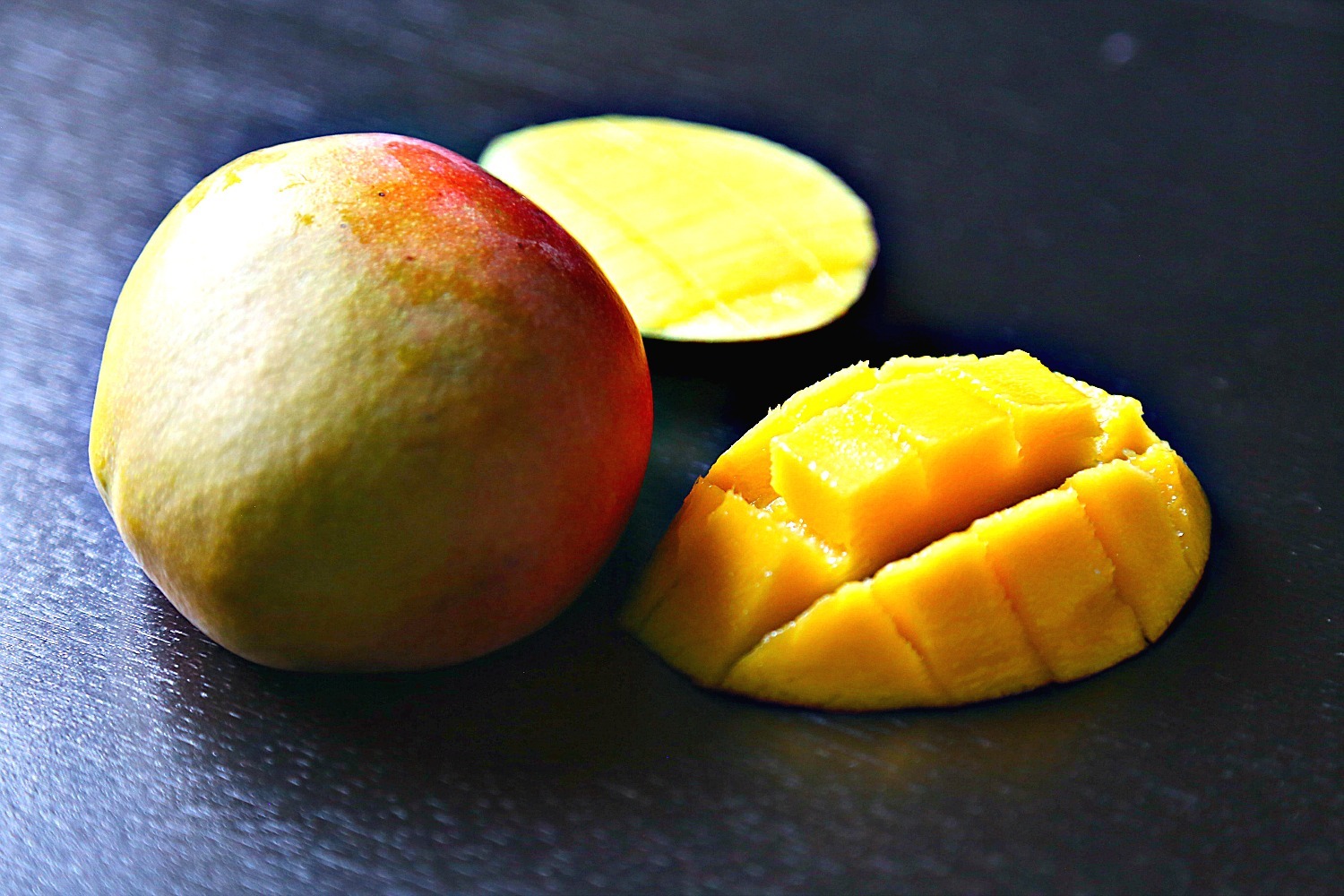 Who doesn't love Mango?
Fruits are very nutritious and delicious. There are a million ways to eat fruit: you can eat them whole as a snack, blended in a smoothie, baked as a desert, or even in savory salads & main courses!
It's no wonder Mango got the popular name "The King of Fruits"; Because of it's high nutritional value. As Mango's color is mid-range of yellow to orange, this means it's high in Beta-carotene (precursor form of Vitamin A) which acts like antioxidant.
Why do you need to add man Mango in your diet: 
Is a low calorie food, has abundant amounts of Vitamin C , exceeding the daily RDA, good amounts of Vitamin  B6, Vitamin E , and high in Magnesium, Potassium, Copper, and traces of Iron.

It also has phytochemicals which are non-nutritive plant chemicals that have many health benefits like anti cancer properties, and soluble dietary fiber like Pectin which aids of lowering serum cholesterol in the body.

A lot of studies claim that Mangos can kill cancer cells without affecting normal ones, especially in colon cancer and breast cancer.This recipe has sweet & savory taste which is perfect for lunch or dinner.And now let's come to the recipe…
This recipe is adapted from "Meats & Poultry" cookbook 
Enjoy!
Chicken with Mango Stew Recipe
Ingredients
Medium white Onion chopped.
Minced Ginger (to taste).
Minced garlic (to taste).
1 large ripe Mango chopped into cubes.
1 cup of Low sodium Chicken broth (I used Maggie dry cube, they are gluten-free ).
Cashew to taste ( I added almost 20 piece).
1 cup Fresh Orange juice
2 tsp. of Cornstarch (you can add coconut milk for thickening the sauce if you are gluten intolerant).
Boneless Chicken breasts without skin (1lb.) cut into cubes
1 cup of Basmati white Rice.
3 tbsp. Of Olive oil.
2 tsp.of Curry powder. if you like the intense flavor of spice, you can add more, I always do that and its calorie free (choose the gluten-free one).
Instructions
Put 1 tbsp.of olive oil in medium chef's pan or sauce pan or Dutch oven,( I prefer the chef's pan) on medium heat , brown the chicken on each side for 5 min , set the chicken aside and reserve the oil.
Reserve 2 tbsp. of orange juice and pour the rest on the glazed brown pan and sketch it to get all the residues, and let it boil for 5 min.
Dissolve cornstarch (or coconut milk if it is in powder state) with reserved OJ and add it to the pan and let it boil for 1 min.
Remove it from the heat and Pour the juice over the chicken and set aside.
Add 2 tbsp. of olive oil to the same pan on medium heat, saute the onion, ginger and garlic for 2 min.
Add the mango cubes, chicken broth, chicken with juice and the curry powder, simmer it on medium heat for 20 min at least or until the mango is mushy .
In the meantime, put the cashews in a roasting pan with a splash of olive oil and roast it for 5 -10 min on 180 C or 380 F.
Add cashews to the stew, sprinkle salt and fresh pepper to taste.
Serve it over steamed Basmati rice.
You can garnish with unsweetened coconut flakes or dried banana flakes.