A creamy flavorsome chickpea soup that is packed with nutrients, and antioxidants and guaranteed to keep you full for hours!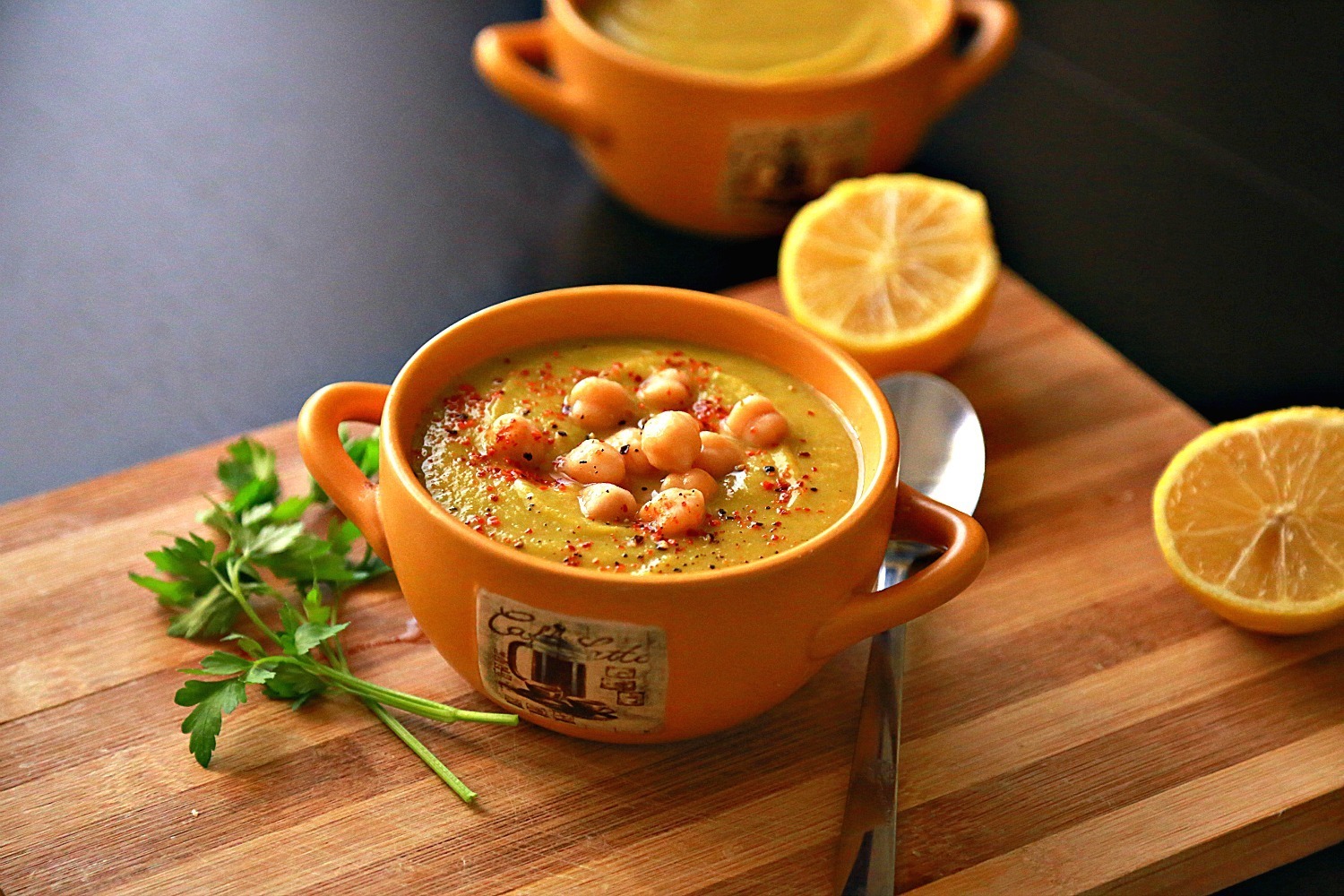 There is no small talk today, just nutrition information, but you still have the option to go the recipe directly, but I recommend you to read all the way down.
This soup is very nutritious, has good amounts of protein, fibers, minerals, vital vitamins, and relatively low in calories and fats. The use of white zucchini balancing the calories, and giving a desired volume. Chickpea create a natural thickness and healthy creaminess, without the full saturated fats comparing to heavy cream.
Chickpea 
I've talked before about chickpeas on the blog. Middle eastern countries use chickpea a lot. It's uses varies between different countries, like in Moroccan food, or between the Levant area. I grow up eating hummus all the time, so having chickpea in my pantry is a must, and I wanted to make different healthy dishes with it; so the soup happened!
I need to remind you with it's health benefits due it's importance:
They are high in protein, fiber, and B Vitamins like folate, B1 and B6, and has good amounts of minerals like manganese, and iron.
Studies shows that they do lower cholesterol. 

Chickpeas have selenium, which is good for reducing cancer risk.

Since they are high in fiber, this help you to feel full, and thus keeping your weight in control.
Chickpea and diabetes:
They have low glycemic index value, this is a good thing for people with diabetes, because it means that eating a meal containing chickpeas won't cause a spike of the blood sugar level. Moreover eating chickpea and other legumes reduce HbA1c values (a test to show how you are controlling your diabetes) a value higher than 7.5% means increasing risk for adiabatic people to develop diabetes complication like cardiovascular diseases. 
Zucchini 
Is a very lightweight vegetable. actually it's fruit, but is treated as vegetable. I've been using it more lately. It's also beneficial for you:
Most of the weight of white zucchini is water, which make them light and hydrating. 

They are low in calories and fats, also a good source of vitamin C, A and manganese.

It is a great source of antioxidant beta-carotene
This soup is very food for the digestion, because of high fiber content in chickpeas and zucchini, it prevents constipation. Note that other veggies in this soup like carrots also is great source of antioxidants . Moreover it's an immunity booster with onion anti-inflammatory proprieties, and garlic antibiotic properties.
I can't stress enough how this soup is healthy, it's a nutrient packed, with being easy on your body, and keeping you full, with available ingredients!
So what are you waiting for, make it today! 
Chickpea Zucchini Soup
Ingredients
4 cups white zucchinis chopped
2 cup chickpeas
2 medium carrots chopped
1 medium onion chopped
Few garlic pieces chopped
Half inch of fresh ginger chopped
2 Tb sunflower oil
3 cups water
Spices: (1 tsp)
Ground coriander, cumin, red pepper, salt, black pepper
Optional and for garnish :
Pine nuts , 1 Tb of ghee, chickpeas, Parmesan cheese
Instructions
Heat a medium pot on medium heat, and add the sunflower oil.
Add the onion, garlic, ginger, and saute for 5 minutes
Add carrots, zucchinis, and mix well with the other ingredients for 5 minutes
Add chickpeas, spices, and add water
Let it boil, the cover the pot with a tight lid, and keep it simmering for 30 minutes
Mow remove from t he stove, put the soup in the blender to puree it, do this in batches.
Return it to the stove, season again, and keep it for 10 minutes.
Serve hot, with chickpeas, Parmesan cheese, or with toasted pine nuts with ghee