I can say in a loud voice, that is the best meal I've ever prepared! This coconut mocha oatmeal is out of this world!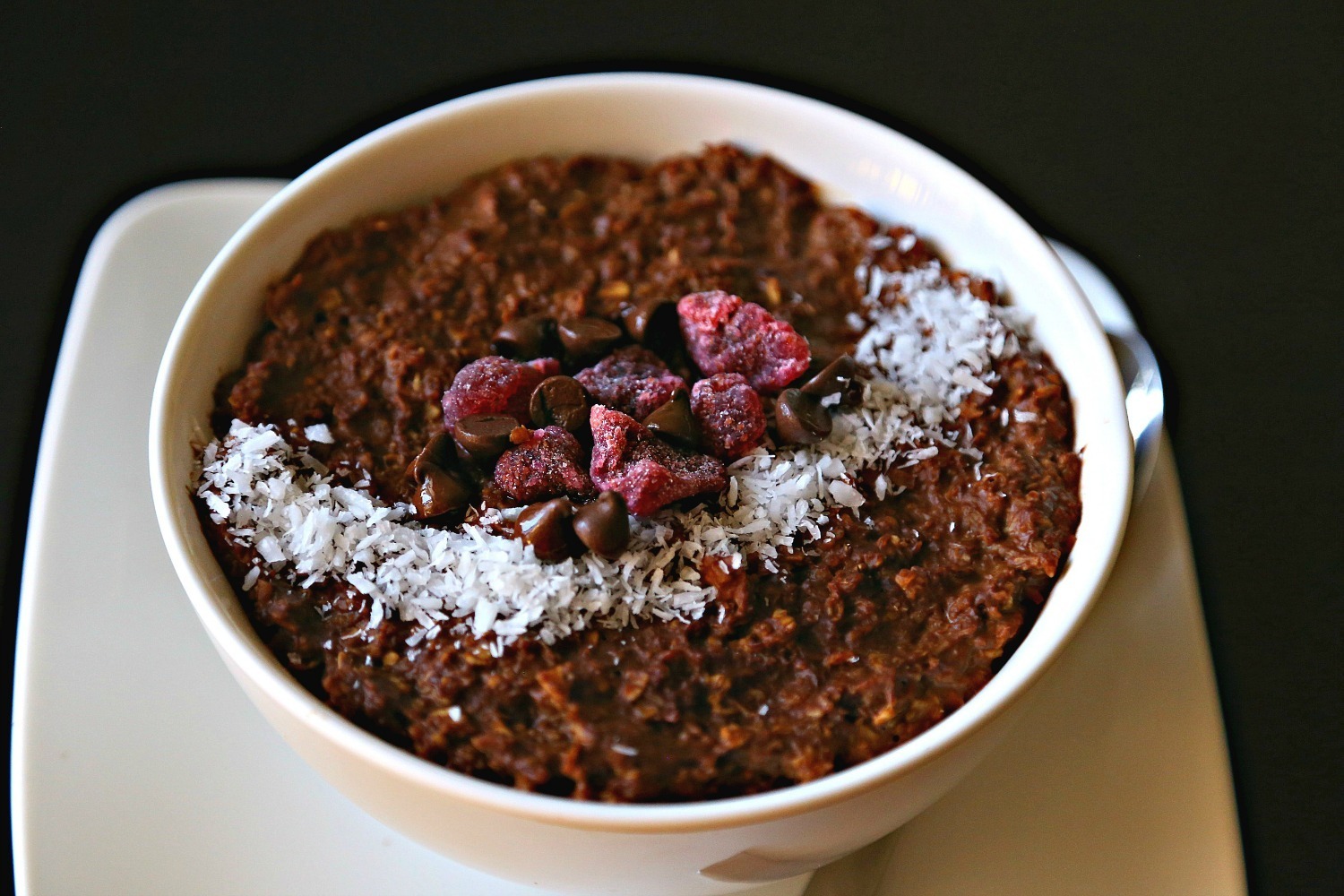 Almost every Friday, I point to the issue of what dish I want to offer you, whether its simple or complicated. And creative, or not. Clearly, this is an issue for me, how the dish is creative, and if its very popular or not,  who did it before, and how can I present it or offer new things to my readers?
I need to understand that food bloggers are not chefs, but bloggers. Which means I should transfer my real experience with food. Isn't this the truth? What do you think?
And in my case with expertise of nutrition, I want to offer the delicious healthy recipe, that are never boring, or bland.
So even lots, and lots of bloggers posted oatmeal recipes, I still want to post mine. I tried too much oatmeal recipes, from my own, and other recipes (but I still need to try this Chai oatmeal  recipe).
I can assure you this ratio of milk/water is the best! It lets the other flavors to shine, but not to become really heavy, dense, or too sweet.
Oatmeal 
I've posted recipes before for oatmeal, but never really discussed how healthy, and important to include it in our diet .
Naturally gluten free whole grain, it can reduce cholesterol, blood pressure.
It's high in fibers, and has minerals like magnesium, manganese, and iron. Also in B vitamins like folate , and B1.
You can add it to almost everything you can imagine. Plus it's versatile, and airy, but makes you feel full. In this study they compared the effect of oatmeal, and cereals on satiety, and find improve satiety more than cereals.
My love for oatmeal started, when I needed badly to loose weight, and be fit. That was four years ago, when I had a very high cholesterol level. I had oatmeal almost everyday, with milk, and raisins, and it did help me a lot. Then when I came to the U.S, I couldn't wait to have it with fresh berries every day especially blueberry. But one day, I read this study, claimed that milk decreased the content of flavonoid, and anthocyanin of blueberry. So I stopped adding fruits to oatmeal, and other toppings.
Coconut milk 
This is only things that I'm not happy of this recipe, since coconut milk is low in protein. I usually add coconut milk to desserts, so you can have any kind of protein you like on the side with this oatmeal. Or to make this oatmeal higher in protein, you can add cow's milk (which I do most of the time) or Greek yogurt. But this version of coconut milk, makes it much lighter.
And I didn't mention, that this version has coffee, which means some caffeine for your morning boost!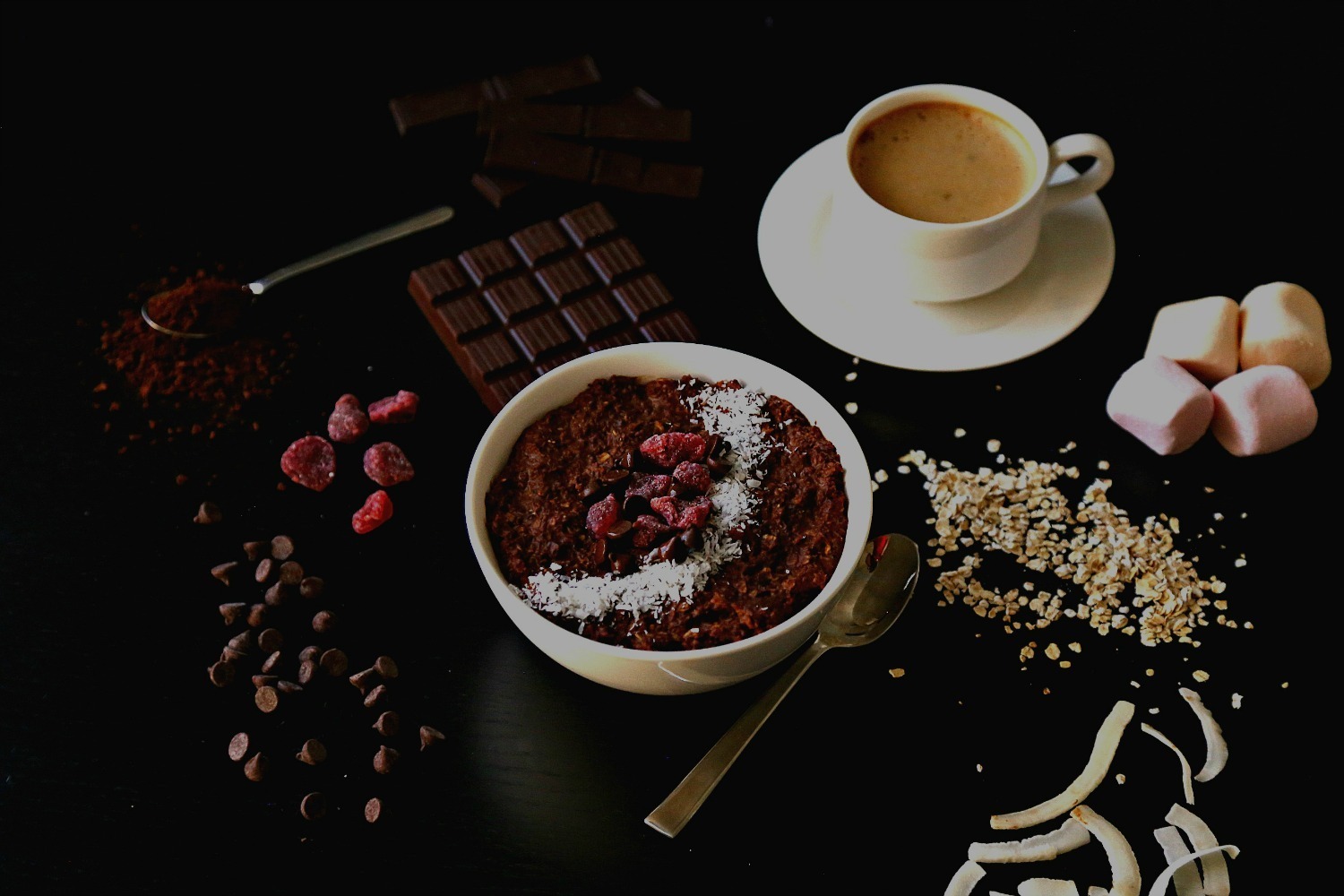 Now to the recipe! 
Coconut Mocha Oatmeal
This oatmeal can be made in 10 minutes, rich in flavors and healthy, vegan and gluten free.
Ingredients
1 cup instant or old fashioned oatmeal
3 Tb grated dried coconut
2 Tb instant coffee, or coffee of your choice
3 tsp cocoa powder
1 cup full fat coconut milk
1 cup water
1 Tb of Sugar (or sweetener of choice)
1 tsp grounded cinnamon
Suggested Toppings
Raspberries
chocolate chips
Instructions
In a small pot, add coconut milk, water, oatmeal, coffee. on a medium heat, give it a good stir.
Add grated coconut, cocoa powder, and cinnamon. and stir again.
Keep it on the stove until it boils about 5 minutes, or less.
Lower heat to the minimum, and keep for it another 5 minutes.
Put in a bowl, and enjoy it hot, or cold.
Refrigerate any leftover up to two days.
Notes
If you prefer gluten free version: Make sure the oatmeal is gluten free.

And choose gluten free coconut milk, I used Thai brand which is gluten free.

For stronger flavor of coffee, use espresso instead of instant coffee
What's your favorite oatmeal recipes? Please feel free to share yours!