An easy dark chocolate cake that is so rich, yet light and fluffy. It's packed with nutrients, vegan, gluten free, and refined sugar free too!
I wasn't intend t o make a chocolate cake, even I always want to, because who can resist a chocolate cake? And a healthy one? That's heaven itself! Now, I had a mix of gluten free flour, and baking powder ready for another recipe. But I changed my mind, and it was setting alone on my kitchen counter. I thought this needs a good use! And what beats a chocolate cake?
This cake is oil free, and egg free! I don't always make cakes this way, but I see talented food bloggers like Nadia from Nadia's healthy Kitchen, use cashews as a cream base, I was in doubt. I decided to give it a try, and its amazing! I used dates as a base for the batter, a natural sweetener, and a thickener.
Why this dark chocolate cake
Because
 It has cashew, that has good amounts of monounsaturated fatty acids that are good for your heart, and has good amounts of manganese, and magnesium.
 It has dates that good amount of fiber, vitamins like vitamin B6 and folate. And minerals like calcium, and iron. Also dates are rich source of antioxidants like ß-carotein, lutein which are beneficial for eye health.
 It has dark chocolate that has good amounts of antioxidants and good for the gut bacteria too!
It's made with gluten free flour blend that is, free of gluten of curse, and lighter on your stomach.
While, I'm not a big fan of chocolate, I made before some delicious recipes, and my favorite is this no bake chocolate pie . Try to opt for dark chocolate more often, and low sugar ones.
This is such an easy cake, perfectly healthy, and tastes heavenly! Maybe more like brownies or a fudgy cake.
To be refined sugar free, you need to make sure that dark chocolate doesn't have contain sugar or the coco powder. You can use dark coco powder, and skip dark chocolate too, it will be even lighter!
<
h4>Enjoy these beauties 😉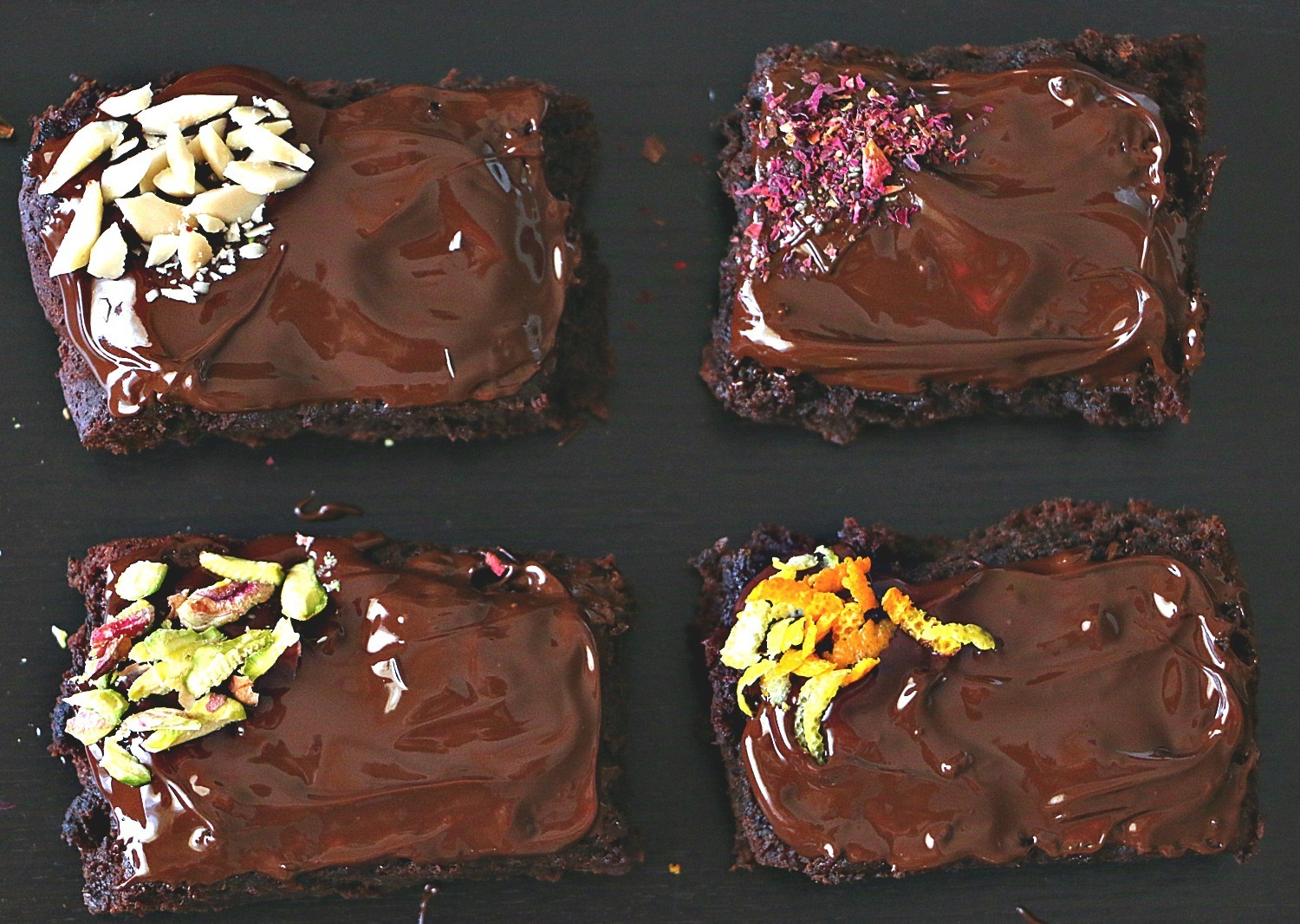 Easy Healthy Dark Chocolate Cake
Ingredients
1 cup gluten flour blend
½ Tb baking powder
¼ tsp salt
1 cup date soaked in hot water
¼ cup raw cashew soaked in same amount of water
2 Tb coco powder
60 g dark chocolate
Optional: 1 tsp cinnamon
Instructions
Preheat the oven at 375F.
Use your favorite baking dish or pan, but its needs to be at least 9* 12 inches. Grease the pan some vegetable oil, coconut oil, or some oil spray. ( I used parchment paper only)
In a blender or food processor, blend the dates until it becomes like a paste. Do the same with cashew to get a nice cream.
Mix the date paste and cashew cream together.
In a small bowl, mix the flour, baking powder, and salt together.
Mix all the ingredients gently, and pour the batter in the baking dish.
Bake for 30-40 mins or until a knife comes clean .
Wait until it cools completely, then cut it in squares.
Refrigerate any leftovers, it will taste good for 10 days.