A hearty pilaf of "Freekeh" whole grain soaked with chicken stock, and cooked in the oven slowly, so it absorbs all the goodness slowly, to get you the greatest flavor ever!  Plus, it's packed with fibers and nutrients!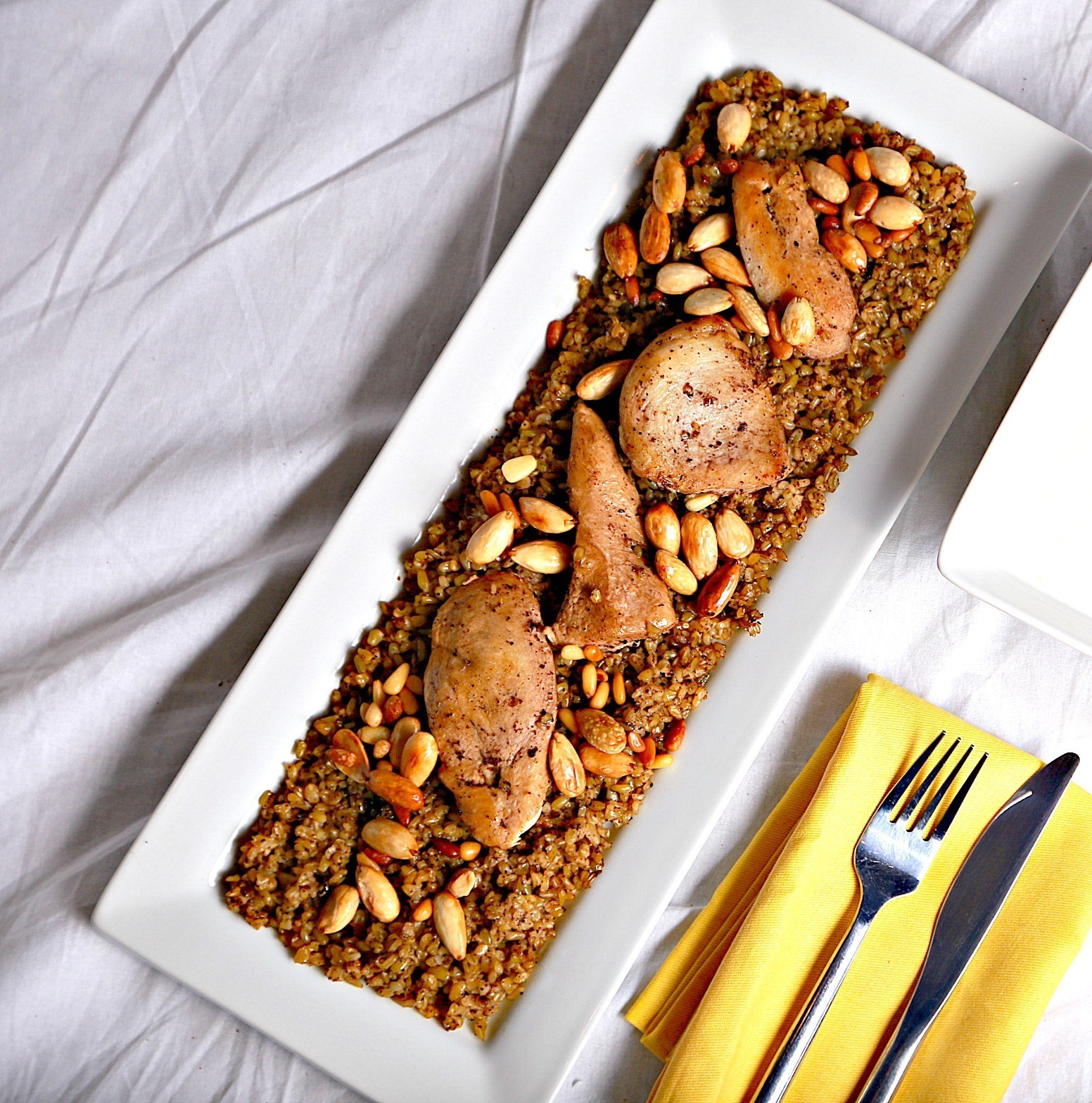 I started a series "Arabic cuisine' featuring my traditional food, today the dish is Freekeh pilaf.
What is Freekeh
It's an ancient grain, basically a green toasted, and cracked wheat. Therefore, it's a whole grain. It's very nutritious, and has less calories comparing to other grains. It has high amounts of protein, and fibers. It has also good amounts of minerals like iron, calcium, and magnesium.
When I was young, my mom used to make it in form of a soup with chicken broth. Actually, I used to hate it! It's a good soup, with rich nutty texture, and great flavor, but I didn't really like it .In Jordan "My home country" Freekeh pilaf is served In big gatherings such as lftar in Ramadan, or after a wedding. And in special gatherings when you pay condolences.
When I got married, I moved to Doha in the Arabic gulf. I never cooked Freekeh there, because I wanted to try new dishes on my own, not the old traditional ones. But after I moved here, the first month was really hard. So how can you feel home again? By cooking traditional food! Therefore, after we found a small Middle Eastern shop, I got all the food I want, Hummus, Foul, Freekeh, and many other items, and I cook it frequently now. 
I feel proud, and excited when I see food enthusiasts talking about my traditional food. There are so creative recipes out there for Freekeh, just like this one with cauliflower and tahini sauce  .
This pilaf is so easy to make. I usually have a side of vegetables, and of course yogurt (plain, no sugars) are complementing it. And it tastes better with toasted nuts. 
You can find Freekeh in a Middle Eastern shop, or at Amazon, here is my favorite brand.
Let's get to the recipe!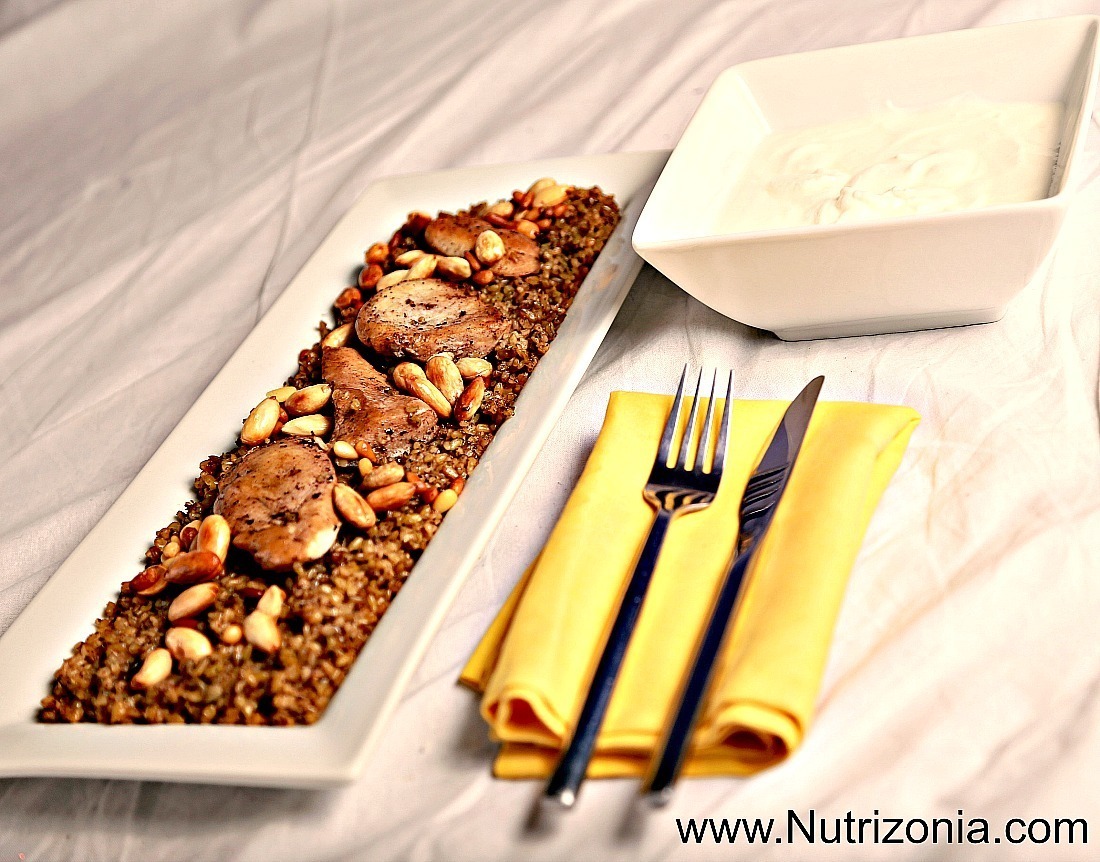 Photos are taken by Haytham Hajir 

Freekeh Pilaf with Toasted Nuts
Freekeh Pilaf is an easy dish, healthy, and full of flavors.
Ingredients
1 cup of Freekeh
1 lb of boneless chicken breasts
1 small onion chopped
1 cup of chicken broth
2 Tb (Divided) Vegetable Oil or Ghee (Clarified butter)
Pine Nuts and Almonds (Optional)
Instructions
Rinse the Freekeh thoroughly with water, soak it for 15 minutes, and set aside.
Heat a skillet, and add 1 Tb oil, or ghee.
Sautee the chicken until it's longer pink and have a nice golden brown color.
Remove the chicken from the skillet, and add it to an oven safe dish.
Add the 2nd Tb of oil, sautee the onion for 2 minutes on medium heat.
Drain Freekeh, and add it to the same skillet, you can add extra oil if you want. And saute it for 5-10 minutes.
Remove from the stove, and add Freekeh to the chicken.
Add the hot chicken broth (water or vegetable broth is also works)
Put in the oven for about 30-40 minutes or until its completely soaked all the liquid.
Toast nuts with 1 Tb ghee (Other option is to toast nuts in the oven for 5-10 minutes)
Serve it with toasted nuts and Yogurt.
Notes
The Nutrition facts are counted 2 Tb vegetable oil and without the toasted nuts since its optional
Nutrition Information
Calories:
372
Fat:
20
Carbohydrates:
14
Fiber:
3
Protein:
24
Have you ever tried Freekeh? Would you try it?