A perfect refreshing mildly sweet hibiscus iced tea, sweetened with honey and added to ginger and green apple tea. This is the ultimate comfort healthy drink , and it happens to be vegan and gluten free too!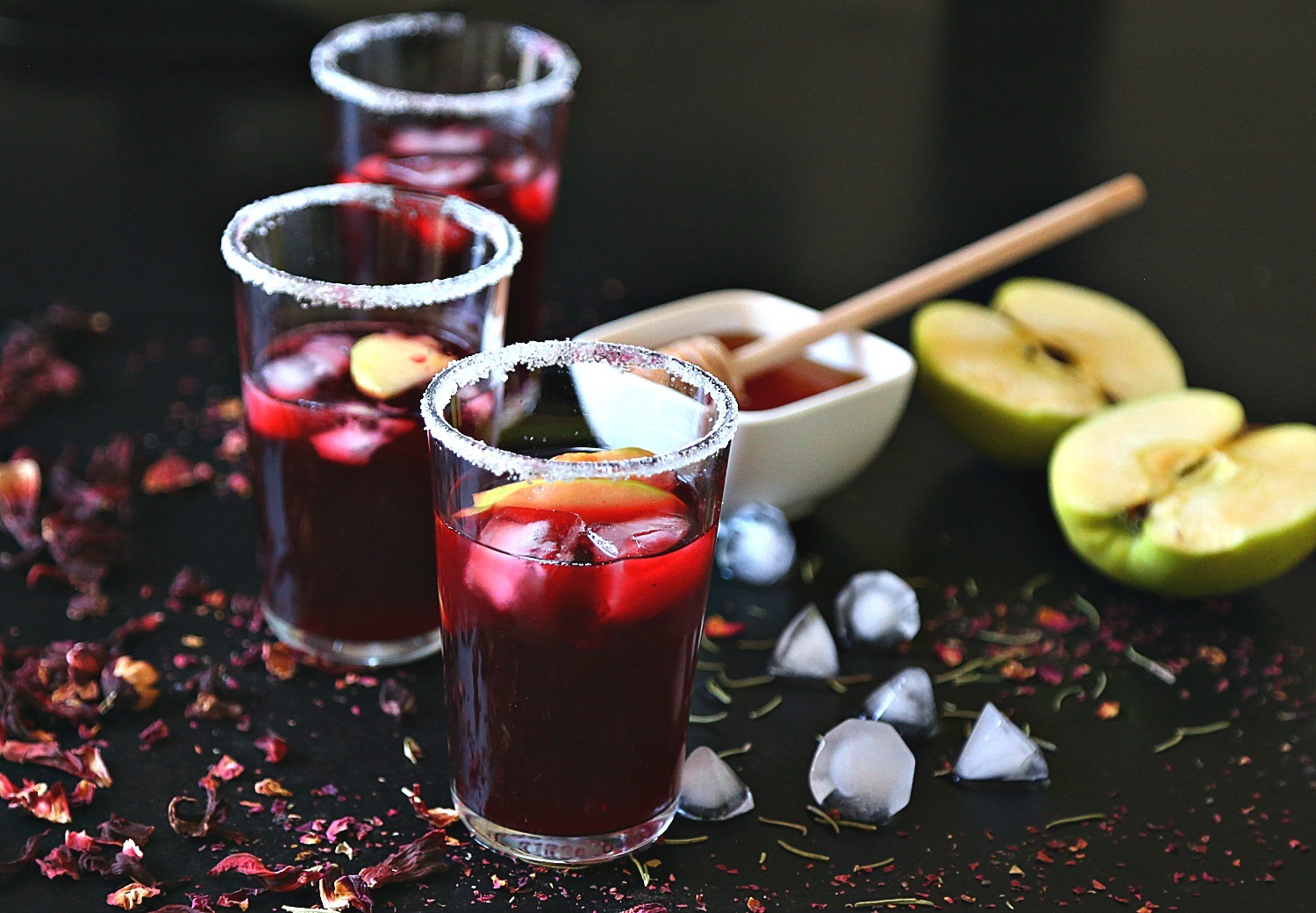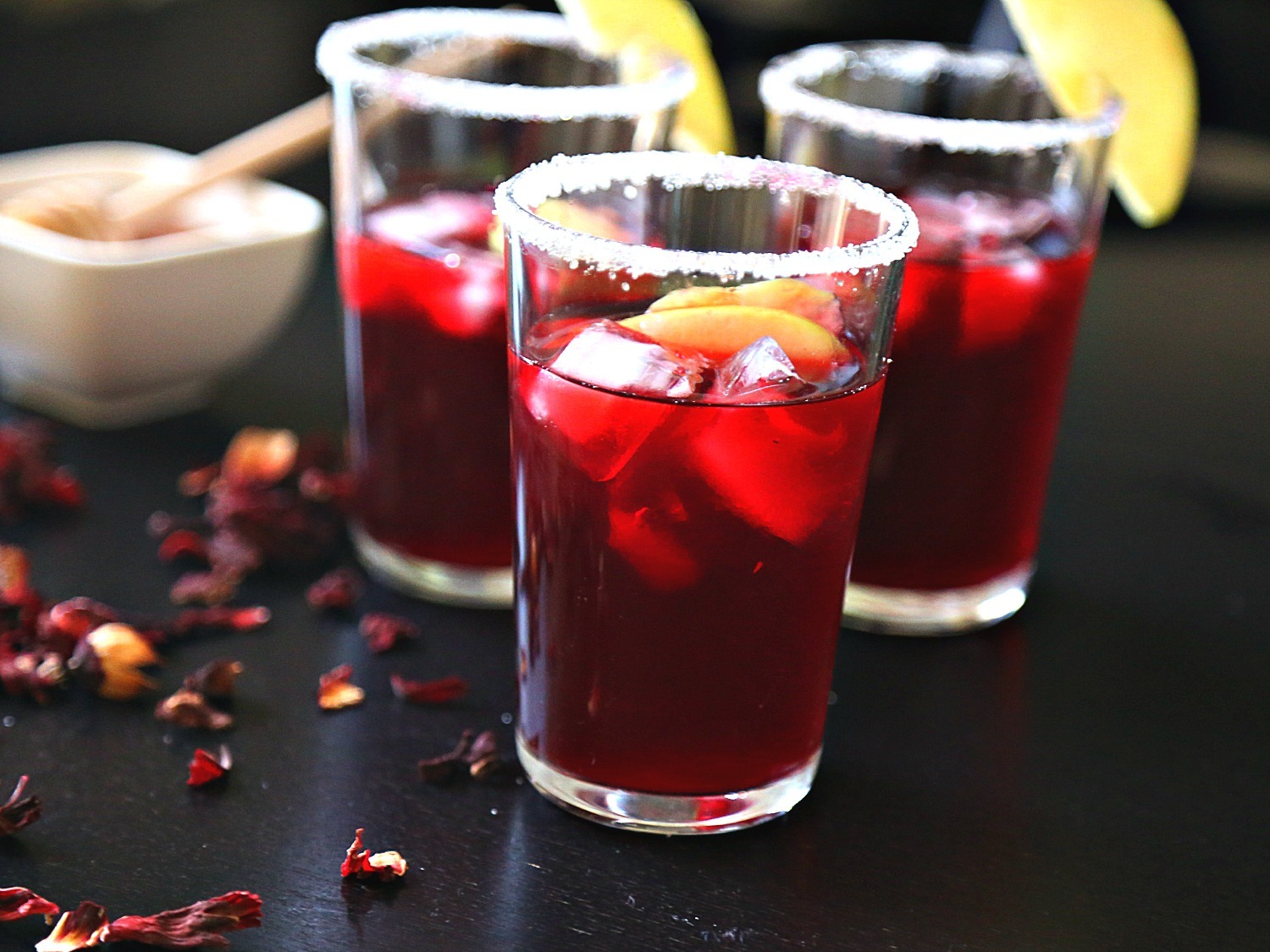 This is the best juice I've ever made! My family loved it so much! I'm not  a juice drinker because am a caffeine lover. But, in Ramadan I drink less caffeine, because I don't want to dehydrate myself and actually I want to drink water instead of coffee or tea, so I though a hibiscus iced tea is in order!
While , surprisingly it is not hot in Amman at all, we still need a hydrating drink in Ramadan after 16 hrs of fasting. So I picked up this juice! A one that is packed with antioxidants and nutrients, and anti- inflammatory proprieties!
Why this hibiscus iced tea
There are some human and animal studies shown that extract of hibiscus lower blood pressure, and lipid profile. It's almost effective as Captropirl medicine.
It has anthocyanin, a flavonoid compound with antioxidant activity. There is an association between cardiovascular diseases protection and consuming anthocyanin-rich food.
It's almost zero calorie on it own, has great amounts of vitamin C and good amount of vitamin A & vitamin B1
It works as diuretic, and helps with constipation too.
Keep in mind that hibiscus may not be safe for pregnant women , and for any one who takes blood thinners. Always consult your doctors before having herbal drinks.
It's not the first time, I made a hibiscus drink or even hibiscus iced tea. Find other recipes made with hibiscus here
Apples
Apples are very healthy, and like other fruits, it's best eaten fresh, but that doesn't mean we can't eat it cooked, here some health benefits for apples:
It has great amounts of antioxidants, flavanoids, and fibers. 
It's a low calorie food, and has a high content of water, which makes you feel full. 
It can lower the bad cholesterol , and reduce risk of diabetes, and other chronic diseases too.  
Ginger
There are so many health benefits for ginger, it's hard to mention all, here are few of them:
Enjoy!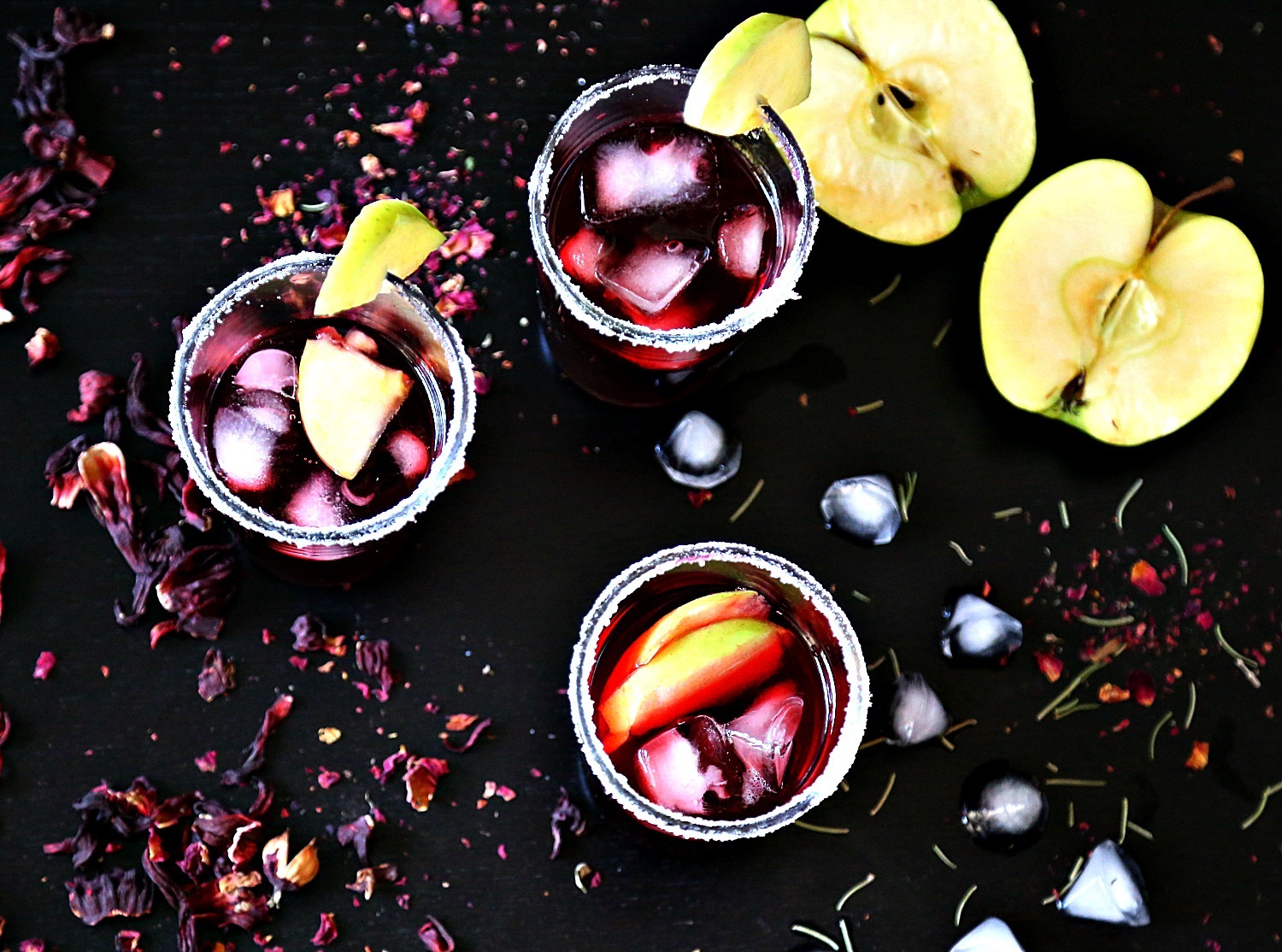 Green Apples with Ginger Hibiscus Iced Tea
Ingredients
1 cup of hibiscus dried flower
2 cup of water
2 Tb of honey
½ green apple
2 inches of fresh ginger
1 cup of boiling water
Instructions
Soak the hibiscus in water and honey over night or at least 4 hrs.
Drain the hibiscus , and discard the dried flowers.
Add ginger to boiled water, and keep it covered for 15 minutes.
Remove cover and add green apples.
In each cup, add ¼ cup of ginger/apple mix .
Add the concentrated hibiscus , and lots of ice and mix them.
Serve immediately and keep leftovers in the refrigerator.