A crunchy grilled chicken salad that is bursting of flavors and packed with nutrients. It's full of  antioxidants and high in protein. Plus, It's gluten free too!
I had hate/ love relationship with cilantro.  I used to hate it when mom add ir fresh for mloukhiya, but when I moved, and tried it with pico de galle salad (the Mexican salad), I loved it, and started to buy it more often. And just lately, I was thinking of making a salad with an interesting dressing, and cilantro popped to my mind. And I thought how to get an intense flavor of cilantro that is perfectly healthy and full of flavor? Pesto!
Mom serve it it fresh with crushed garlic and a squeeze of lemon and some green pepper on lunch meal everyday.
Why this grilled chicken salad
It has chicken that is lean protein and has high amounts of niacin (especially the breast) which helps the body do natural detoxification and helps lower bad cholesterol, and raise the good cholesterol. 
It has cilantro that is has high content of antioxidants like beta carotene, lutein and zeaxanthin . And high amounts of vitamin A and C and fibers
It has quinoa that is low in calories, fat, high in protein, and a good source of fiber.
An easy and flavorful salad that is gluten free too
You can grill the chicken the way you like it, and you may add other spices of flavors. I kept it simple so the pesto in this salad can shine. The salad it self stayed fresh for few days, however keep the pesto on the side and mix it with salad just before serving. And technically pesto is good for 5 days  maximum, and better to consume it before that.
Enjoy!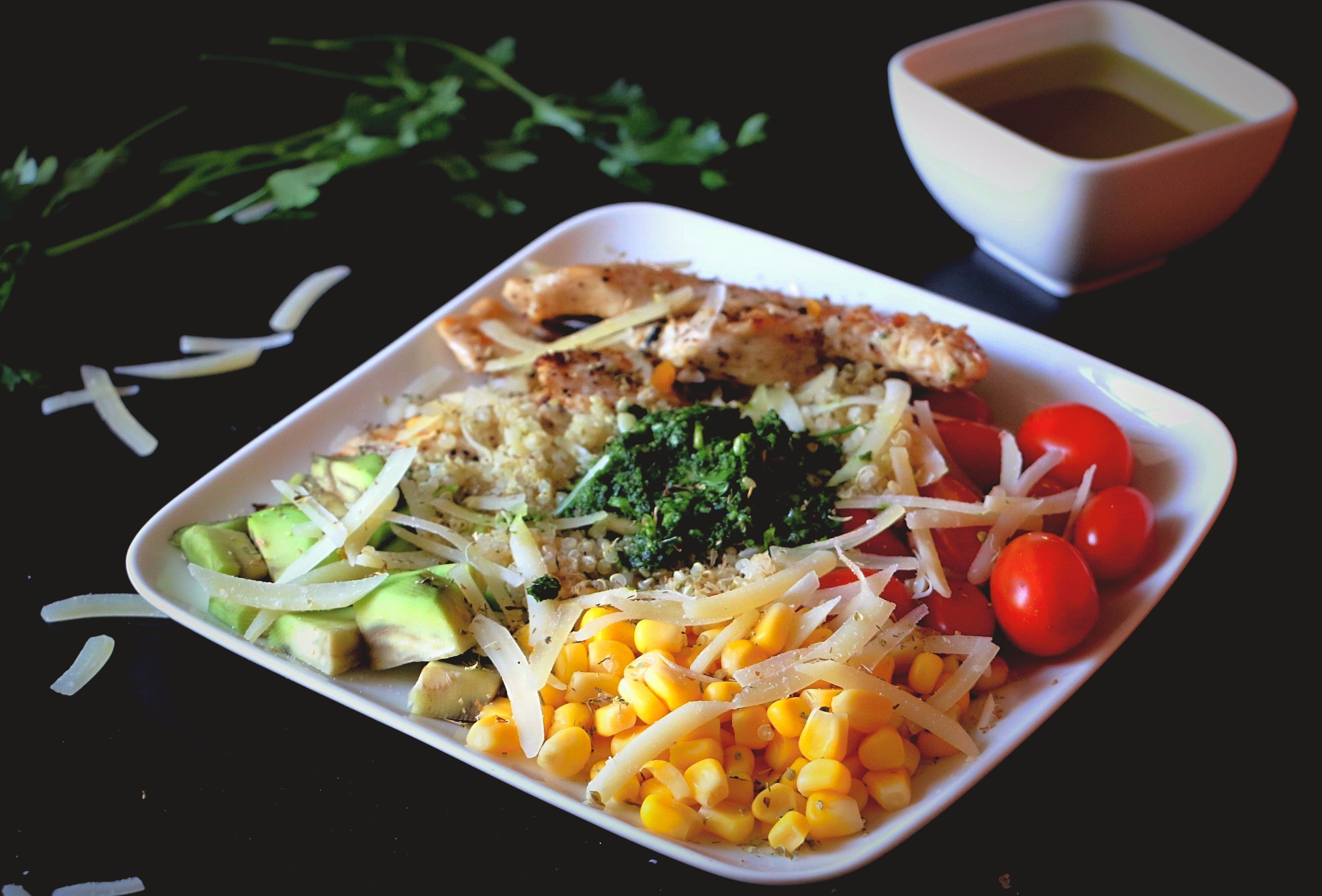 Grilled Chicken Salad with Cilantro Pesto
Ingredients
Cilantro pesto
½ cup of chopped cilantro
1 Tb Parmesan cheese
1 Tb olive oil
½ Tb pine nuts
A pinch of salt
1 garlic cloves
1 small boneless chicken breast , Grilled and cut into stripes
½ cup cooked quinoa
Half of avocado
A handful of cherry tomato
A handful of sweet corn
Salt and pepper (as desired)
Shaved Parmesan (Optional)
Instructions
Prepare the pesto, In a blender, add the ingredients of the cilantro pesto.
Start blending in pulses.
You can add extra olive oil to get a smooth texture and then set aside.
Grill the chicken in the oven or over electrical grill.
Cook quinoa according to the package instructions.
In your favorite bowl, add quinoa, cherry tomato, corn and avocado.
then add grilled chicken and drizzle the pesto over it.
Serve hot or cold, and refrigerate the leftovers, while the pesto is on side.