A crunchy and chewy hazelnut chocolate oatmeal bars that are very healthy and flavorsome! with a hidden hint of coffee and vanilla, these gluten free hazelnut bars are the perfect snack!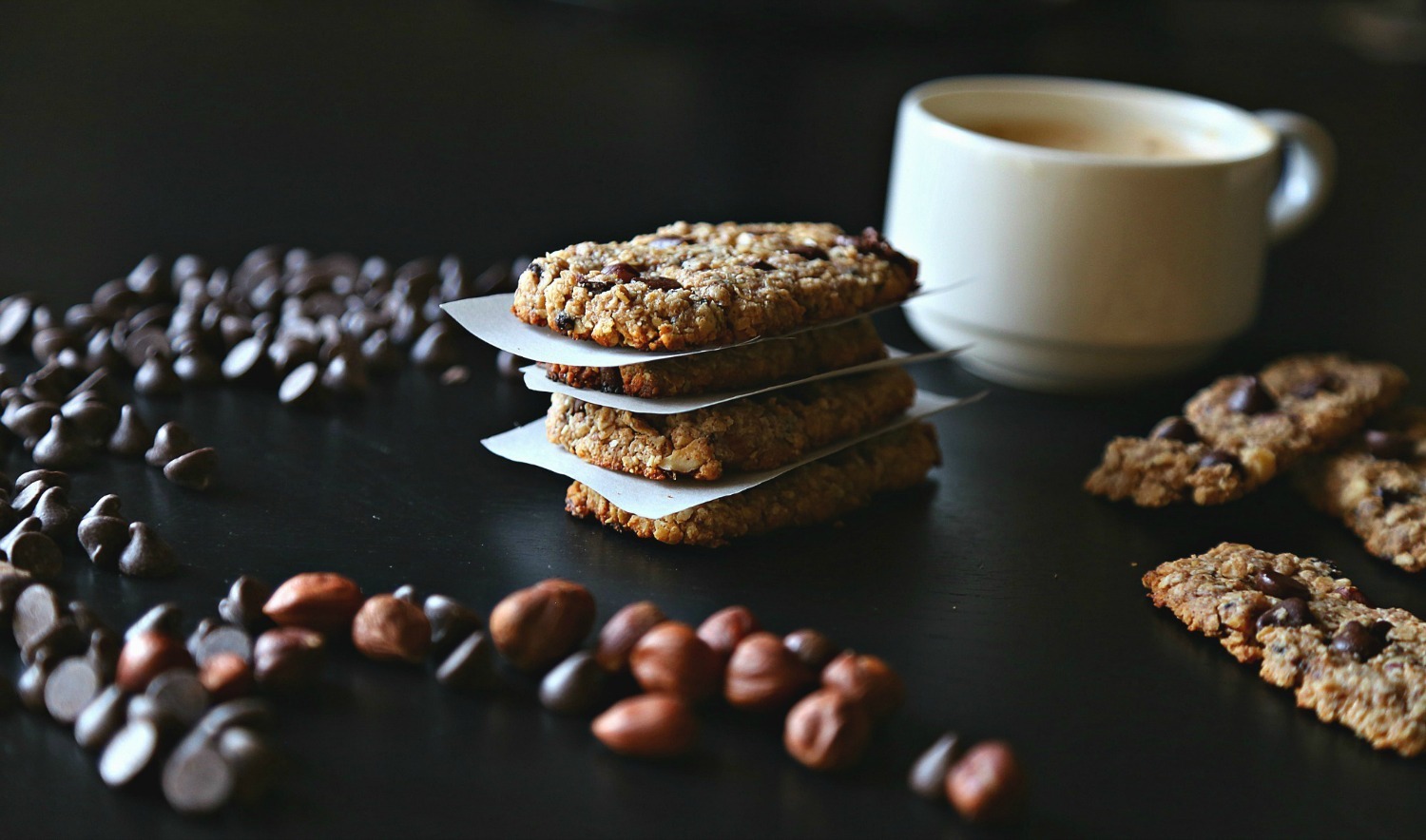 When I sometime think of  a new recipe to make for the blog, or even to enjoy at home, I often think of new items to explore, hazelnut is one of them them. Not a new nut of course to me, but I don't really include it in my recipes, it wasn't common for us to snack on it when I was young, but on salty roasted peanuts and pumpkin seeds. And occasionally pistachio, and cashew.
I'm not big fan of salty nuts for a snack, but it was the most affordable snack before. And I'm not good at snack either, not sure why, I feel they are time consuming! But another reason was, I had braces when I was about 13, and eating nuts was notorious for breaking the brackets, which means another visit to the orthodontist! So I had to stay away from nuts, and I did for a really long time.
Now I mostly enjoy raw nuts, with occasionally toasted nuts on rice pilafs or some Arabic desserts. I've tried to make at home some nut butters, and I just made hazelnut butter for this recipe, I don't even keep them all the time, even I love them, I need to make more soon. But right now I don't have a heavy duty food processor, so I just made what I needed for this recipe. Sometimes having fresh pressed nut butter is really something!
Most nuts are perfectly healthy snacks whether in their plain form or mixed with other healthy food. They are high in calories and fats, but this is due to the composition of the medium chain fatty acids, which they are known to protect the heat health, and use as fast energy source.
Why do you need to include hazelnut into our diet
It's a good source of magnesium, manganese and iron. And has high amounts of vitamin E, B6 and folate.

Is a rich source of flavonoids which have antioxidant and anti-inflammatory proprieties. And this study found that higher flavonoids intake lower the risk of some chronic disease.
In these bars I used crushed hazelnut and hazelnut butter too! This means extra hazlnutty bars! These bars are easy to assemble with available ingredients, they are gluten free, and vegan friendly. You can easily substitute dairy chocolate, with a vegan one. Once I tried a soy chocolate and it was fantastic! Plus, if you chose a refined sugar free chocolate, so this recipe will be the same too!
Now Enjoy!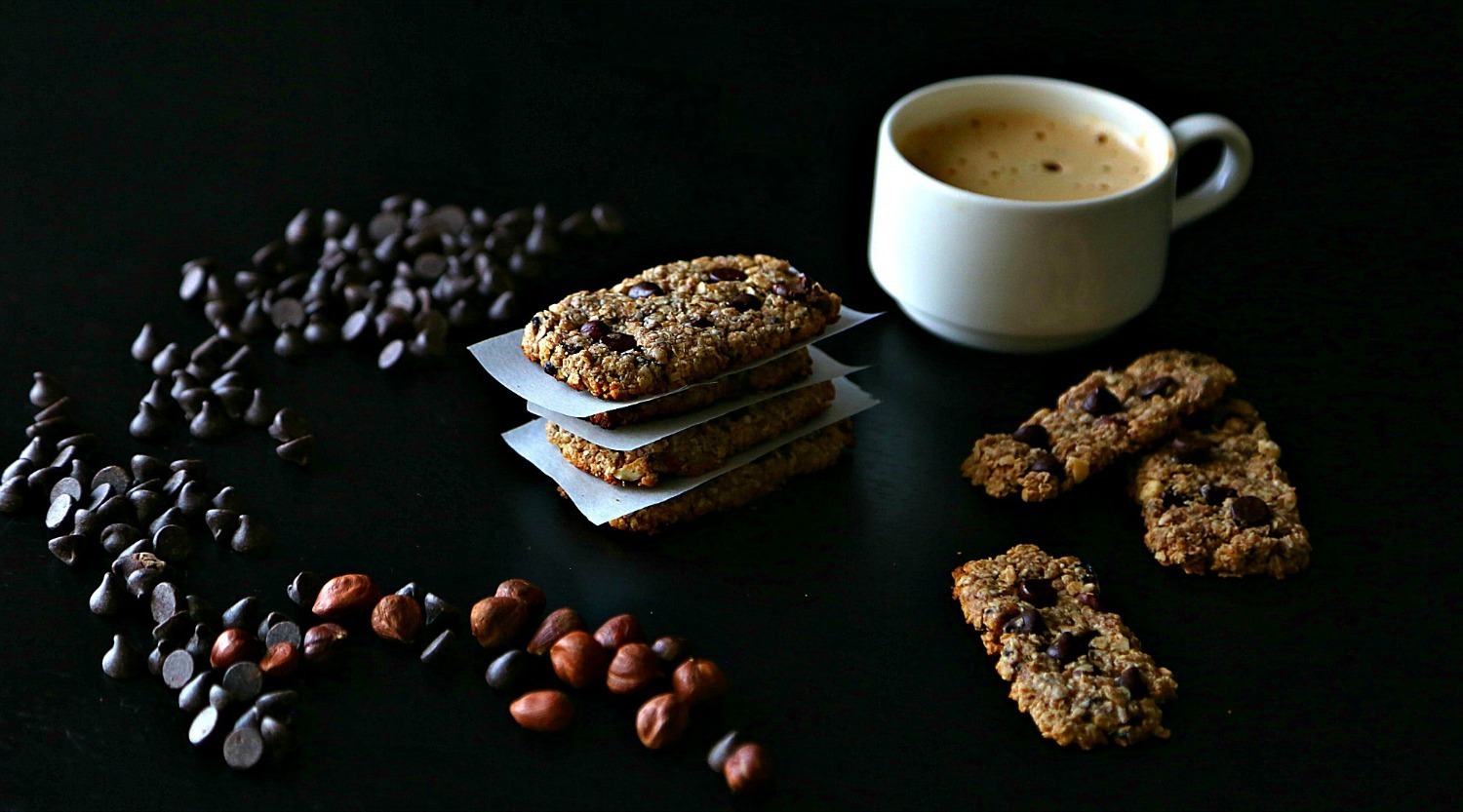 Hazelnut oatmeal bars
Ingredients
2 Tb hazelnut butter
1 Tb crushed hazelnut
2 Tb chocolate chips semi sweet
¼ tsp sea salt
2 Tb maple syrup
1 tsp instant coffee
½ tsp vanilla extract
1 Tb almond flour
100 g oatmeal
Instructions
In a medium bowl, mix well oatmeal with hazelnut butter, and crushed hazelnut.
Add maple syrup gradually, and add instant coffee, vanilla essence, and sea salt too.
Add almond flour, and fold chocolate chip into the mix.
You can refrigerate the mix for easier shaping.
Preheat the oven at 340 F.
Bake the bars for 8- 10 mins maximum.