Crispy from the outside, and gooey inside thanks to the homemade almond butter! They are easy to make, packed with nutrients,  gluten free and vegan friendly!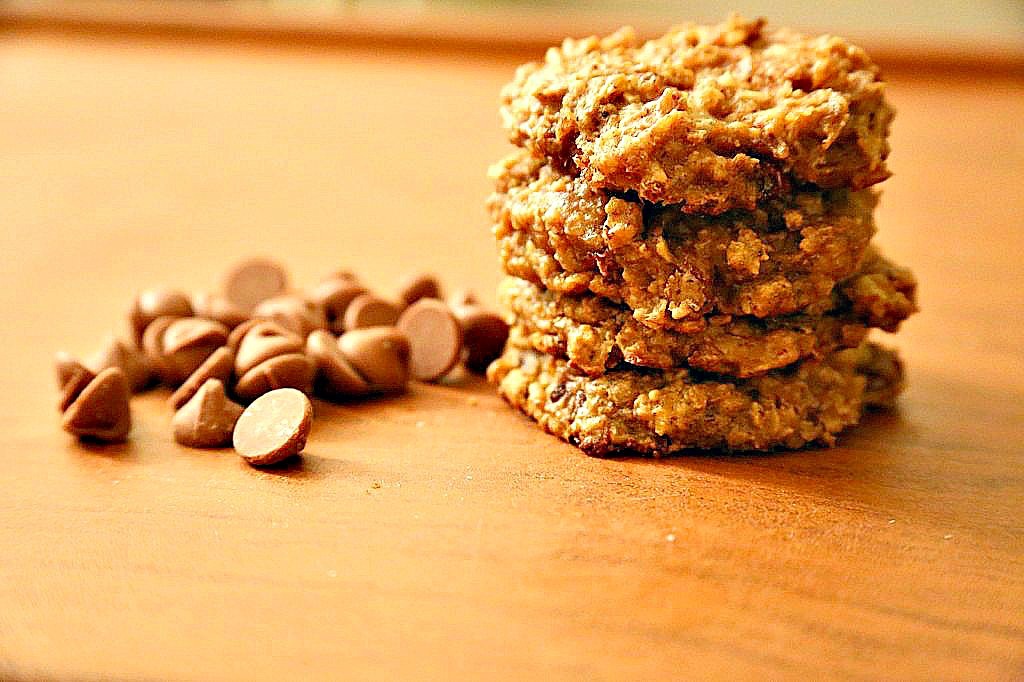 Do I need to have a story for every recipe? When you read a recipe, do you read the story or you just scroll down to ingredients and directions?
I think a story behind a recipe strengthen the post, and makes it more appealing, exciting, and persuading. Honestly, I do not always read the stories come with recipes, I read a lot of blog posts and recipes every day, it's a bit hard to read each one! So yes, sometimes I just scroll down to the actual recipe! But, because I always love to read about bloggers' inspirations, I save recipes to my favorite websites, so I can read the story later!
Desserts are treats, not an everyday snack. Even if it's healthy you may consume more than you allowed to, that's why I do not post a lot of desserts recipes. And, because dietitians and nutritionist are role models for healthy eating, posting desert recipes encourage people to eat more desserts. Even when they remind you to control the portions; it will still be hard.  So, why I'm posting this? Because homemade desserts especially cookies have much less sodium than the store ones. And of course these cookies are insanely delicious! They were so moist, I was so excited, and I had more than intend to!
Update: I'm adding more dessert recipes, because after years from writing this post, I found my heart in making desserts.  To make it healthy, is not an easy job , but totally worth it 🙂 Remember, moderation is the key , even when the ingredients are healthier!
I always thought that nut butter is a fancy thing, because most of nut butters are just sold in gourmet food stores and yet the cookies. I'm not a big fan of cookies, but I always love to cook and bake new things. I made muffins, cakes, and pies, and now its cookies' turn. It's really great to make nut butter at home, it's pretty easy!  I do not know why I waited such a long time. Unfortunately, I do not have photos for the process of turning almonds into butter. I used one pound of raw almonds using only a food processor, but you need patience! It may take up to 15 min depends how old are the almonds. I got a 16 oz. filled jar. You can roast the almond for better flavor, and you may add sweeteners like honey or maple syrup.
Why you need to add almond butter in your diet: 
All nut butters are high in calories, but they come from monounsaturated fatty acids which are very good to your heart. Peanut butter is the most convenient option of nut butters.  Almond, cashew, and hazelnut butter are very expensive!
A Homemade option may sound a good one. Peanut and almond butter have similar nutrition profile; almond butter is slightly higher in calcium, magnesium and Vitamin E.
Enough with the facts! Let's go to the actual recipe!
Enjoy!
Warning! Please make sure that you are not so hungry when you eat the cookies! You may finish half a dozen!

Homemade (Almond Butter) Cookies
Ingredients
7 Tbsp. of Almond Butter
56 g of Oatmeal
3 medium ripe Bananas (mashed)
3 Tbsp. of Chocolate Chips, I used milk chocolate one (optional)
0.5 tsp. of Baking Soda
Instructions
Preheat the oven to 375F.
Mash Bananas; mix it the oats, almond butter, baking soda and finally the chocolate chips. Refrigerate the dough for 30 min so you can form the cookies easily.
Grease your baking sheet with a little bit of butter. (Honestly I don't grease the baking sheet, I use a nonstick one). Leave space between cookies, so they won't stick together.
Put in the oven for 8-10 min or until its golden brown.
Notes
These cookies are moist. If you prefer chunky ones, use two bananas instead of three. Refrigerate any leftovers)
Nutrition Information
Serving size:
2
Calories:
293
Fat:
13
Carbohydrates:
27
Sodium:
136 mg
Fiber:
4
Protein:
5