Finally, I had the gut to cook Quinoa! 
Almost a year ago, I wrote a post about quinoa's health benefits. It has complete protein, it acts like grain, it's fulfilling, and can be tasty too!
I did step out of my comfort zone, and cook something new
. While I love to cook
Freekeh
and
bulgur
(they are whole grains) quinoa is different. It needs less time comparing to freekeh, and almost like bulgur in cooking method, and preparation. And you can read here, the nutrition facts, comparing 
quinoa to bulgur
.
I was inspired by this recipe, an acorn squash stuffed with quinoa pilaf, by the dietitian EA  It looks so tasty, and complicated too!
Pilafs are tasty, comforting, especially with aromatic spices! And great with toasted nuts too! They are always great whether you use grains like quinoa, bulgur, or rice. Rice is the fluffier, but quinoa has a great nutty flavor too!
Usually, when I make pilaf, I just make it on the stove. But making them in the oven is far more delicious! It needs longer time to finish, but it's totally worth it!
I chose chicken, because I thought quinoa by itself won't be enough as meal. I didn't cook it before, so I assumed it needs something extra. Even I do eat vegan meals like mujaddara. But I had no idea how quinoa will be!
But the best thing here, you will get the juice of marinated spiced chicken through the holes, it gives the quinoa great flavor!
Here is how I do make the pilaf, simple steps, and easy to follow!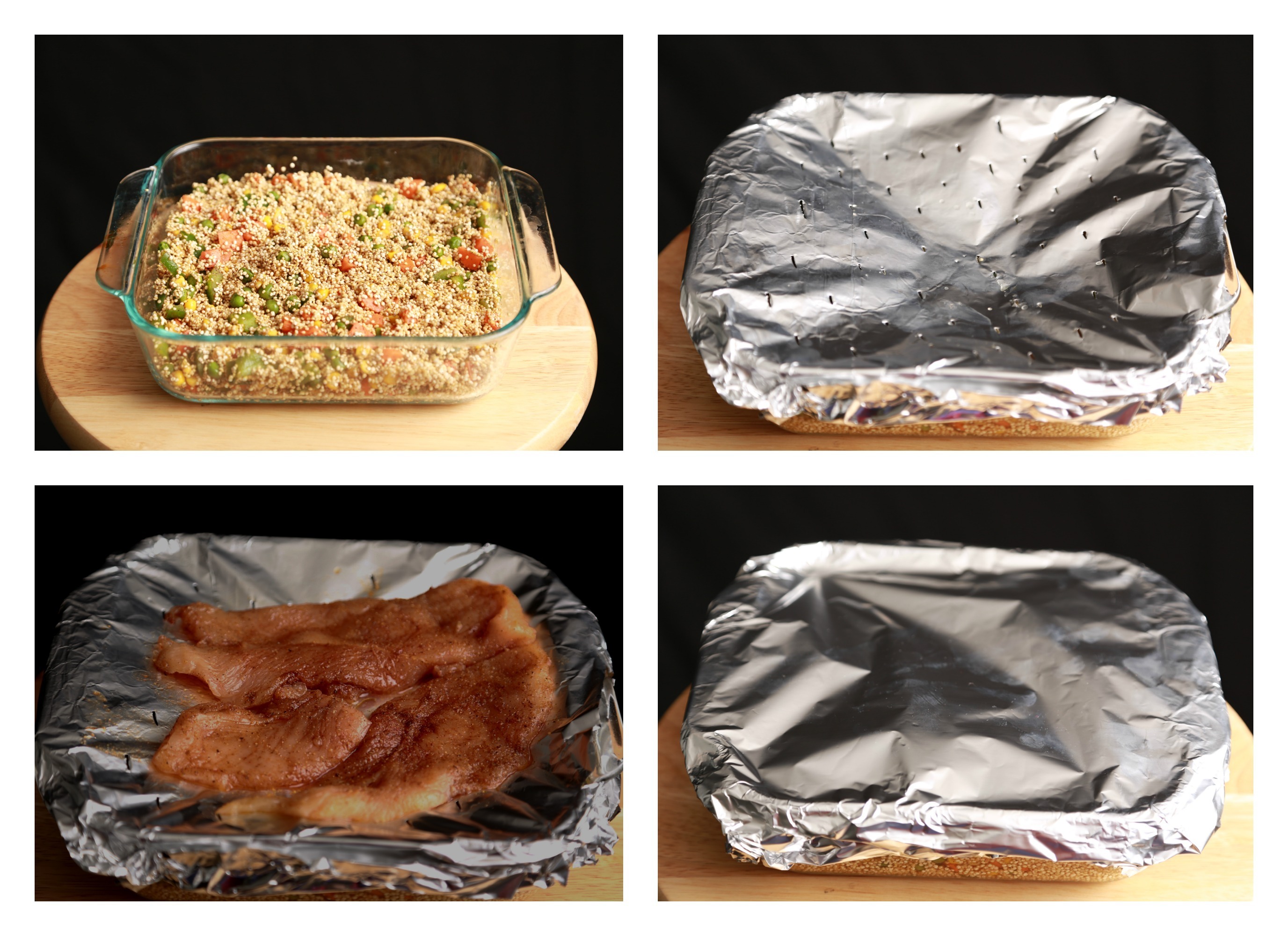 I was worried, that quinoa will be mushy, but it came out great. Crispy, nutty, and full of flavor! It did absorb the spices really well!
Why should you cook this quinoa pilaf:
It has quinoa that has complete protein , moderate calories and zero fat.
It has veggies that are loaded with antioxidants, that are important to get free radical to reduce the risk of getting cancer.
It's nutty , gluten free, and very easy to make!
I feel I was so wrong!
Waiting all this time, to cook quinoa. I kept postpone this very long! Because I felt I will cook it just to follow a trend! I hate following trends blindly. I did write about food trends, and blogging before. I feel that we bloggers should keep it real!
But then I realized, what will I add, and offer to you my readers, if I just cook, or discuss about what I know, believe, and like?
So from now on, I will look with new items! To offer you the best advice, what is healthier, and the best tested recipes!
Now after I cooked quinoa, I will alternate it with bulgur! To get the most health benefits without breaking my bank, or give up my old favorite!
Now let's get to the recipe! I'm sure you will like this pilaf as I did!
Enjoy!

How to make Quinoa pilaf in the oven
Today I share with you the steps to make Quinoa pilaf with veggies and chicken in the oven, is a delicious, and flavorful! Nutritious, and gluten free too!
Ingredients
1 packet of Quinoa (340g)
1 medium green Bell Pepper
2 medium Carrots
Half cup of corn
Half cup of peas
2 Tb of sunflower oil
2 Cups of Chicken broth
2 tsp of 7 spice or a mix or ground black pepper, cinnamon , cloves, cardamom , coriander, cumin, paprika
Optional but recommended:
1 or 2 Cinnamon sticks
Few Cloves pods
Few Cardamom pods
Whole Black peppercorn
For Chicken marination:
Olive Oil
Half lb of Chicken Breasts
7 spices or a mix or ground black pepper, cinnamon , cloves, cardamom , coriander, cumin, paprika
Instructions
Wash and rinse quinoa if needed.
Cut the carrots and bell pepper in even sizes.
You can uses steamed veggies, or fresh. Steamed is better.
Now heat a skillet on medium heat, add sunflower oil.
Add quinoa, veggies, 7 spices, let them on the stove for 7- 10 minutes.
In an safe oven dish, put the whole spices, sauteed quinoa, and veggies.
Add hot chicken broth.
Cover your dish with aluminum foil , make several holes in it.
Add the marinated chicken, and cover with aluminum foil.
Put it int he oven on 375f for 20 minutes.
Remove the foil that cover chicken
Now leave it until the chicken is nice browned. I switch the oven to 400 f for 10 minutes, then I did broil every side on high for 3 minutes.
Now remove the dish from the oven (If there is still liquid over quinoa, keep it in the oven until its completely absorbed).
Serve it hot with Yogurt on the side
Notes
I used pre washed and rinsed
I used steamed frozen corn and peas. I prefer them on fresh, because they are more flavorful.
Did you try quinoa? How do you eat it?