A refreshing healthy carob drink , three ways. It's Unique and flavorsome! It's packed with nutrients, vegan and vegetarian, and refined sugar free, and of course gluten free!
The truth, I never loved the carob drink, I hate it! It tastes weird to me, even it's a special drink in Ramadan I don't remember mom making it from scrtach , but if she loved it, I'm sure she would do it. However, after I went to Turkey and bought some carob powder, I was surprised how good does it taste! I made these carob muffins, and I swear people though they are chocolate muffins! Also I made this pudding, which is an Arabic traditional one.
So I though it's time to make the traditional Ramdani drink!
Carob
These are the dried crushed pods of carob, you can find fresh pods, and powder too.
Carob is very healthy plant, here are some of it's health benefits:
Eating carob helps in lowering cholesterol levels, due to the high fiber content and other polyphenols.
High in fiber, which helps to improve the digestion.
High in B vitamins , like B2, B3 , and B6. Also in minerals like calcium and magnesium
High in antioxidant and polyphenols.
Carob drinks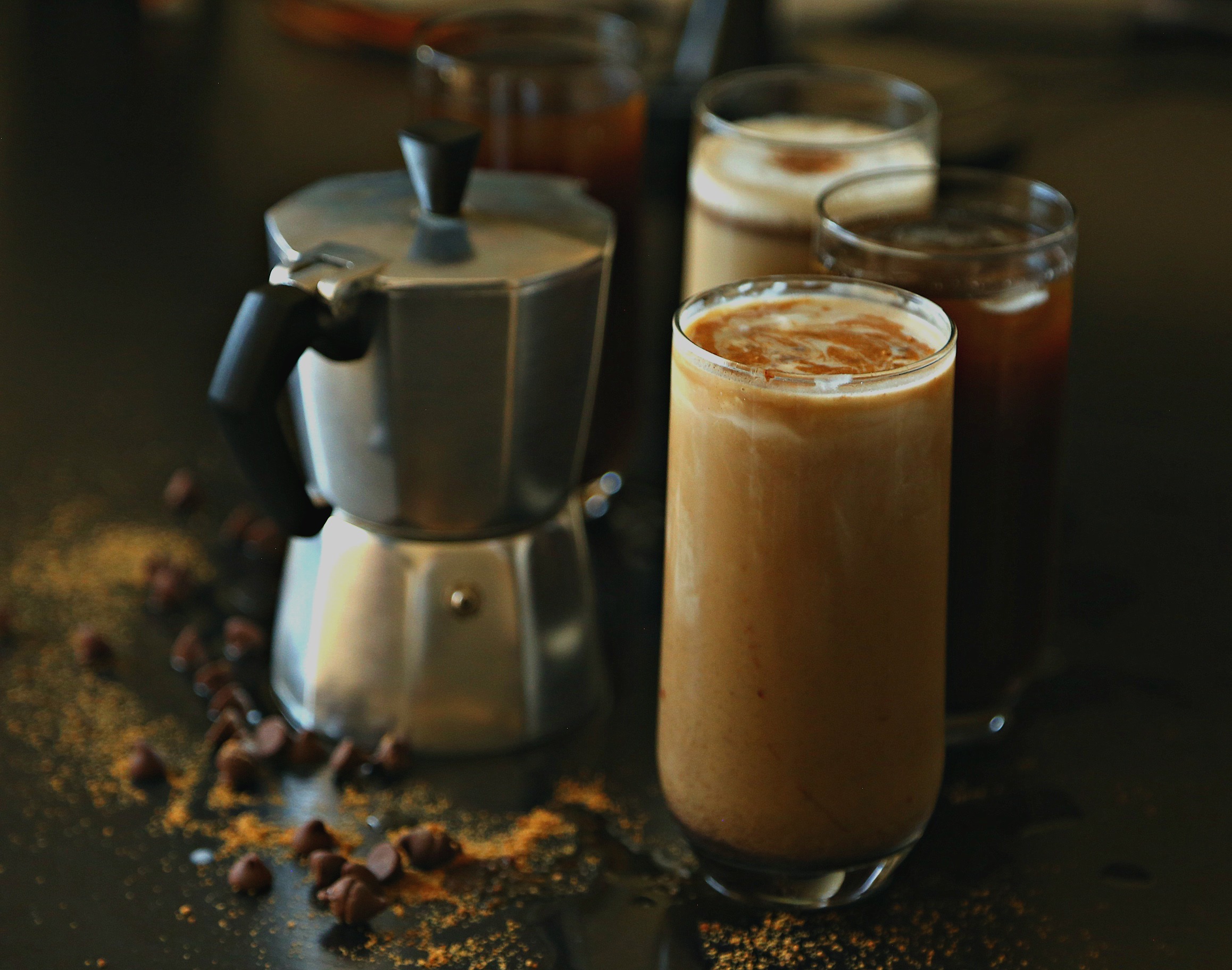 In the traditional Arabic way, people add to much sugar , about once cup for the 1 kg of pods. actually I find it unnecessary and avoidable. The Carob has a natural sweet flavor.
For these drink , you can use carob molasses, or carob powder or the carob juice. I used the juice for a light latte, it's summer, and carob has strong flavor, and I made it kind of concentrated,so it makes the latte lighter.  However I didn't add sugar when I made the juice, because really it  didn't need it! But for the latte I added the coconut sugar which is really fits well with the carob flavor, and you can use molasses too! Both are unrefined sugar and better alternative to the white sugar and to me even tastier!
I choose to make these carob drinks vegan and vegetarian to show that both ways are healthy options and both tastes very delicious, so opt for coconut milk  , coconut cream , or cow milk!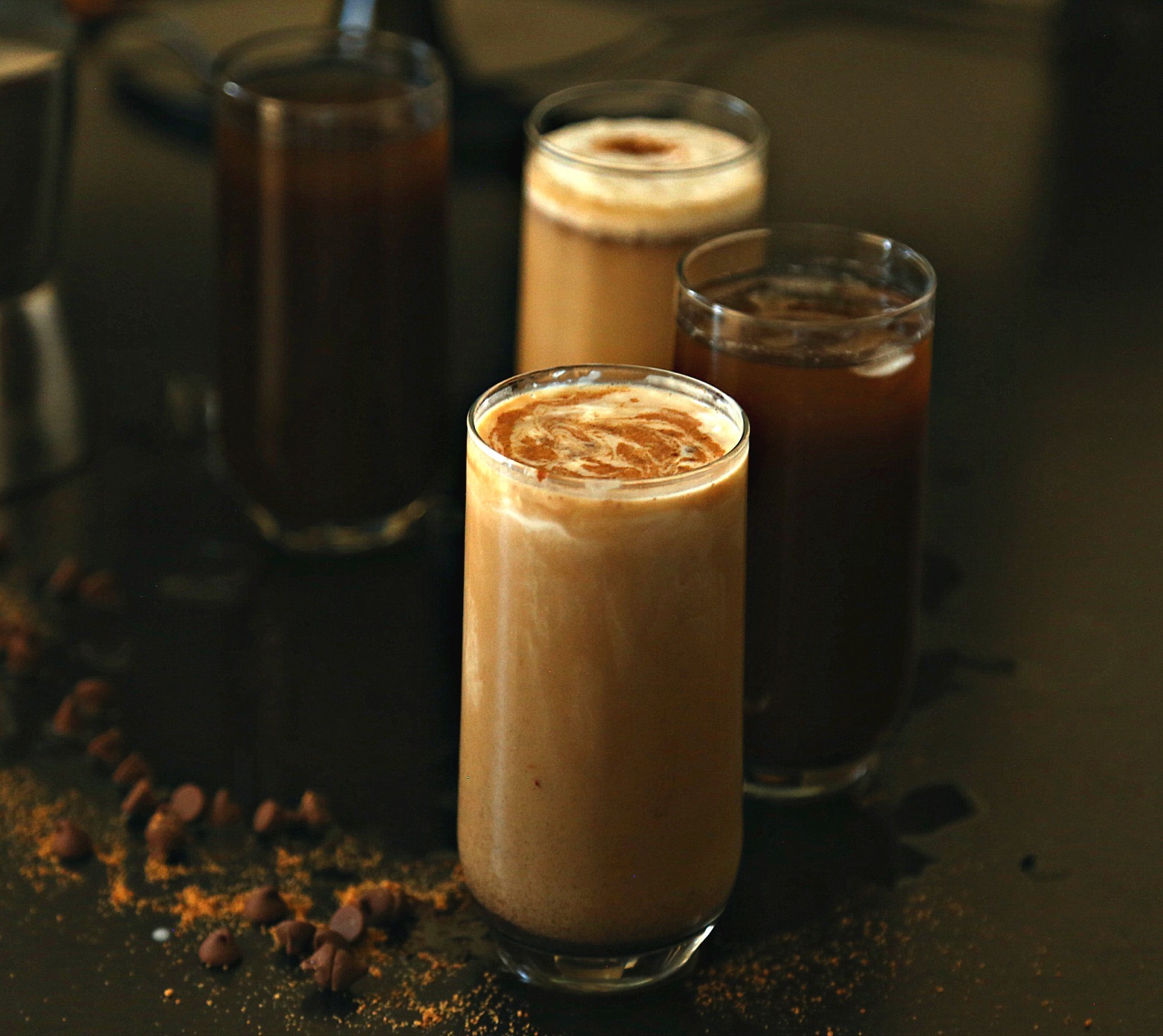 The cup in the front s the one with cow milk, and you can see, the delicious froth on top!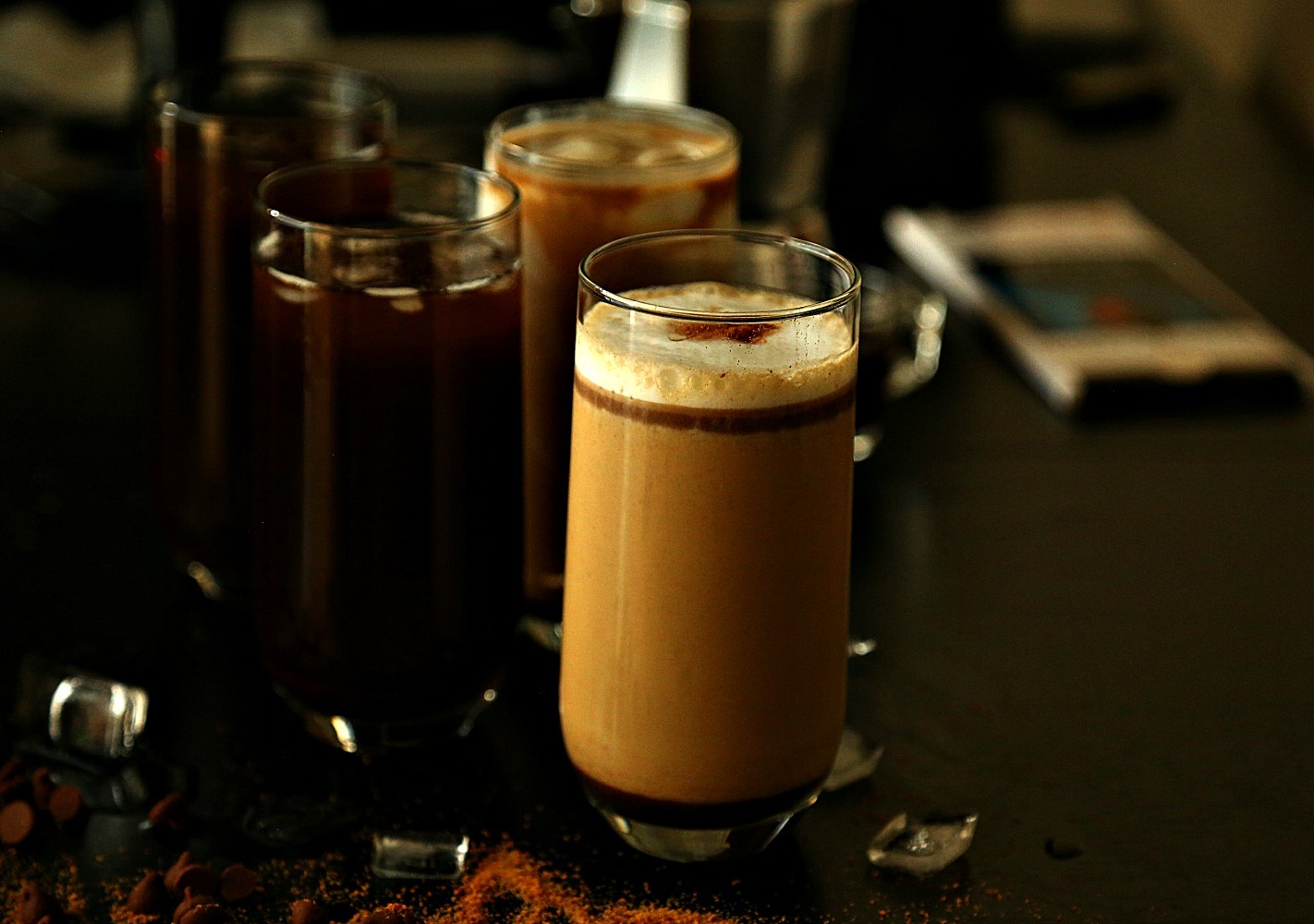 Here the focus on the traditional one. If you make it strong like me, you need to stir often, since the water can go up, and leave kind of powder in the bottom.
Cold Carob Drinks {Traditional & Latte}
Ingredients
1kg dried carob crushed pods
2 liters of water
½ cup of coconut milk {GF}
½ cup of cow milk
1 Tb of coconut sugar divided
4 shots of espresso divided
Optional:
Coconut cream
Frothed milk
Pumpkin spice
chocolate chip
Instructions
Soak the dried pods overnight in two liters of water .
On a low to a medium heat, simmer the pods for an hour or more, depends how strong flavor you like it.
Drain the juice , and discard the pods.
Traditional drink:
The juice is already ready to drink , you can add ice, and sugar if desire.
Latte
In each cup , add 2 shots of espresso.
Add ½ cup of coconut milk , and ½ cow milk in the second cup.
Add ¼ cup of carob juice.
Add ½ Tb of coconut sugar in each cup.
Add frothed milk , or coconut cream on top, garnish with chocolate chips , pumpkin spice.
Serve immediately. and keep l;leftovers ion the refrigerator