A healthy kiwi refreshing smoothie to start your day, it's tangy, minty, and packed with nutrients! It's guaranteed to wake you up! Ditch the caffeine, and drink it up!
Today I have for you another quick smoothie recipe, Its needs 5 minute to whip. These days I can't resist making smoothies, especially after I bought a small blender (finally)! It's terrific, right? It's really a basic blender, but did the job beautifully!
This smoothie is heavily inspired by the registered dietitian Lindsay from cotter crunch  recipe. I love her recipes so much, she is specialized in gluten free recipes. Once I saw the recipes, I knew I want to have it, and It happened that I had fresh kiwis, so that it is!
I'm just glad that I received positive comments lately about the recipes, and the photos style here on the blog. It made me really happy, and I finally feel I'm not talking to myself anymore! I'm willing to give more and more. But I wouldn't do all that without the support and help from my husband. I use his professional camera and lenses, without his comment and notes on my photos, I wouldn't took good photos. If you have a minute to spare, please visit his website, and his facebook page. 
Now let's talk about kiwis, it's a super food! It's full of nutrients but low in calories, It's almost available year around, it has unique sour taste!  
Why do you need to eat more kiwi: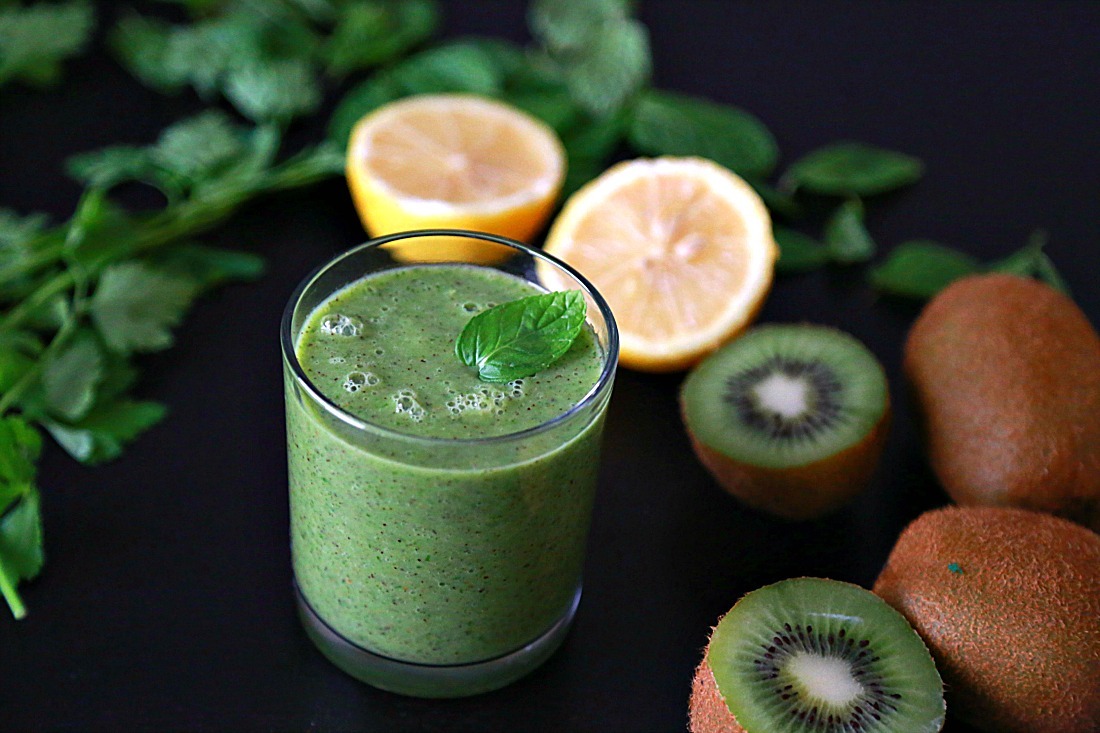 There are so many health benefits for kiwi, it's a rich source of antioxidants, and considered as anti-bacterial , and anti-inflammatory food, This means less risk of developing chronic diseases in context of normal diet.
Let's mention a few health benefits of kiwi fruit: 
A one fruits It has more than your daily need of vitamin C , that is very important for tissue growth and repair too. Also it has small amounts of vitamin K and vitamin E that are also essential for you to have a healthy body.

It has small amounts of minerals like potassium, and magnesium. It's low in calories and fat, and has good amounts of fibers.

According to this study, 1 kiwi fruit/week is associated with higher HDL (good cholesterol) value, and lower triglycerides values in people who are not suffered from cardiovascular diseases.
Vitamin C helps the body to make collage, that makes the skin, and cartilage in your body. Now this means less wrinkles, and more youthful look skin. More importantly, in this study, they found that kiwi can help the body healing wounds in a natural cheap way for bed sore patients.
I opt to use yogurt in this smoothie, to make this smoothie a vegetarian.I make sure to eat it almost everyday, to complete a savory meal, in a smoothie or oatmeal  I do really promote eating vegan and vegetarian too, but feel free to use to a non-dairy milk, but not that consistency won't be the same. 
Also note that this smoothie has parsley and mint, which they are very healthy herbs, but works like leafy green vegetables. I'll highlight their benefits in the future posts. Are you convinced yet to eat kiwi? Now let's go make this quick smoothie!
Enjoy!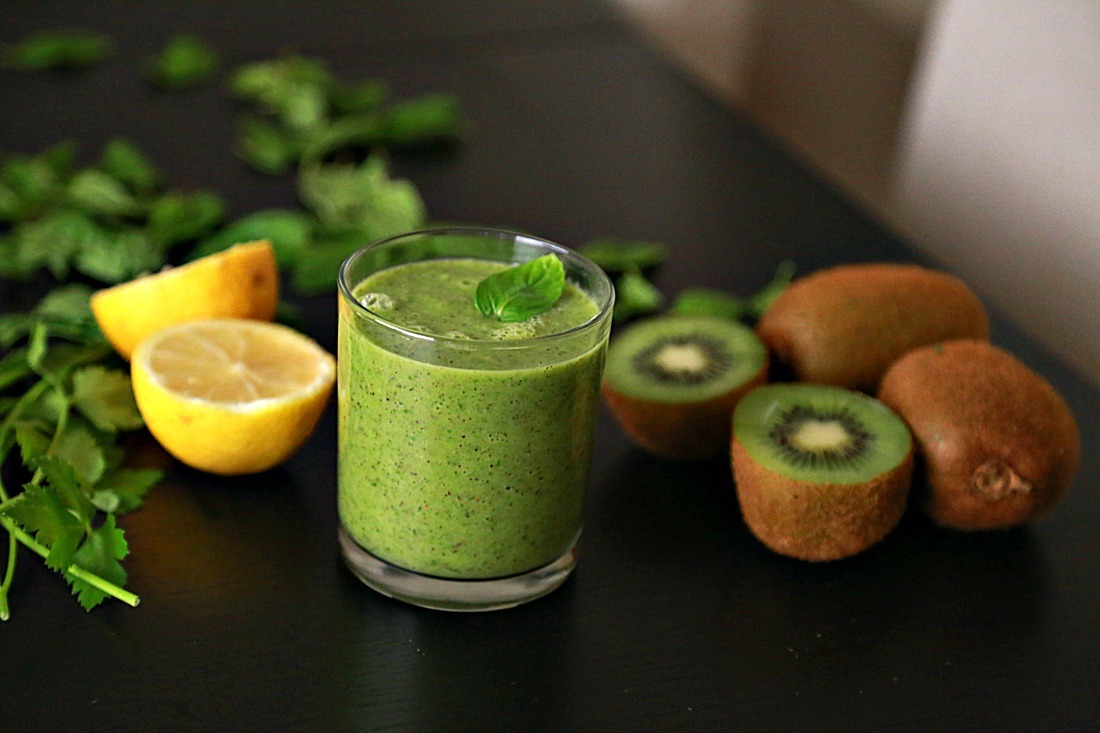 Kiwi green smoothie
Ingredients
3 medium kiwi pieces peeled
A handful of parsley
A handful of mint leaves
Juice of 1 lemon
3 Tb yogurt
½ cup of unsweetened pineapple chunks
Optional:
1 Tb of honey
Instructions
Squeeze lemon for fresh juice.
Put lemon juice, kiwis, parsley and mint all in blender.
Start blending in pulses, and add yogurt gradually. You may need to add more lemon juice or water if you prefer.
Drink immediately if you can, and refrigerate any leftovers.