A creamy milk and orange pudding that is healthy, and delicious! This comfort pudding is great for an afternoon tea treat, and it is gluten free too!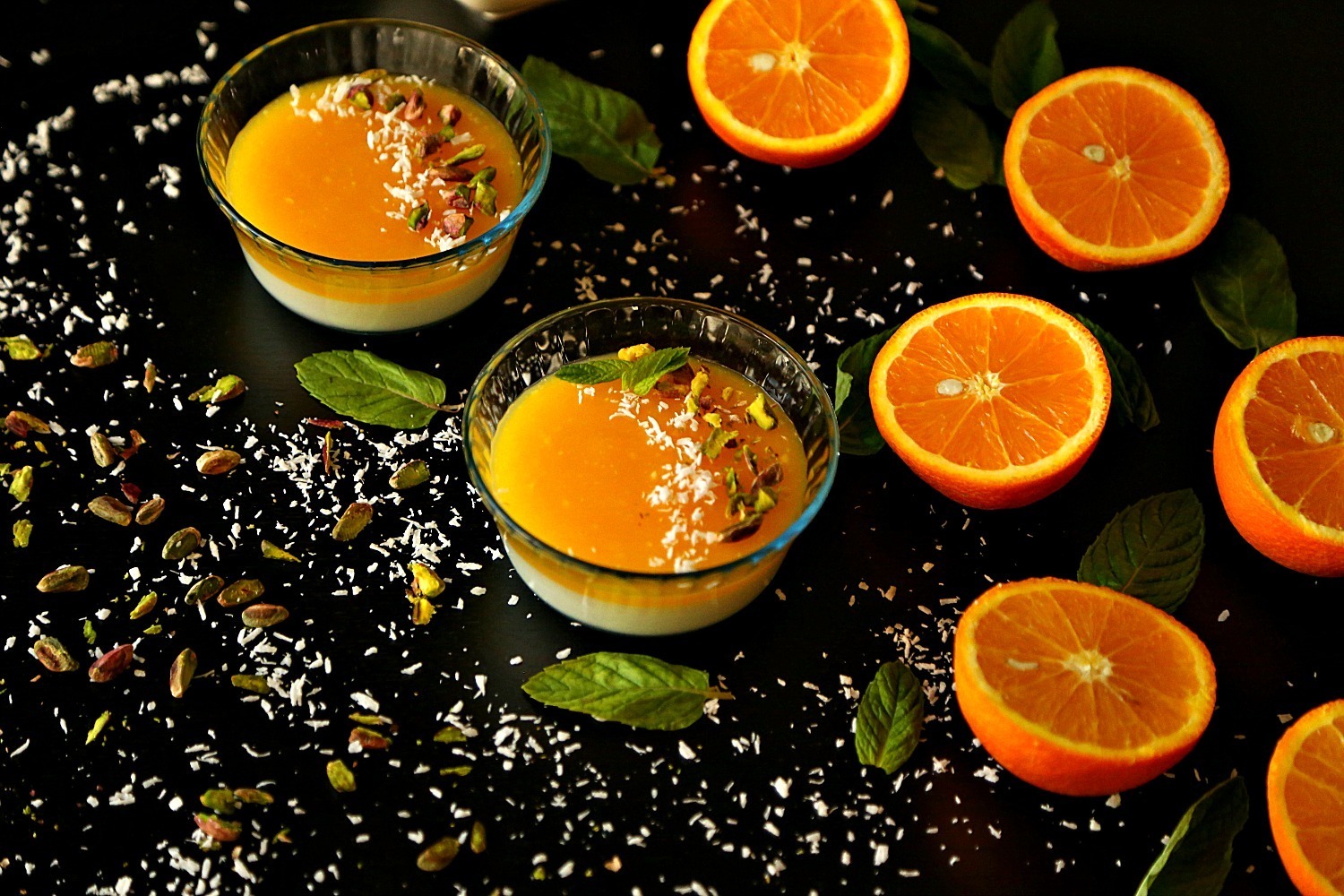 This is the first recipe I published here on the blog, and it was actually the second post. I simply made it , because I love it, and I believe this orange pudding is healthy, because you can control the amount of sugar. Today I'm republishing to honor this favorite pudding of mine with better photos and format too ( I changed it so many times since then).
The old text
**********************************************
Summer is here at last, and cold deserts are overwhelming; ice creams and other deserts are loaded with sugar and fat, so I tried to come up with healthy orange desert for you
When I was a child, my mom used to make this recipe in the summer, it's healthy, easy to make, and satisfying. Plus it's gluten free and it's cost efficient.
 Last week while I was searching the internet for healthy desserts, this one just popped up in my head, so I searched again, and I found this recipe Sanaa cooks , And I just found it's exactly like mom's recipe!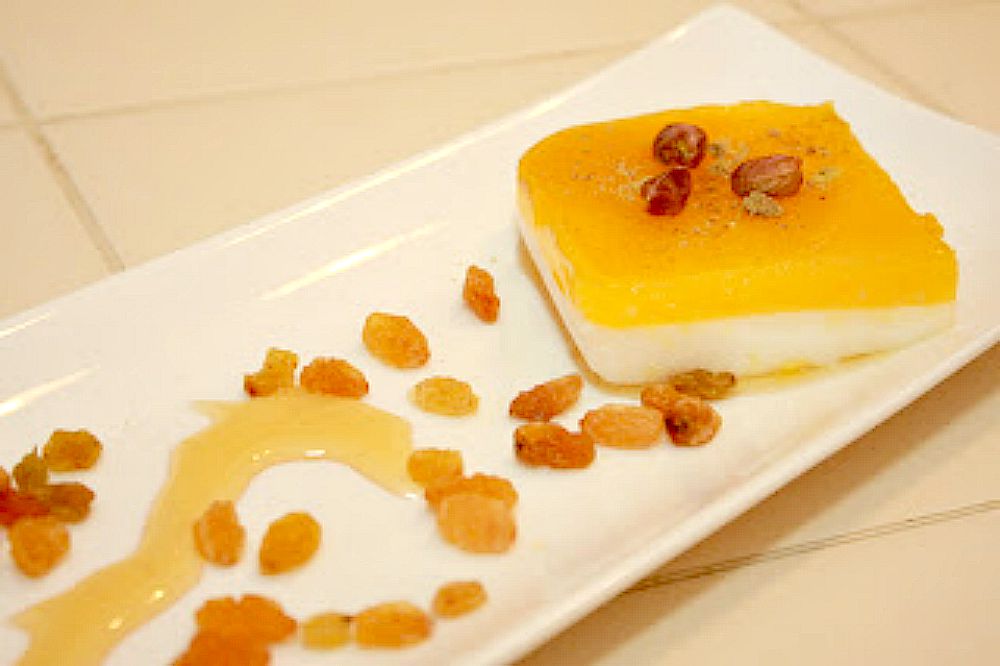 This is my first pudding recipes, and I'm sure there are more to come in the future!   
Then the Recipe ….
*********************************************
That wasn't a great photo, right? And I was right I made more puddings!
This milk and orange pudding recipe is from the Arabic cuisine . In the middle east, milk-based desserts are very popular- I'm not sure why- like this Carob pudding , rice pudding, and more. But what really makes these milky desserts special, is the addition of rose water , orange blossom water, and the mustic gum or powder. They add great flavors without the addition of calories and fats, and they are really healthy. You can find them in good prices in the middle eastern shops or you can order them online. Here, you can buy rose water and orange blossom water together, and this is really a good brand that I use.
Mom is not a great dessert lover,  but she used to make this pudding occasionally, sometimes with Qamar el din (dried apricot paste) layer instead of orange. I think my love for puddings have started very early. I had problems with swallowing stuff, since I used to have tonsillitis often, until i removed them at age 12 . Therefore, I always preferred cold soft food. Then I put braces and I had the same problem, even some of my friends were eating normally, but I couldn't for the first month. So I had soft food again. Nothing dramatic of course, just I don't like to chew much ! So here a comfort healthy pudding!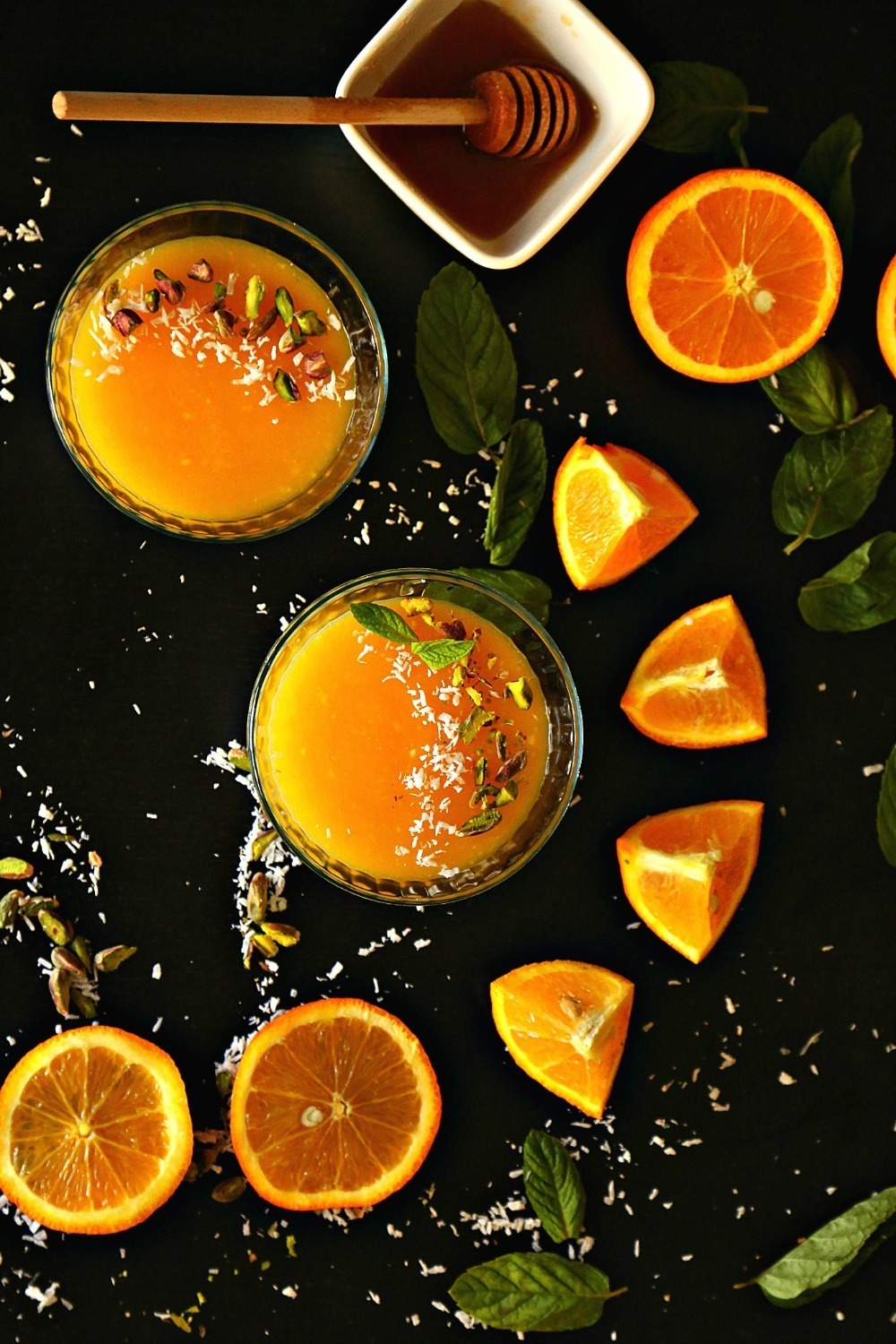 Orange
It's the beloved healthy citrus fruit, tangy or sweet, it's so delicious as a healthy snack or in a juice or smoothie or even in savory food. Here all the recipes I made with orange on the blog.
Here let's mention some of the health benefits,
Why do you need to eat orange: 
It has more than your daily need of vitamin C, and good amounts of vitamin A, folate, potassium, and calcium. 

Some studies, shows that certain antioxidants in orange can reduce the risk of leukemia in children.
Orange can lower blood pressure by stabilizing the potassium-sodium ratio in the blood, and therefore it helps reduce the risk of developing heart diseases. 
It has lots of compounds

, phytochemicals, and flavonoids that have 

anti-inflammatory properties.

 

The antioxidant vitamin C helps your skin to look better and firmer; because it fights the skin damage from pollution and the sun, and plays a vital role in forming collagen, that is critical to reduce wrinkles.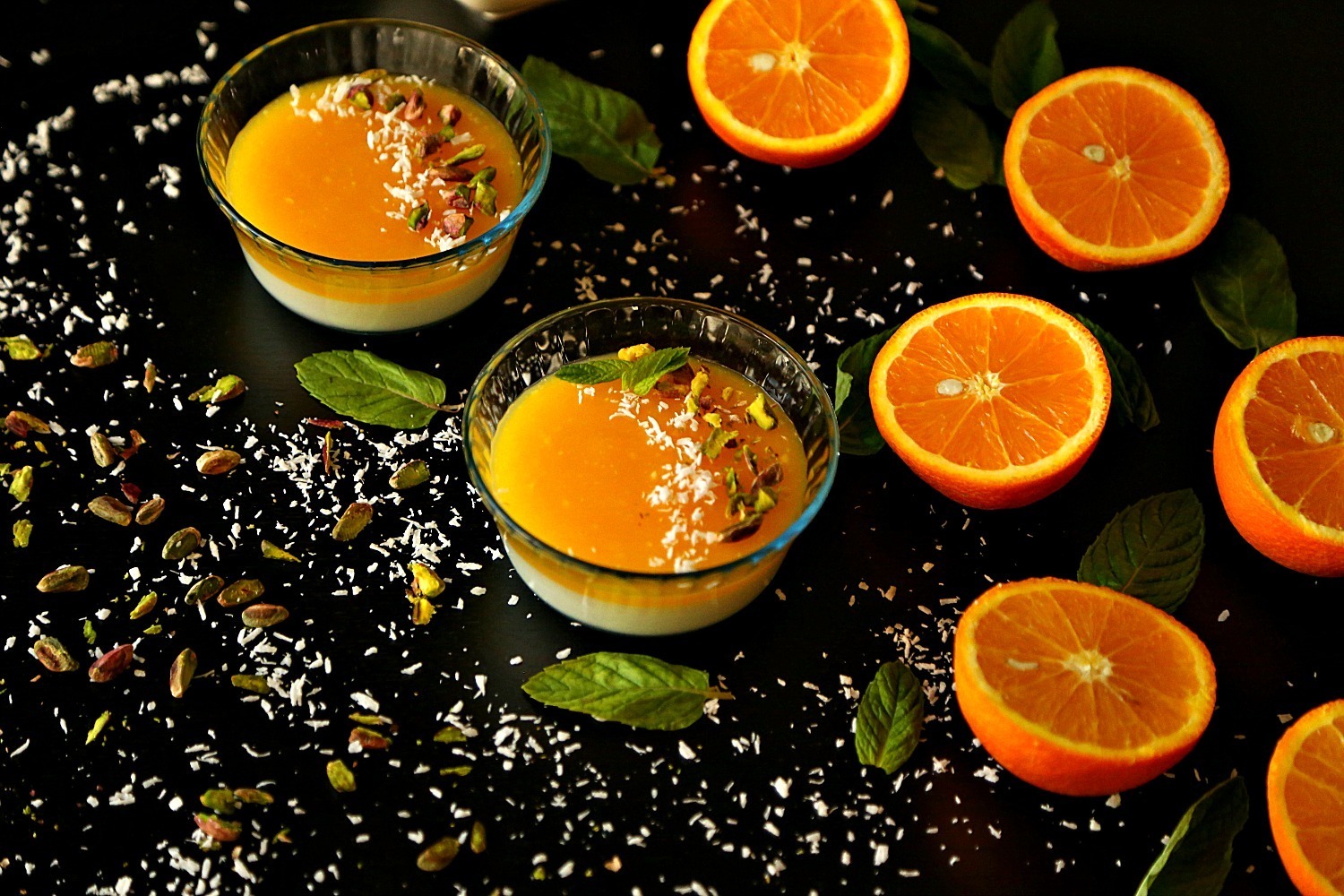 Orange and diabetes: 
A small orange has between 10-15g of carbohydrate, which is not really a big number. If you are a diabetic person, you just need to be sure of the whole sum of carbs in a one meal, which is maximum 60g according to the American diabetics association. Now if you are a healthy person, and eat whole fruits you may have a lower risk of developing diabetes 2, and that's according to a study led by Harvard school of public health.     
Look at this orange pudding, isn't pretty?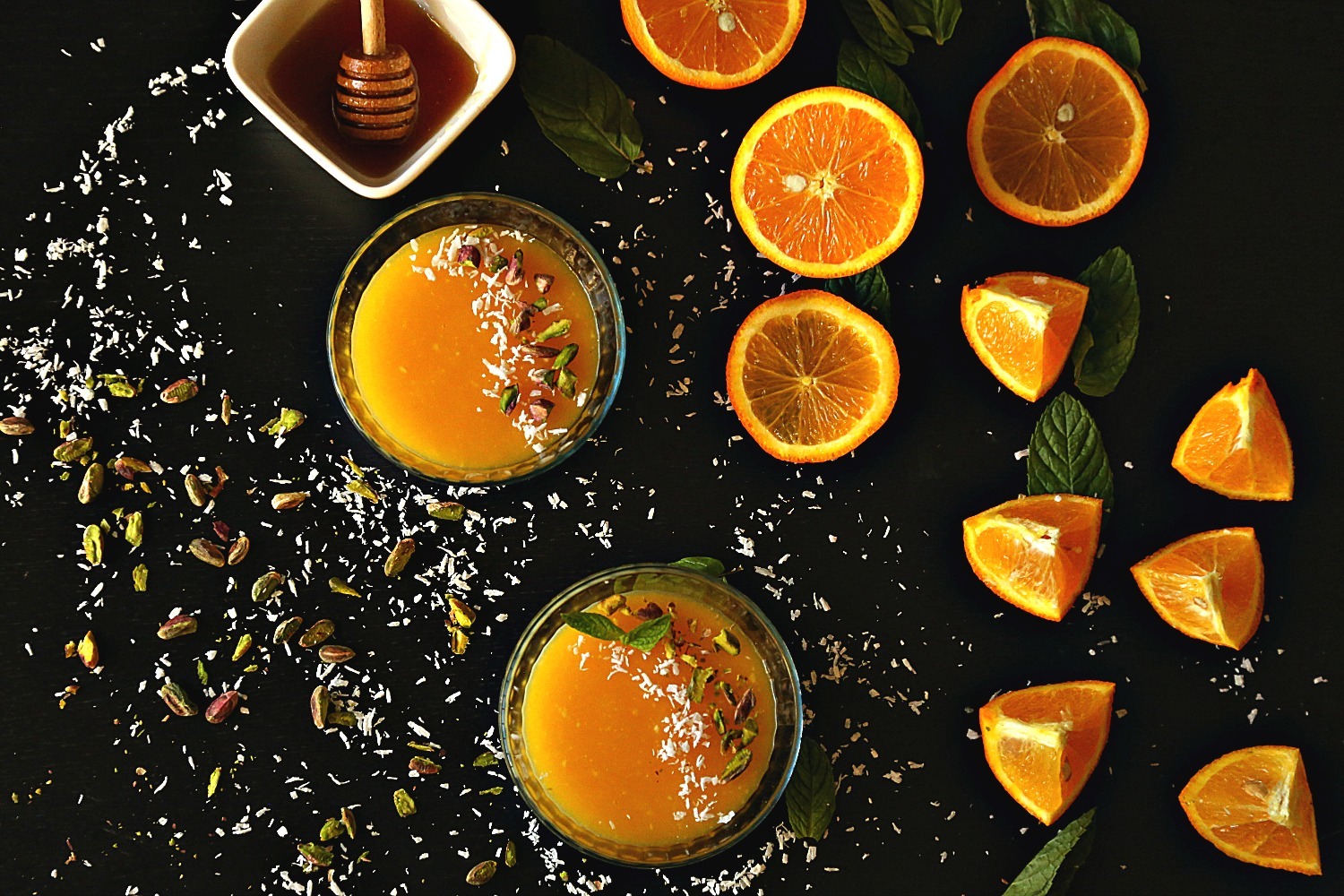 Now let's get to the recipe!

Milk & Orange Pudding (revisited)
Ingredients
Milk layer: (in the bottom)
1 cups of milk (whole milk or dried milk)
1 Tb of sugar
1.5 Tb of cornstarch*
0.5 tsp of rose water
Optional: Mustic gum, a small one crushed or whole
Orange layer :
¾ cup of fresh orange juice
(optional) 0.5 Tb of sugar
1 Tb of cornstarch
0.5 tsp of rose water
Instructions
Add sugar & cornstarch to the milk while it's still cold.
In a medium pot, and on a medium heat, add the milk mix.
Stir frequently until you have the desired consistency, (it should be thick).
Pour it in cups or any other plate you like, and let it cool in the fridge at least for 2 hours
Do the same for the orange layer, then pour it above the milk layer, let it cool for 1 day or overnight
You can add nuts, whole or crushed, cinnamon, shaved coconut , or a drizzle of honey!
Notes
*You may need more cornstarch, it really depends on the brand, and on the milk richness too.