A creamy dreamy brown rice pudding that is flavored with pumpkin pie spice, and sweetened with molasses. Delicious fall and winter flavors together in a one pudding! Plus, it's gluten free!
Spices are a true bliss, they are low calorie and low fat, but so pungent and aromatic, and add a depth of flavor to any dish or drink. And when you mix them with a creamy rice pudding, that's a dream come true! And what is a better option than a fall favorite one like pumpkin pie spice?
This pudding is easy to use, but you need to stir often- well almost all the time- to guarantee the optimum creaminess. You can choose white rice, but the nutty flavor of brown one, fits well with the spice, and with my beloved sweetener, molasses!
Why this brown rice pudding
This rice pudding is the perfect healthy treat because:
It has brown rice , that is an excellent source of Manganese, and has good amounts of selenium and magnesium too. It also has good amount of B Vitamins like thiamine, B6 and Niacin, also good amounts of fibers and protein. It can lower cholesterol too, whether it's due to the presence of the bran oil or/and the fibers
It has pumpkin spice that has some of powerful spices like cinnamon, and cloves that both have anti-inflammatory proprieties that are good for your body.
It has molasses that has good amounts of magnesium, and manganese. Also good amounts of vitamin B6.
If you are into rice pudding like me, you can my other ones recipes here .
Enjoy!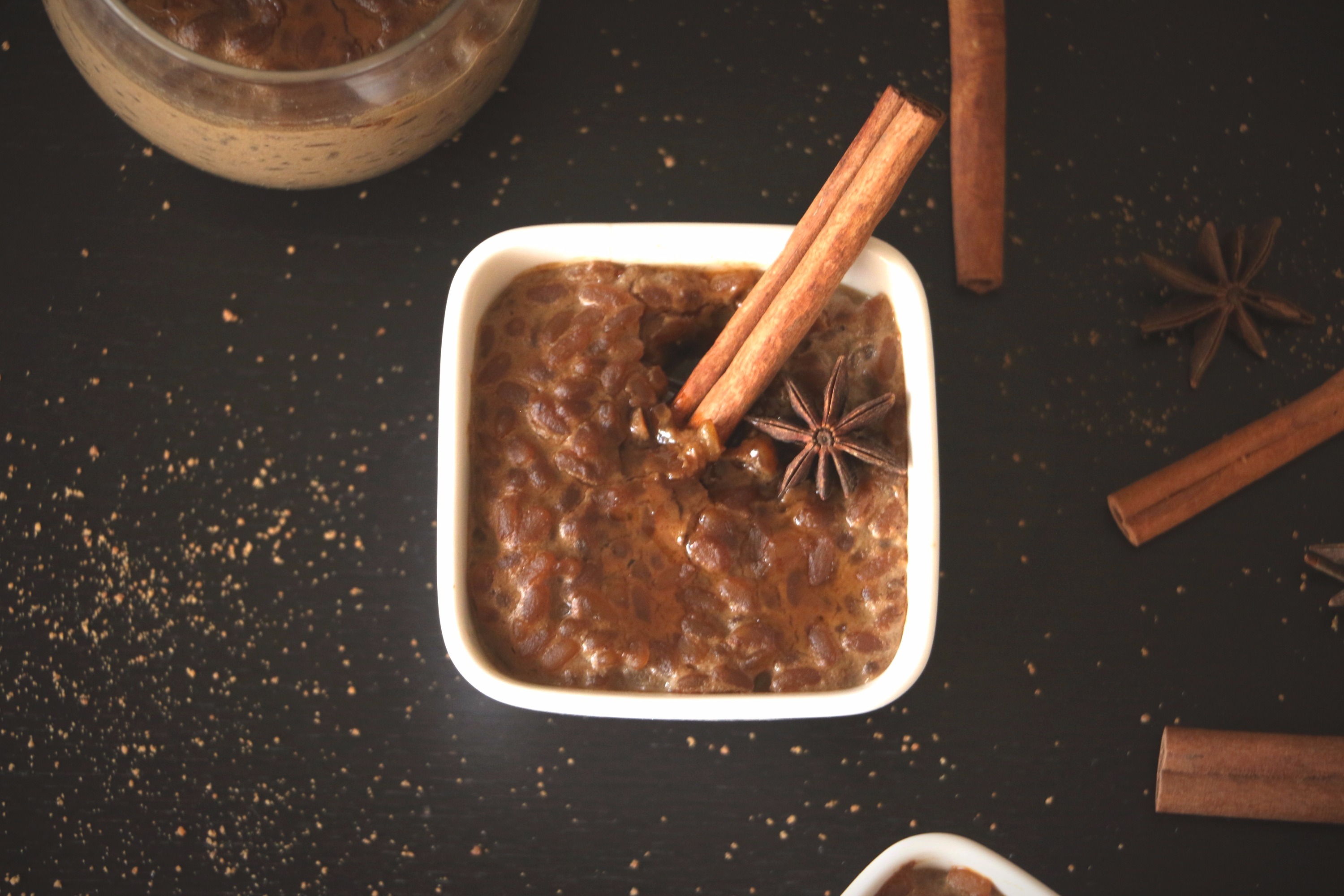 Baked Brown Rice Milk Pudding
Ingredients
2 Tb molasses
1 Tb pumpkin spice
2 Cup water
2 cups milk
½ cup short/medium grain brown rice
Optional :
½ Tb coconut sugar
Instructions
Soak the rice in hot water an hour before.
Drain the soaking water.
On a medium heat and In a large pot, add brown rice and 2 cups of water, let them uncovered until boiling, then cover and reduce the amount to the minimum, until the rice absorbs all the water. (We need it here to be little stiff).
In a large bowl, add molasses , milk, spice, and stir together, and pour over the brown rice in the pot gradually.
keep them uncovered and stir often, until the rice is soft, and creamy.
Serve hot or cold, and refrigerate any leftovers