A dreamy creamy earl grey orange oatmeal, that is decadent and luscious. Yet it's made with easy available ingredients, that you can find at any regulars store. This oatmeal happens to be healthy, aromatic, vegan, and gluten free! 
As usual I think of strong flavors to go with my oatmeal, that I hardly resist every time I want to create new recipe with oatmeal. Chai , chocolate, cinnamon, and coffee! Seriously I need to stop it.
Well, I thought how about citrus, orange specifically? My husband is a huge fan for anything orange. Therefore, I've tried many recipes for orange,  orange in salads, summer pudding, muffins, and cakes! Last one I tried was by Muna ,a talented food blogger, it was a great cake.
But actually, I'm not sure how much he will like this oatmeal, Never I guess! He can't tolerate the idea of chewing oatmeal. I tried to convince him, but I failed! Could be this the one, that will win his heart? Maybe! I love oatmeal whether it's smooth like instant one, or chewy like rolled oats. I used Bob red mills, it tastes great. It's one of the few brands, that are available here for rolled oats.
Oatmeal

You know what mom told me? Her father used to bring oatmeal from his travels. That was back in the fifties! And oh mom, why didn't you get us some? I'm not sure why. Before, oatmeal known for a salad topper or a soup ingredient, or  as oatmeal porridge. Now granola and bars, and overnight oatmeal for breakfast are so popular.
I started eating it regularly after I had cholesterol level tested,  it was really high. After that, it became a pantry staple. Sometimes a month passed without touching it, but then I'll eat it almost daily (mostly with cinnamon, I can't help it, It's my weakness point!) I've discussed in details the health benefits of oatmeal before, check them here with all the recipes that has it too. 
Earl grey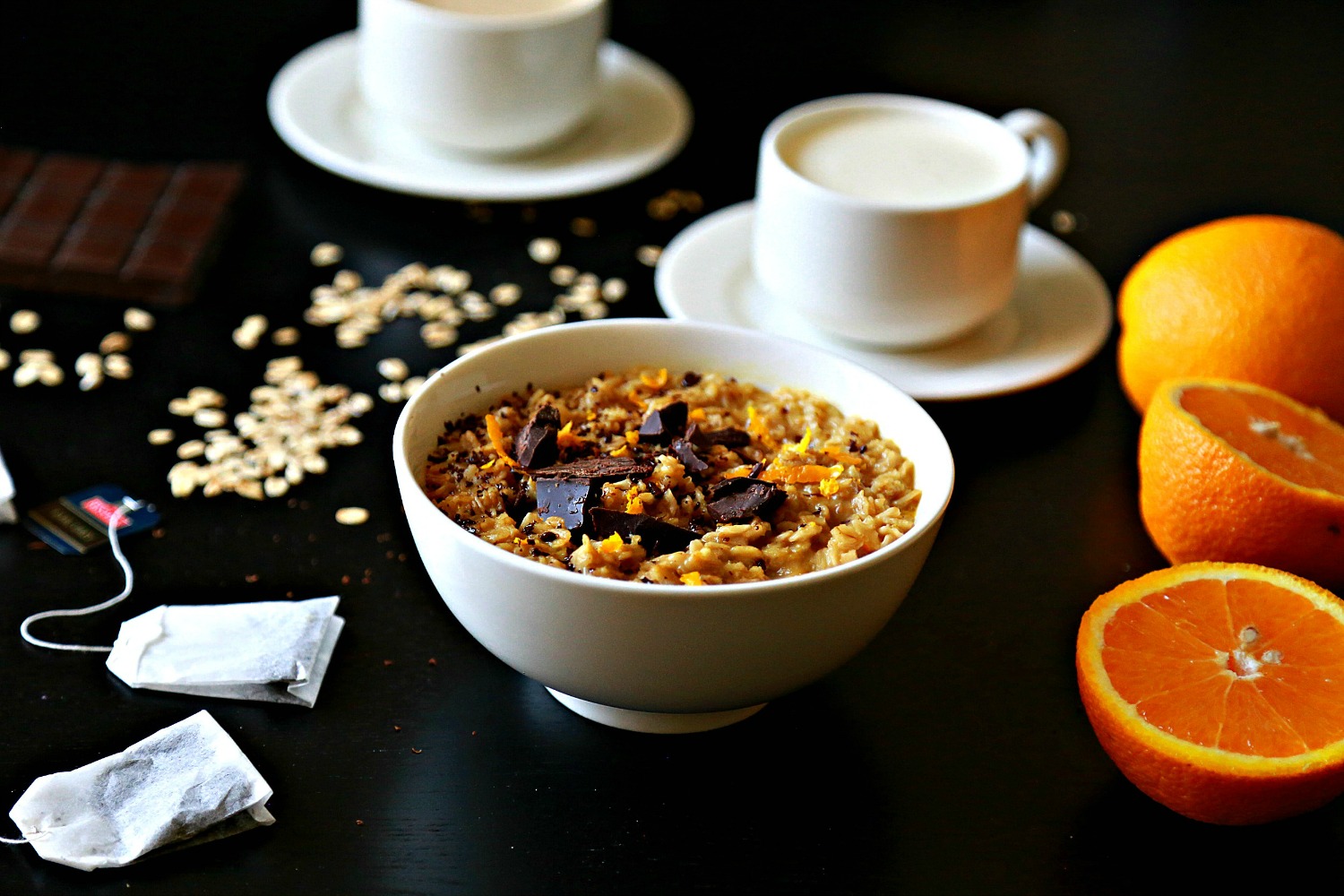 A black tea that is flavored oil of bergamot fruit, it's so aromatic that I can swear it heals the soul! Most of what I had was a mild flavor, I'm still looking for a strong one. Earl grey tea was named after Charles Grey, the second Earl Grey (British nobleman and prime minster). It was invented by Chinese and gifted, so it's an English invention. Sometimes, the early grey, made by spraying black tea by bergamot oil, or blending with flowers with other spices. That's why early grey teas have slightly different taste.  
Now it's healthy and good for you because:
Tea has polyphenols, they are antioxidants, and according the American journal of clinical nutrition many studies support that they help with prevention of heart disease, cancer, and osteoporosis
It's rich in flavoniods which has known to protect cells from damage by the free radicals. Also, according to the Pubmed they are beneficial for the heart health
It can help with weight loss. According to the Medical News Today Polyphenols along with caffeine in tea, increase energy expenditure, and fat oxidation which resulted in weight loss.
There are so many healthy benefits claimed for earl grey tea, most of them are not proved by science. You can read more about tea here and why I love it so much. 
This oatmeal is really easy to make,  with 3 main steps and less five main ingredients. And while the instructions of this recipe is to be made on the stove, you may try to make it in the microwave, to cut the cooking time. If you want to skip the tea, that is fine too, but I find it tastes like kids food! I don't know it's up to you my friend! How about some dark chocolate?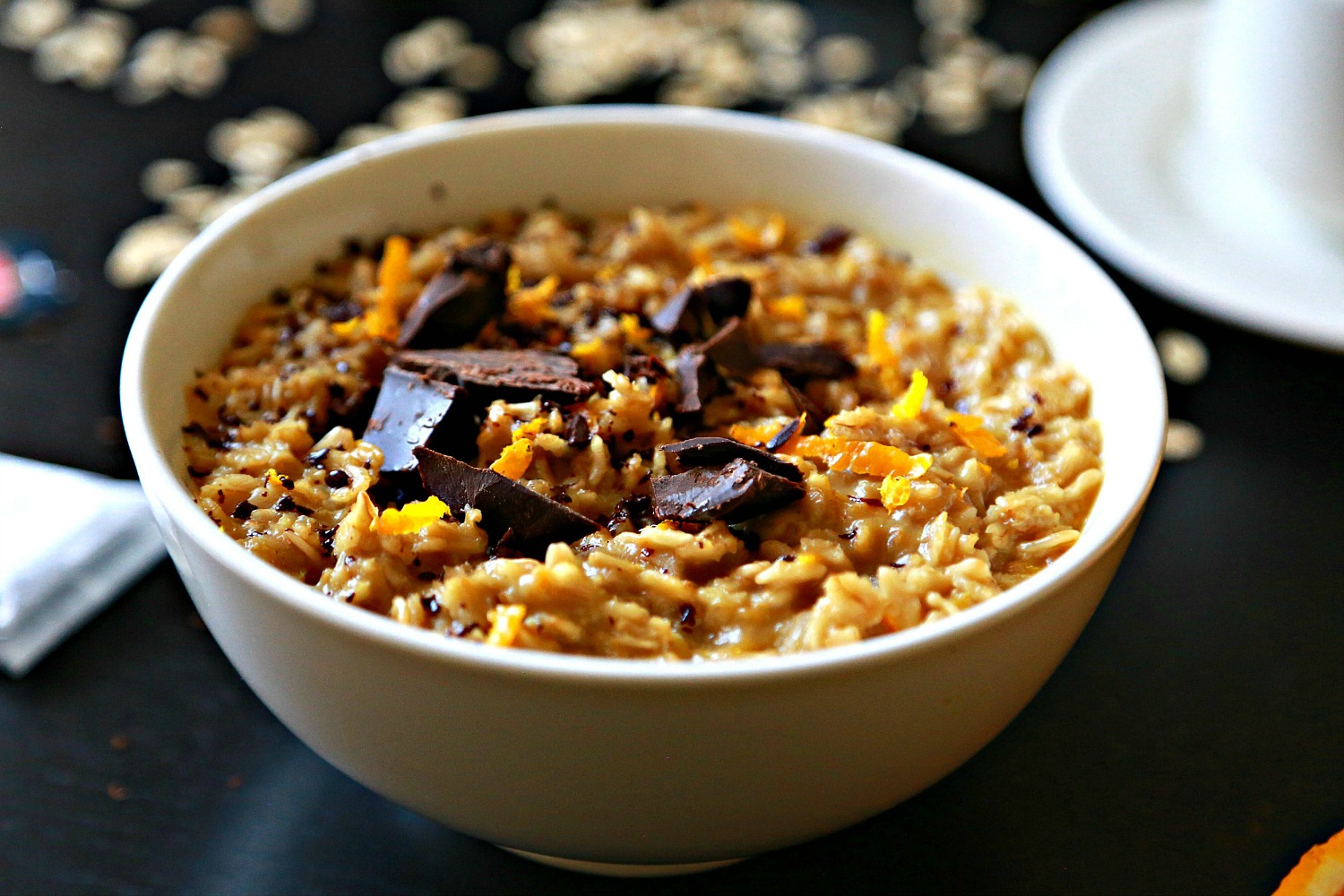 And a splash of cream, maybe?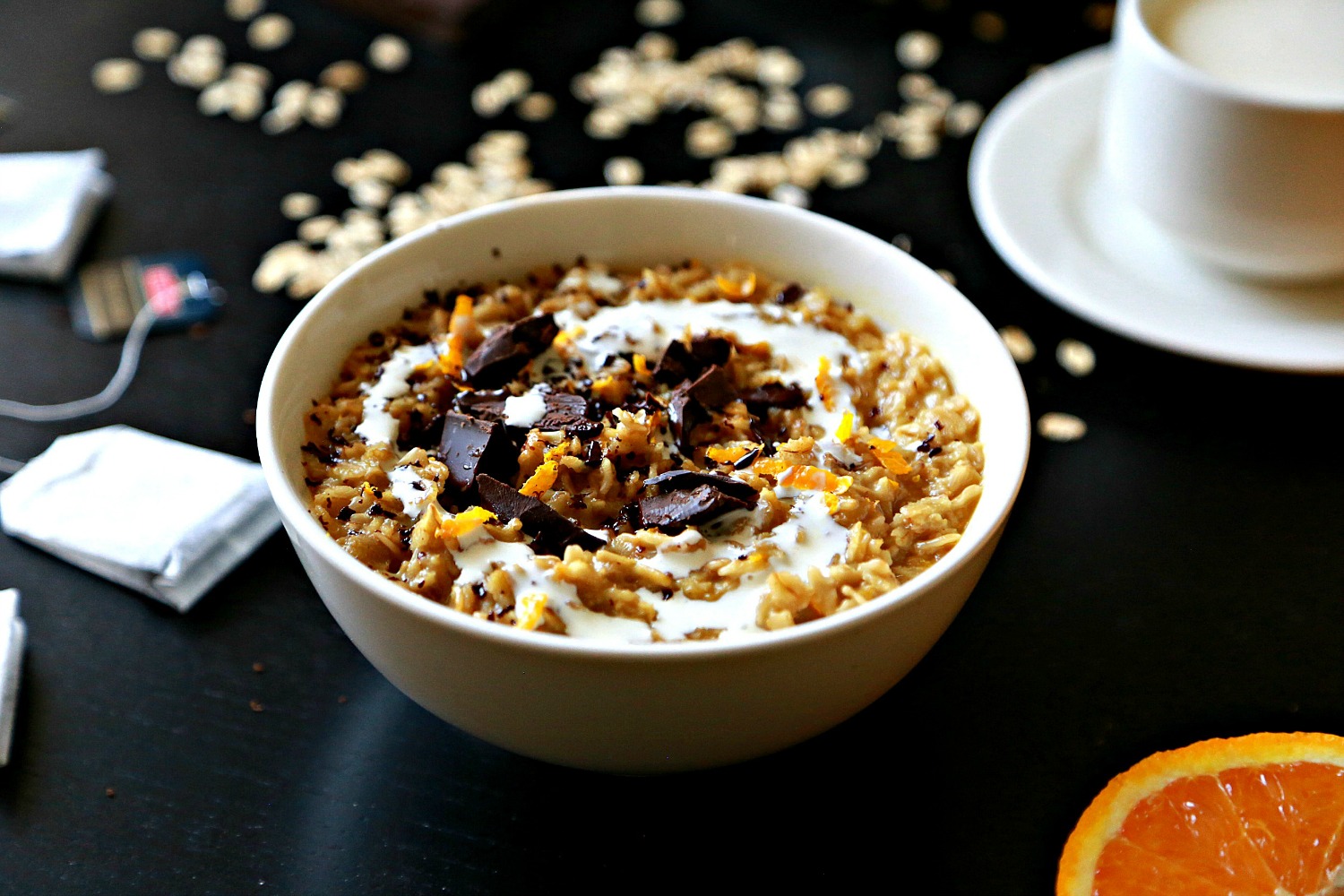 Let's go to the recipe. Enjoy!
Quick Earl Grey Orange Oatmeal
Ingredients
200g rolled oats
1 cup of tea
½ cup of orange juice
200 cup coconut milk
½ tsp orange extract (optional)
zest of orange
1 Tb maple syrup
1 tsp grated fresh ginger
some cardamom seeds (optional)
Optional toppings:
A splash of cream, or whipped cream
Orange zest
Shaved dark chocolate
Candid ginger
Extra maple syrup
Instructions
Make a cup of tea, with two bags of early grey tea, and set aside. Steep it for 3-5 minutes, don't keep it longer.
In a small pot, add oatmeal, orange juice, fresh ginger, and coconut milk on a medium heat.
Stir occasionally, then add orange zest, orange extract, maple syrup, and cardamom seeds or powder if desired.
Keep the oatmeal on the stove until it boils around 10 minutes.
Remove from the stove, add the tea and stir, then return it to stove for 1 minute or not.
If you like it thick, you can keep it for another 5 minutes.
Notes
Oatmeal is naturally gluten free, but usually its manufactured in facility that has wheat too. So if you are a Celiac please look for certified one.

Coconut milk is vegan, but you need to check it.

The optional ingredients and toppings may or may not be gluten free or vegan