A crunchy toasted quinoa with juicy fresh peach are mixed together and drizzled with mint pesto. A dish that is bursting with fresh summer flavors and packed with nutrients, and it's gluten free too!
This recipe is fairly easy and so delicious. It's perfect for lunch on a hot day or just any day! I love peaches and I feel they deserve more attention, and more savory recipes. So I made this easy salad for you!
Why this peach salad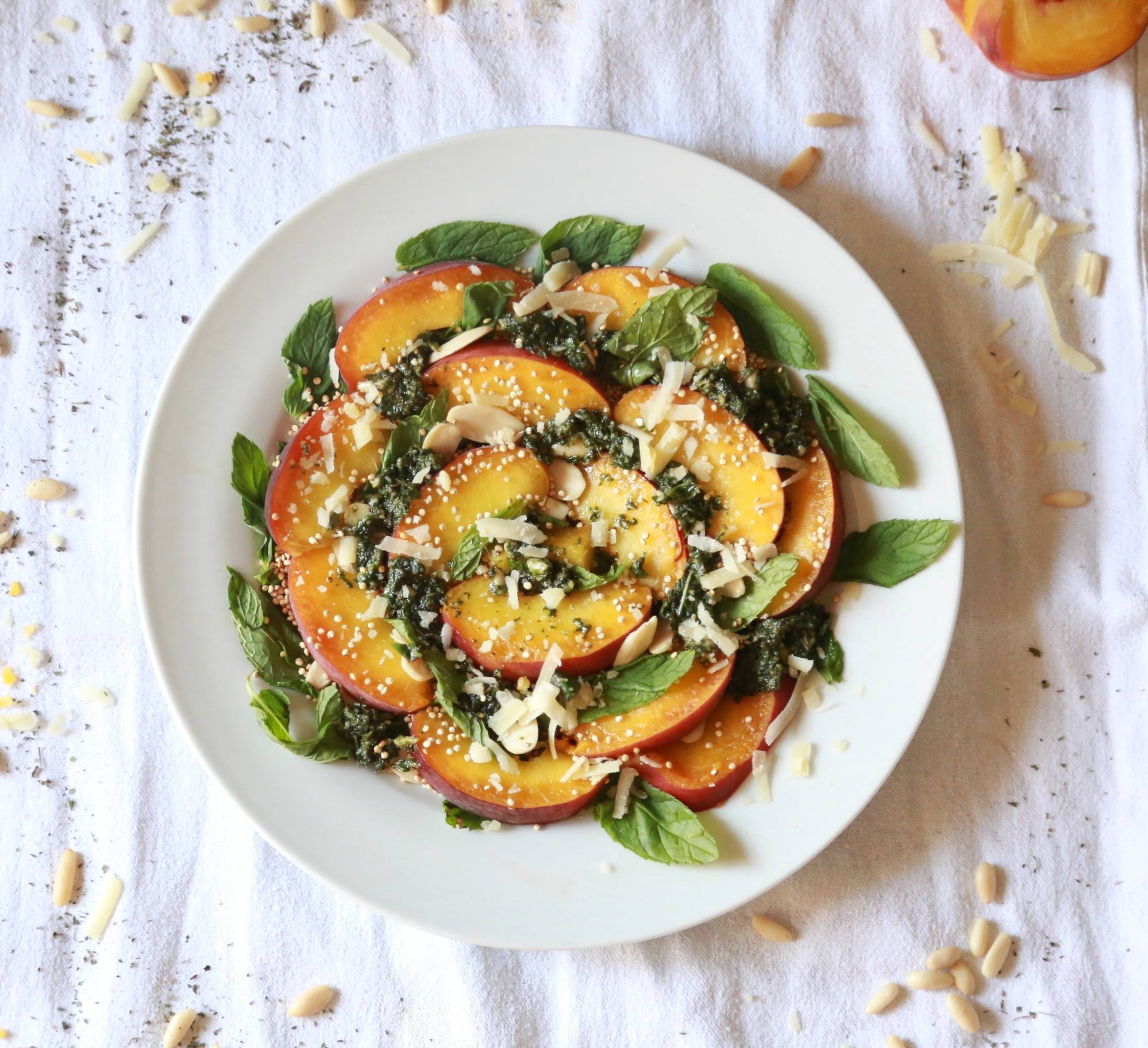 Because it has quinoa, and it's very healthy for you.
Because it has peaches and 
It is high in Vitamins like A and C, and minerals like potassium.
In a study by T&M , they found that peaches and other stone fruits have bio-active compounds that help fighting the syndrome X  the disease that believed to be one of the causes of chronic diseases like diabetes and cardiovascular diseases.
It has abundance of mint and 
lt has high antioxidant activity, also it's antimicrobial and anti-tumor, and can work as anti-allergic too.
It helps in indigestion, flatulence, and gases.
A natural breath freshener.
Quinoa
Its very healthy edible seeds that are very healthy. I've wrote before all you need to know about quinoa
and I made sweet coconut quinoa , and quinoa pilaf too. It's easier to find quinoa nowadays, you can find it in big healthy stores or just buy it online.
Enjoy!
quinoa peach salad with mint pesto
Ingredients
2 medium peaches
½ cup of toasted quinoa
mint pesto
½ cup of chopped mint
1 Tb Parmesan cheese
1 Tb olive oil
1 Tb pine nuts
A pinch of salt
2 garlic cloves
almonds
mint
Garnish:
Parmesan cheese or crumbled feta cheese.
Instructions
In a wide skillet, add quinoa and toaste it for 15 minutes on low to medium heat, you will hear a popping sound, that's when you know it's done.
In a blender, add the ingredients of the mint pesto
Start blending in pulses.
You can add extra olive oil to get a smooth texture.
Now put mint in a desired bowl, and arrange the peaches in any way you like.
Add the toasted quinoa to the peaches and mint
Drizzle mint pesto over and serve , and add Parmesan or feta cheese for garnishing and extra flavor!
Refrigerate leftovers