Crispy and soft, delicious, spiced, warm bursting of fall flavors. Orange zest with spices, in a creamy base, what would be better than that? They are gluten free friendly!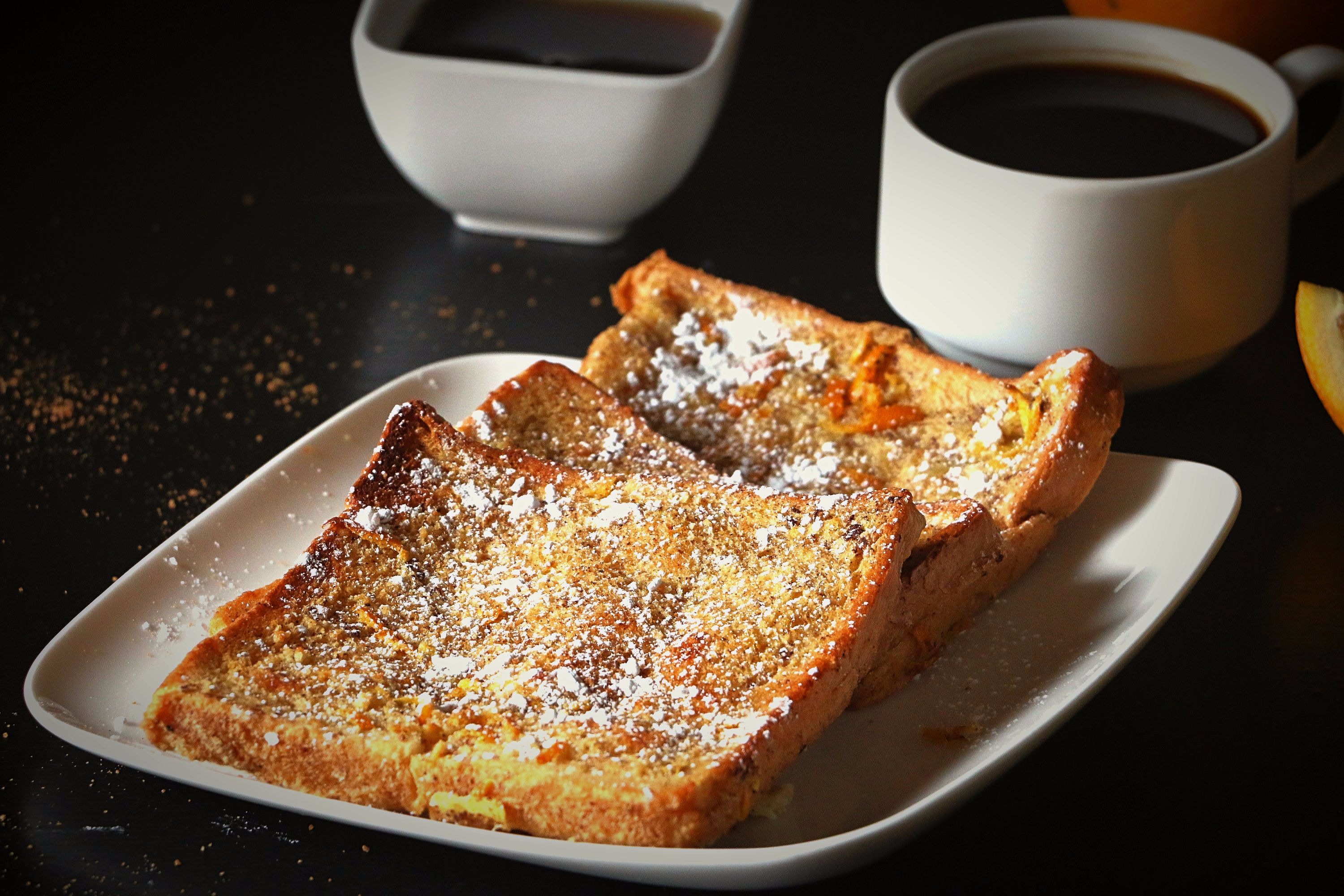 I'm sure when you read french toast, you just  blink, and say what? why ? it's not healthy! This one has no butter  and minimum milk required. And ya, it contains eggs, and they are really nutritious. You can still substitute milk with  non dairy option.
French toast typically come to mind when we think of a special weekend, or in a weekday morning and you wish it be very special . Very often we forget about ourselves, running around for work, study, kids, parents, whatever can stop you from having some moments. Well this french toast is guaranteed to give you the moment, the warm moment on cold day, that find its way to your heart and soul. It's easy to make soak it overnight, put in the oven, and you have some time you can finish other stuff. And then enjoy it with a black coffee, or a herbal tea, your call.
Why this french toast:
Packed with protein,  spices with anti-inflammatory properties and antioxidants too.
Easy to make, and fun to eat.
Gluten free friendly , and refined sugar free
What stops you really from making this? Just procrastinating and denying yourself some deliciousness and  a pleasure, that oh no not so guilty. Grab your jacket and go buy ingredients, all are easy to get. However, if you can't find coconut sugar around, you can order it here .
Spiced orange baked french toast
Ingredients
½ cup of milk
2 eggs
3 Tb orange juice
4 Slices white bread*
1 Tb coconut sugar
2 Tb coconut oil
¼ tsp nutmeg powder
⅛ tsp allspice
¼ tsp cinnamon powder
1 Tb orange zest
Optional:
¼ tsp orange extract
Instructions
The night before, mix milk with eggs, coconut sugar in large bowl with spice,
Grease the pan with good amounts of coconut oil.
Arrange the bread as you desire, but you need to make enough room for every slice, to get well coated with the milk mixture.
In the next morning, preheat the oven at 375f for 10 minutes, then put the pan, and leave it until the bread is absorbed all the liquid and golden brown.
Serve hot, and add powdered sugar (optional) and more orange zest, ground cinnamon or nutmeg.
Refrigerate any leftovers.
Notes
You can simply substitute the wheat white toast, with a gluten free one, to make the dish gluten free.