I started a series "Arabic cuisine" featuring my traditional food. Today the dish is "Sweet and Sour lentils with pasta (horaa osbao)"
I was hesitated before trying this recipe, I usually don't like to combine two carbohydrates sources in the same meal. But since lentil is related to legumes family, and has a high protein content, and other nutrients, I thought this would be okay.
Pasta
I didn't grow up eating pasta, except spaghetti, and sometimes lasagna. Later on, my family started to have some fettuccine, and we started exploring more. When I got married, and became the cook in my house, I didn't cook it much either. Recently, I did try this avocado pasta and it was insanely delicious!
I want to try more  recipes, but sometimes pasta made feel bloated, and sometimes not. I'm not sure what is the cause. I'm gonna write about this issue soon, since it's related to wheat,and gluten intolerance, and does not fit into this recipe.
I still love pasta, but eating small portion is keeping me satisfied now, and sometimes I don't eat it at all.  Adding olive oil, and veggies helps a lot, and sometime the kind of pasta (shape), and the brand. In this recipe I felt okay, I think for now its the cooking method, so I think I won't eat Al Dante again! Did you ever felt sick after eating pasta?
Pasta can be a part of healthy diet. It's better if you can have it a whole grains, and if you don't use small amounts, add lots of veggies or other good stuff like legumes, and avocados.
Haraa osbao
This recipe is popular in Syria (haraa osbao), and in Palestine called rashtaya. But its mostly known as horaa osb3o. I did mention in meat dumplings recipe, that very old recipes meant to serve a crowd. Therefore, neighbors gathered to make it together. and then divided what they had cooking.
In the original recipe of "haraa osbao" they made dough, but people now are looking for easier recipe with less time needed to cook, so they switched to noodles. That's why I went for pasta too. Less work, with a similar taste.
And here is the thing, I never had this before. But since I became obsessed with lentils  lately, I did give it a try! It's nutritious, suitable for vegan, vegetarian recipes, and gluten free. I'm thinking its like super food, and its ridiculously cheap!
The great thing in the recipe, are sweet, and tangy flavors coming from pomegranate molasses, and lemon juice. It can be hard to find pomegranate molasses, but you can always find it online, here is a brand that I truly love. Also it has different textures. Plus it's vegan, and you can make it gluten free easily.
Now lets get to the recipe! Enjoy!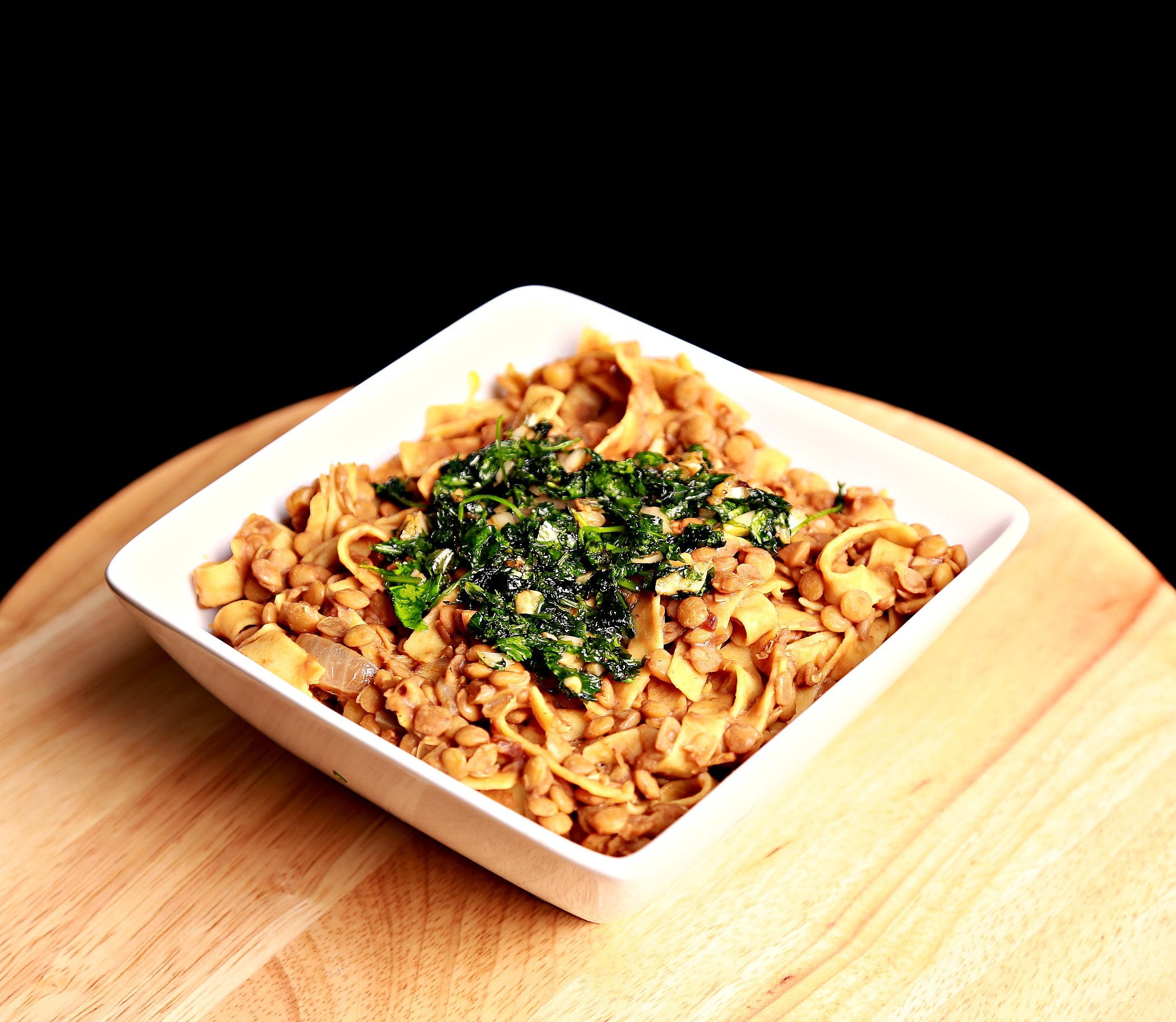 Sweet and Sour lentils with pasta (horaa osbao)
An easy to make meal, its healthy, nutritious and vegan, and can turn into gluten free easily.
Ingredients
Half cup of lentils
1 Tb pomegranate molasses or tamarind
1 Tb lemon juice
1 Small onion diced like wings
A handful of cilantro leaves chopped
2 Tb of olive oil divided
3 cloves of garlic minced
4 cup of water
2 oz of pasta Fettuccine or linguine
A dash of salt or more if desired
Instructions
Put lentil with four cups of water, and tsp of salt in a medium pot, on medium heat. Leave it until until its soft, Almost 20 minutes.
Add lemon juice, pomegranate molasses, and pasta. You can add spice, black pepper, cumin and ground coriander, and leave them until pasta is soft around 15 minutes.
Heat a skillet, add 1 Tb of olive oil, and add the onions, saute it, until it golden brown, and add it to the lentils.
In the same skillet, add 1 Tb olive oil, minced garlic and chopped cilantro. leave it until cilantro is soft, less than 5 minutes.
Pour it over the lentil, and serve it hot.
Notes
You can add fried pita bread for garnish too.

You can have a side of yogurt if you are not vegan
Nutrition Information
Calories:
347
Fat:
8
Fiber:
6
Protein:
10
Have you ever tried lentils with pasta? Would you try it? How do you eat lentils? Please share your favorite recipe!