This is an "easy to make" vegan sweet potato dry curry, and it's perfectly healthy! It's an appetizer, but you can double the serving, and you will have a quick nutritious dinner! Here I paired it with a cumin lassi!
This whole meal is inspired by Indian flavors which I truly love! I'm surprised I never mentioned that on the blog before! When we were living in the Arabic gulf years ago, I was shocked how much Indian restaurants are there! And they were really good ones. I've enjoyed many dishes and curries, OK mainly butter chicken, but I have tried a lot of stuff, even spicy mango ice cream! 
In one restaurant, I had a cumin lassi, I loved it so much, I made it more than once, and I thought its very compatible with this dry curry. It's a yogurt drink, savory or sweet, mixed with sugar or salt, or spices like this one. I may need to add more Indian recipes and Indian inspired ones. What do you think my friends? 
This recipe is also inspired by this easy recipe I tested before by Rebecca, she is doing more travel posts now, but she has a quite collection for Indian recipes as well.
Curry 
It refers to the Indian spice powder mix, and also to the dishes cooked in sauces. Usually I prefer the liquid ones over the dry, but the spinach is a different case, I can't stand soggy greens. Hence, this curry is a dry one. Note that this dish is refers to the cooking method, not the spice mix.
Sweet potato 
It's a cheap convenient vegetable that is a great source for nutrients, energy, and antioxidants.
It has more than your daily needs of vitamin A, and good amounts of vitamin C, and vitamin B6. Also, minerals like potassium, manganese, and calcium in lesser amounts.

It has more fiber, less carbohydrates,and less calories compared to white potato.

It's a good source of antioxidant beta-carotene.

It does help with controlling blood sugar, blood pressure, and have anti-cancer proprieties
Chickpeas
Again another cheap available source of nutrients, and vitamins. I can't stress enough how much they are good for you, and they are satisfying too. I've discussed in details how chickpea is good for you in this Chickpea Zucchini Soup 
Spinach 
It's a power source of nutrients! I really convert from hater to a lover of spinach, by using it in so many ways! I've talked in depth about it here when I compared it with kale . It has more nutrients when it is raw especially the B vitamins like folate, and vitamin C. But other nutrients like The fat soluble vitamins like Vitmain A ( means they need fat in order to get used by the body) and iron content are found in a greater amount when its cooked. Therefore, the optimal thing to do, is to combine cooked and raw spinach in your diet. 
Enjoy!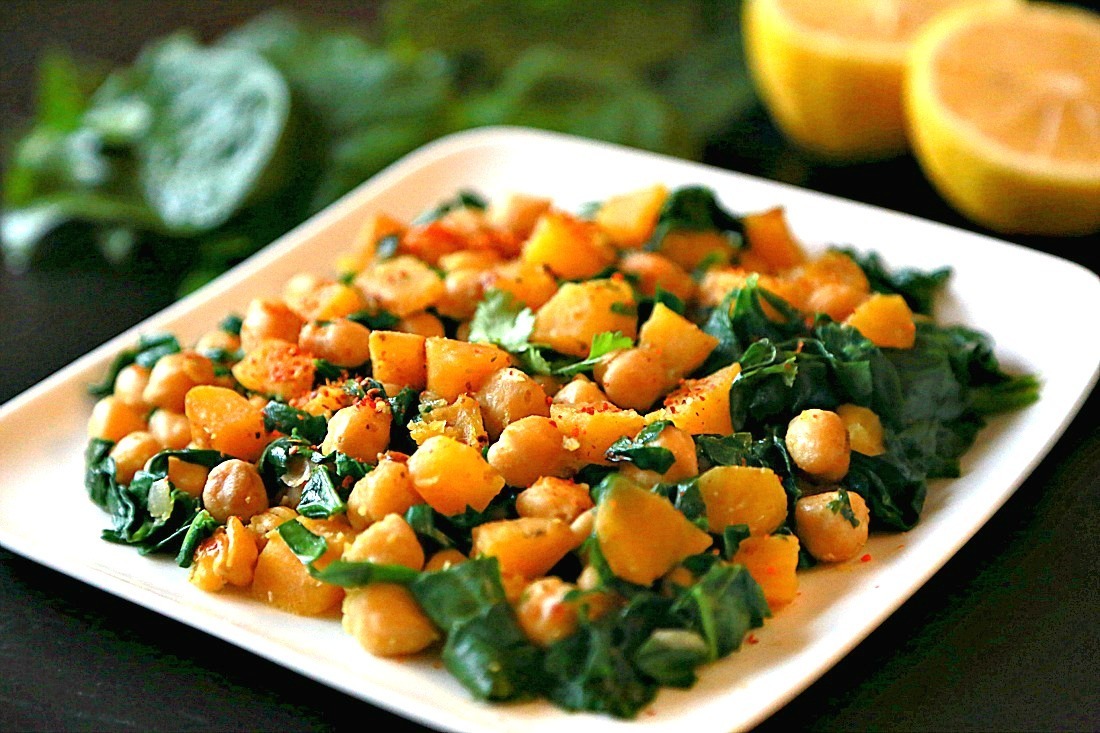 Sweet potato, Chickpeas, with Spinach Dry Curry
Ingredients
1½ Tb of of olive oil
2 medium sweet potato
3 cups spinach chopped
1 small onion chopped
2 cups chickpeas
Bunch of fresh coriander
1 Tb of freshly squeezed lemon juice
Spices: ½ tsp ground of each:
Cumin,
Coriander
Turmeric,
Cayenne pepper
A pinch of salt
Water about ¼ cup
For cumin Lassi:
A cup of full fat yogurt
½ cup of water,and few ice cubes
A tsp of roasted cumin
Pinch of salt
Instructions
Heat a skillet on a medium heat, add 1 Tb of olive oil, wait 2 minutes and add the onion.
Saute the onion for 5 minutes, then add sweet potatoes and chickpeas.
Add spices, and fresh coriander, and ½ Tb of olive oil.
Lower the heat , add water and cover the skillet with a lid for 10 minutes.
Meanwhile, in a small skillet, add a Tb of ground cumin, and roast it, keep stirring up to 5 minutes, so it won't burn.
Remove from the stove, and in a blender add yogurt, water, ice cubes, roasted cumin, and blend them together.
Remove the lid, add the spinach, add more spice if desired, a pinch of salt, and lemon juice.
Saute for 5 minutes, remove form the stove and serve immediately.
Notes
If you want to use canned chickpeas, just drain the liquid, and wash it multiple times. If you are using dried chickpeas, soak them over night, and boil them in a large pot, until completely soft.

The lassi is one serving only.