A healthy gourmet brie pizza with dried apricots and chicken. It's on the sweet side, but it's healthy and good for you! You may keep it vegetarian too!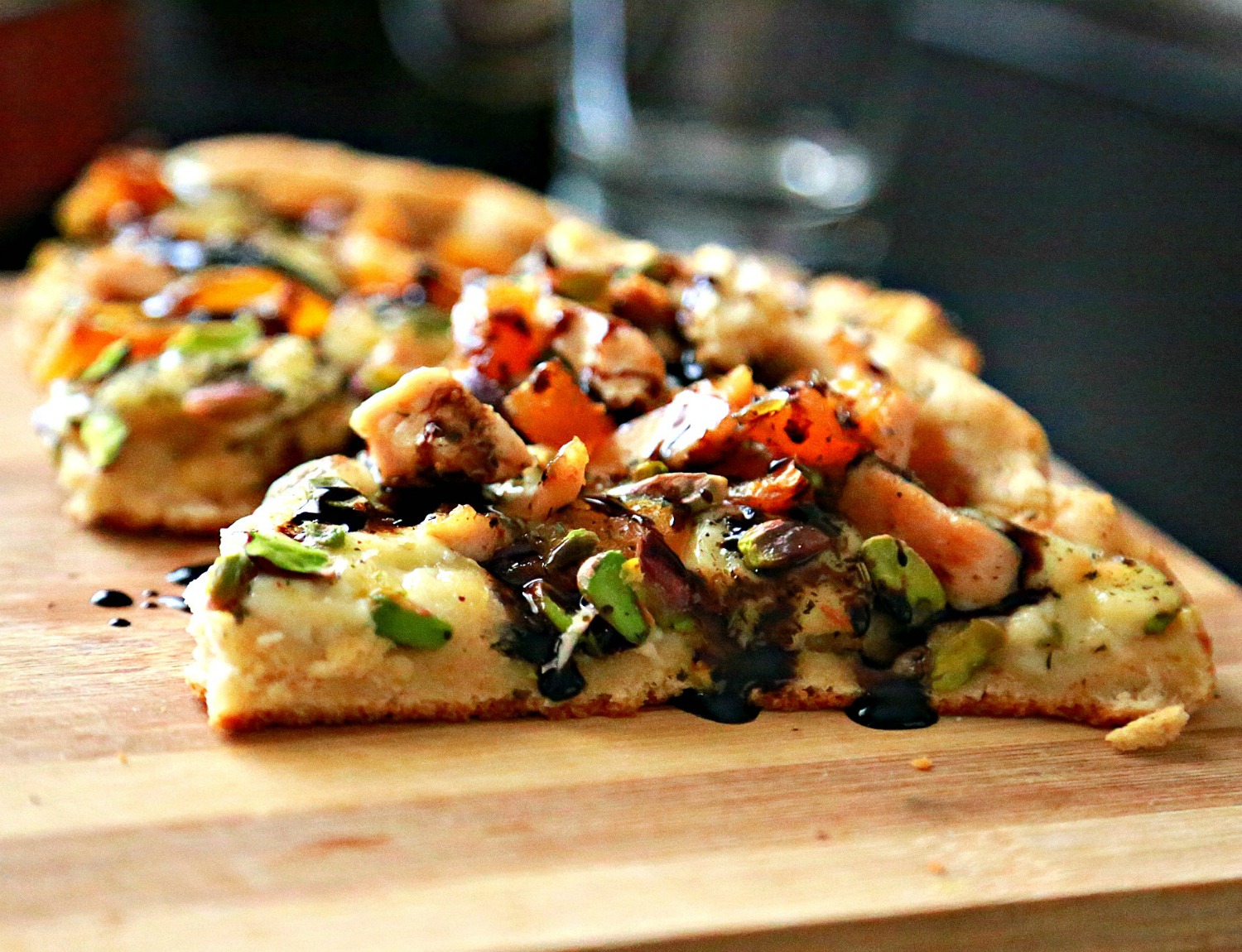 Well, it has been a long time since I posted a recipe or another post. While posting regularly is a priority for me, and to deliver tasty healthy recipes for YOU my reader, but I was insanely busy the last month! Family members were visiting, parenting my child alone while my husband was away, put me on an emotional roller coaster! Now husband is back, and means the camera too 🙂 
Now let's get what you want: A new Recipe!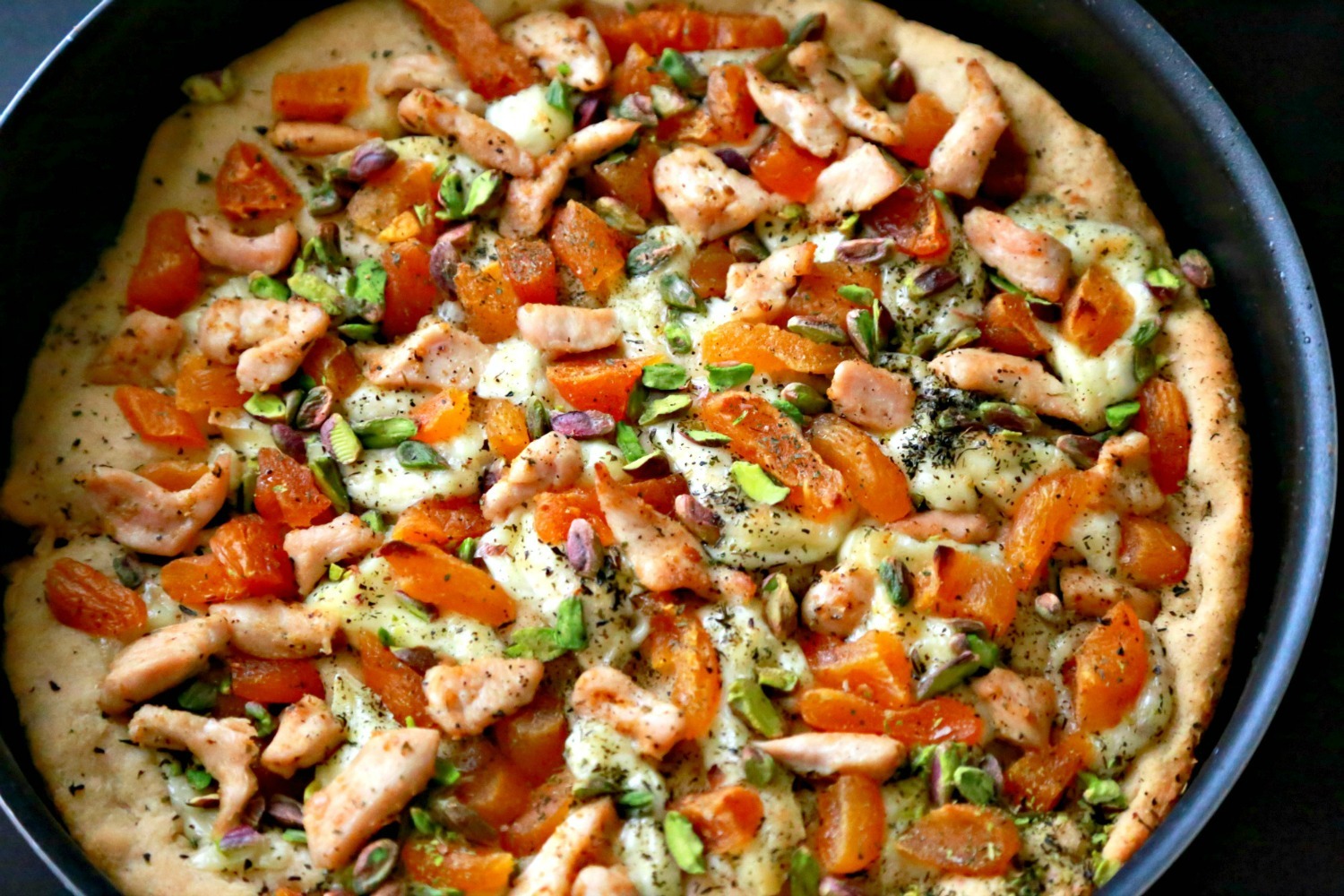 Well this pizza is inspired by Simon's dessert pizza , he is a BBQ enthusiastic, and he delivers delicious creations. Well, I told him that I wanted to try his pizza, but I don't own a BBQ or even a special oven or pizza oven! Okay he came with many solutions that I know I can't do, I'm not handy! But one was the "A smoke infused liquid" I think it's interesting, but I didn't have the mean to go to a special store! But "you" to try to get one, maybe you can it put it on this pizza recipe or Simon's one!
Brie Cheese 
Brie is a soft french cheese and it's called the "queen of cheeses", also a dessert cheese, since nuts, fruits, and honey are the common condiments.
I think I will never abandon cheese, it's the most comforting food that comes in many shapes, textures and unique flavors. Well cheese has a bit of notorious reputation since many types are full of saturated fats. Some are cured, salted, or even sweetened, and artificially colored! But there are so many others good for you, will post about them in the future posts.
But here let's talk about brie's benefits:
It offers good amounts of protein in 1 oz .and this means it give you satiety, and you feel full.
It has vitamin B12 that you need for normal blood cells formation, and vitamin B2 too. Moreover, it provides you with phosphorus, calcium, and selenium that is needed to your body?
Brie has tyrosine, an amino acid that is involved in the synthesis of dopamine. a neurotransmitter that affects your mood to be better and give you the "happy feeling"
Dried apricots
I'm nuts when it comes to dried fruits! I always look for unsweetened ones, that are fulfilling too, and suits spices, and chicken! I've used dried apricots before, here in this Moroccan tajine . Now on this pizza too!
Let's talk about the health benefits ==>
High in minerals, like potassium, and have good amounts of iron too.
Also they are rich in antioxidants like carotenoids that your body use them to get rid of free radicals, that is believed to cause cancer.
Excellent source of fiber, especially the water-soluble ones,which they are good for you bowl movement. Moreover, they bind to fatty acids, and encourage their excretion from the body.
Chicken
It's an affordable source of protein that is versatile, and can be consumed in so many ways, including healthy ones. Boneless or not, skin on or not, chicken is good for YOU! Please click on this tag to know more about chicken, and check my other recipes as well.
Now enjoy!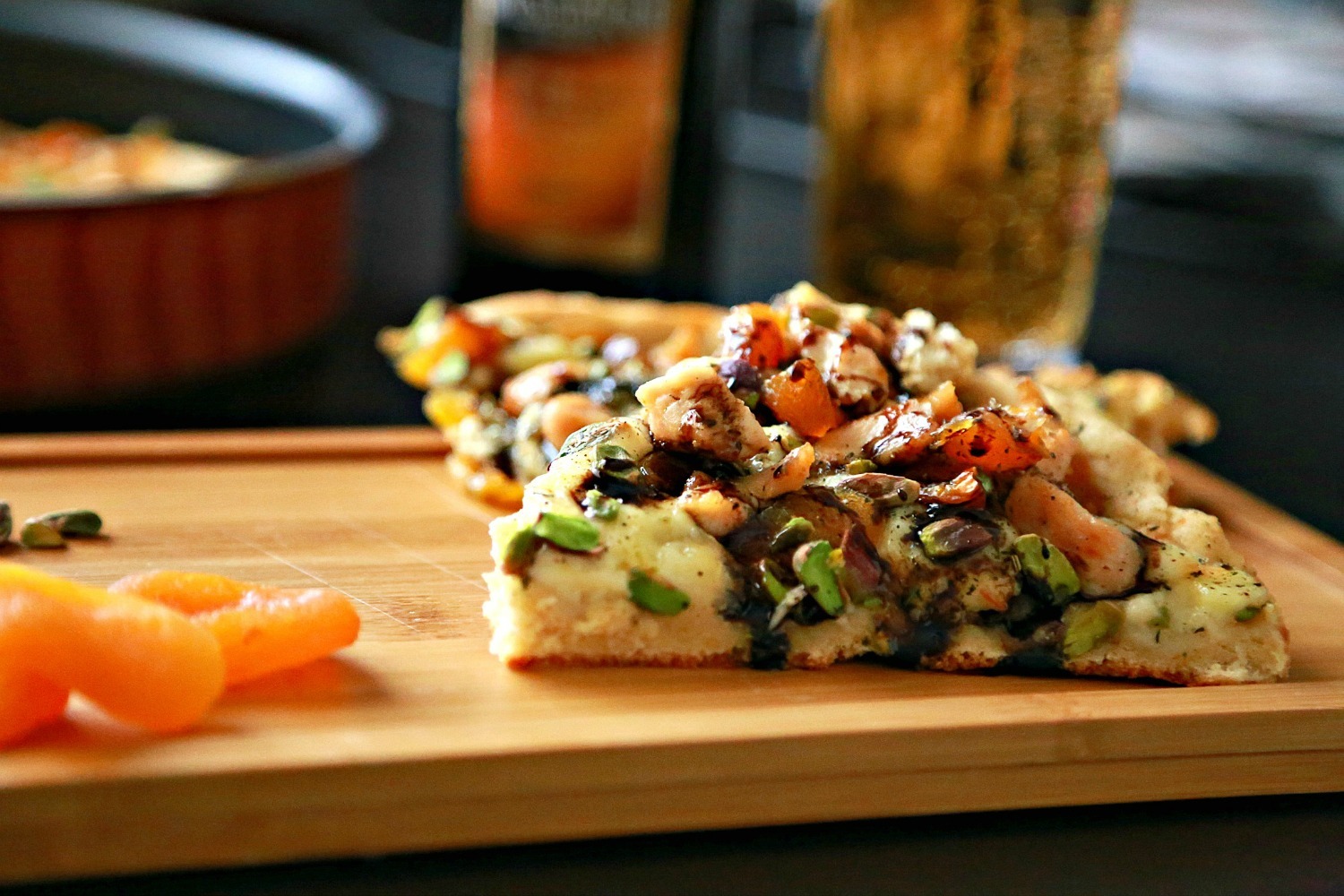 Brie Chicken Pizza with Dried Apricots
Ingredients
Dough:
¾ cup All Purpose Flour
¾ cup whole wheat flour
1.5 Tb Dried Milk
4 Tb Yogurt
2 Tb Vegetable Oil
0.5 Tb Yeast
1 Tb Baking Powder
Pinch of Salt
Warm water, about half cup
Toppings:
Brie 250g
Dried apricots diced 1 cup
½ cup halved pistachio
Salt (up to taste)
Black pepper (up to taste)
Optional but recommended:
Dried mint
1 Chicken breast
Dried mint
Cajun spice
Balsamic glaze: 1 Tb honey, 3 Tb good quality balsamic vinegar
½ Tb sunflower oil
Instructions
Combine dry ingredients together.
Now make a hole, and start adding wet ingredients slowly.
Knead at least 15 minutes, and set the dough aside for couple of hours in a warm setting.(The more is better).
Preheat the oven at 400 f, use non stick baking pizza pan, or use an oil spray, or just grease the sheet with vegetable oil lightly.
Prepare chicken, cut it in small pieces, saute it in small skillet with sunflower oil, season it with salt and pepper, and Cajun if you wish.
Now add the toppings, sprinkle dried mints over.
Put the pizza in the oven for 20 minutes, or until t's golden brown.
Optional:
Prepare the balsamic glaze, just mix honey with balsamic vinegar in small skillet on low heat for about 15-20 minutes, then drizzle over your pizza.
Devour while it' hot, and refrigerate any leftovers.
Notes
The amount of brie cheese is just enough, since it's fatty and has sharp flavor, you may wish to increase it.

It's highly recommend that you look for high quality brie cheese. And you may wish to ask the shop assistant to slice it for you