I'm obsessed with strawberry these days. They are sweet in nature, have a firm texture, and very healthy with such a lovely bright red color. So here is another recipe with strawberry!
 Pizza
I didn't grow up eating pizza all the time. But, mom bakes pizza with other Arabic pastries once a month maybe. Throughout the years, I remember we change toppings, but never put unusual ones like fruits, or other untypical pizza topping.
My husband is obsessed with pizza so much, its connected with his childhood memories. So we order pizza often. We usually split it, because I want to add veggies, and other healthy food items. I'm trying to get him to love a healthier pizza. Through years we have been together, he is doing good in adding more toppings, but I'm still hoping he will add veggies into his pizza, and in his diet in general!
When he saw me, holding the pan, he was excited to see this beauty! but disappointed that he won't eat it!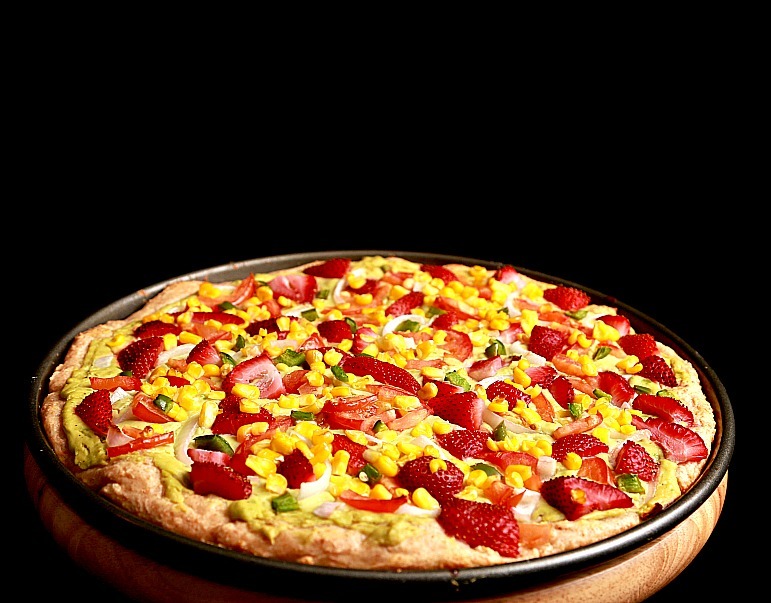 Mostly, because its whole wheat, and has avocado in it. I need to work on this version, so he gets to like it!
I was inspired by this strawberry salsa . I wanted to make salsa with whole wheat chips, but dipping isn't really my favorite thing to snack on (I'm not a snacker by the way). Therefore, I was thinking, why don't I make a whole healthy meal with shining strawberries?
There are lots of delicious pizzas, that encouraged me to experiment different, and unusual toppings. This peach pizza is a minimal one, but yet I bet it tastes so good. And this strawberry pizza is just gorgeous!
Strawberries 
Usually I have strawberries with other fruits in a salad, or mixed in fresh juice with orange and pineapple. But lately, I love incorporating them into savory dishes, I love the subtle (or not so subtle) sweet flavor in savory dishes. And here I discussed the health benefits of strawberry.
Whole Wheat Flour
Is made from the unrefined wheat . I've discussed before how whole grains is healthy, and nutritious. Despite the fact that there are many health advocates are going against the grains, I've talked about these myths here.
Baking with whole wheat is a bit different from the white flour. It may need more liquid, or/and oil in the dough since it soak liquids more. And it may needs more time in the oven.
Don't do my mistake, and overload the pizza, you may have areas in the pizza where its not done!
Now lets get to the recipe, and Enjoy! 

whole wheat strawberry pizza
Ingredients
Dough :
¾ cup whole wheat
¾ cup white all purpose flour
4 Tb yogurt
1.5 Tb dried milk
1 Tb baking powder
0.5 Yeast
Pinch of Salt
2 Tb vegetable oil
Warm water, about half cup
Sauce:
2 Tb yogurt
1 medium avocado
few piece of garlic
salt and black pepper
juice of 1 lime
Toppings:
Half cup of Strawberry sliced
Corn
1 medium Roma tomato
½ small onion
jalapeno pepper
Instructions
Combine dry ingredients together.
Now make a hole, and start adding wet ingredient slowly.
Knead at least 15 minutes, and set the dough aside for couple of hours in a warm setting.
Preheat the oven at 400 f. Use a non stick baking sheets, or use an oil spray, or just grease the sheet with vegetable oil lightly.
Roll your pizza before putting it on the baking pan.
Now add the sauce.
Add the suggested toppings, or you can add or omit what you want.
Put it in the oven for 35 minutes, or less depending on your oven.
Serve it immediately.
Notes
Dried milk is optional but it gives the dough a rich taste.

Depending on your flour, you may need more water.

note this dough is more enough than this pan in the photo, so dont put all dough into pan or into wont get done inside
Have you tried a whole wheat pizza? Do you prefer it on a white pizza?