I started a series "Arabic cuisine" featuring my traditional food. Today the dish is Arabic Eggplant Dip (Mutabal). A smoked eggplant appetizer whipped with yogurt and tahini finished with a bit of lemon juice. It's very healthy and naturally gluten free!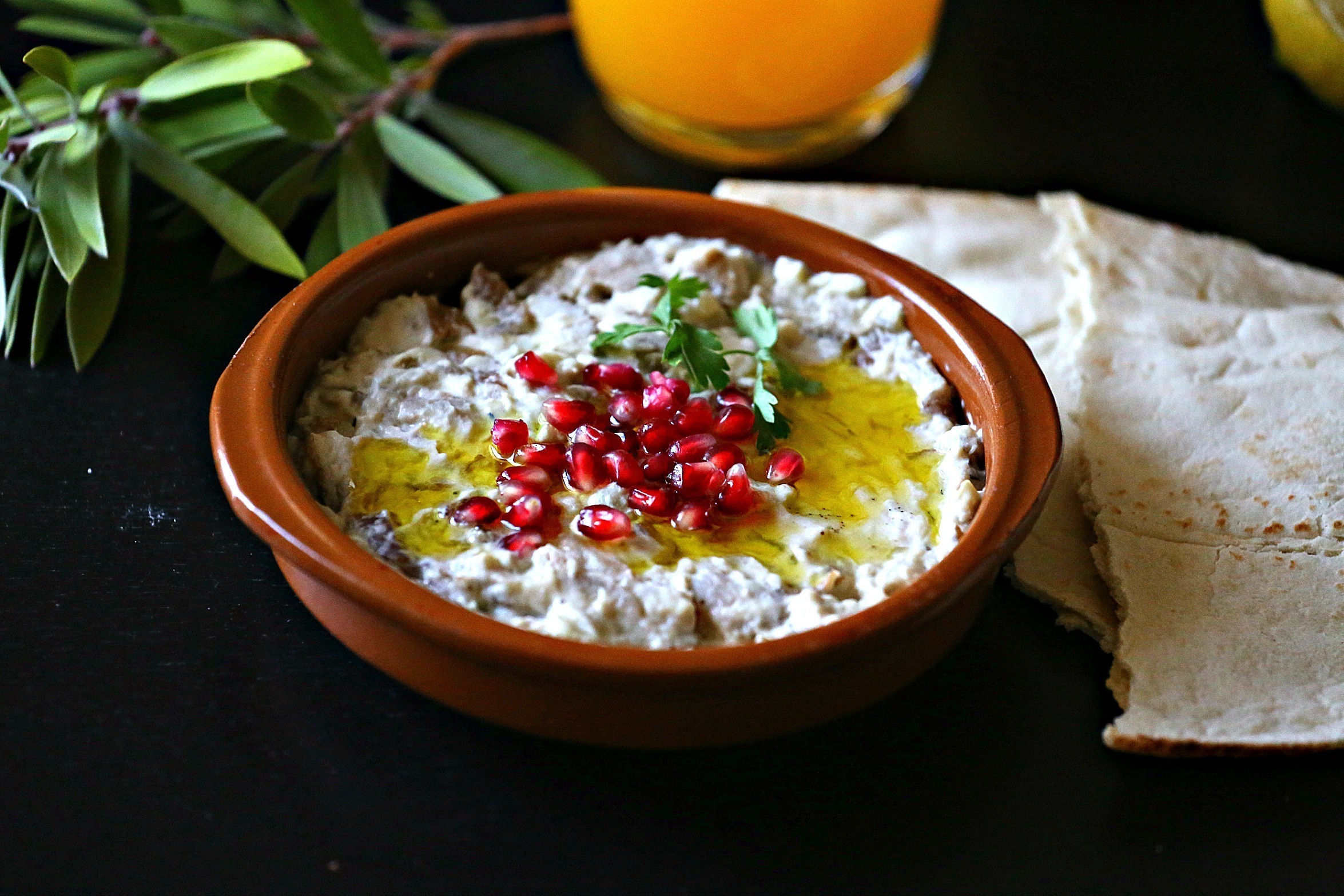 This is my dad's favorite dip. My mom used to make it, when she doesn't want to cook a big meal. Once my sister helped mom, and made it herself, and dad liked it very much, Since that day, she is the one who makes Mutabal all the time.
I've never made it before, but thankfully, I saw mom, and my sister made it so many times, that I can recall doing it easily. I just love how the brain records everything. It's amazing isn't? 
Mutabal is more popular in Syria, and Lebanon than Jordan. But its still desired, and served in all gatherings. And note this is different from Baba ganoush. Because lots of people use both names interchangeably, but they are different two dishes.
I remember when dad was trying to convince me to try mutabal. I couldn't love it, now I really do! Last year I wrote a post about healthy food that I hate, and eggplant was on the list. Now it's not anymore! I've created more recipes with it!
I love how we can change our habits, once we let ourselves getting out of the comfort zone.
Usually Mutabal served with grilled chicken, and kebab (we say kebab for girlled beef not chicken). You can find it in almost any restaurant for Arabic food on their appetizer list.
Eggplant
How much it's healthy, depends on how you prepare it most of the time. And actually this one is not the best, since the eggplant may get contact with the chemical from burning. But it's okay to have it sometimes, but the ideal would be baked, or cooked with the skin on.
Most of the benefits comes from the skin, so it's crucial not to remove it when you cook It. It becomes thin, and totally edible,and palatable. The bigger the eggplant is, the bitter flavor it has! But oddly enough, it becomes higher in antioxidants contents! 
Let's look for the bright side of this recipe, this dish has tahini, which is very healthy- and this is the brand I used- and yogurt which they are very nutritious.
Now let's get to the recipe!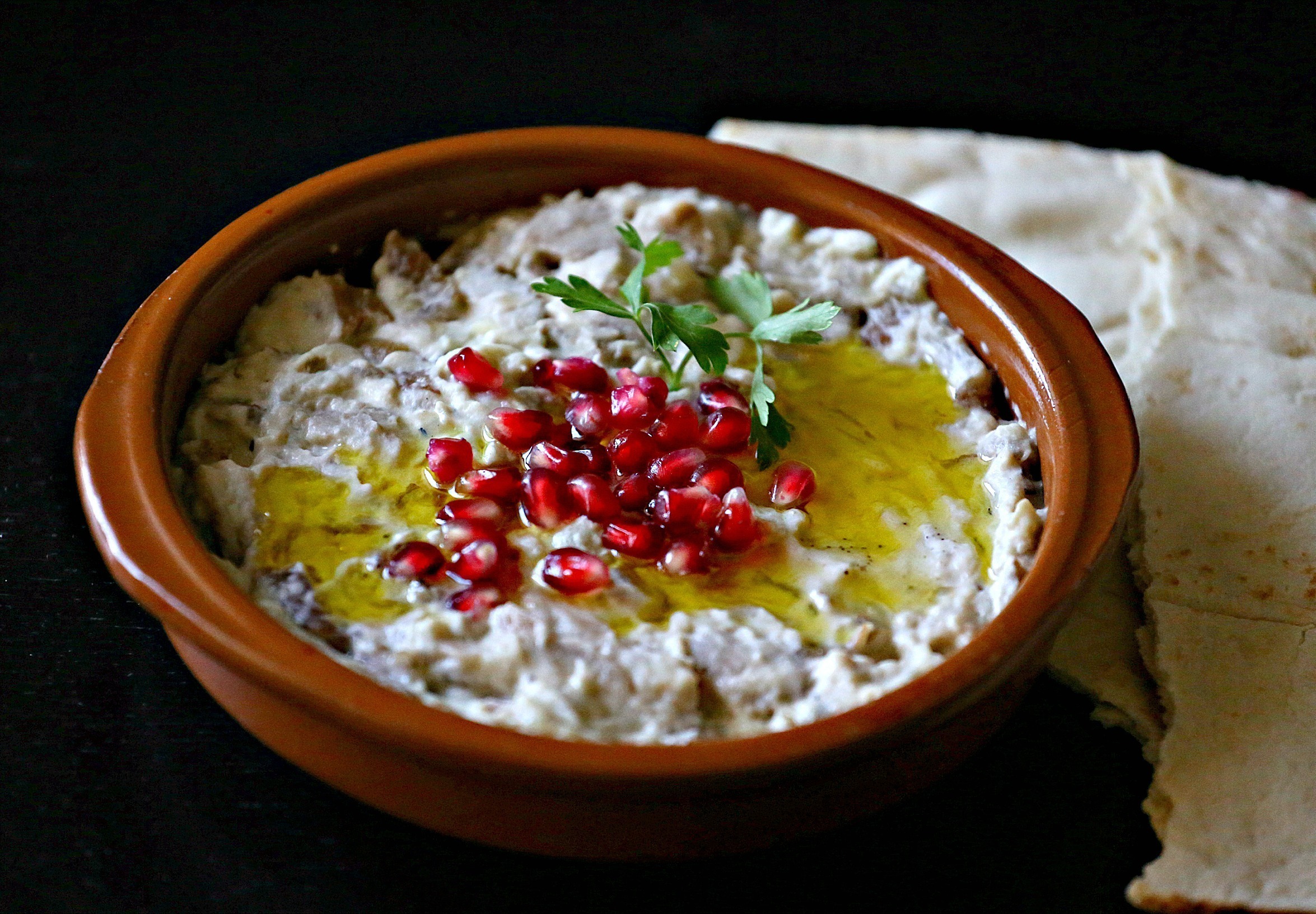 Arabic Eggplant dip (Mutabal)
Eggplant dip is an easy to whip and very nutritious. It's full of flavor and it's gluten free
Ingredients
1 medium Eggplant
2 Tb of yogurt
2 Tb of tahini
Juice of 1 lemon
Few garlic pieces
Salt
Olive oil for dipping, and garnish
Any green leaves like mint or cilantro.
Cutting board (optional)
Instructions
You need to grill the eggplant, first cut the green head, and put it directly on the stove, or you can put in the oven.
When the skin is tearing off, and becomes soft, you can start working on the eggplant.
Peel all the skin, then bring the eggplant to a cutting board, and start making strikes with a knife, both horizontally and vertically, transfer the eggplant into a small bowl
Crush garlic, and add it to tahini, lemon juice, and mix them together.
Start adding yogurt gradually, you may not need to put all of it, depending how rich is the tahini, and how thick the eggplant is.
Now put it in an open dish, spread it, and bring it to the side of it with a fork.
Serve it cold, refrigerate leftovers for couple of days only.
Notes
You can add less yogurt than I did, but I just love lots of it.
Have you ever tried Mutabal? Would you try it?