Easy nutritious potato appetizer, this potato spiced with harrisa and mixed with fresh cilantro leaves. it's aromatic, healthy and super delicious! Plus it's vegan and gluten free too!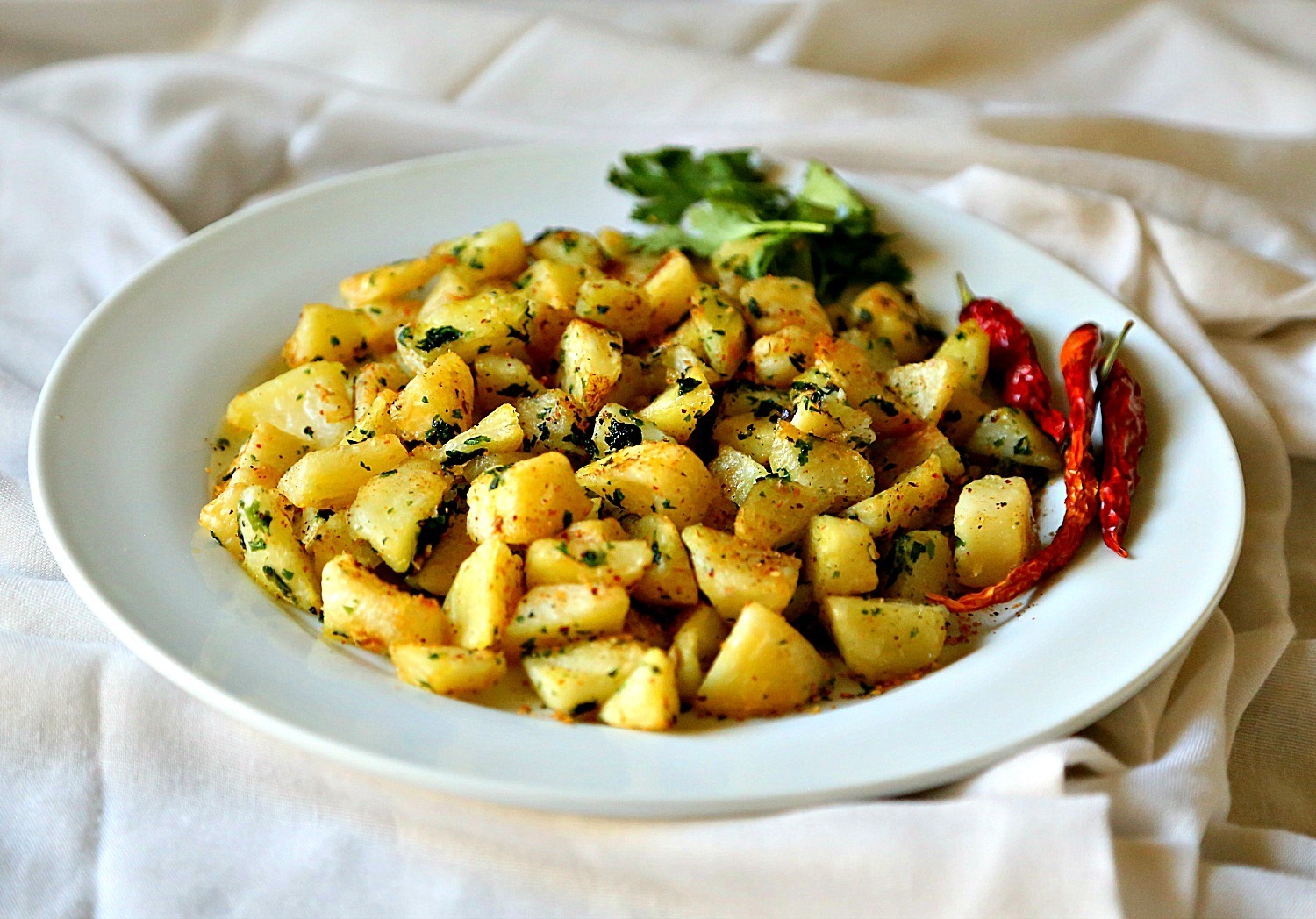 Another recipe from the Arabic cuisine today my readers. This dish is Lebanese, easy , and flavorful. We order it sometimes in Lebanese restaurants. I used to hate it, since I hated fresh cilantro , that strong aroma and weird taste ( like soap) didn't appeal to me at all. But I've changed my mind years ago, when I had pico de gallo (the Mexican salad) It tastes very fresh, and when I knew it's cilantro that gives it this aroma, I start to buy every time  go to groceries, until this day.
So I started to love this spicy potato dish, and just few days ago , I was planning to make a simple dish for the blog> Since I overdo complicated recipes sometimes, so I said how about battata harra? It's simple and delicious!
Cilantro
A green leaves , a herb actually that is very healthy, and used a lot in the Arabic cuisine dishes. It's very healthy herb, and its time to use it in cooking other than just garnish.
Some of the health benefits of cilantro :
Has high content of antioxidants like beta carotene, lutein and zeaxanthin .
Has high amounts of vitamin A and C and fibers.
it has antimicrobial and anti fungal proprieties.
Potato
While potato has a bad reputation, it can be really healthy for you, the method of cooking affect very much the calorie and fat content. Also, it's more important for the diabetic persons to be aware of its high glycemix index value, and how many carbohydrate sit has. potato can be good for you:
It's high in potassium, and vitamin C. Also has good amounts of folate, iron, and fiber.
It has many nutrients that are important for the body's health, such as lutein that is good for eye's health, and choline that reduce inflammation.
If eaten on its own, baked, potato is considered low calorie food.
And I made delicious recipes with potatoes, check them here.
Harrisa
To be honest, I didn't use harrisa, because it's very spicy for my taste. However, I used cayenne pepper. You can make harrisa yourself or just buy it, and add it to this dish.
Enjoy!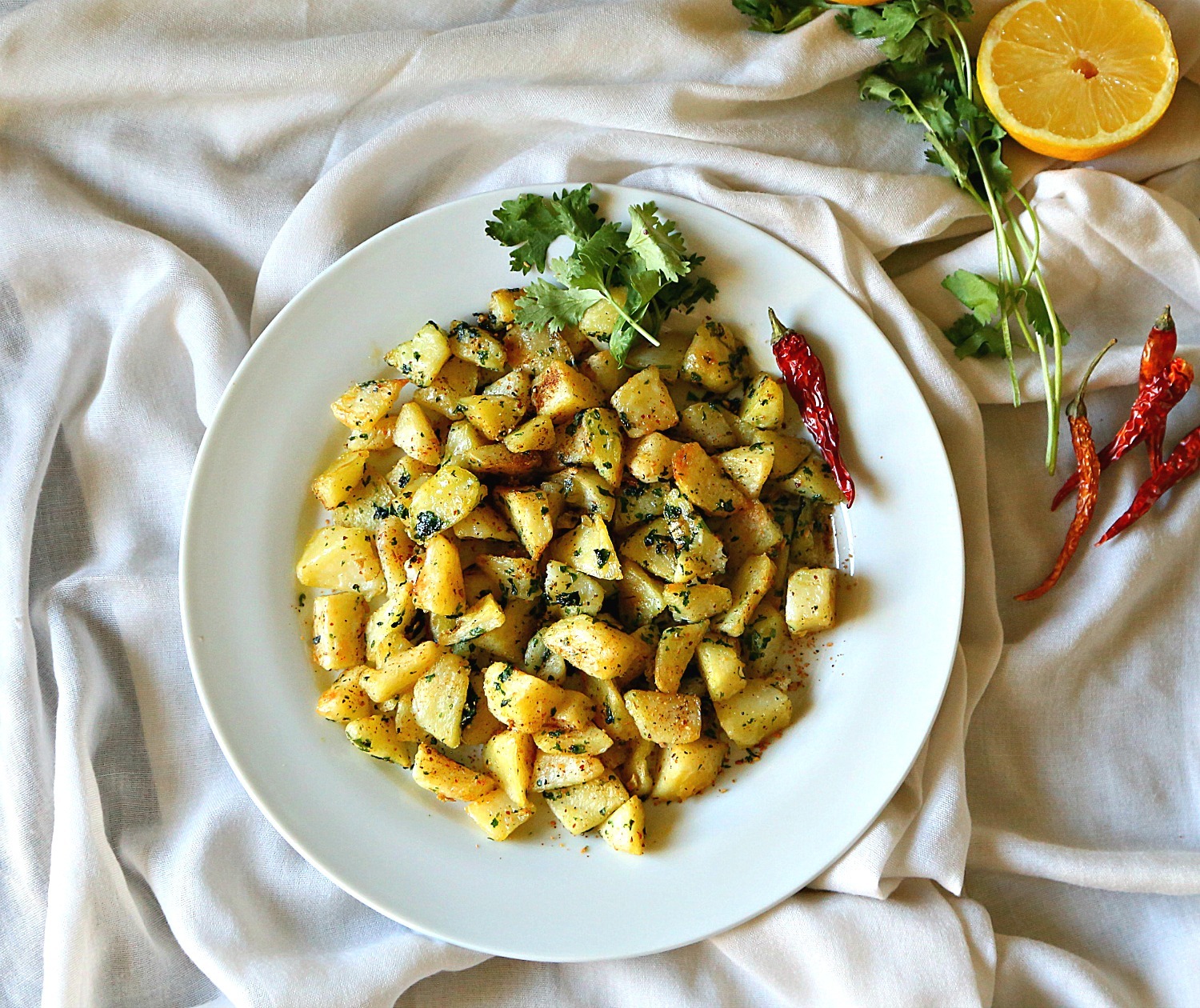 Arabic Spicy Potato with Cilantro (Batatta Harrah)
Ingredients
2 medium potatoes cut into cubes
2 Tb fresh cilantro leaves minced
4 cloves of garlic minced
1 Tb vegetable oil
1 Tb olive oil
2 tsp harrisa paste or 2 tsp caynne papper , salt and blackpepper to taste.
Optional:
Cajun spices
Instructions
Boil the cubed potato , to half done.
Then in a baking dish, add ½ Tb vegetable oil, and ½ Tb olive oil, and sprinkle salt and pepper, and bake the potatoes until it's done.
Meanwhile, in a small skillet, add ½ Tb vegetable oil and ½ Tb olive oil , when its warm enough add, the minced garlic and saute for 2-3 minutes, then add the minced cilantro leaves,and saute again for 2 minutes.
Add harrisa mix, or cayenne pepper or even Cajun spices, to the skillet, and turn off the heat.
Now mix the cilantro garlic paste with the potatoes very well.
Serve immediately, and refrigerate any leftovers.