A fulfilling healthy low carb delicious soup with strong flavors of arugula, topped with mint pesto and Parmesan cheese! This soup is powered with probiotics, vitamins, antioxidants, and protein!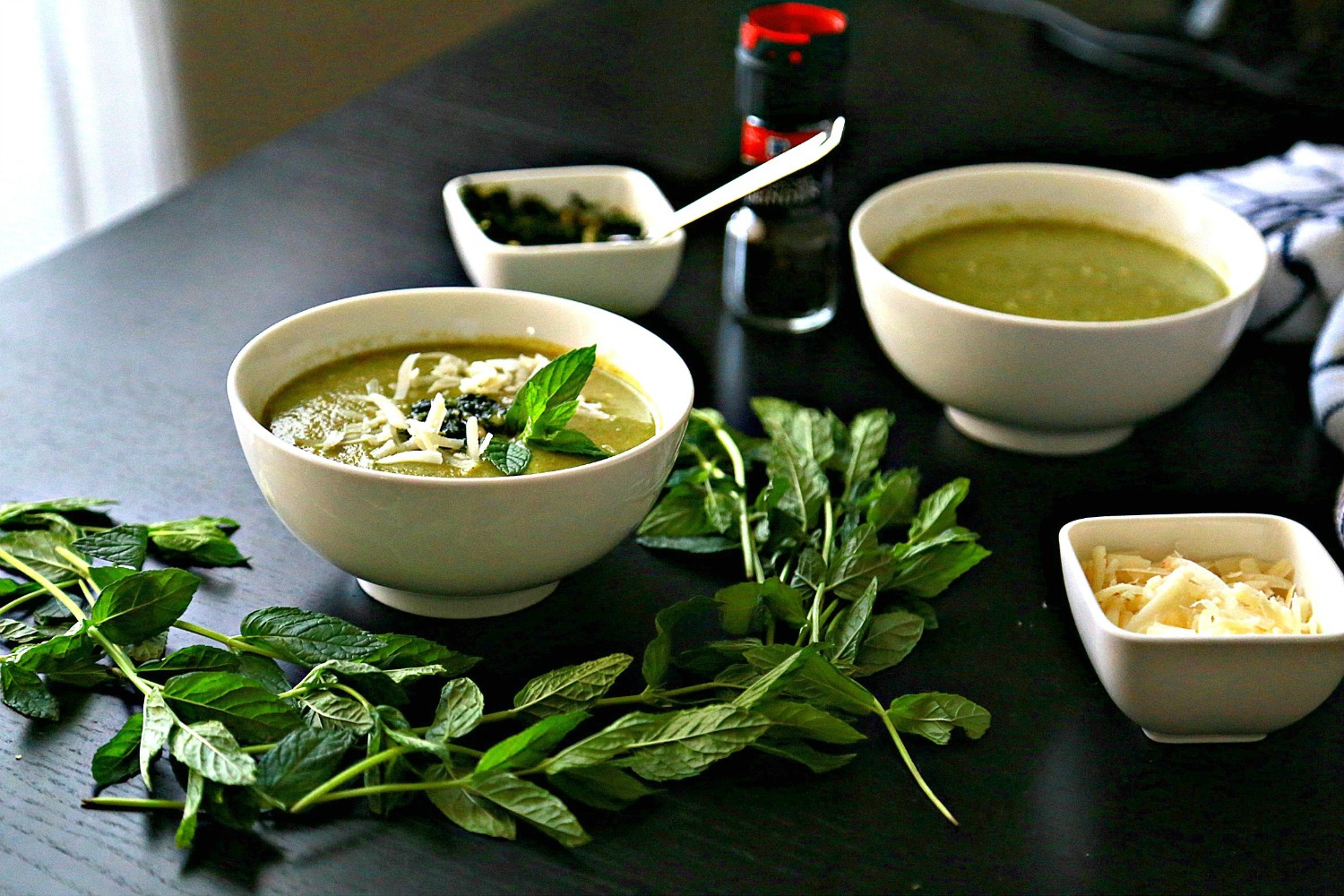 Well this is an easy to put together soup, you don't even have to peel cumber, white zucchini or chop arugula. These veggies well be blended beautifully by any basic blender. With strong aged Parmesan cheese and mint pesto, this soup is a big winner, it's the ultimate healthy comfort soup!
I made an arugula salad, and that was my first attempt with it. I liked it, but I found it so sharp for my taste. Therefore, I thought making it a soup with a medley of vegetables, will make it less sharper, and it did. This soup has a sharp kick form the arugula, toned with the subtle flavors of cucumber, and white zucchinis.
Most of my soups had onion, garlic, ginger sauteed in oil or butter (rare occasions) as a base. This gives a quite pleasant taste for any soup. With added a small potato, for an acceptable amount of carb and for natural thickness. Much better than using flour in my humble opinion. I find that flour gives a bland taste.  
Arugula is most likely a modern fancy american name. It's rocket in British English and other countries. It doesn't really make a difference, what we call it, it's a healthy green leafy vegetable after all. And while the american arugula was bright in color and so fresh, it was quit expensive, and not an affordable choice for a family. A big box costs around 6$ is hardly enough for one big salad for a family of 4, which is the average american family. And you still didn't add a thing to this salad! So while rocket here doesn't look sexy enough, it's fresh and affordable. Actually it's quite cheap and more available. 
Health benefits of Arugula: 
There are so many of them, so just to mention a few:
It's rich in folate, and vitamin A that is critical for normal vision, the immune system, and reproduction. Also, it has huge amount of vitamin K that is important for normal blood clotting and for bone health. 

It's low in calories, with good amounts of potassium, magnesium, manganese, and calcium. 

It's is a member of cruciferous vegetables group that have glucosinolates (sulfur containing compounds) which are broken down during digestion to other bio compounds that inhibit cancer cells growth.
It's a nitrate rich vegetable and can increase plasma nitrate concentration in the blood and lower blood pressure. 
Yogurt
If you are new to Nutrizonia, you need to know that I use yogurt a lot, as a base for stews, soups and smoothies. So I hope you are a fan of yogurt, so you can can hang in here, enjoying these recipes. And for YOU my regular readers, we can't get enough of yogurt, can we?
It's very healthy, affordable, source of protein, and essential amino acids. It suits savory dishes and sweet ones as well. It's full of probiotics, has good amounts of minerals, and a good low carb option too. Here you can find all recipes that has yogurt, with more detailed information about it's health benefits.  
The photo colors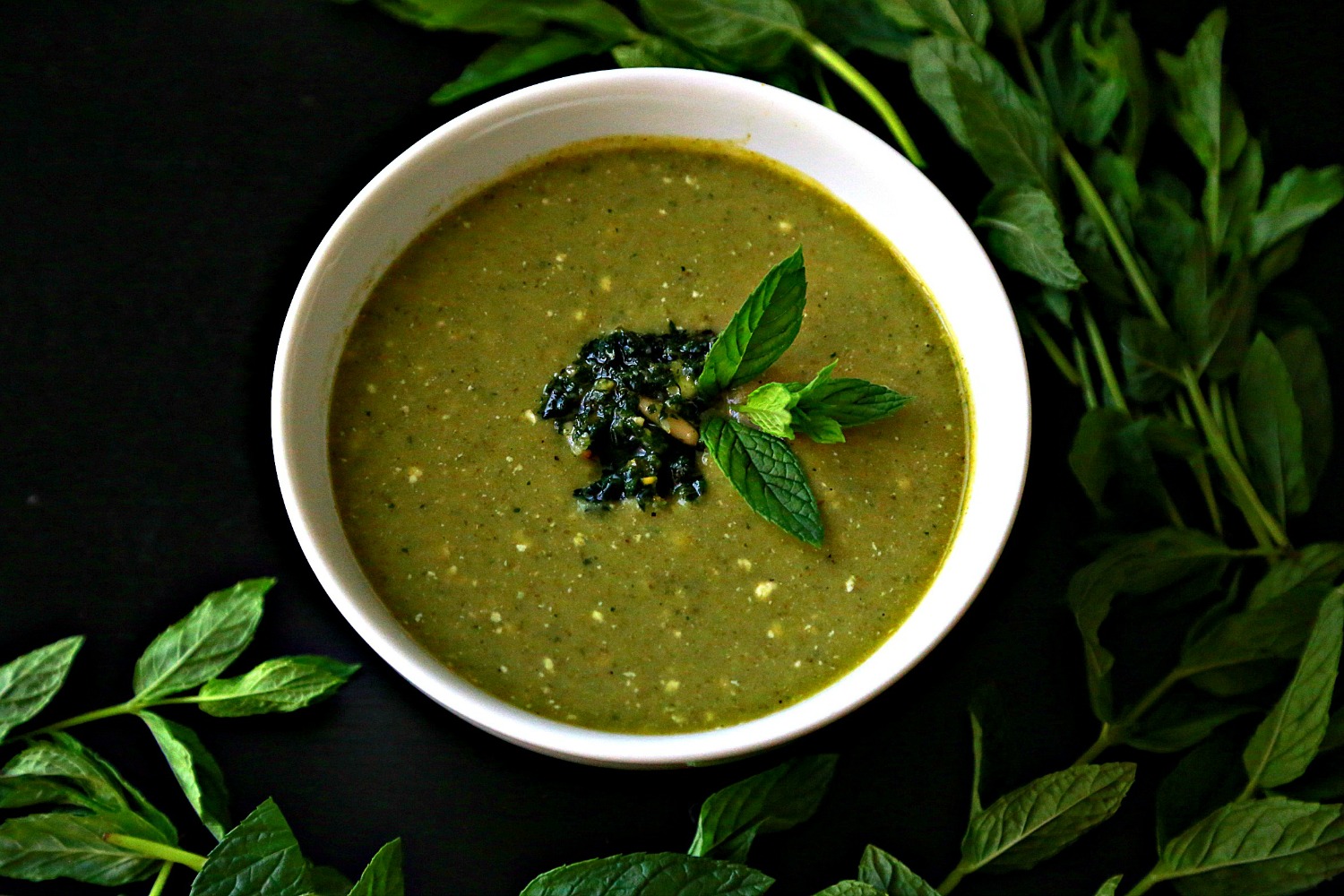 Sadly, here in Jordan arugula (or rocket) does not have the fancy green color like the one I used to buy in the U.S!  Well maybe they are not the same species, because it looked a little different, with darker shade of green. But that doesn't mean a less great taste! But I wish that I used it in the photos, and have another shade of green, beside mint, and the soup itself. I'm obsessed now with using green shades in photography.
There is something special about the color green, it represents harmony and peace. It means also regenerating like in spring green colors. It was my favorite color! Well it's still a favorite, but competing with blue now. What is your favorite color? 
Now enjoy this soup!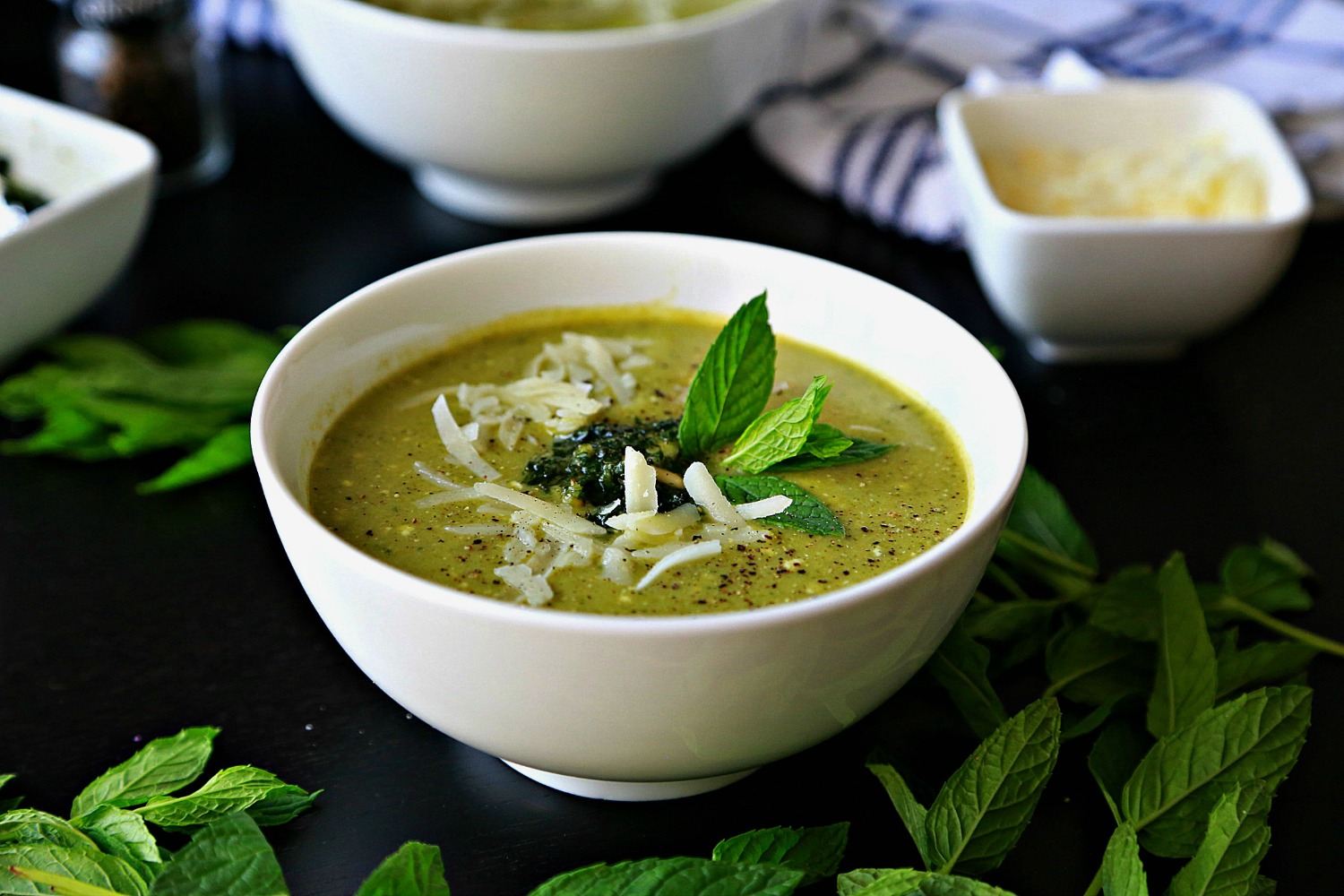 Arugula Yogurt Soup with Mint Pesto
Ingredients
3 cups of Arugula leaves (wshed and drained well)
1 cup cucumber chopped
2 cups white zucchini chopped
1 small potato chopped
100g thick yogurt
2 Tb olive oil
3 garlic cloves chopped
1 medium onion chopped
1 inch piece of ginger chopped
2 cups of water
Salt and black pepper up to taste
1 ts curry powder (Optional)
Mint pesto:
½ cup of chopped mint
1 Tb Parmesan cheese
1 Tb olive oil
1 Tb pine nuts
A pinch of salt
2 garlic cloves
Optional:
Parmesan cheese for sprinkling
Fresh ground black pepper
Instructions
In a food processor or manually, chop onion, garlic, and ginger.
In a medium put on a medium heat , add 1 Tb of olive oil, and saute onion, garlic, and ginger until translucent for about 5 minutes.
Add chopped cucumber, white zucchini, potato, arugula and saute for another 5 minutes.
Season with salt, black pepper, and curry powder, add water, and cover the pot with a tight lid for about 20 minutes or until the potato is soft.
Remove from the stove, and blend the soup in pulses (caution: the content will be very hot)
Return the soup to the stove, add yogurt, stir, and season again if desired.
Let it on the stove on a medium heat until it boils (about 10 minutes), then remove.
Let it stands for 5 minutes, then serve hot.
Add mint pesto, sprinkle cheese and enjoy
Refrigerate any leftovers up to 4 days!
Notes
You can use regular zucchini instead of white ones.

Thsi recipe