Today I brought you an easy healthy cheesy baked polenta breakfast that is gluten free and packed with protein!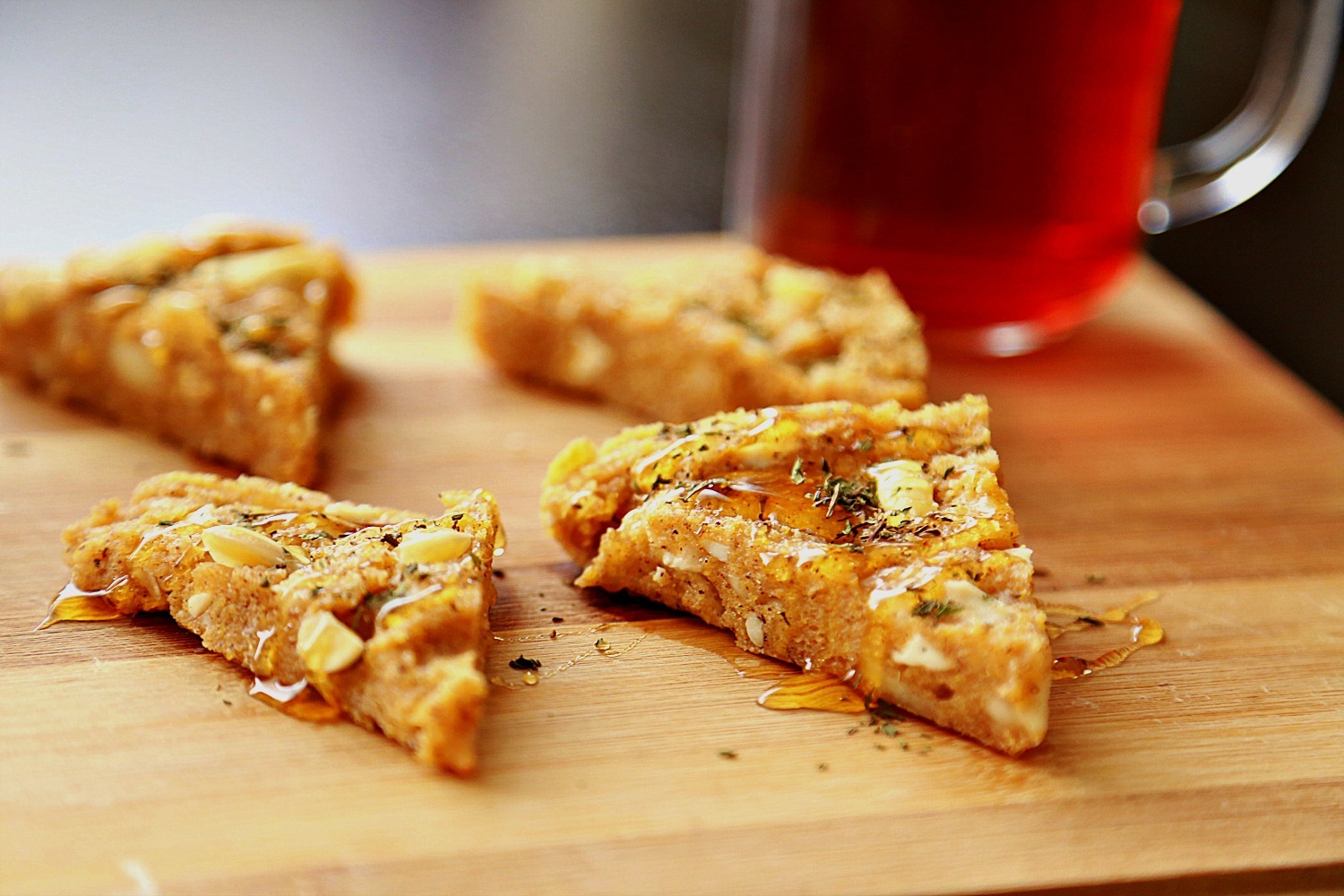 It has been ten days since I posted on the blog. Even I have multiple drafts, and I have extra time now after my son starting going to school, lots of things were on my mind. I wanted to do so much stuff in little time, and I ended up finishing nothing last week. That made me feel a little bit depressed.
I wonder if the "overachiever" people/bloggers sleep or not? Do they have kids? Do they even spend time with their spouses/partners? Maybe it's just time management thing, and I need to master it before I collapsed.
Now enough with depressing thoughts, let's talk about our recipe:
Polenta: 
This is the polenta I used. This is an instant one that needs minutes to be done.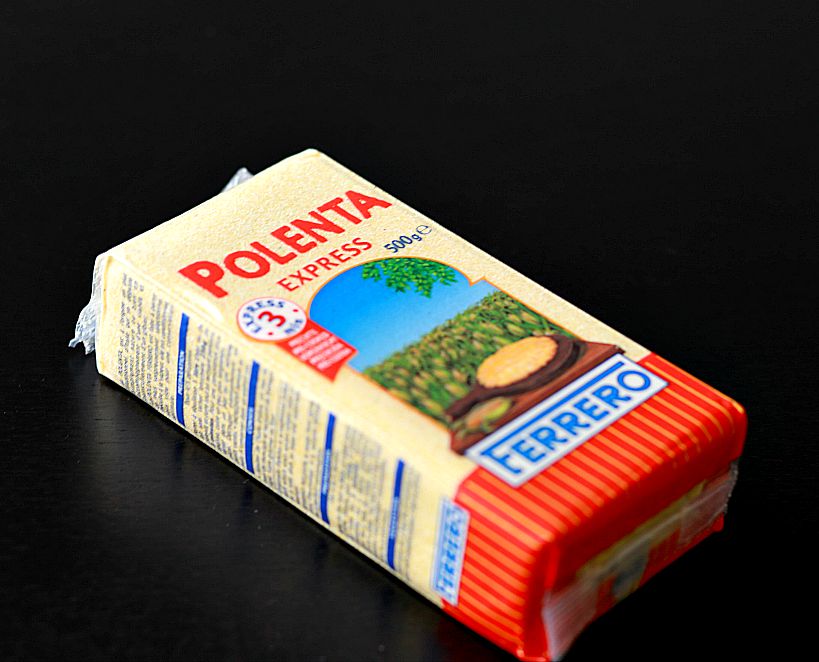 I've mentioned before the health benefits of polenta, when I made my vegan polenta carrot cake porridge, here are some:
It has vitamins and minerals, but with low amounts.

It's a low fat food, and considered low calorie food, since its really fills you up.

Its a naturally gluten free option.

And finally its like a blank canvas, you can an add anything to it! Mix it with fruits, vegetables, protein, nuts, and it can be such a great healthy meal.
I love sweets, and I've mentioned that a lot here on the blog. So I'm trying my best to eat less sweets. I'm always eager to try new mixes of sweet with salt or sour food. And actually the mix of honey and white cheese was my favorite since I was young. I remember I used to have them in a sandwich, but I don't know when I stopped or why. Egyptians make a special bread, and they eat it with white cheese and honey, but their cheese is different than the Levant one. Soon, I promise I'm gonna post "how to" make white cheese, it's a must try!
These baked polenta triangles are great for parties, afternoon tea, or any gathering. If you don't want to add honey, they can be a finger food, and suitable for kids (my son liked them, but for sure loved them more with some maple syrup).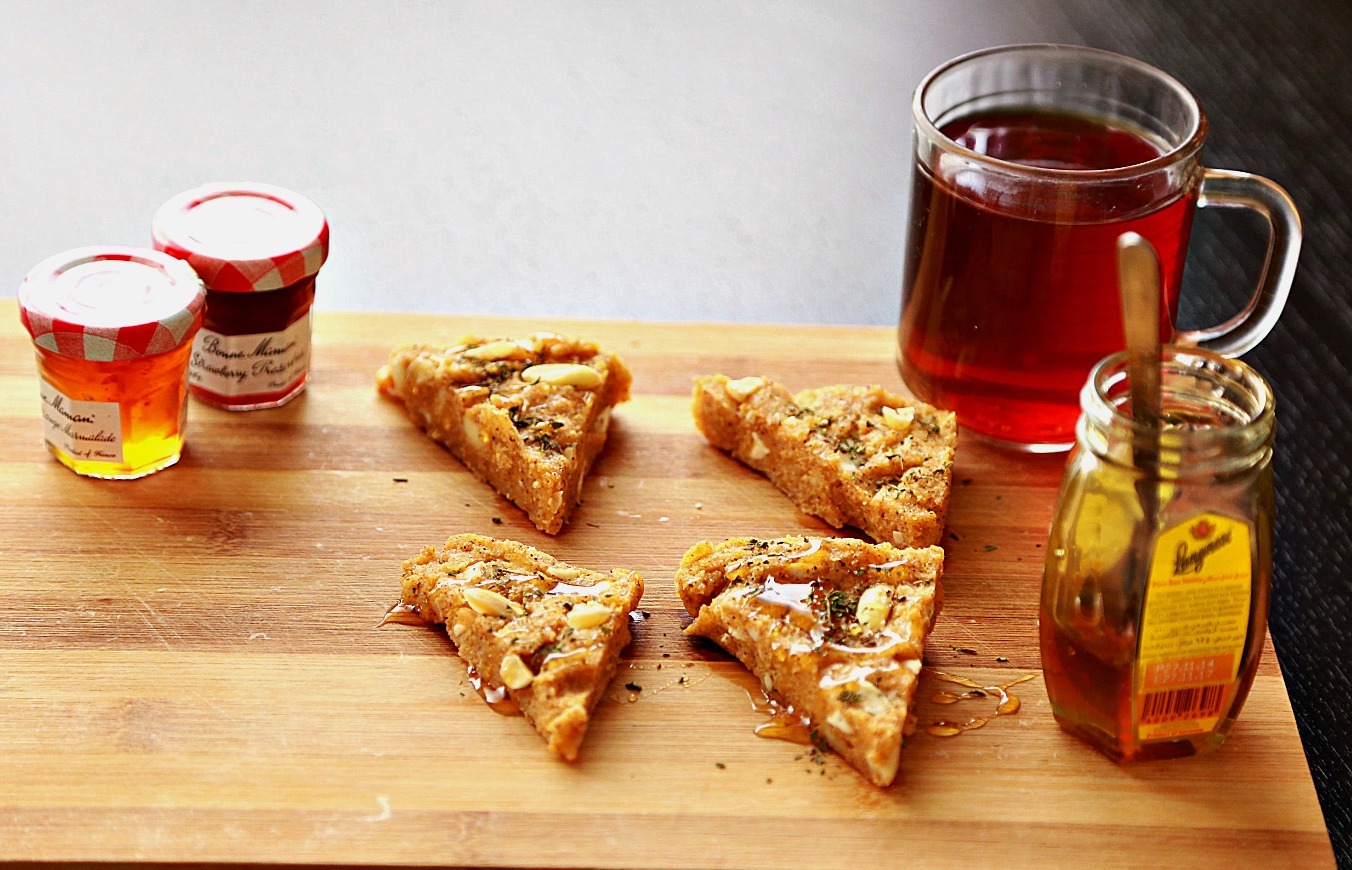 Cheesey baked polenta with honey
Ingredients
125 g Polenta
1 cup crumbled white Cheese
2 cups of Cow milk
Salt, and black pepper
1 tsp Cinnamon (optional)
Toppings and garnish: (Optional)
Honey, dried mint, and almonds
Instructions
Put the milk in a medium pot and bring the milk to boil, then remove from the stove.
Add Cheese and polenta, and keep stirring.
Return the pot to the stove and keep stirring for 3 minutes.
Season the mix while you are stirring.
Remove from the heat, and pour the polenta mix into a greased pan or oven-safe dish.
let it cool, then refrigerate for couple for hours to thicken.
Bake it in the oven on 200 C/400 f for 15-20 minutes.
let it cool again, and cut it the way you like.
Serve it hot or at room temperature with honey, maple syrup or jam.
Notes
You can use Feta or Halloumi cheese, just keep in mind that you need a cheese that won't melt in the oven.

The preparing time does not include the refrigeration time.

Cooking time include cooking on the stove , and baking.