A perfect combo of crusty, chewy, creamy tomato tart with sharp flavors of black olive, rosemary and Parmesan cheese. This tart is healthy, and gluten free too.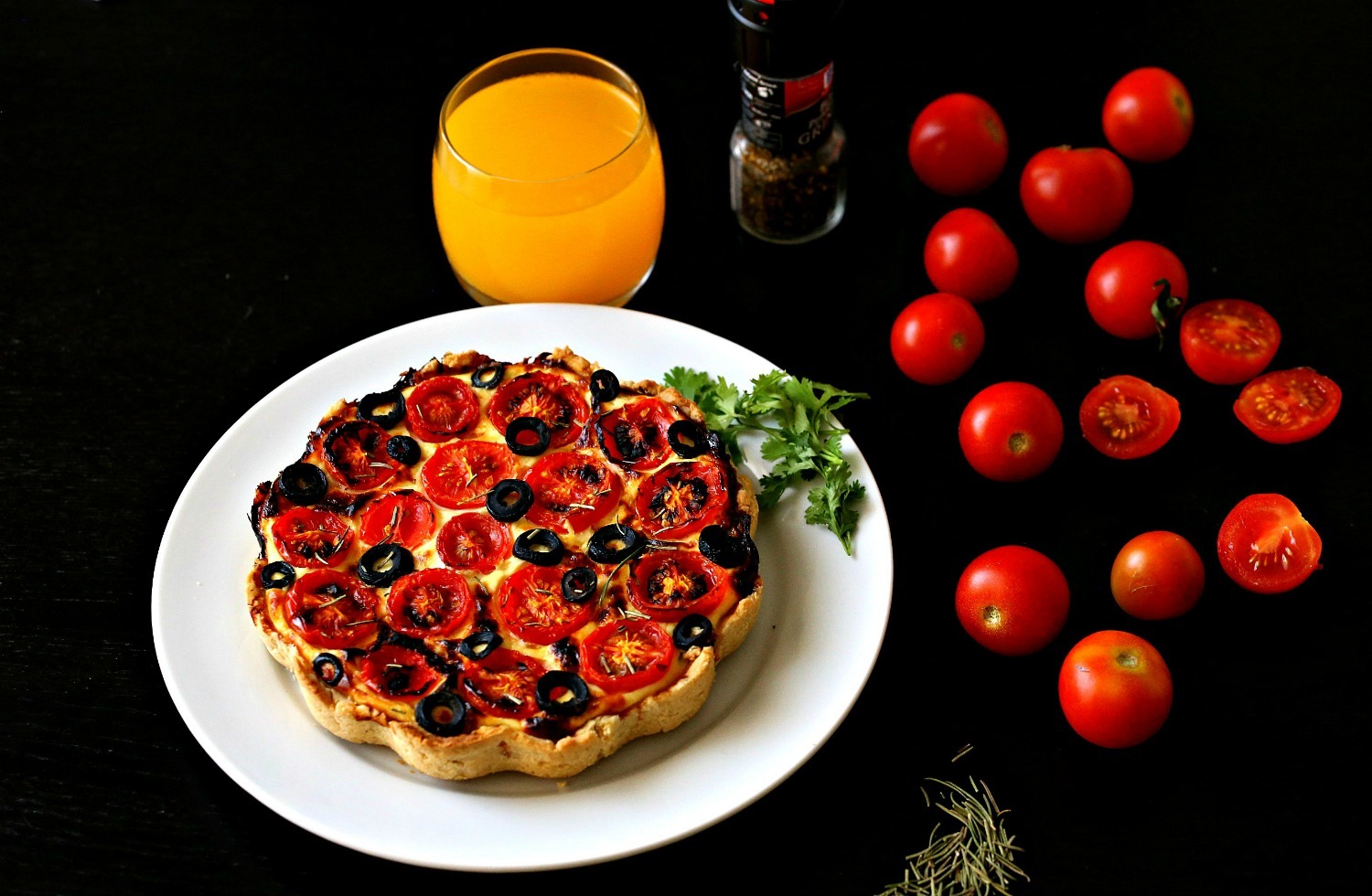 Well, this is not an original recipe, and I don't do that often for the blog recipes. But, tomato tarts are all over the place, on Instagram and pinterest, and actually I couldn't help it but make a one. Okay, it has been almost a month in my drafts , but I Finally got the chance to share it with you. It's healthy and delicious, this is a light version.
In this tart I opt for tomato and cheese, this combo is one that made in heaven I guess. I wanted to be light , so I choose a mix of ricotta and Parmesan, creamy, soft and aged one. I can guarantee that you will feel 100% satisfied with juicy tomato,  creamy ricotta and a black pepper crust! I thought adding black pepper to the crust is genius. I've read it somewhere, but totally forgot which was it, for that creator, I praise you! And added dried rosemary, since dried herbs are a must in almost everything I make savory and sweet,, because they add an earthy distinctive flavor.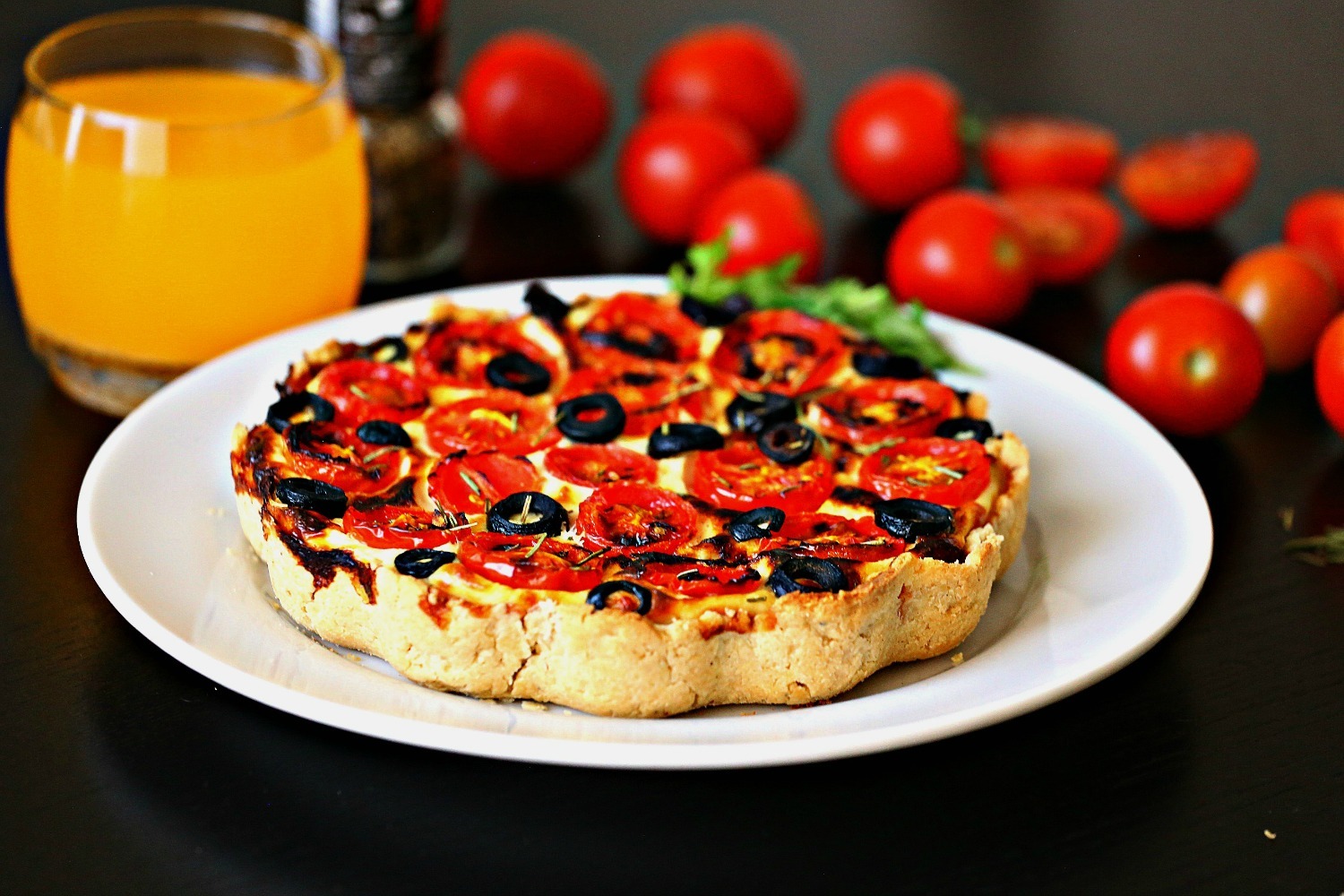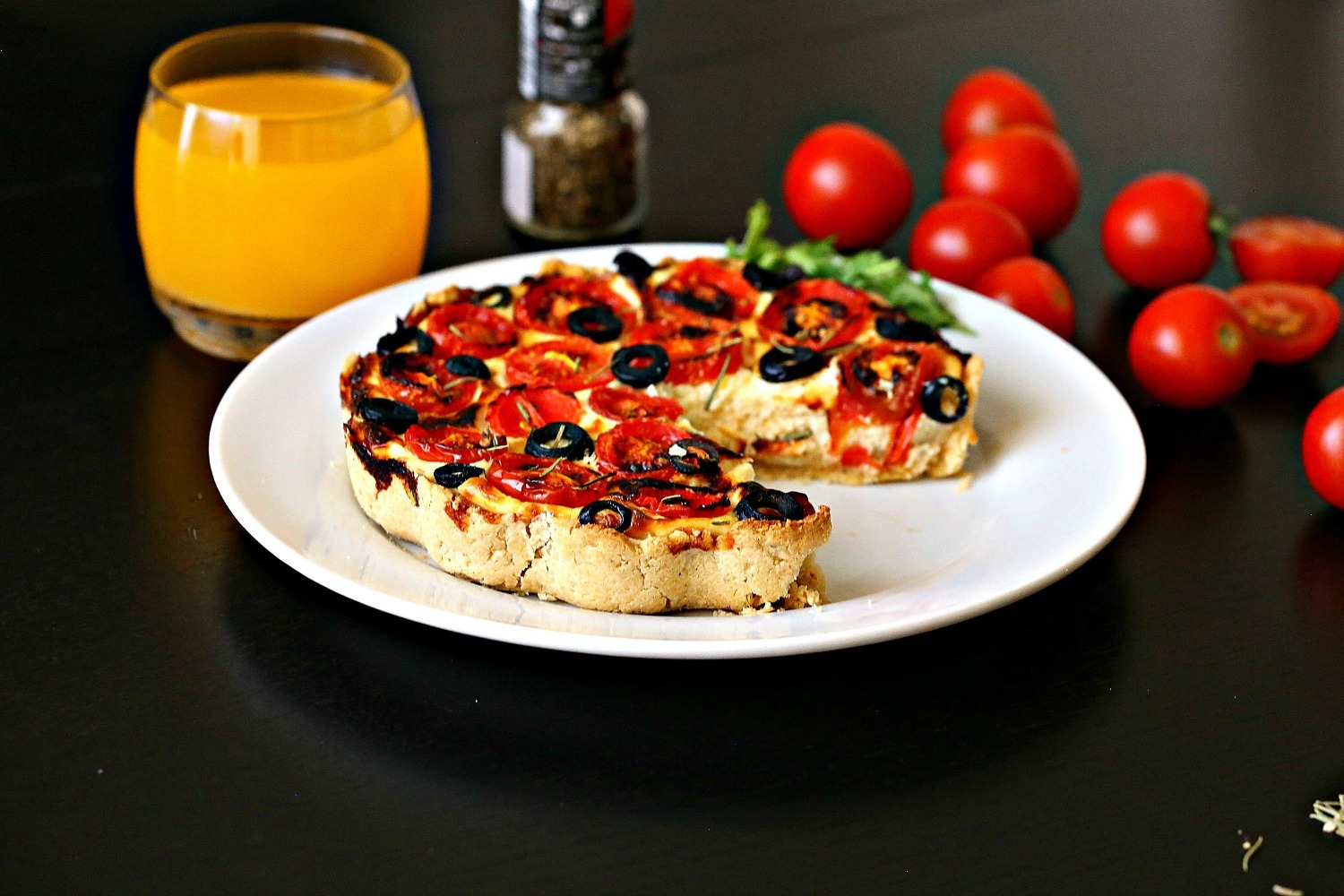 I used tomato in form of tomato -paste I guess in more than one recipe on the blog, but not fresh tomato. Even I do eat it regularly. So I thought it's time to make recipe with fresh tomato.
Why do you need to add tomato in your diet:
It's low calorie food, and low in fat too. It has high amounts of of vitamin C, good amounts of vitamin A and folate. Also it has potassium, calcium , manganese, and iron.

Because it has good amounts of antioxidants that protect you from cancer and other diseases, like the famous red pigment lycopene , and beta- carotene too.

It has fibers that is good for your digestive system.
And more importantly, it tastes great fresh, roasted, cooked, and in all other ways! Always looks for fresh local ones. Here in Jordan tomato is mostly sour, so I do buy some cherry tomatoes occasionally.
Easy Tomato Ricotta Tart
Ingredients
Dough:
1 cup Gluten free flour
black pepper
8 TB butter
4 Tb ice water
Filing:
2 eggs
1 cup ricotta
½ cup shredded parmesan cheese
4 tomatoes halved
½ cup black olives pitted and sliced
1 sprig Rosemary
Instructions
In a food processor or by hand, compress the cold butter with flour, and sprinkle the black pepper. Add water gradually, and don't press it, we won't it to be a dough.
Cover it with parchment paper, and put in the freezer for 15 minutes.
Preheat the oven at 180C , and start working on the filling.
In a bowl, put 1 cup of ricotta, and 2 egg, and mix them by a hand mixer or an electric one, until they well combined, sprinkle the parmesan cheese and stir again.
Now put the tart shell in the oven with some weight like dried beans over it, and bake until its golden brown, it will take 10 to 15 minutes.
Remove from the oven , wait until the tart shell cools completely.
Pour the cheese mix, put the halved tomato, and black lives over, with rosemary too.
Put in the oven and bake, I've waited mine until it's firm and only slightly creamy, it took around 45 minutes.
Wait until the tart cool, them remove from the pan, and serve it.
Refrigerate any leftovers.