Crispy from outside and gooey inside, these thin shortbread are flavored with cinnamon and made with coconut sugar, coconut oil and vanilla. They are perfectly healthy, but buttery too. They are vegan, gluten free, and refined sugar free!
I'm a cinnamon fanatic and coconut, milk , oil,  and cream of course! And you know what? Shortbread, and ah it's not so cool. Shortbread is very buttery and many times sugary too. You can eat many in one setting! If done right, they melt in your mouth and tastes heavenly. What made me think of making shortbread is, when I tried two years ago some from Waitrose , an international hypermarket. They make their own stuff, I had earl grey tea lemon ones with a glaze on them, oh my! They were sent from heaven!
I made shortbread more than once, but I failed. I didn't seem to get it right, so I just forgot it. But just few days ago, I wanted to put coconut sugar in a good recipe that shows it's deliciousness and lightness, so I thought shortbread is in order! And what do you think fits well with coconut sugar? Cinnamon of course.
Coconut Sugar
Oh it's brown not white , right? I didn't know that either until I opened the bag. It's unrefined sugar made of coconut palm tree.
Why coconut sugar can be a healthy option:
 It's unrefined, so it retains some of the nutrients like minerals, zinc, iron and calcium.
 It has an inulin , a soluble fiber that may decrease insulin sensitivity.
It has a low range of gelycemic index, which means it doesn't raise the blood sugar quickly after eating it.
However, you need a good amount of to get these benefits, and you have to know it's the same calories from granulated white sugar, you need to be more cautious that is it, but I recommend it!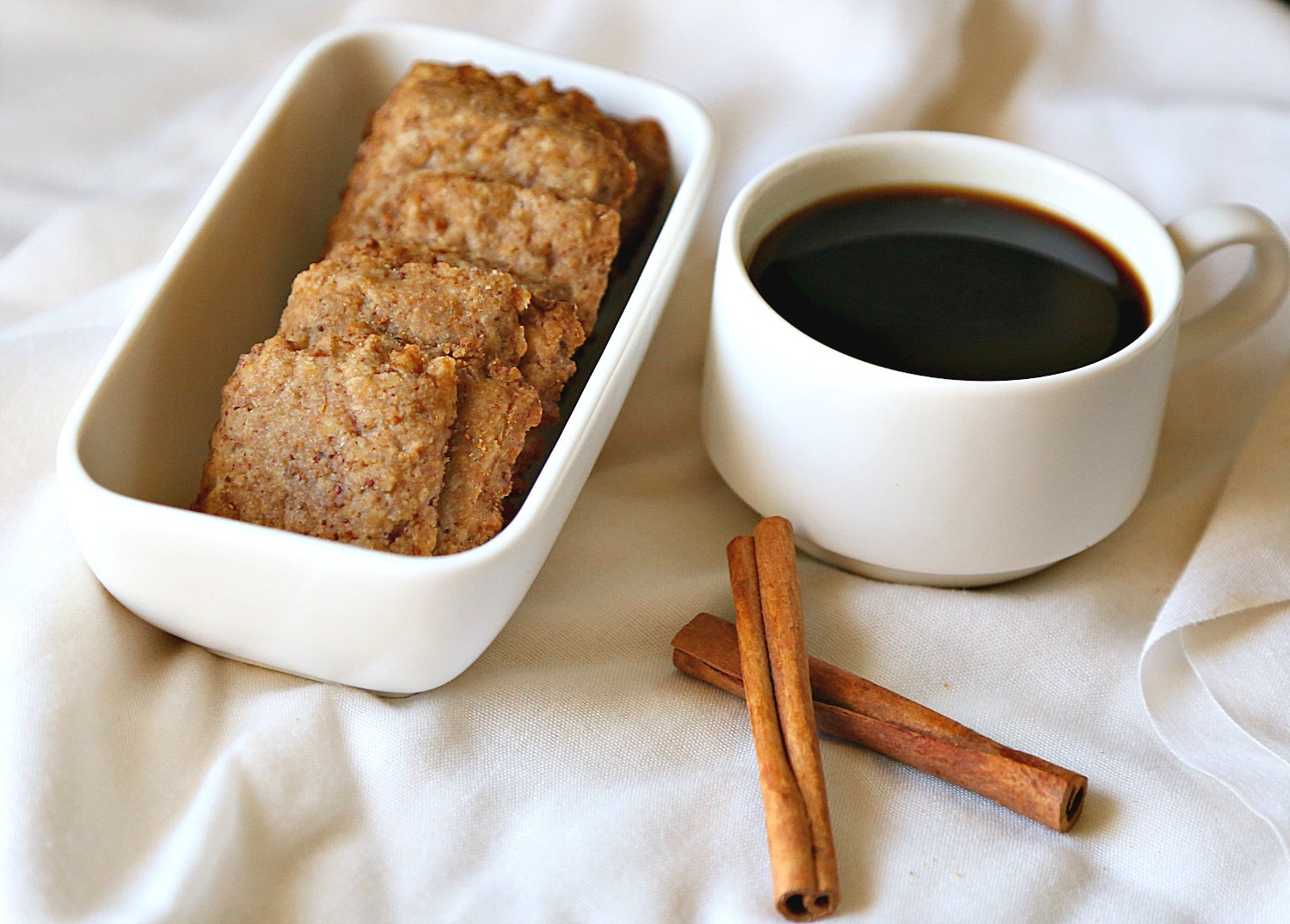 Coconut oil
Coconut oil has saturated fatty acids like lauric acid, and there are many health benefits that are not proven yet. This is a study for virgin coconut oil can lower cholesterol in rats. We need more studies for it, on the human.
This shortbread is much lighter than the classic butter version, less sweater, and because it's made with gluten free flour, it's very light and cinnamony.
Cinnamon coocnut sugar shortbread
Ingredients
4 Tb coconut sugar
5 Tb coconut oil
1½ cup of gluten free flour
2½ Tb real maple syrup
1 tsp vanilla essence
2 tsp cinnamon
Instructions
Preheat the oven at 375C'
In a food processor or a big bowl put the flour, and add cinnamon, and coconut sugar.
Crumble the mixture, and add maple syrup 1 Tb at time, you many not need to add the half TB.
Now add coconut oil, and mix, even if you mix it by hand, it may look wet, but it will dry in the oven so don't worry.
On a baking sheet, and on a parchment paper, spread the dough.
Cut them in one inch length and let it rest for 10 minutes.
Put then in the oven for 10-15 or until golden brown , they burn quickly , so keep an eye on them.
Get them out of oven , put them om a rack so they cool down, and enjoy them.
Store in an air tight container for up to 2 days maybe