A creamy naturally sweetened hot pumpkin polenta porridge that is bursting with flavors, and ready in 15 minutes! Have it for breakfast, and your mood will instantly elevated! Moreover, it's vegan and gluten free! 
Okay I have for you recipe for polenta again, and another breakfast one! I can't get enough of polenta, and while there are so many creative savory polenta recipes that I want to try, I can't resist making it sweet! With flavors of of Autumn like  pumpkin pie spice, and molasses, you will feel the holiday spirits again!
I remember pumpkin mania while I was living in the U.S, I always wanted to make lots of recipes, and I saved tons, but didn't really make many as I wished, and I badly regret it! But I made these cupcakes (not healthy ones, but taste heavenly) and I made an Arabic traditional one, but I didn't post it, because it's loaded heavily with sugar! It's almost like a jam or butter! So today's recipe is inspired by it, a one that I and you won't feel guilty eating it, and tastes so good that is worth sharing!
Using molasses in this porridge will make it subtly sweet, since molasses is not overly sweet, but it will give distinctive flavor. You can use your milk preference if you want, but I love to use coocnut milk, makes this porridge tastes like a dessert for breakfast!
Why do you need to eat more pumpkin: 
 It's a very nutrient dense fruit, means it has so many nutrients compared to the low calories it provided. There are so many health benefits, to mention a few:
A 100g of of it, your daily needs from vitamin A . Also has good amounts of vitamin C, fibers, beta-carotene antioxidant, potassium, and manganese.

It's low in fat, sugar, and calories.

It's versatile, and has mild taste that fits sweet and savory dishes as well. 
Pumpkin and diabetes 
It's very low in glycemix index, which means it won't raise the blood sugar level after eating it, which is very convenient for diabetic patients. In this study they found that feeding rats with pumpkin powder decrease glucose level significantly, and even increase insulin level. However, more studies needed on human for that matter. It also has other compounds that helps with regenrating b-cells in pancreas that are responsible for making more insulin.
Now, let's go to the recipe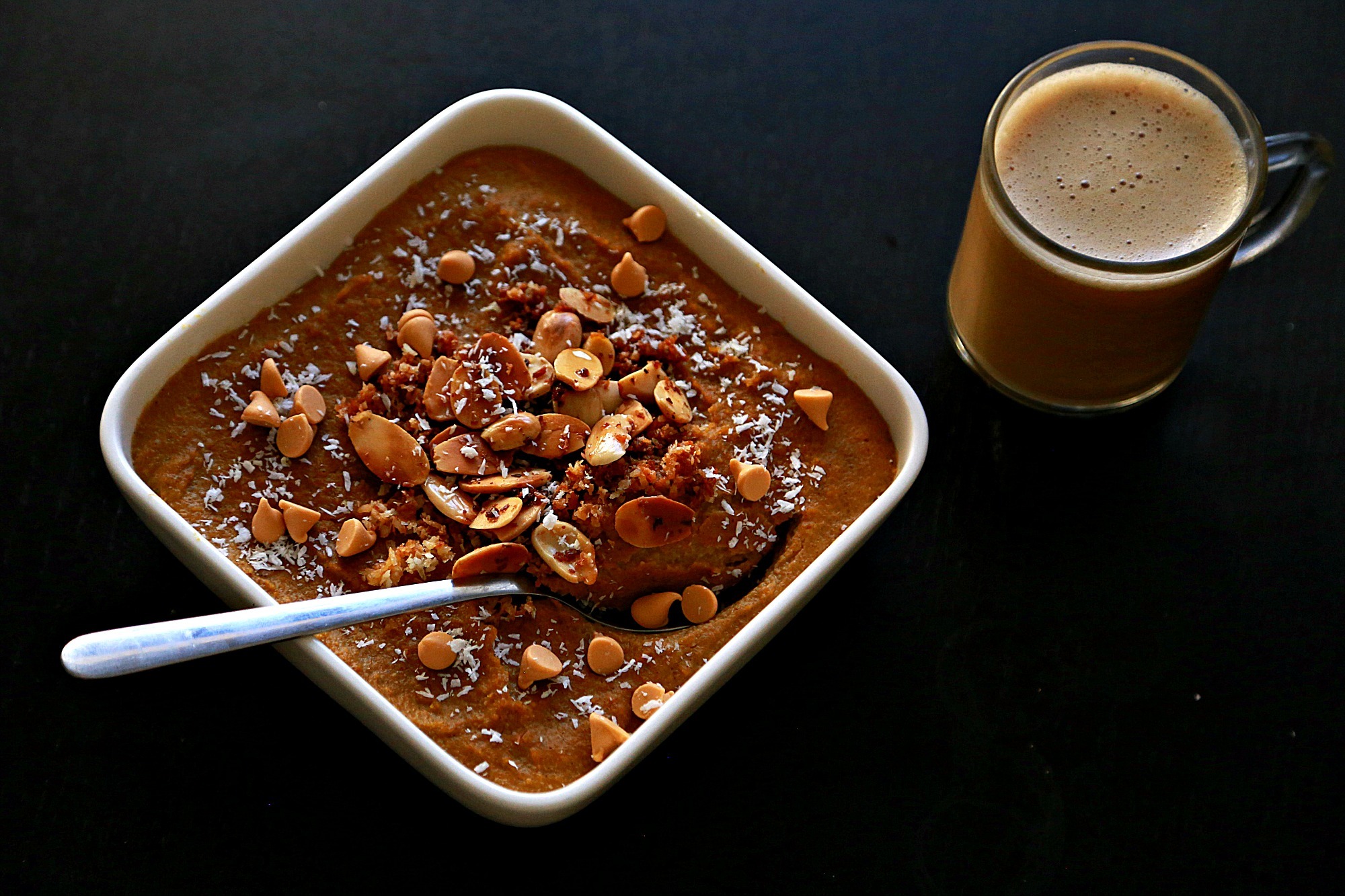 Creamy Pumpkin Polenta Porridge
Ingredients
1 can of coconut milk 400ml
125g uncooked polenta
150g pumpkin puree
2 Tb pumpkin pie spice
2 Tb molasses
Pinch of salt
Optional:
2 Tb almond halves
2 Tb grated coconut
1 Tb butter or coconut oil
Butterscotch chips
Instructions
In small bowl, mix pumpkin puree, molasses, pumpkin pie spice together
In a medium pot on medium heat, mix polenta , coconut ilk, and salt.
Bring it to boil, and keep stirring for 3 minutes.
Remove from the stove, and add the pumpkin mix, then return it to the stove.
Keep stirring for 5 minutes, or until the taste of pumpkin is no longer raw.
pour in a bowl, and put it aside.
Optional:
In a small skillet on a medium heat add butter.
When it's warm enough add almond halves, and when the color start to brown, add the grated coconut.
Saute them until the almond and coconut are golden brown.
Pour over polenta and serve immediately.