This creamy chia pudding is so easy to make, and delicious too. Flavored with chai makes it extra healthy and aromatic too. It's vegan, gluten free, refined sugar free, and packed with antioxidants, and nutrients!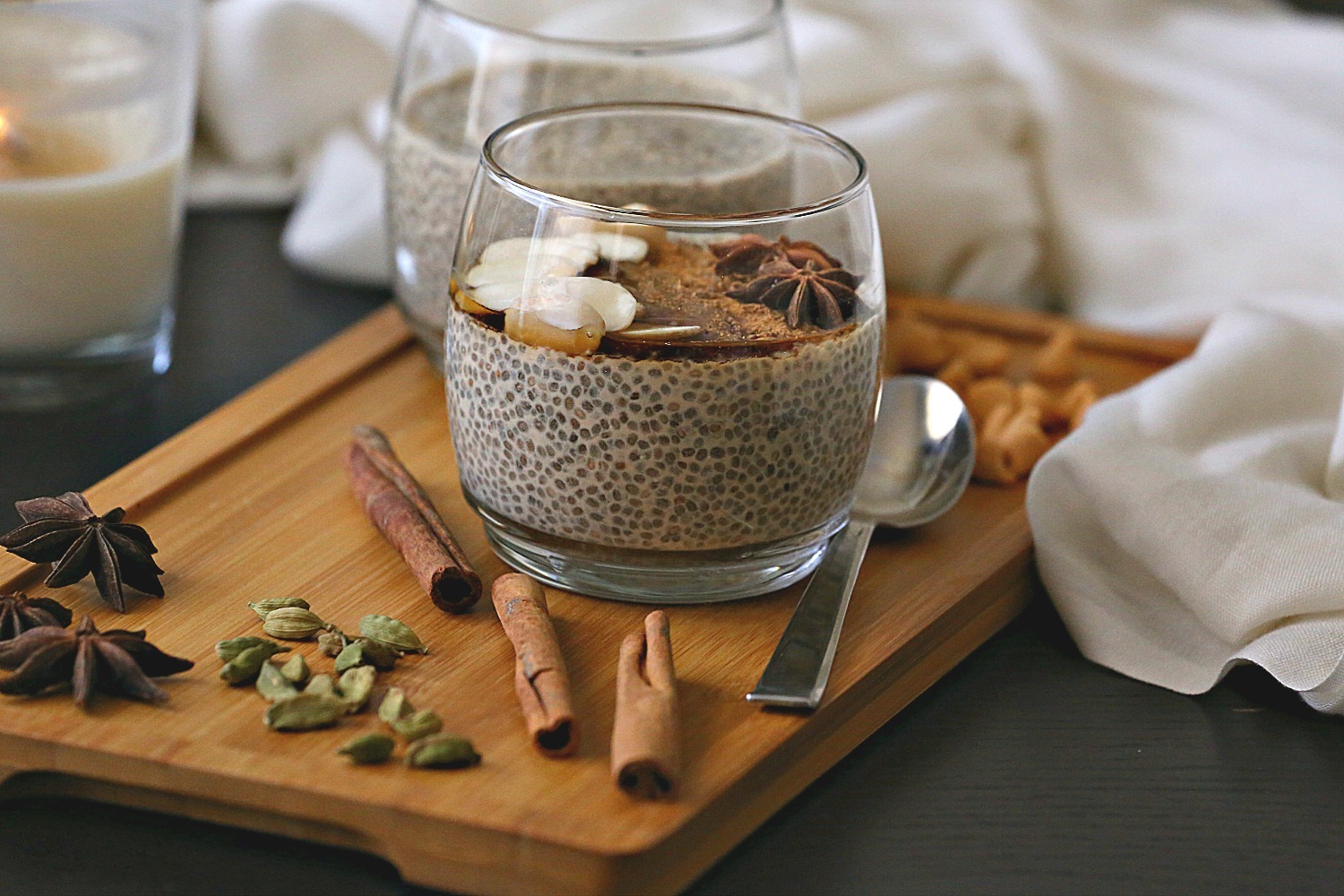 I took a long pause last month. Well, it was Eid (the Muslim holiday that comes after Ramadan), then my sister's wedding! And I needed to hit the gym regularly to stay in shape with all the desserts, and heavy meals I had. I barley cooked, since mom made most of the cooking. I should have helped her, but she prefers to make things her way, and there is no harm in that, I'm not complaining! I had extra time to relax.  
Enough talking about myself, I'm back with new look for Nutrizonia, and new recipes!
Let's talk about the recipe:
It's summer, and I want to share with you an easy recipe for  a delicious healthy pudding, since many people still believe that eating healthy is complicated or tasteless. While I do love buttery cakes, and chocolate desserts, healthy desserts are doable and delicious! They might cost little more than traditional ones, but with some planning ahead, and fetching local or homemade substitutes, can make it cost effective.
Chia seeds 
A tiny black seeds that grow natively in south america. They are ancient ones known in the Aztec and Mayan civilizations. I know I'm so late to the party, but let me tell you, I can fetch ingredients that are trendy, popular- and probably hard to find- but I do want YOU my readers to have easy option to eat healthy.
(Note: I made a chia pudding two months ago to test a recipe by fellow foodie instagramer, you can check it here).
Chia seeds is an imported product here, and of course it is in the U.S too -where I considered to make it in the first place- but with the increasing demand, different origins and brands, I've noticed that when you buy small amount, it's kind of affordable. 
Why do you need to include chia seeds in your diet 
They are high in omega 3 fatty acids, fibers, and minerals like manganese, iron, calcium, and manganese. 

It has so many antioxidants that can boost the immune system.

The fiber and protein content in chia seeds can help you to loose weight, but unfortunately there is no strong evidence that chia seeds do that

.
Also, the form of omega 3 in chia seeds needs to be converted to an active form to use by the human body, and the
When it's not recommend to eat chia seeds? 
You need to know that chia seeds are healthy for you,  but most of the health claims are not supported by scientific evidence. And while some are proofed , the studies were not large enough for the results to be conclusive. 
Chia seeds can lower blood pressure, so if you have a low pressure or you use blood thinners, you need to consult your doctor before you have it. 

Due to the glutinous nature of chia seeds when immersed in liquid, too much of it can make it stick to intestines and cause leaky gut. 

And because of the high fiber content, it may cause bloating, gases, and constipation. You need to stay hydrated to prevent any undesired stomach pain.
This chia pudding is so easy to make, and here I flavored with chai. It's one of my favorite mix of spice, it adds a depth of flavor that suits coffee, tea, milk, pudding , smoothies, and much more. Moreover, It's almost zero calories! Check my recipes with chai here. It doesn't really need special preparation, and you can have ready chai bags too.
Almond milk
This is the first time I use almond milk. While coconut milk is my go to option when it comes to non dairy milk. However, It can overpower the flavor in some recipes, so I decide to give the almond milk a try. In fact, it's expensive, and even if you want it to make it a home, it still not cost effective option. But, it tastes great with certain kind of desserts and smoothies. If you are foodie (you should be, that's why you are here I guess!) loves to try new things, I do encourage you to try it. I will discuss more in depth about almond milk in future posts
Enjoy!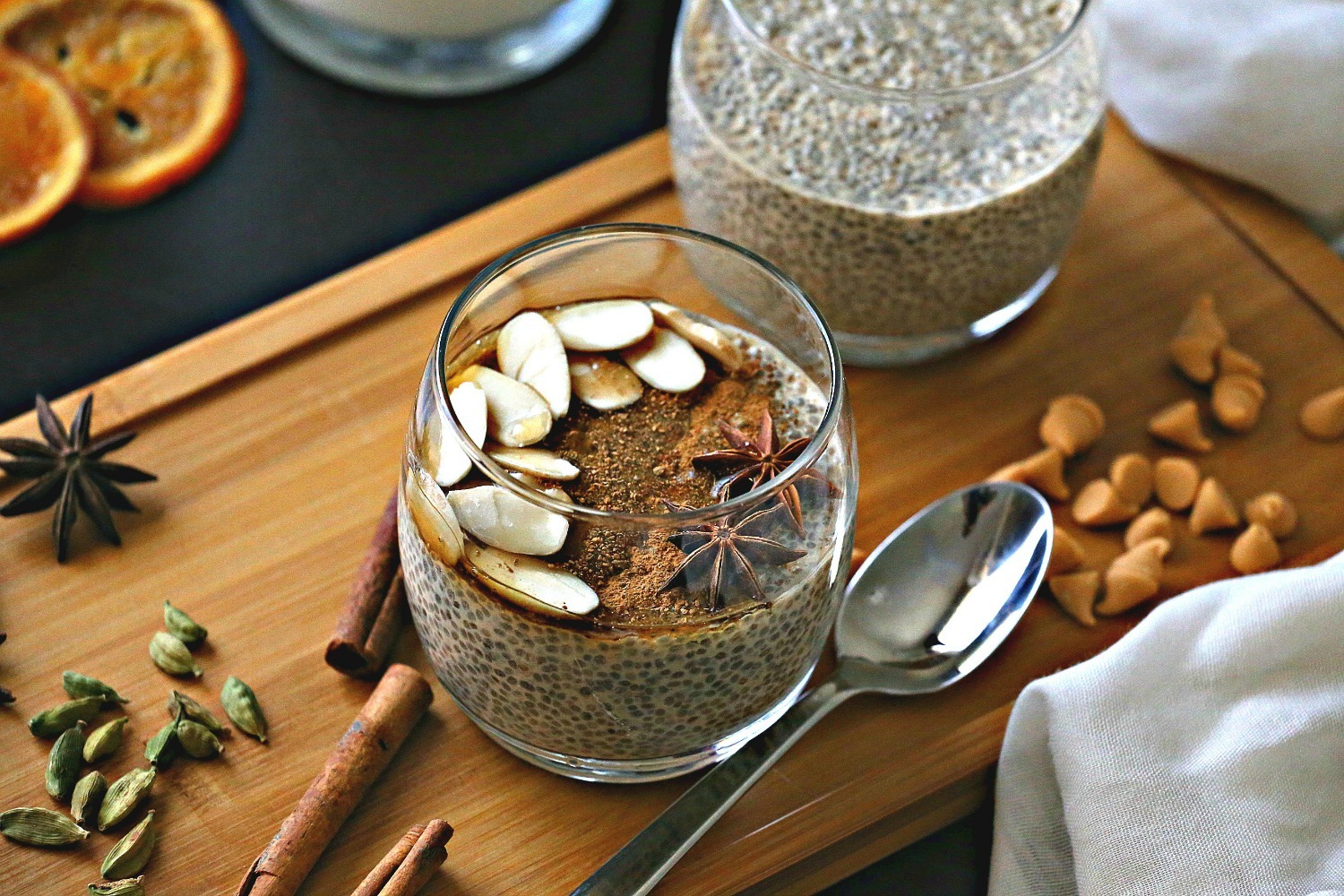 Easy Creamy Chia Pudding
Ingredients
Chai :
1 ta bag black tea, or 1 Tb of loose black tea
8 pods of Cardamom
8 Cloves
1 Cinnamon stick
8 peppercorn
1 star anise
Fresh Ginger
1 cup almond milk
½ cup chia seeds (almost 3 ounce)
optional toppings:
silvered almond
maple syrup
Instructions
Make the chai by adding the spices in 1 cup hot water into a medium pot.
let them simmer for 10-15 minutes, on until the liquied reduced by half
Strain the chai and keep it.
In a medium pot add the chai, almond milk , and for 5 minutes.
Add chia seeds and mix, for about 2 minutes
Remove the pot from the stove , and pour the pudding in clear glass cups.
keep it in the fridge for couple for hours at least and serve with toppings if desired.
Refrigerate any leftovers, don't add toppings , and keep it up to 5 days.
Have you tried Chia pudding before? What's your favorite?