This is a very easy mouth watering baked chicken, a crowd-pleaser dish, and flavorsome! Besides it's very healthy, and gluten free too!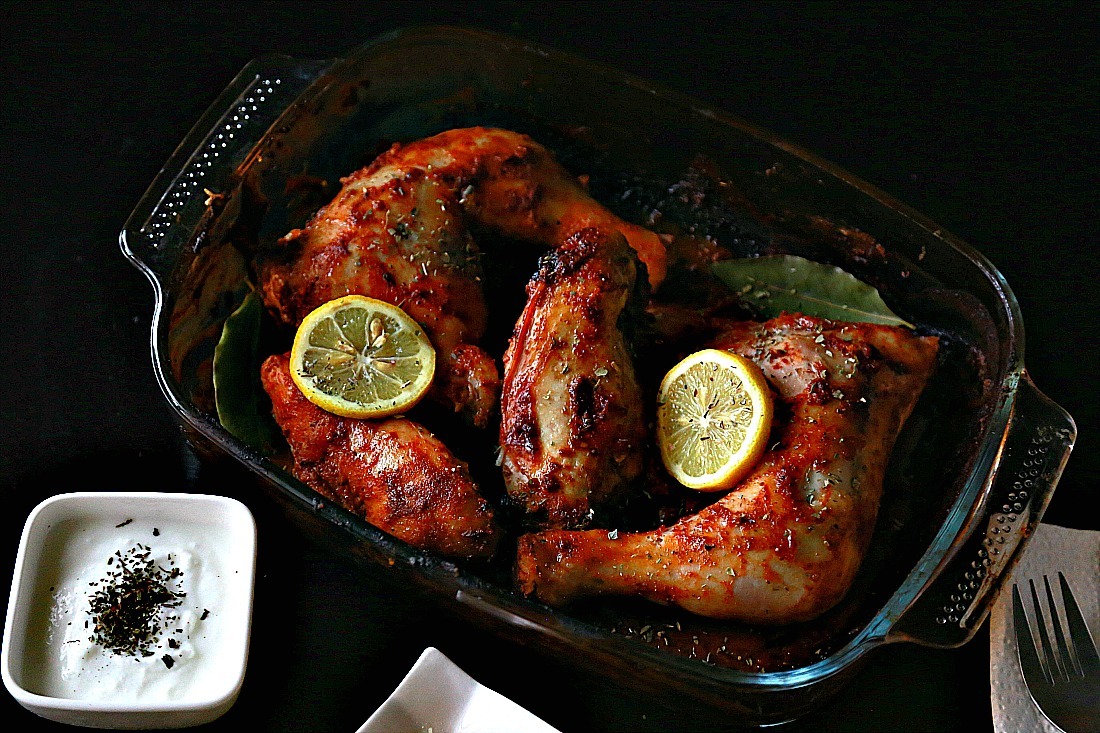 I should attribute this delicious chicken recipe to my mom. She used to make it almost every lunch gathering, and it was always a hit! Do you know that we were in Ramadan, sometimes in the summer too, host a lunch gathering for the whole extended family? Especially for my dad side, can you believe that?
When I was young, and before my cousins got married, I remember that we hit the number 40 and 50 person sometimes in one gathering! These are memorable events, everyone was happy eating and nibbling, and don't forget mom used to make traditional desserts and drinks too!
Now after I grow up, and have a family of my own, life becomes more complicated, and we almost no longer do this. Lots of families still doing it, but my extended family, not that much.
Anyway, This recipe is not really traditional from the Arabic cuisine but inspired by Arabic flavors. This baked chicken needs to be marinated hours before it's baked. It is better if you can do it overnight. Adding so much spices, yogurt, and olive oil, makes it perfectly healthy. Now many people avoid chicken with bones and skin for many reasons, but some dishes really stand out when you include the skin and the bones. Believe me it can be a part of your healthy diet.
Please let me make it clear for YOU:
The Myth of Fattening Chicken Skin
According to Harvard University , you don't need to leave the skin out, the fat in the skin is unsaturated type which can be good for you. In addition, it keeps the chicken moist, and flavorful. Note that of course it will add calories, but when you cook with the skin on, you don't need to add lots of fats, or salt, and you don't have to cover it with heavy breading.
I do leave skin out when I cook some dishes like  salads or some curries . You can always alternate between using the skin and ditching it.
The Myth of Bad Reputation of Chicken Thigh 
Lots of people don't eat thighs, because they think its a dark meat, and have more fats. While it's true that thighs have more fats and calories, and less protein comparing to the breast, the differences are insignificant. Everything else, like the content of iron, cholesterol, and carbohydrates are the same.
Some other minerals exist in different amounts in breast and thigh. The thigh is higher in zinc, while the breast is higher in selenium. The thigh has less phosphorus -which you need to have less of it- and the breast is higher in selenium.
However, the breast maybe a better option, but if you like the thigh more, go for it. Mind that cooking method can make a big difference. And since thigh has more fats, it's more flavorful, and needs less added fats, and breading than breast.
And here are more reasons to include chicken in your diet: 
There are so many health benefits of eating chicken, to mention a few:
It has high protein quality, that is lean. Also low in calories, and fats relatively.

Has high tryptophan amount, which helps you sleep, and makes you feel better.

High in magnesium, and high in zinc that is good for raising testosterone level, and boosting immunity.

Has high amounts of niacin (especially the breast) which helps the body do natural detoxification and helps lower bad cholesterol, and raise the good cholesterol. 
Are you convinced yet? I bet you are! let's go the recipe!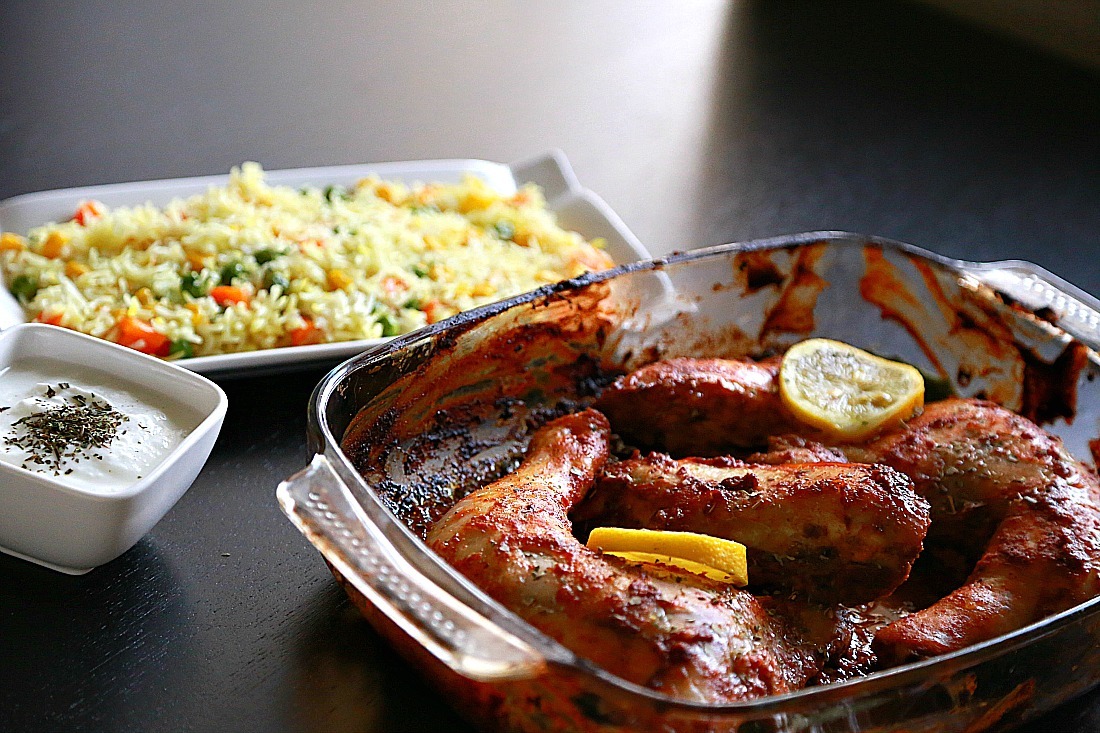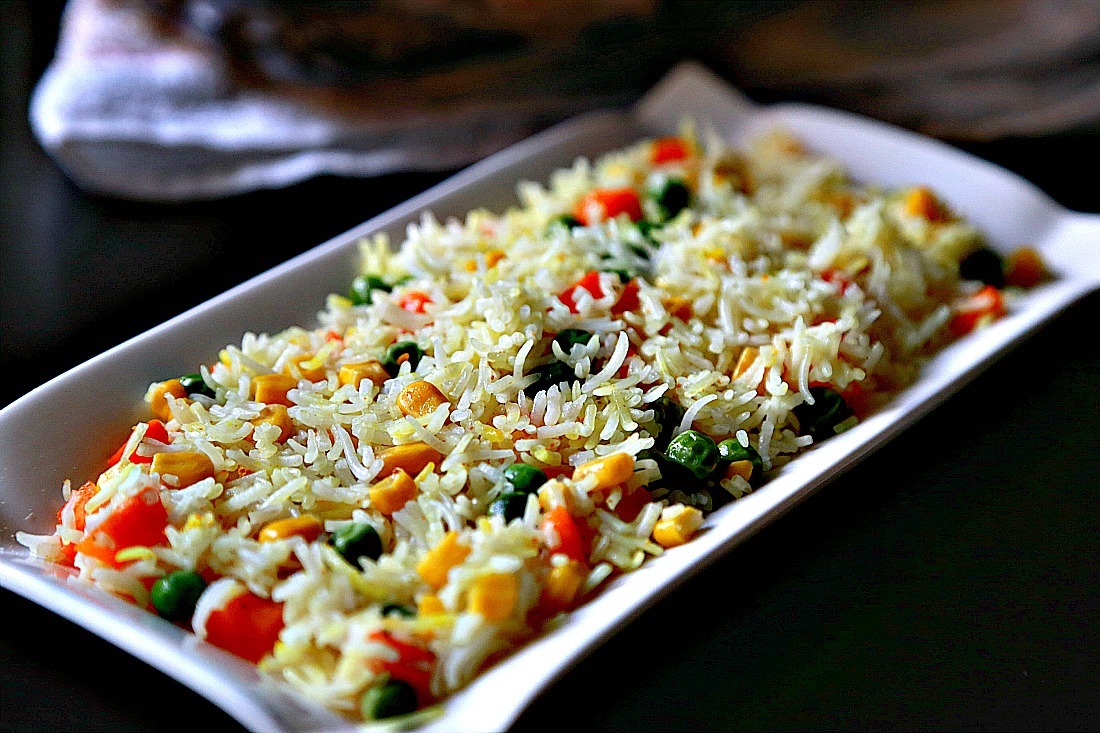 Easy Healthy Baked Chicken
Ingredients
Skinless chicken breasts and thigs
4 Tb yogurt
3 Tb tomato paste
Tb minced garlic
1 Tb olive oil
1 Tb 7 spice (or a mix of these ground spices: Black pepper, cinnamon, cloves, cardamom, coriander, cumin, nutmeg)
Juice of half lemon
Pinch of salt
For rice:
1 tb veg oil
1 cup of basmti rice
1 medium carrots, diced to cubed and blanched
50 g of peas blanched too
Canned or frozen 50g of corn blanched.
Instructions
Mix yogurt, olive oil, spices, lemon, tomato paste and minced garlic.
In an oven safe dish, put the chicken and cover it with marination, put it in the fridge at least couple of hours, if you can do it overnight it will be better.
Rinse the Basmti rise multiple times, and soak it for 30 mins.
At 200C/400F put the oven dish, make sure to flip the chicken every 30 mins.
Boil water in medium pot, add the veggies, for 5 minutes only, then remove from water, and set aside.
While the chicken is in the oven, put a large pot on the stove, and add the veg oil.
Drain the rice, and saute it rice for 3-5 minutes, add the vegetables too.
Add chicken stock or water according the package direction.
Cover the pot with a tight lid, and leave it for about 15 minutes, or until the rice absorb the liquid completely.
Serve the chicken with the rice, and some yogurt on the side.
Notes
Please make sure that you put the marination under the skin too, and between the bones carefully, because when its baked it will absorb all the sauce.

If you want to make you own spice mix, add 1 Tb ground of cinnamon, cardamom, black pepper, coriander and cumin. Add ½ Tb of the amount cloves, and nutmeg.