An easy healthy tasty casserole for breakfast, that you wont' believe it's healthy! It's vegetarian and gluten free!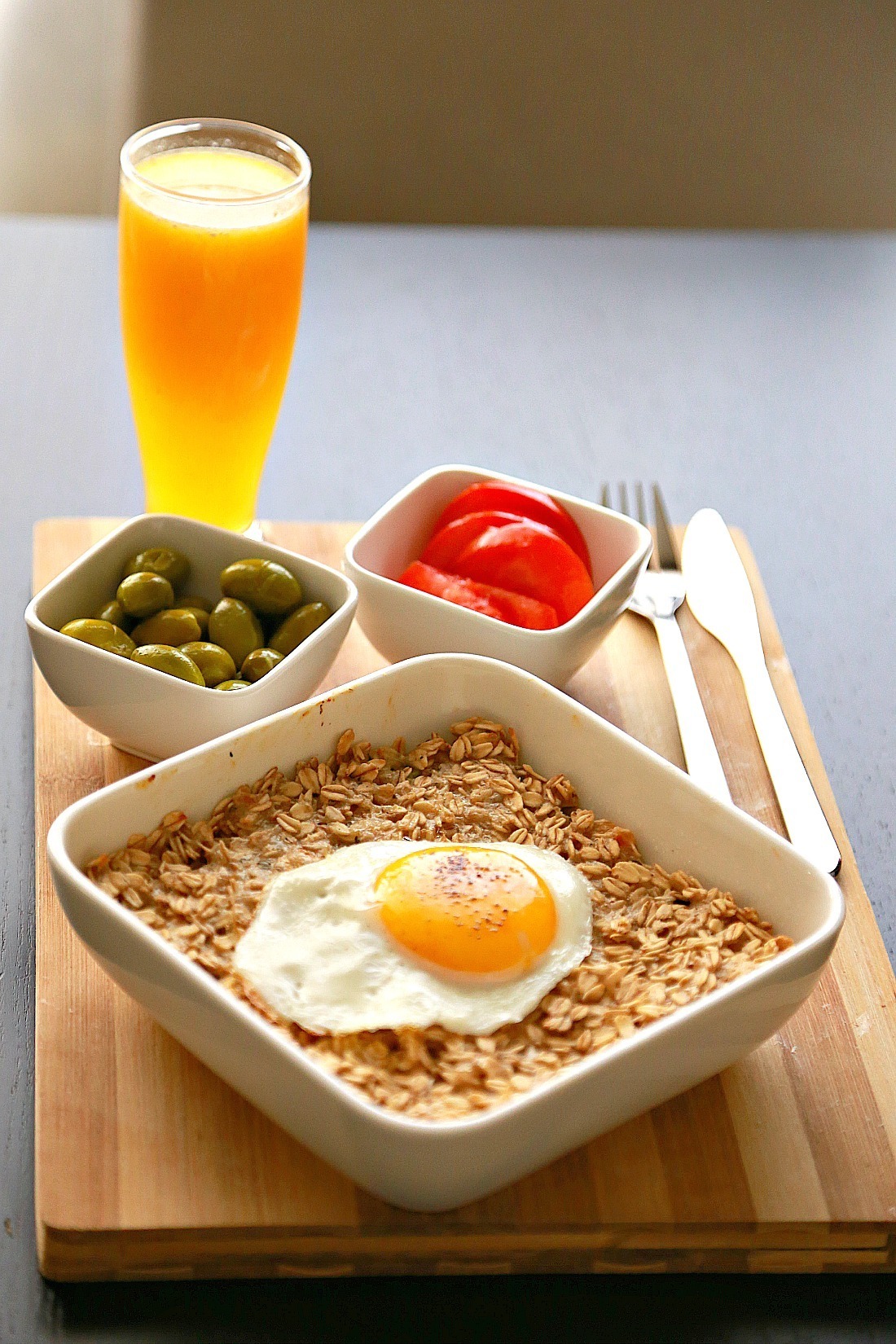 This recipe is inspired by potato au gratin, and it's much healthier and tastier! First time I had a gratin was in  Paul the french bakery. I love this cafe so much, french cuisine is so rich in flavors and different textures, and I don't want to talk about the desserts! But unfortunately they have really bad services, or at least where I have been. The potato gratin I had was really delicious, creamy, and flavorsome! And I tried to recreate it with chicken and veggies too. 
Now most au gratin used tons of cheese and cream, while this recipe may not a real one, but using mozzarella (which has way less fat than fontina or gouda) and using oatmeal as base instead of potato, make it healthier option of course! 
Topping this casserole or au gratin with an egg, gives it a boost in flavor and texture! I love egg so much and eat them almost everyday! Now I didn't really talk about eggs on the blog, and that's a shame! They are very healthy, and need some respect after they got bad reputation in the past! 
Let's start !   
Why do you need to eat eggs regularly:
Eggs considered one of healthiest food. They contain high quality protein with low calorie. Also, they contain all daily vitamins and minerals needed to produce energy in all cells of the body. There are so many health benefits , to mention a few:
 has Choline, a compound that has role in breaking down an amino acid called homocysteine that is associated with development of heart diseases.

 has lutein and zeaxanthin antioxidants, they prevent an eye condition called macular degeneration that cause blindness.

 has Selenium, Riboflavin and vitamin B12, which all required for healthy autoimmune system. 
 Is fried egg healthy?
Calories and nutrition are similar with different cooking methods. frying with oil, water, or non-oil cooking spray may spare you some calories. But we are hardly talking about 20 calories difference between fried egg and poached egg. So If you enjoy a fried egg, eat it moderately with a splash of oil.
Is runny egg bad for you?
The first thing comes to mind when you mention runny egg is salmonella. It's a bacteria can be found on the egg shell and move to the inside through micro pores on the shell. Now the yolk firmed at 158 f temperature.  Other option is to buy pasteurized eggs. Pasteurization is heat treatment that use high temperature to kill bacteria, so its safer option if you want to eat runny eggs or eat food that contain raw eggs such as mayonnaise. However if you are fit in to these categories you may want to skip the runny egg, since you don't want to risk to be infected. :
Pregnant women,

People suffer from autoimmune diseases, or generally unwell.

Children, and elderly. 
Egg Allergy:
While eggs are very healthy, it's common that children are allergic to eggs.  The allergy caused by an autoimmune reaction. the body respond to certain protein in eggs and attack it, causing the ,the symptoms. They are range  from mild to sever, like headaches, rashes, and digestive problems. Most children, but not all outgrow their allergy.  
Eggs and cholesterol: 
This is very old myth that needs to die! An egg has 210 mg cholesterol which is considered high, but there is no data confirmed, that people who ate more eggs are at higher risk of heart attacks. And according to Harvard university, cholesterol in food has smaller effect on cholesterol blood level than the mix of the fats in the diet. Just know this is mainly for moderate egg consumption. And for diabetic people they need to take this seriously, since they are at higher risk of heart diseases.  
Oatmeal:
If you are a regular reader my friend, you know by now how much I love oatmeal ! I love to use it in cookies, bars, and in porridge too. It's versatile, it can lower cholesterol,and its good for your digestive system too. 
And here I love soft egg yolk but not really runny. if you are enjoying healthy body, the possibility of having infected egg with salmonella is 1 egg in 20,000. So you decide if you want to take the risk or not!
Enjoy!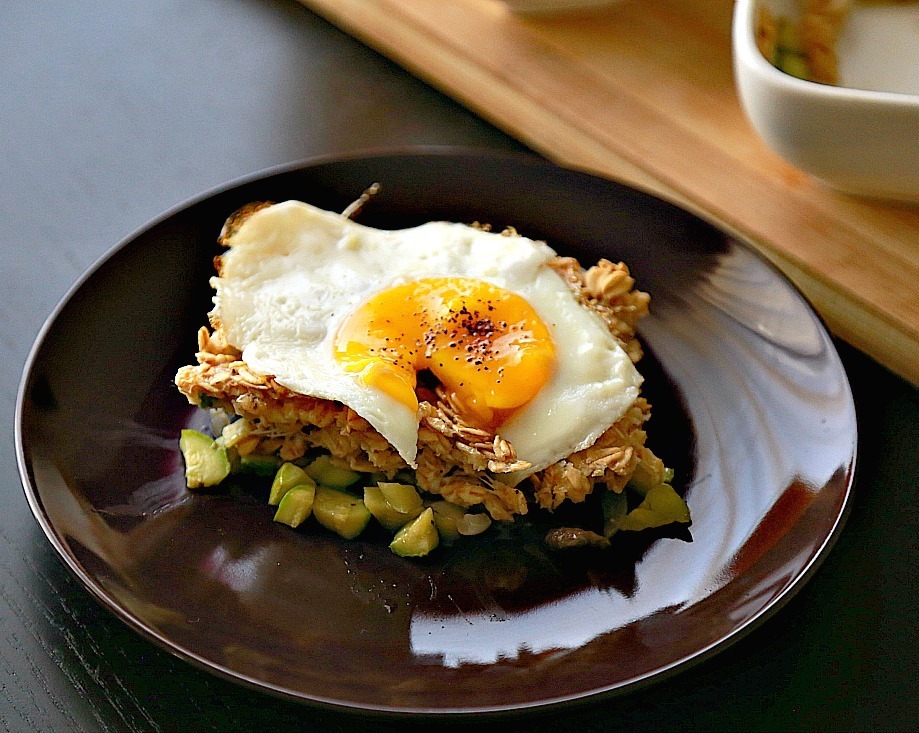 Easy Healthy Casserole with a Fried Egg
Ingredients
1 Tb Olive Oil
10 Tb Old Fashion Oatmeal
½ cup Milk
4 Tb Mozzarella Cheese
Punch of Dried Basil Leaves
½ Small Onion
3 medium Mushrooms
3 small Summer Squash.
Topping:
1 Fried Egg
Instructions
Cut mushrooms, onion, and summer squash evenly.
Heat a skillet on a medium heat, add olive oil, and saute the veggies for 3-5 minutes.
Put them in an oven dish.
In a small bowl, mix oatmeal, milk, mozzarella cheese, salt and black pepper.
Pour them carefully over the sauteed veggies.
Bake in the oven for 15 minutes, on 200C/400f.
Remove from the oven, while the oatmeal cool down a bit, prepare the egg.
Add a splash of oil or water, on high heat fry the egg for one minutes or tow, or until the egg white is firm.
Put over the oatmeal and enjoy!