I started a series "Arabic cuisine" featuring my traditional food. Today the dish is Fattet Batnjan (Eggplant casserole with yogurt and meat)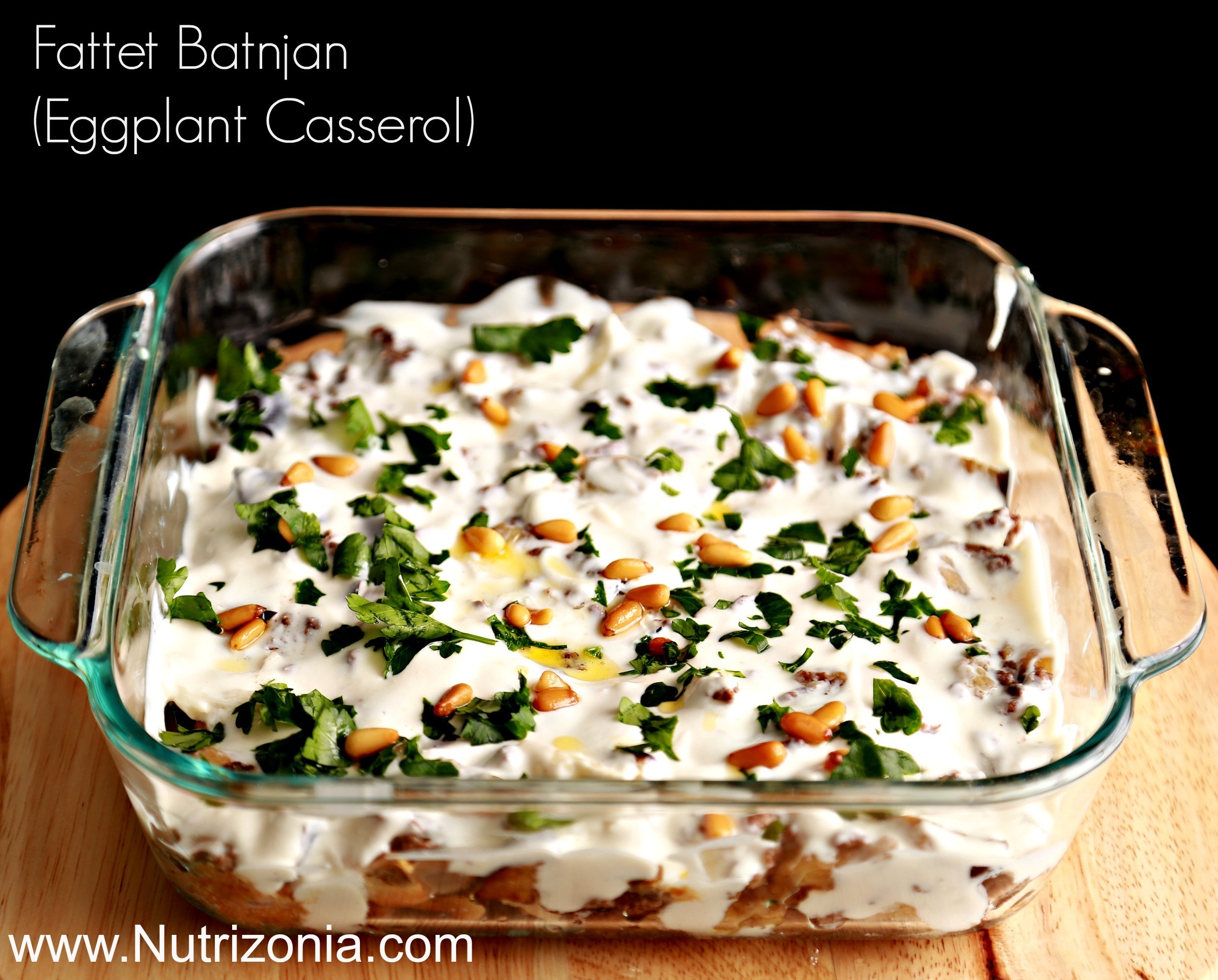 I'm not really a fan of eggplant, although it's very famous in the Arabic cuisine. There are lots of recipes, mostly healthy ones containing eggplant. And since I started my blog, I wanted to make more savory recipes, and try new items. Therefore, I need to step out of my comfort zone! And after all , it's not bad as I thought!
Back home people make this dish for gatherings, and small parties. It can easily feed a crowd. You suppose to put a good amount of eggplant, but I was afraid, I won't like it, and I have to throw it away. I do hate wasting food, so I added just a fair amount, but you feel free to add more!
Eggplant
Is a vegetable related to a night shade family. It's low in calories, fats, and has good amounts of fibers, and minerals. It has compound called anthocyanins, that is belongs to phytochemicals known as flavonoids. It may lower cholesterol too, but this not conclusive yet.
Most of the benefits comes from the skin, so its crucial not to remove it when you cook. It becomes thin, and totally, edible, and palatable. The bigger the eggplant is, the bitter flavor it has! But oddly enough, it becomes higher in antioxidants contents!
Cautions of Eating Eggplants 
Because eggplant contain good amounts of oxalate,eating high amounts of eggplant, may leads to kidney stone. Also it has compound called nasunin that bind to iron, and remove it from the cells. So this means it lowers iron absorption. This can be harm for anyone has low iron levels.
Enjoy this eggplant casserole! 
Fattet Batnjan (Eggplant casserole)
Ingredients
1 medium Eggplant
Half lb of lean minced beef
2 cups of Yogurt
1 Tb of Tahini
1 small onion
1 large pita bread cut into triangles
few pieces of garlic
Spices:
Salt, ground Black pepper, Arabic 7 Spice
Optional but recommended:
1 Tb of Ghee (Clarified Butter)
Garnish :
Minced parsley
Spices, like ground cumin, and Cayenne pepper
Instructions
Crush garlic and add it to yogurt, add lemon juice, and tahini and salt. and set aside.
Now heat 1 Tb of olive oil, on medium heat and toast the bread (you can do it in the oven too).
Put the toasted bread in deep dish.
Cut the eggplant into cubes (leave the skin on), and place them on baking sheet.
Add 1-2 Tb of Olive oil, and toast then om 375f for 10 minutes.
In the mean time, mince the onion.
Heat a skillet, add 1 Tb of sunflower oil, add onions and saute for 5 minutes on medium heat.
Add the meat, spices, and leave it until its done.
Now add the toasted eggplant tot he meat, and leave then on medium heat for 5 minutes.
Put the meat over the bread.
Pour the yogurt mix .
Optional:
Heat a skillet, add 1Tb of ghee, and pine nuts, watch them carefully, they easily got burned
Now drizzle the casserole, and add garnish.
Notes
Usually in this dish, the eggplant is fried. It's up to you whether you want it baked, or fried.

To make it gluten free, choose gluten free bread