I started a series "Arabic cuisine" featuring my traditional food. Today the dish is Fattet Hummus
Note : This is a lengthy post, so bear with me, and be patient please 🙂
Fattet Hummus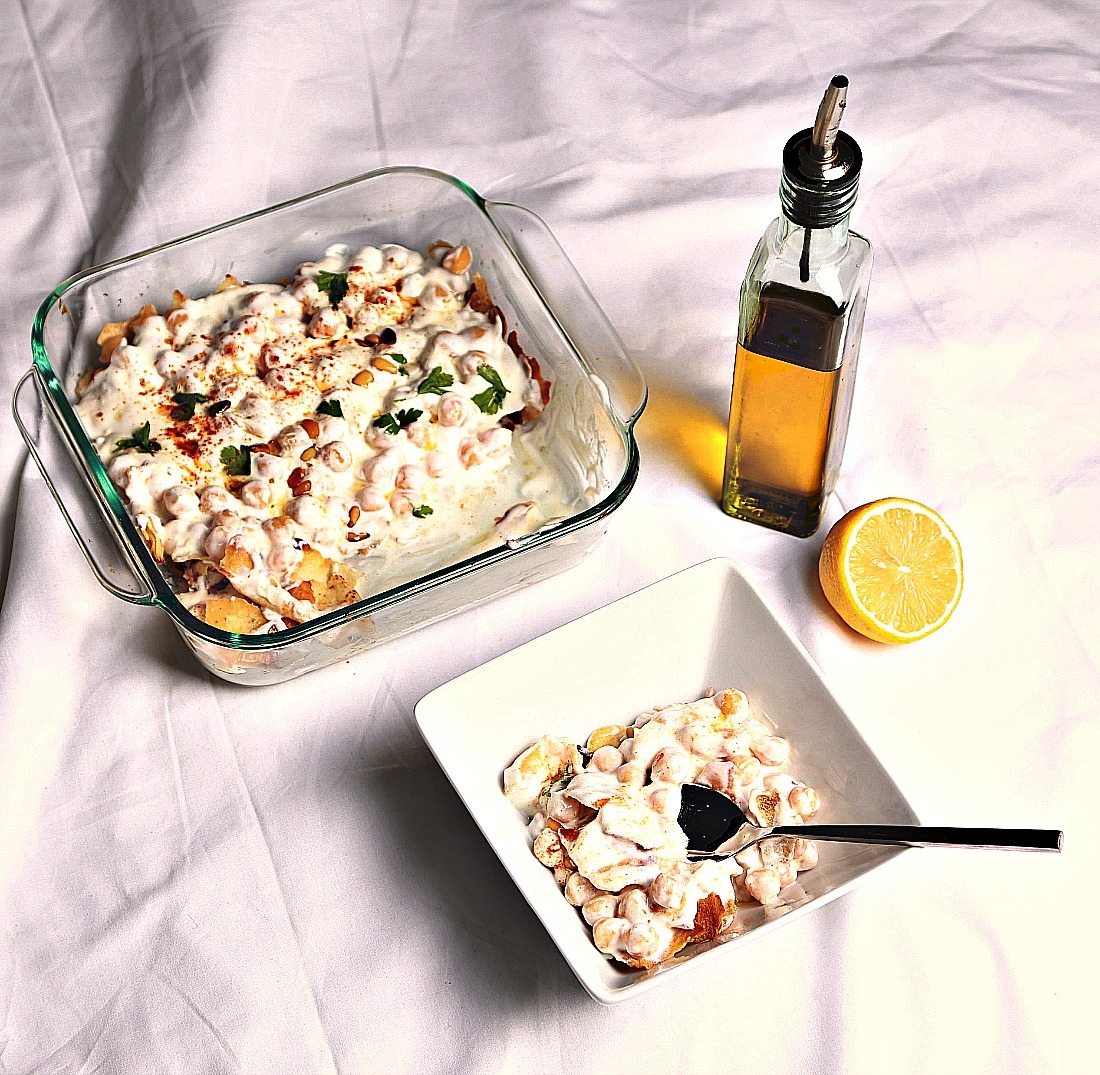 It's a traditional dish in my home country, Jordan. Also, Palestine, lebanon and Syria. Fattet hummus, is a family favorite. It was on the breakfast table every weekend. It's made with garbanzo beans (chickpeas). Just yesterday, I read in a food blog, someone called the fattet  "Hummus cousin" I like it! (it sounds funny, isn't it?)
It's called fatteh, the "T" in the word fattet, is related to the next word which is hummus. You can't just say fattet, and stop. If you want to, you can say, Are we having fatteh today?  Or are we having fattet hummus today? Just a little lesson in Arabic language!
Chickpeas reputation is well-known. They are very nutritious beans, have good amounts of protein, fibers, and low in fat. Also, high in vitamins like Folate, and minerlas such as iron, and manganese. They became very smooth when you blend them, giving you a creamy texture, and a nice flavor. They go along well with many food, and spices too. The canned one is a good option, but I prefer to use the dry ones. No worries of BPA, and other preservatives in cans. The only thing I don't like, is preparing the dried ones. It take lots of time. Using baking soda (Just a teaspoon), or using a pressure cooker, will shorten the time by half at least. Mom use both ways. I don't mind waiting. If I want hummus, I'll plan the night before.
There are many food bloggers made fatteh too. Rehana ( a new favorite blogger) made this one . And a talented food blogger katherine  made fatteh too, she brought up a very sensitive issue for many Palestinians, and Arabs (including me). Which is how many middle eastern dishes are featured as Israeli dishes in many website, blogs, and restaurants. While I don't like to talk about politics, but everyone loves to get credit when it's due.  
 I failed couldn't change the way I eat hummus. Even though, I asked myself, why I eat hummus with bread? It's already a high source of carbohydrate, so why we add another source? I guess the answer is; back in the old days, meat wasn't available in reasonable prices as today. And even not an option for normal days for some families. So hummus with bread was a must, because it's very fulfilling, and satisfying!
Usually, we eat hummus and fatteh warm, or at room temperature. It tastes much better than the cold one! In my home country, we add fats like olive oil, or ghee (which is the preferred option). Along with toasted pine nuts. Also minced parsley on top.
Today, I will feature two styles for Fattet (Hummus casserole) one is Lebanese, and Syrian (using yogurt mainly). And Palestinian using tahini sauce. 
Fattet Hummus with Yogurt

Fattet Hummus with Tahini sauce
Tahini paste is made from grounded sesame seeds. They are power house of nutrition, contain high amounts of vitamins, and minerals. Tahini paste is available in Amazon and most grocery stores. And, also you can make it at home.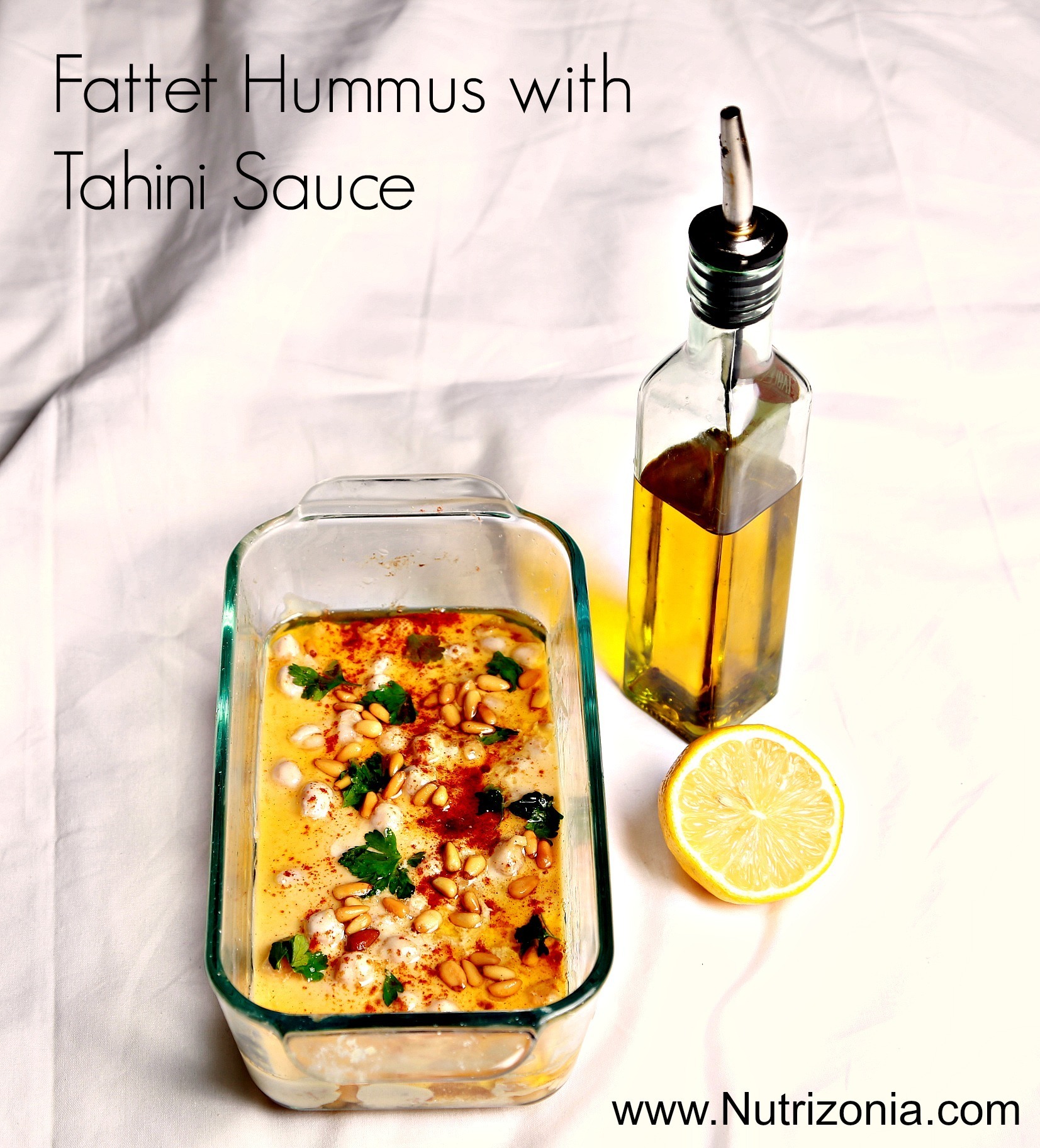 A closer look here!  It looks delicious, doesn't it?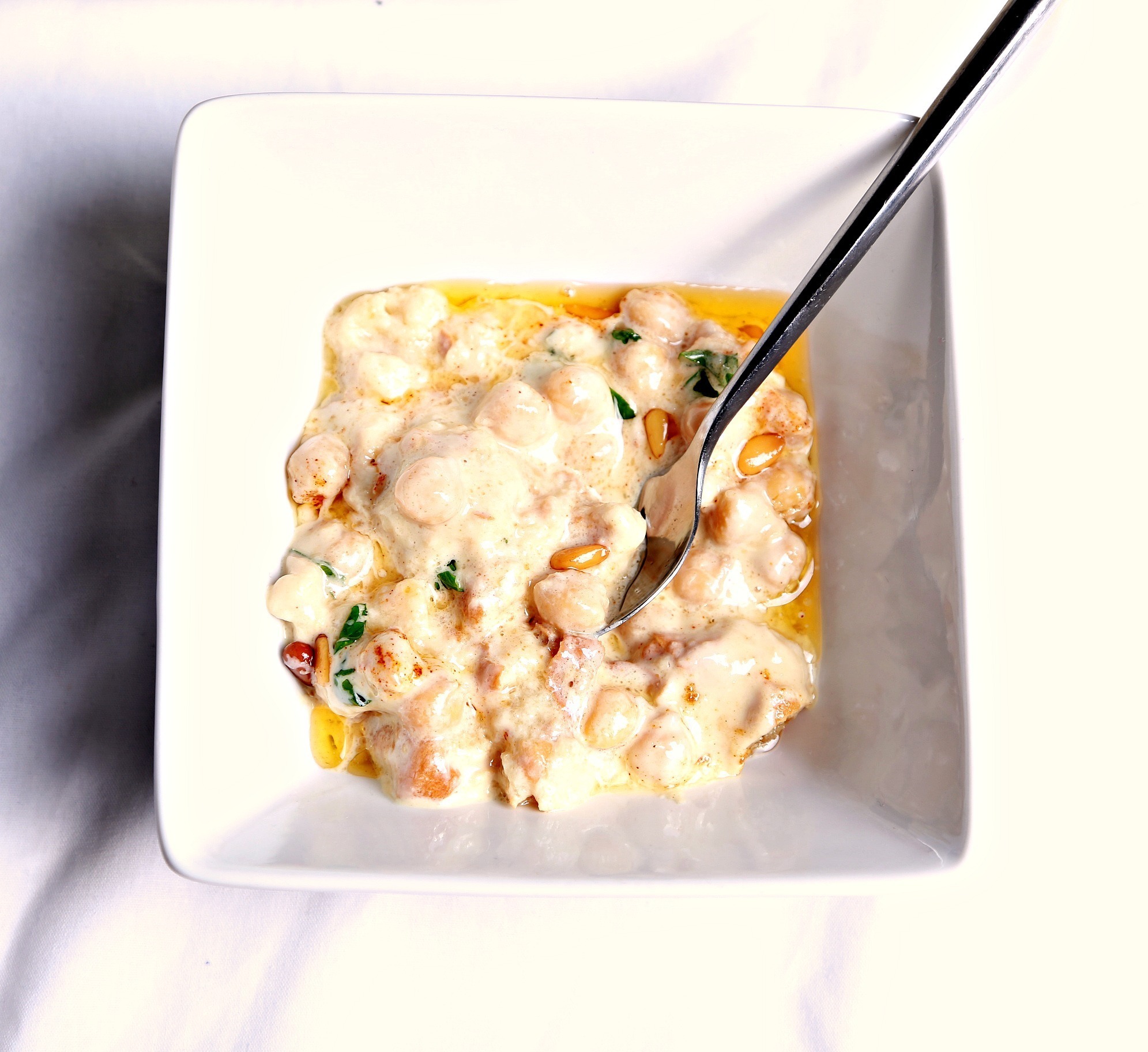 And that was my first photo shoot in the small studio we have! Do you think its good enough? I would love to know what do you think! 
Fattet Hummus (Hummus Casserole) Two ways
Fattet Hummus is very easy to make, its delicious, healthy, and fulfilling, and can be easily made gluten free or vegan.
Ingredients
A lb of dried Chickpeas beans, or two cans drained.
Water
1 cup of Yogurt
Half cup of Tahini
Lemon juice
Parsley
Spices (Salt, ground Cumin, Chili powder, or Cayenne Pepper)
Pita bread 1 piece
Hot dog bread
Two Tb of Olive Oil and 1 Tb ghee
Instructions
Soak the chickpeas for 12 hours, or overnight. Put it on the stove on high heat for 15 minutes then on medium heat for 1 hr or whatever it takes. It depends on the kind, and size of chickpeas sometimes.
Fattet hummus with yogurt;
Break down pita bread into small pieces, and saute with olive oil. Be generous.
Add spices to yogurt and mix it well (You can add crushed garlic too)
Grab a bowl, and put the toasted pita in the bottom.
Now put the boiled chickpeas over the toasted bread.
Add yogurt.
Now add olive to a heated skillet, add the pine nuts, leave it until it has a golden color. Keep an eye on it, it burned easily.
Put it over the fatteh, and serve immediately.
Fattet Hummus with Tahini Sauce
Cut hot dog bread into small pieces, and put them in the bottom of the dish.
Pour hot water, enough to make the bread moist, and very soft, but not mushy (better to add water from boiled chickpeas).
Put chickpeas over the bread.
Now mix Tahini paste with lemon juice, salt, and chickpeas broth ( Add enough to make it like a cake batter)
Add it over the chickpeas.
Now toast some pine nuts (For this kind of fatteh, put some ghee instead of olive oil or mix them together), and serve immediately.
Have you tried Fatteh hummus? Which way was it? Did you like it? Please share your thoughts!