Finally, the FDA announced that Nutrition label will get a makeover. It's a great step by the FDA especially that the labels did not change the last 20 years. But do people actually read the labels? What is the use of it? And is reading it is enough?
In the last two years, Studies shown that the no. of people reading the labels are increasing, mostly educated young females, which is good though, because females mostly are the caregivers, and the ones who doing the groceries for their families. Actually you need more than reading, you need analyzing, and some basic math skills.
Now let's do it together! Here is a random label,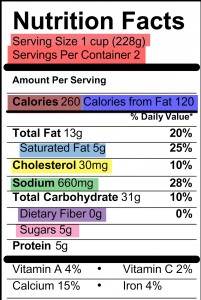 Number of serving per container and the serving size (in Red) is the first number you need to focus on. I will tell why, let's assume this is a granola bar, and you eat it all at once. This means you should double the numbers of every nutrient below in the table, starting from Calories (in Brown). And you may need it to triple it! Therefore you need to have some basic skills at math! But remember, calorie is not everything, you may choose low calories cooki es instead of tropical fruit mix, but they are not doing the same for your health!
Calories from fat (in dark Blue) help you know, how many calories comes from fat, The FDA put this no. on nutrition labels, because the focus was on heart health, and to prom ote low fat diets.
Saturated fat (in light Blue) is associated with heart diseases. And you should always look for low number on the nutrition label. However in last October, a well known Dr. Malhotra published a paper claimed, that saturated is not the one to blame for heart diseases but sugar! But then again, this is an opinion from one Dr. based on his research and experience, and there is no new evidence! Now we need more studies to confirm his claims.
Cholesterol (in Yellow) is a tricky one, because its necessary for making hormones and vitamin D, also it aids in digestion and other body functions. There is bad and good one, but recent studies shows that cholesterol level may not be an indicator for heart disease, but for your safety look for low number on the label. Like the one we illustrate here.
Sodium (in Green)The highly processed food the higher sodium content. People with high blood pressure, may be sensitive to sodium, but it always helpful for everyone, to watch the sodium intake. Therefore it's better to look for low number on the label.
Fibers (in Purple), more studies shows health benefits for fibers, like keeping a healthy digestive system and heart at god condition, always look for high number on the label.
Sugar (in Pink) is the main current culprit for obesity and many diseases. Always look for low number on the label. Health advocates asks FDA to show if the sugar is naturally occurring in the food or added and I can not agree more on that.
Vitamins and Minerals (in dark Green) are very important for various body functions. Always look for the high number on the label.
The Suggested Changes
The Changes I would love to see on the nutrition label are:
A change in the metric system, American people are not used to grams and it better to put ounces.
Add a percentage of whole wheat. Because some manufacturers, put the whole grain statement to get people attention, when their product may just contain 5 %.
Remove (Calories from fat). Some fats are good for you. Let's say you choose almond butter, it will have high no (calories from fat) but they are good from you and they are not the saturated fat (in light Blue) that you should minimize.
The labels should be on front so more people can see it.
The nutrition label is just the beginning to choose healthy food. How to consume these healthy items, cook it, and when to eat it, is the key for good health. Reading the label feels like overwhelming, and hard to understand, try it next time you go shopping, and by time will get used to it.
Do you read the nutrition label? What changes would you love to see?
For further Reading:
Understanding Cholesterol http://www.health.harvard.edu/newsweek/Understanding_Cholesterol.htm
Saturated fat link with heart disease questioned http://www.ncbi.nlm.nih.gov/pubmedhealth/behindtheheadlines/news/2013-10-23-saturated-fat-link-with-heart-disease-questioned/