Today I have for you a quick smoothie that is healthy, creamy, chocolatey, rich, with real ingredients! Moreover, it's refined sugar free, gluten free and vegan!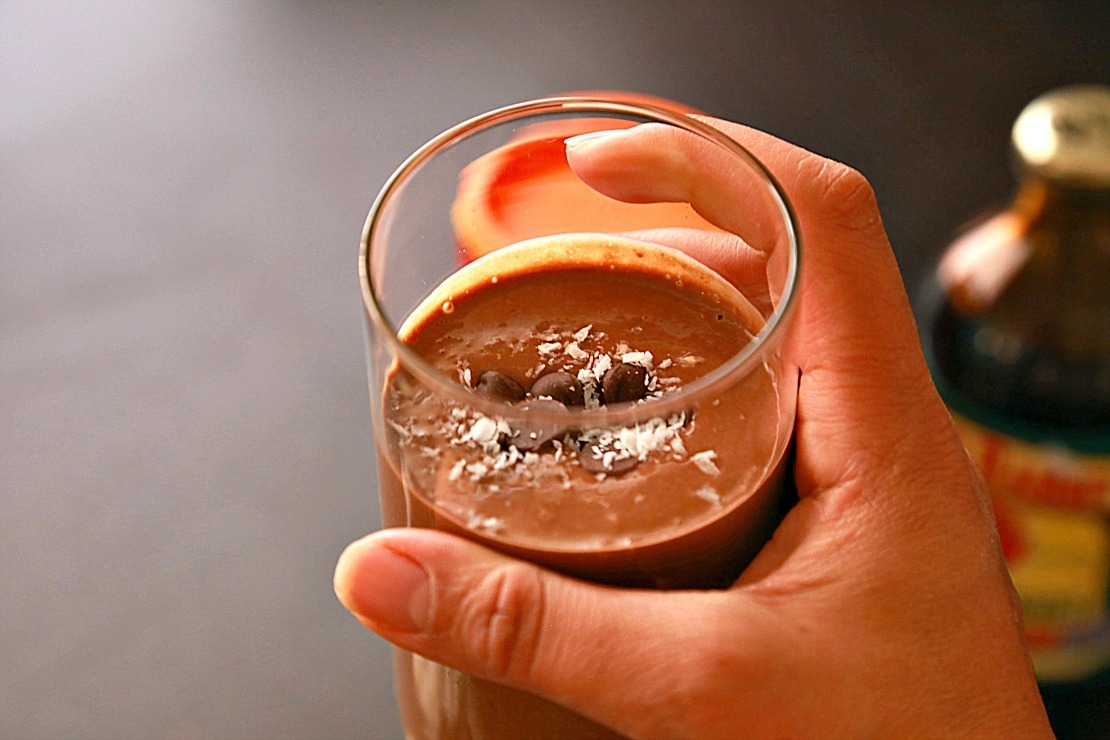 It's chestnut season!
I love chestnut so much, its so rich, fulfilling and nutritious! And what makes it more exciting, that it's not really available year around, and I'm talking of course about the fresh ones. My family used to to roast it in cold weather nights, we really did enjoy it!
But, I never thought of making other things with it! Recently, after seeing fresh chestnut in the market, I decided to create a recipe with it, I stumbled upon some great recipes, and there was so much of great ideas, the most appealing ones were with chocolate! So I thought lets make a healthy chocolate drink!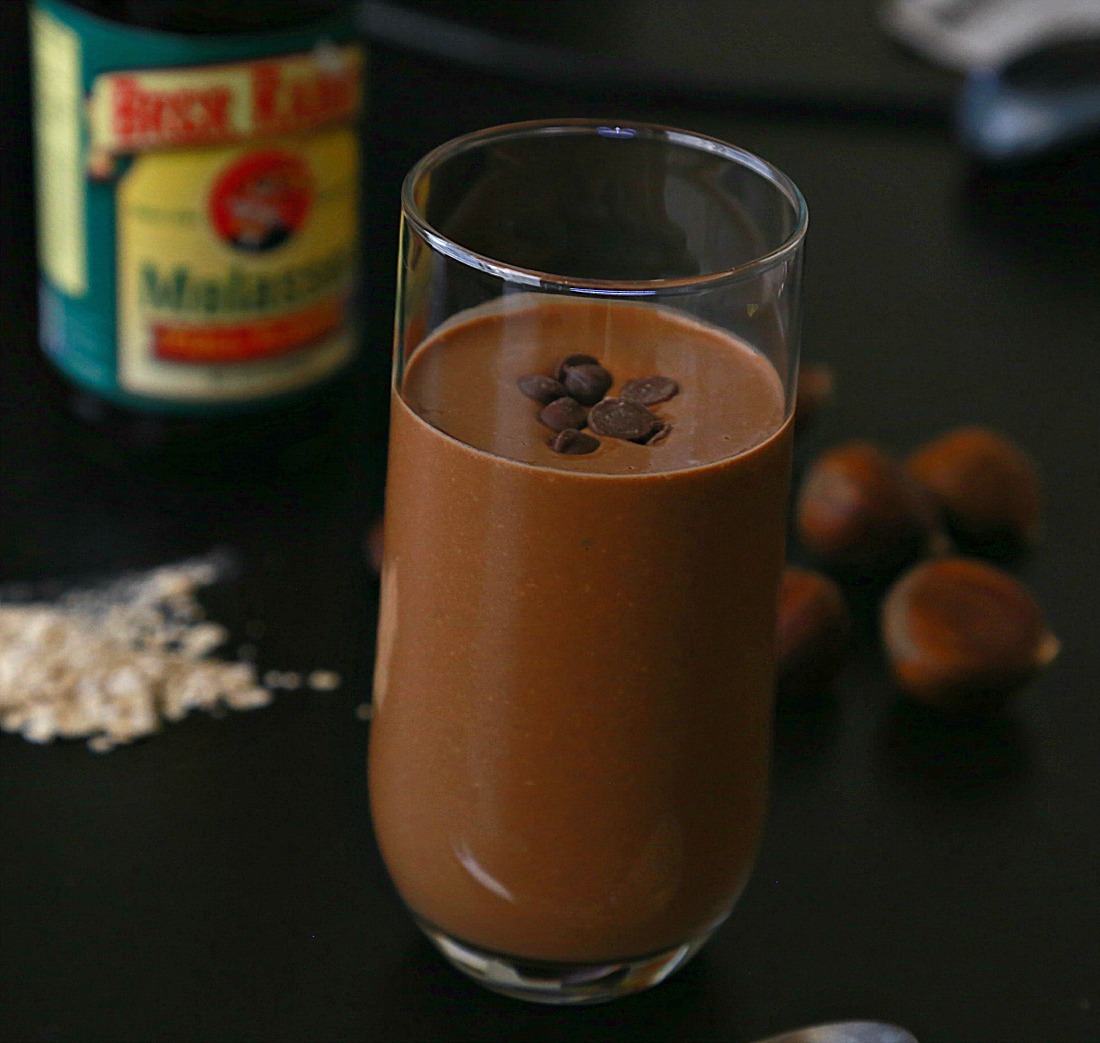 This is really a dessert in a cup, that you can't believe its healthy! It's packed with healthy fats from coconut milk, it's called medium chain fatty acid (lauric acid) when its enters the body it converted to another compound called monolaurn which is antiviral and antibacterial. Also "all the time favorite" oatmeal, that is your heart friend! In this recipe, I used instant, since it is blend well with other ingredients, making the smoothie more creamy, and no need to chew!
Molasses
I've used it before , when I made vegan cookies, it has a great comeback! Since people are looking for more options and alternative to refined white sugar. it's a by product of sugar, but the process of making it, make it retain some minerals like magnesium, and manganese. also it has good amounts of vitamin B6. Let me tell you, I so in love with it, I buy it double price! Because really we don't have local molasses here, but I believe it's totally worth it.
Why do you need to add chestnut in your diet: 
It's high in vitamins such as vitamin C , folate and thiamin. And minerals like copper, potassium and manganese.

It's low in fat, and has good amounts of fiber and protein too.

Even when it has high carb amount, the carbs are complex, which means they stabilize blood sugar level by digesting and absorbing it slowly.
Now lets celebrate with this chocolate smoothie!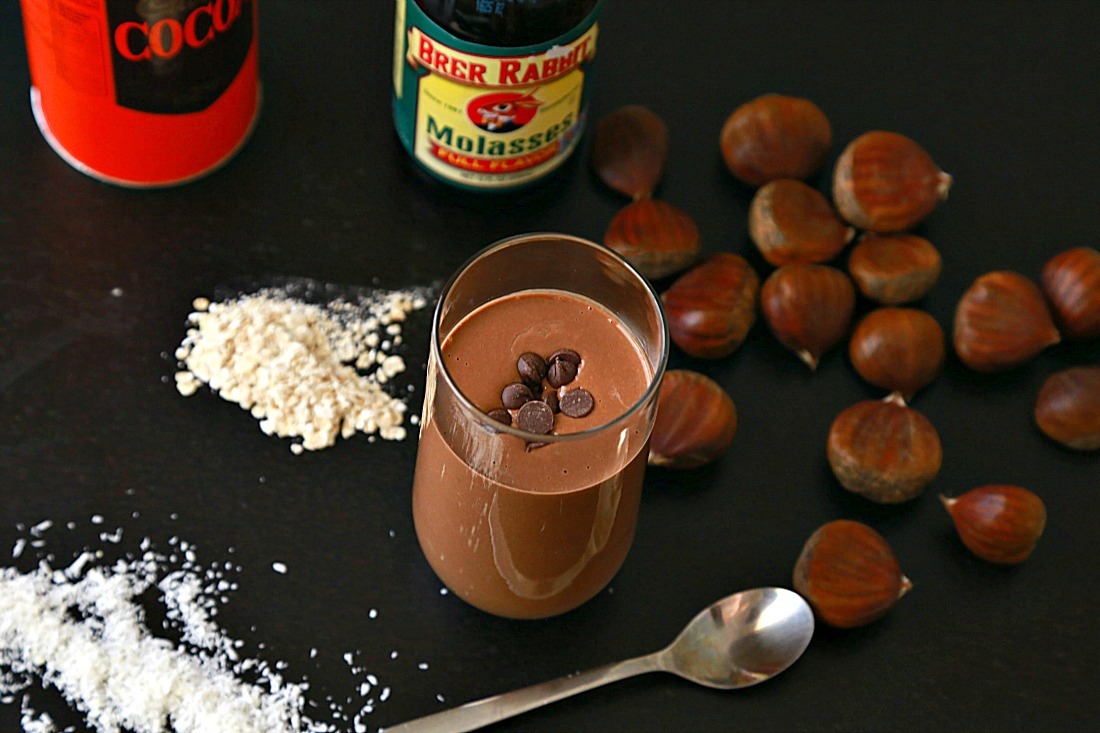 Healthy Chestnut Chocolate Smoothie
Ingredients
2 Tb unsweetened cocoa powder
4 Tb instant oatmeal
1 cup coconut milk
1 Tb molasses
10 pieces of chestnuts, and 4 Tb chestnut puree *see instructions below* *You may have more than 4 TB, dont put extra*
Optional:
Chocolate chips, grated coconut, ground cinnamon
Instructions
Preheat the oven at 400F /200 C, make a cross on every piece with a sharp knife, roast the chestnut for 20 minute, remove it from the oven, let it cool down a bit, then start peeling.
Now put the peeled chestnuts in a medium pot, add enough water to cover it. Put it on the stove on medium, for 20 minutes, add more water if you need. when it becomes very soft, put it in the blender .
Mix the coconut milk and coco powder in small bowl, until the all the coco powder dissolved, add molasses, and stir again
In the blender, add oatmeal, chestnut cream, and coco mix.
Blend in pulses , maybe it will be too thick, add more coconut milk if needed.
Enjoy it cold or hot!
Refrigerate any leftovers , if any!
Notes
Don't wait too much for the chestnut, it is so difficult to peel cold chestnuts.

If you want to have the smoothie hot, add more coconut milk, or of oatmeal, and chestnut puree.

Refrigerate leftovers of chestnut puree