This is first pie I've ever made! And I can't be more happy than that!
It is a delicious chocolate pie, easy to make with available ingredients. And most importantly, this pie is packed with protein, and healthy fats. Actually, it is a pie you can eat for breakfast!
My friends, this is a long post. Bear with me please!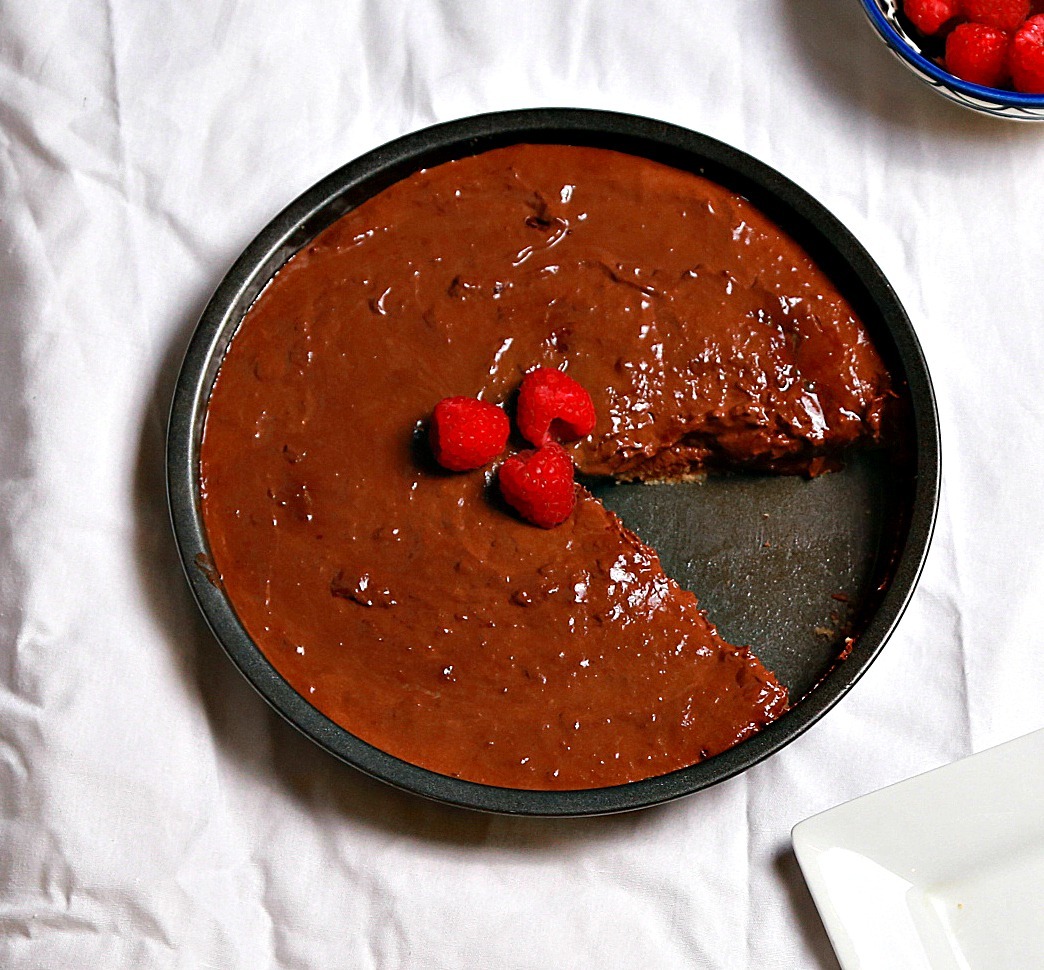 Now that's enough of applauding myself, and my cooking skills. Remember what I said last time when I made pistachio cookies? My son has started asking all the time for treats. You know all the kid cartoon are all around treats, cupcakes, and ice cream! It annoys me, and makes me angry that they associate happiness, and fun with treats.
It is a true thing, since food can make you really happy. But come on, treats are not for everyday. When will you have time and room for your salad? Don't you agree with me? Actually I'm gonna write about that in the near future! 
Okay let's get back to our recipe
Greek yogurt
This is my first time ever I use it in a recipe on the blog (a lot of firsts lately in my blog!). I bought it just few times, because I always eat regular plain yogurt. And in many cuisines, plain yogurt makes a great side with savory dishes like the Arabic, Indian, and Turkish cuisine.
Here, in the U.S yogurt is mainly mixed with fruits and granola in a parfait. I don't mind that, but unfortunately most yogurt brands are full of sugars, and artificial flavors. And it's not cheap at all for a snack.
Why you should include Greek yogurt in your diet: 
It is higher in protein comparing to the regular yogurt.

It contain probiotics, that are good for your digestive system.
It may reduce the risk of type 2 diabetes (that's for all yogurt, not just the Greek)
It may helps in weight loss too.
You should know that not all brands are equal. Some of them add chemicals to enhance the texture, and flavor artificially.
Walnuts and pecans:
Walnut and pecans are related,to the same family of nuts. But you know what's the difference? Walnut made it to the top of the healthiest nuts, and pecan is on the bottom. I did compare their health benefits before, read it here.
Here why you should include more nuts into your diet: 
Walnut is the best plant food that has good amounts of omega 3 that helps you against chronic diseases.

Both of them are rich sources of antioxidants.

Walnut is associated with low diabetes risk ,and maintain your heart health in a check.

Both have monounsaturated fats that are good for you.
Pie
It is always associated with piles of creams, and sugar. But you can make turn into a healthy one! This pie is low in sugar, and high in protein comparing to other pies.
I made a healthy crust with coconut oil, it goes perfectly with nuts. It made the dough smooth, and I didn't need to add any sugars, since coconut oil has a subtle sweet flavor.
This time I'm confident to say, I did combine many healthy food ingredients together without compensating the flavor. This pie doesn't take a lot of your time, just a little bit of planning ahead!
Let's go to the recipe
Enjoy!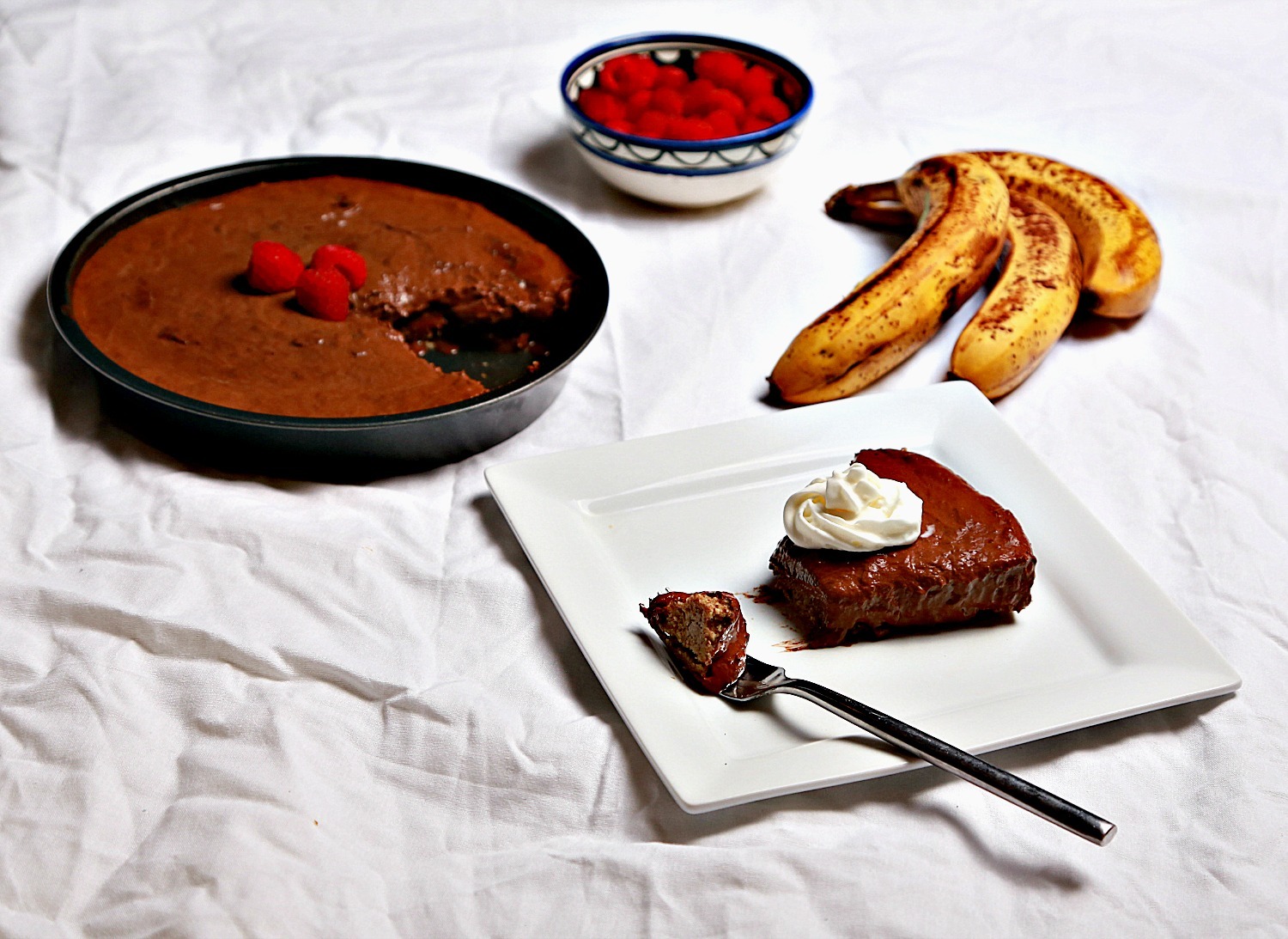 Healthy No Bake Chocolate Pie
It is delicious, easy to make with available ingredients. And most importantly, this pie is packed with protein, and healthy fats. Actually, it is a pie you can eat for breakfast!
Ingredients
The crust:
2½ cup of nuts (I used 1 cup walnuts and 1½ pecans)
4 Tb coconut oil
The filling:
1 cup Greek yogurt
6 Tb brown sugar
4 oz cream cheese
8 Tb coco powder
1 medium mashed banana
1 tsp vanilla
1 Tb coconut oil
2 Tb cinnamon
Toppings: (optional)
Raspberries
Sliced banana
Whipped cream
Instructions
First, in a food processor add walnut, and pecans. break the nuts in pulses, you do want them to turn into a butter.
While the food processor is working, start adding coconut oil , one Tb at time. You may need less than 4. Tb, just make sure the mixture is moist, but firm.
Now spread the dough into a 9 inch pie dish, and put it in the freezer for 15 minutes. (Cover it with a plastic wrap, just above the base,not on the dish itself).
In a wide bowl add banana, cinnamon, and brown sugar. Mix them well. You can use a an electrical, or a manual.whisk,
Add coco powder gradually to make sure all of it mix well. Then add cream cheese gradually too.
Now fold the Greek yogurt gently, because you don't want to lose the airy texture of it.
Remove the dough from the freezer, and pour the filing gently, and keep the pie in the refrigerator.
Serve it cold after 8-12 hours, with fruits, and whipped cream, if desired
Notes
If you want more flavorful pie crust, roast your nuts fro 5 - 10 minutes on 375 in the oven with a drizzle of coconut oil.

Since this is a no bake pie, you need to make sure that banana is not too ripe.

I would you used more walnuts, but that what I had in my pantry. I'm restricted of buying news items while I have similar ones. That helps in reducing food waste.
Have you tried a healthy pie? What do you think we can add to make pies healthy?