A Palestinian spice blend of Dried thyme, spice, and seeds, that is aromatic, and pungent! Sprinkle it on fresh bread, mix it with olive oil, and you got yourself the best breakfast ever! It's very nutritious, and naturally vegan and gluten free!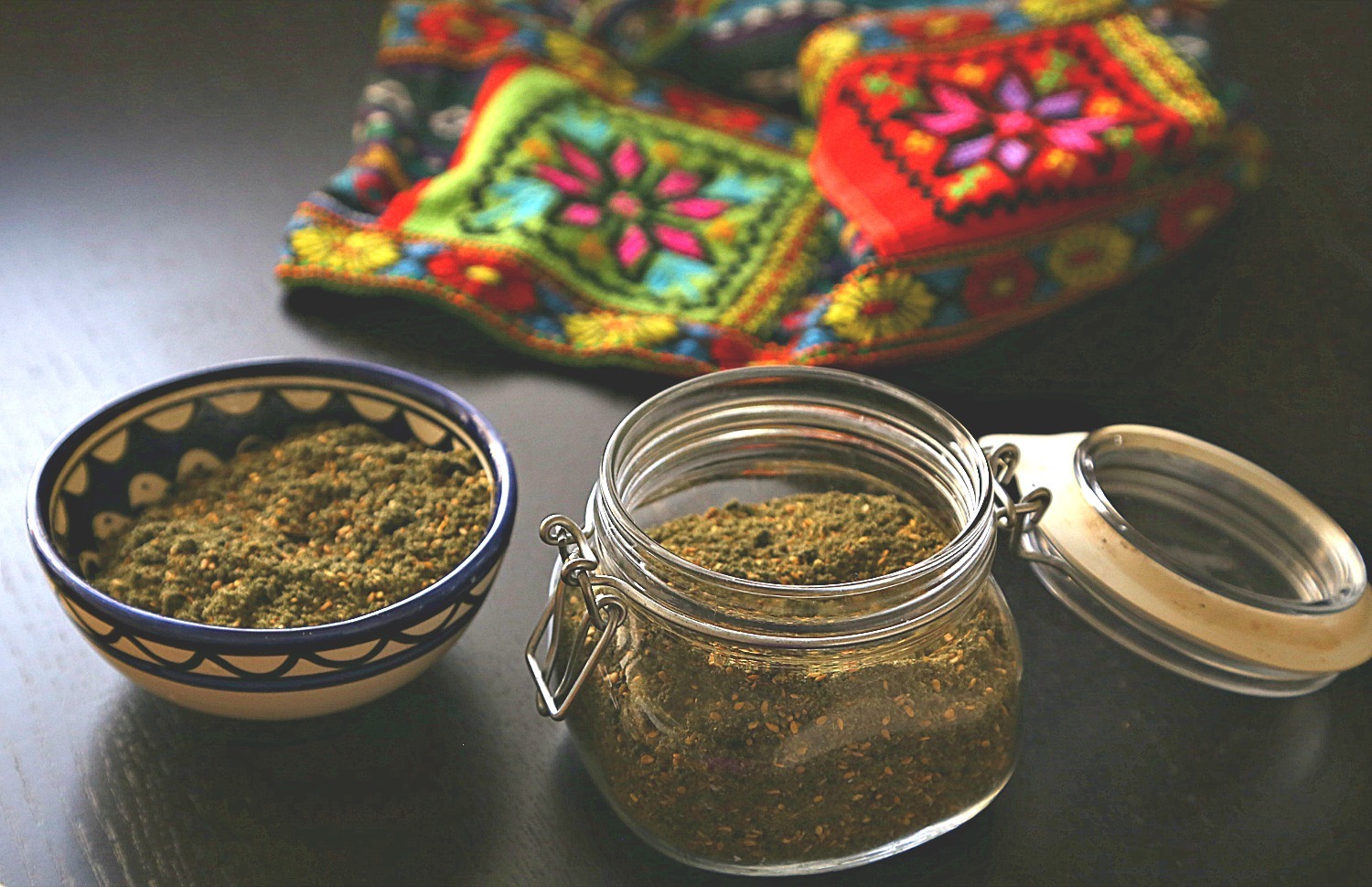 It's been a while since I posted a recipe from the Arabic cuisine.  Today I have a simple recipe for a condiment called "Za'atar". It's truly one of the things that I almost eat everyday mixed with labneh. My mom makes it all the time from the scratch, and I used to get my share. But sometimes through the years, I had to buy it, but it was nothing like mom's. So I decided it's time to make it myself from scratch. In 2017 I'm planning to make lot of things from scratch, because its healthier, relaxing and even therapeutic! While it's a bit time consuming, and needs a well stocked pantry,  but that doesn't mean it will cost you a lot, with planning ahead and patience, you will do it easily.
Za'atar is a stable in Arabic cuisine, especially in Levant area. As it's traditional food, some may get sick of it like my sister. When I was young, I remember that we have been told that za'atar is good for the brain, that's why we need to eat it in the morning before going to school. While it's true that thyme is healthy, but I'm not sure about the brain thing. I think it's more of like a gesture, to keep Za'atar alive, to keep it a symbol for a Palestine for the lost land. However, za'atar has been known since centuries, and it's history is a bit complicated. Biblical or not, Egyptian or Israel's origin, it's hard to tell. But The wild thyme or oregano plant is abundant is Palestine and Syria, and the Levant countries, and people almost swear by it!
Why Za'atar is healthy?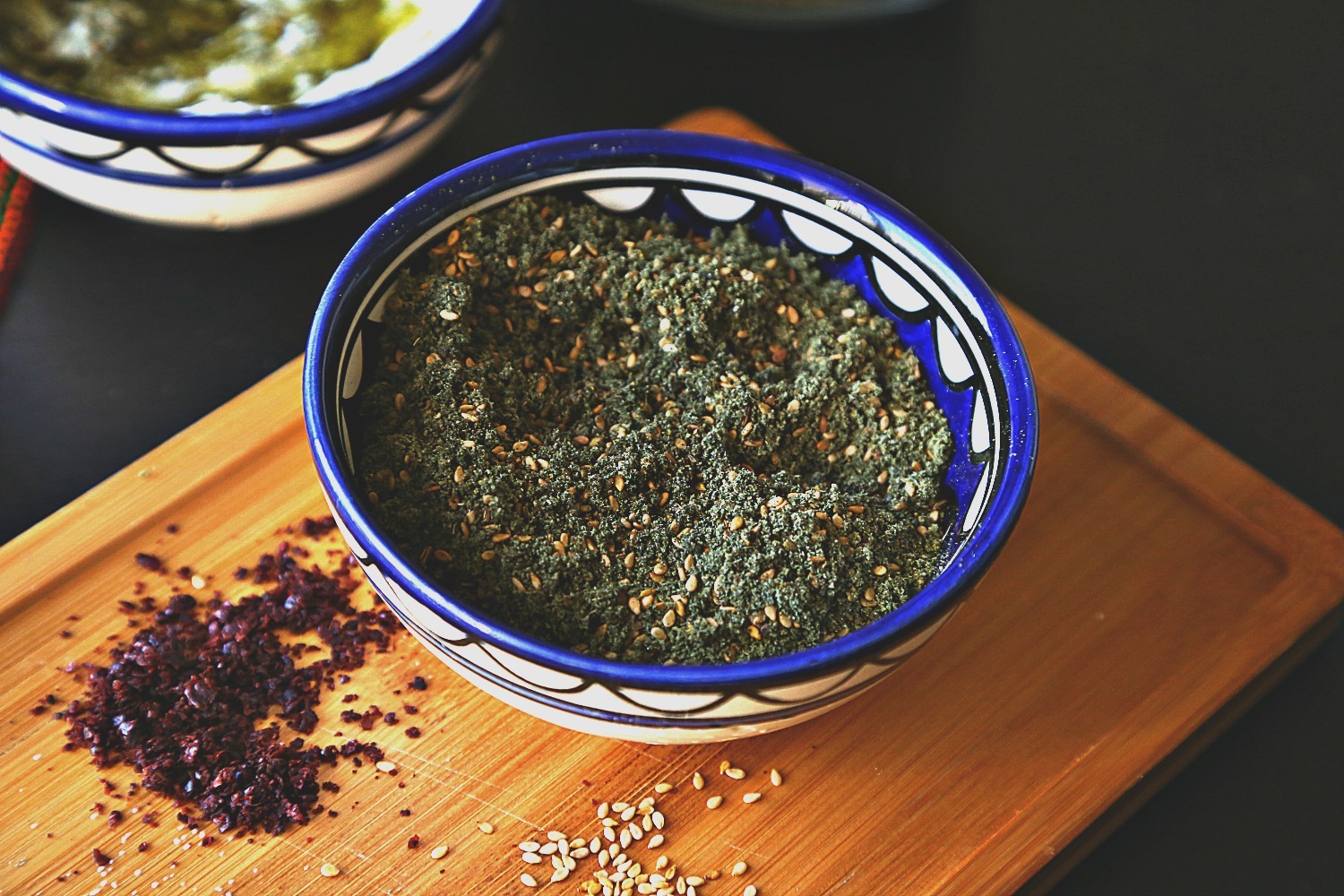 Because of the seeds, and thyme itself, all are very healthy for your body, of course with low calorie and low fat content. let's mention some of the benefits by it's components: 
Sumac :has antioxidant, anti-fungal, and antimicrobial properties.

Thyme:

has

antibacterial properties

, thus protecting from food borne disease that can caused by bacteria (food poisoning)

.

Sesame, 

Anise seeds, 

Fennel seeds, and caraway:

 these seeds has good amounts of minerals like iron , and manganese, and other by vitamins too. and what makes them unique, are the volatile oils that has antioxidants activities and many other benefits. I will highlight each of them in future recipes.  

 
Za'atar is actually very easy to prepare with a coffee grinder or a spice mixer, grind and assemble! And you got a delicious condiment. All the amounts can be adjusted, but this how I like it.  Anise, fennel, and caraway are optional, but they add aroma and distinctive flavor. Some add the toasted sesame and grind it along with za'atar, but I found this way ( just mixing it) to be lighter. 
Now how about mixing za'atar with labneh? This is my favorite way to eat! You can sprinkle it on yogurt too, rub a chicken, on a flatbread too. or even hummus!
Enjoy!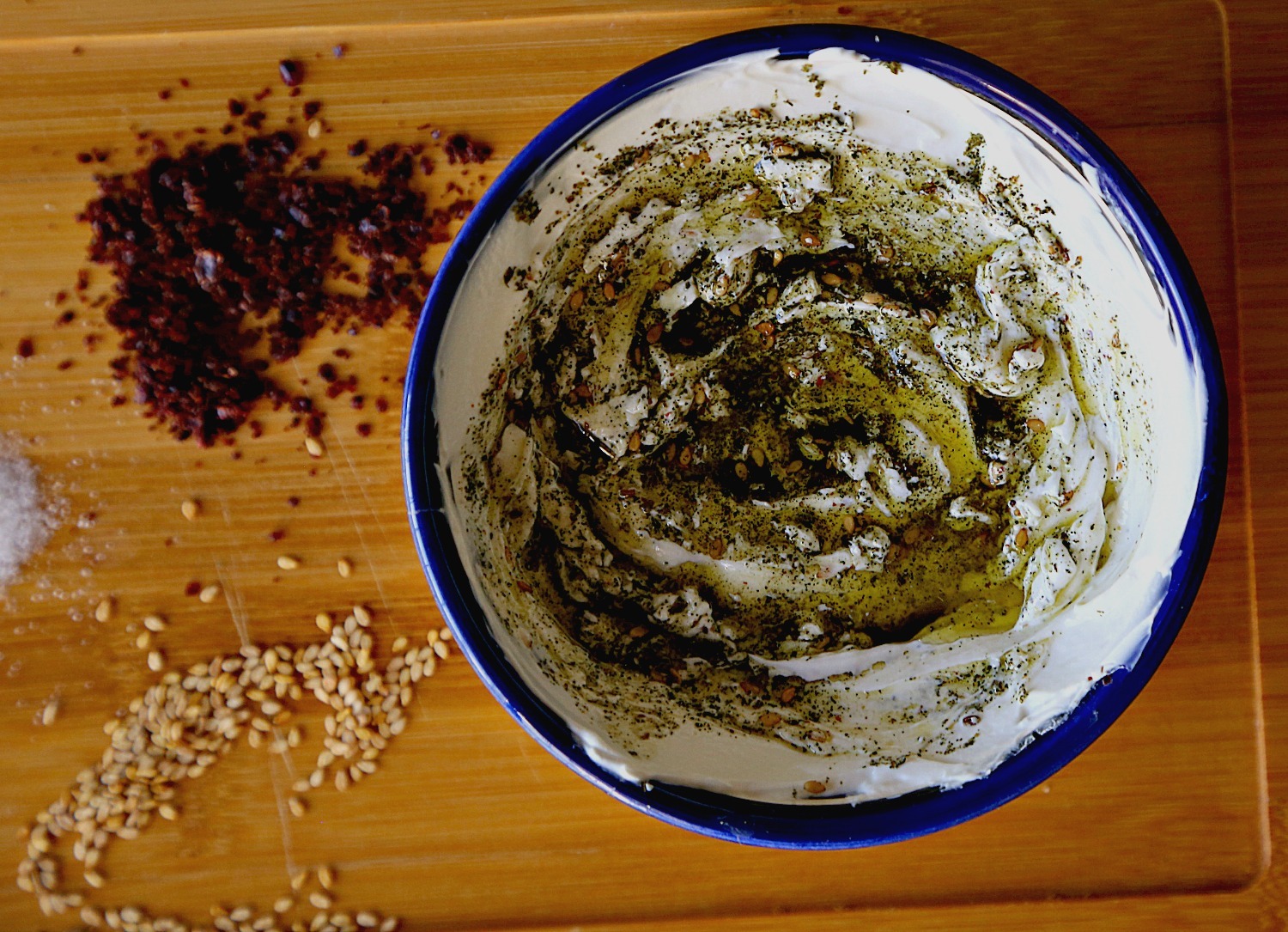 How to Make Za'atar (Spice Blend) From Scrtach
Ingredients
½ cup sesame
Dried thyme leaves 4½ cups
Anise seeds 2 Tb
Fennel seeds 3 T
Caraway 1 tsp
Sumac 2 Tb
Salt 1½ Tb
3 Tb Olive oil
Instructions
In a large skillet, put sesame seeds, let them toast on low heat, and set aside
In a big bowl assemble seeds, spices, and dried thyme except sesame.
in the mean time, In a coffee or a spice grinder, pulse or grind the thyme mixed with the spices in batches.
When you are done, do it all over again, to guarantee that seeds and spices blend in with the thyme.
Add olive oil, one Tb at time, and mix with za'atar.
Add the toasted sesame, mix again, and put za'atar in well sealed jar.