I started a series "Arabic cuisine" featuring my traditional food. Today the dish is "Meat Balls Stew with Carrot and Peas"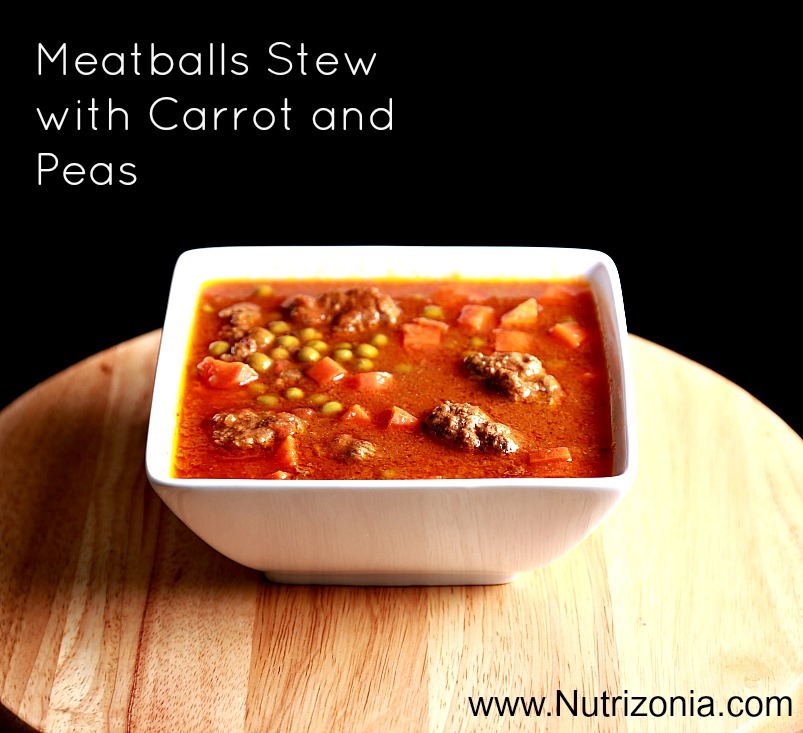 Meatballs 
Meatballs called kofta in Arabic, but the name comes from Persian origin. It is popular in many cuisines such as Indian, Greek, Albanian, and Turkish cuisine. The latter has over 200 hundreds of varieties.
In Jordan, and Palestine we say kofta, kefta, and kafta sometimes. My husband says its kofta only, he hates it when I say kefta! I did argue with him that we should look up the root of the word, in order to know how to pronounce it. We didn't do it of course, but after I did my research now, I can say kofta in a loud voice with confidence.
This is one of the meals that mom cooks all the time. You can make it ahead, and freeze, and actually it tastes much better with time. There are many reasons. To mention a few, the protein starts to degraded into amino acids that interact with starch, and other ingredients in your meals. Moreover, when the dish is cold, the aromatic herbs, and spice have its chance to shine. Have you ever tried leftover stew?
I love this basic version, comforting, healthy, and it reminds me of mom. I really love having this meal.
Peas and carrots 
Do you know why you should eat peas? here is why:
Green peas are very nutritious, they are high in fibers, protein, and a low calorie food.
They have great amounts of vitamins like A, K and folate. Plus minerals such as manganese and iron.
They are staple in my house, I don't know why food bloggers neglect them! Maybe because they are not flavorful enough, and sometimes they got mashed in cooking.
Carrots are nutritious too, having more than RDA (recommend daily allowance) of vitamin A, and has other vitamins too. This study shows that carrots protect from prostate cancer  but we need more studies to confirm this result. Also drinking carrot juice increase the antioxidant status in the body.
Another reason why this stew is healthy, the lyecopene antioxidant in tomatoes is in greater amount when its cooked. I like to add both raw tomato, and tomato paste, and cooked them together, it gives you the ultimate taste with great health benefits.
Now lets get to the recipe!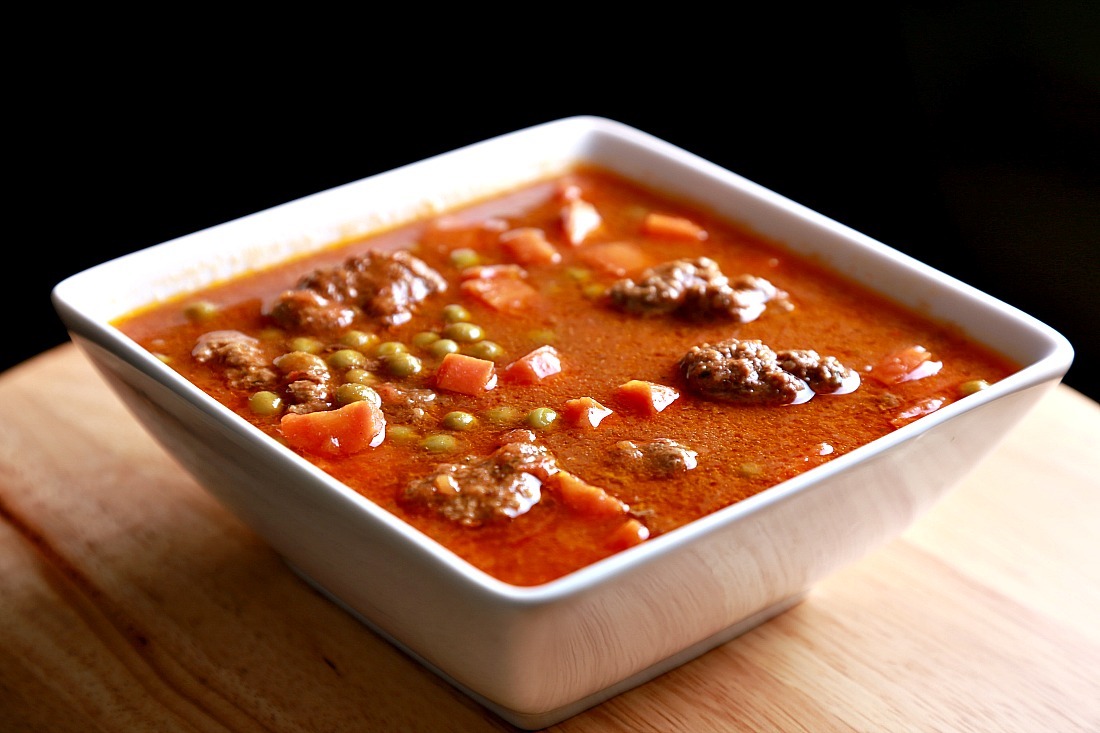 Here are more delicious meatballs recipes by fellow bloggers that you can make:
Moroccan lamb meatballs with toasted fregula by kevin 
Pineapple barbecue sauce meatballs by Katerina
Skinny Thai chicken meatballs with peanut sauce by Jo
Cheese stuffed Apple chicken meatballs by Erin 

Meat Balls Stew with Carrot and Peas
Ingredients
2 Tb sunflower oil
1 lb of ground beef
1 cup of parsley
1 small onion
A bag of frozen peas
6 medium carrots
3 medium Roma tomato
4 Tb tomato paste
Water
7 spices or a mix or ground black pepper, cinnamon , cloves, cardamom , coriander, cumin, paprika
Optional:
white short grain rice
Instructions
In a food processor, mince onion, and parsley until they become very fine.
Add meat, spices, and mince them together until meat becomes like a dough.
Heat an open pan, add oil , and make sure it covers the pan completely, add more if necessary.
Shape the dough in balls, brown them for 3-5 minutes on each side.
Drop the balls in medium pot, add carrots, peas, tomato and tomato paste
Add spices, and enough water to cover them.
Let the stew boil, then leave it on low heat with the lid on.
Now serve it hot, with side of white rice.
Notes
You can use lamb or beef for kofta, both are actually good. I prefer lamb, but its not readily available here.

Don't skip the browning of balls to save fats, it's a crucial step.

The high fat is coming form the beef I used which 20% fat which is a lot, I usually use 10% or 15% . It depends on the meal
Nutrition Information
Calories:
475
Fat:
30
Carbohydrates:
18
Fiber:
6
Protein:
25
Have you ever tried kofta? Did you like it? If you are a blogger and loves kofta, share you recipe!