A creamy dreamy pomegranate chocolate smoothie that combines sweet and sour taste, it's packed with nutrients, antioxidants, and probiotics. Plus, it's gluten free too!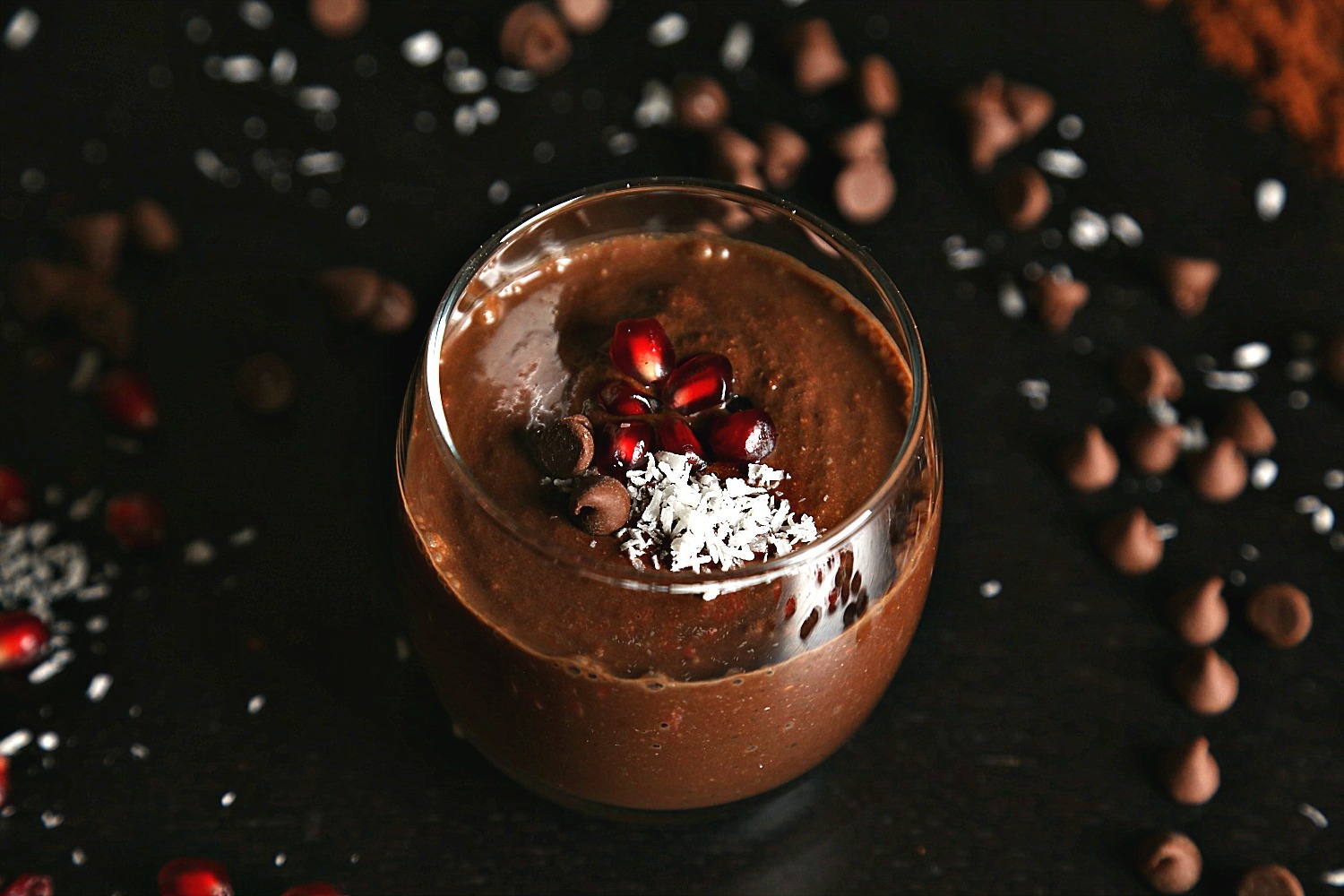 I wasn't a big pomegranate fan . I don't really remember having reddish full pomegranate fruits, some were pale reddish color, almost orangish, not so beautiful.  I don't know. Just a year ago, I started to buy pomegranate, because I saw food bloggers decorated their creations with them, and they were right because these little ruby jewels are so vibrant and beautiful, and full of nutrients too! And they have mildly sour and sweet taste! and fulfilling too .
Today is valentine day , and I see love, red hearts, chocolate , and chocolate covered strawberries! They are really very tempting. I don't really celebrate this day, but I used to go out with my husband for a special dinner. But now I'm seeing it as a chance to show love, the thing it's badly missing from our lives. We see brutal things  every day, so what's wrong with showing some love? Now let's celebrate it the healthy way.
Pomegranate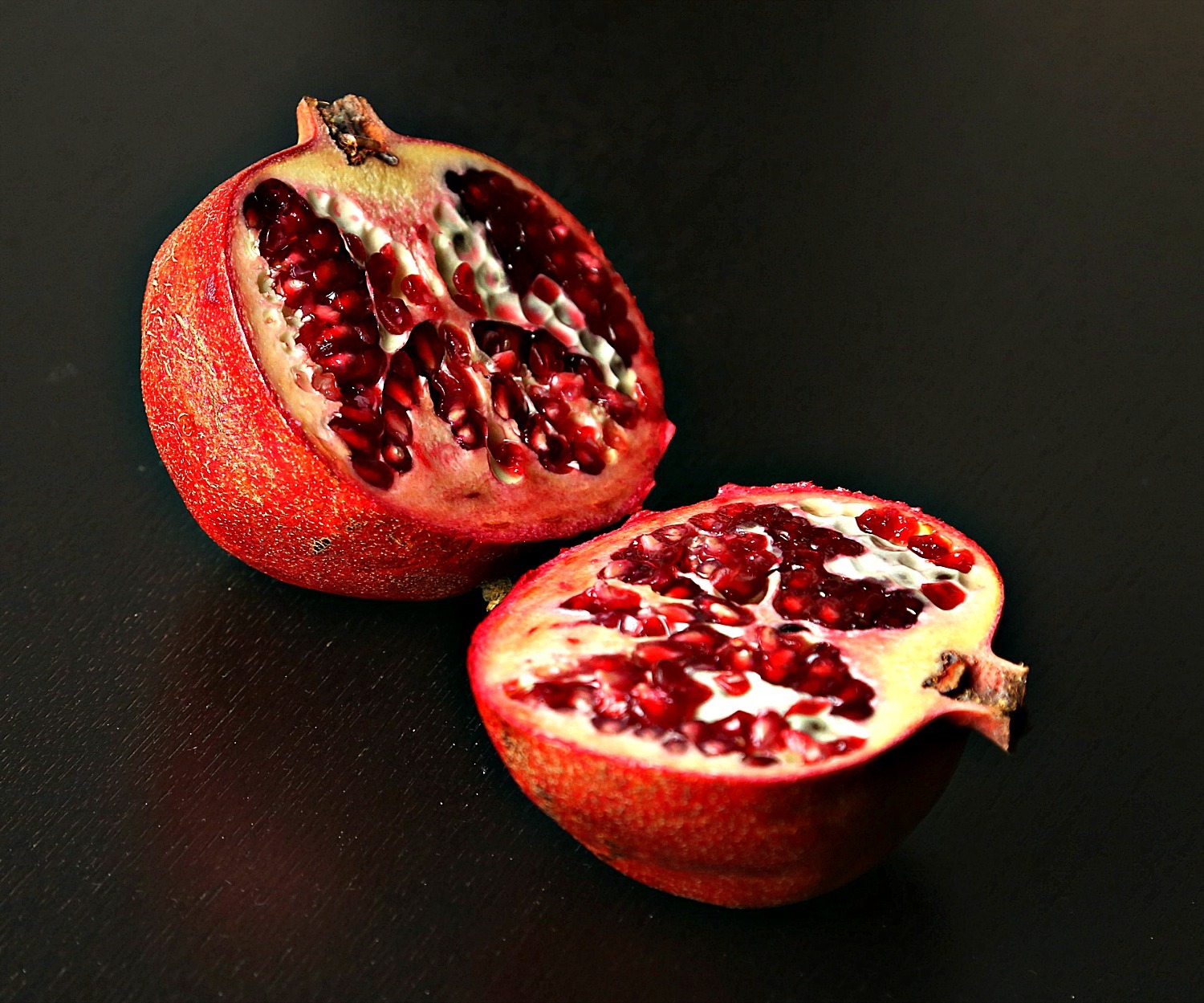 A fruit (super food) that is native to the Himalayan regions of India, but now has been cultivated in the Mediterranean region. It contains hundred of edible seeds that have red colors hat comes form the pigments of .,,  its really a power house of nutrition.
Why do you need to include pomegranate in your diet:
From ancient times, pomegranate was used in traditional remedies to fight diarrhea, dysentery. They used the bark, and the peel too. There are so many studies done in the last decades on pomegranate to prove it's health benefits against many diseases. Let's mention some :
It is relatively low in a calories, and fats. a great source of fibers, folate , vitamin C and Vitamin C and potassium.
It's antioxidant capacity and pigments makes it ant-inflammatory, anti-bcaterial too.
It shows anti-cancer effects , and has role of prevention and treatment for prostate, breast, lung, colon and skin cancers.
Pomegranate juice can lower blood pressure .
cardiovascualr diseases.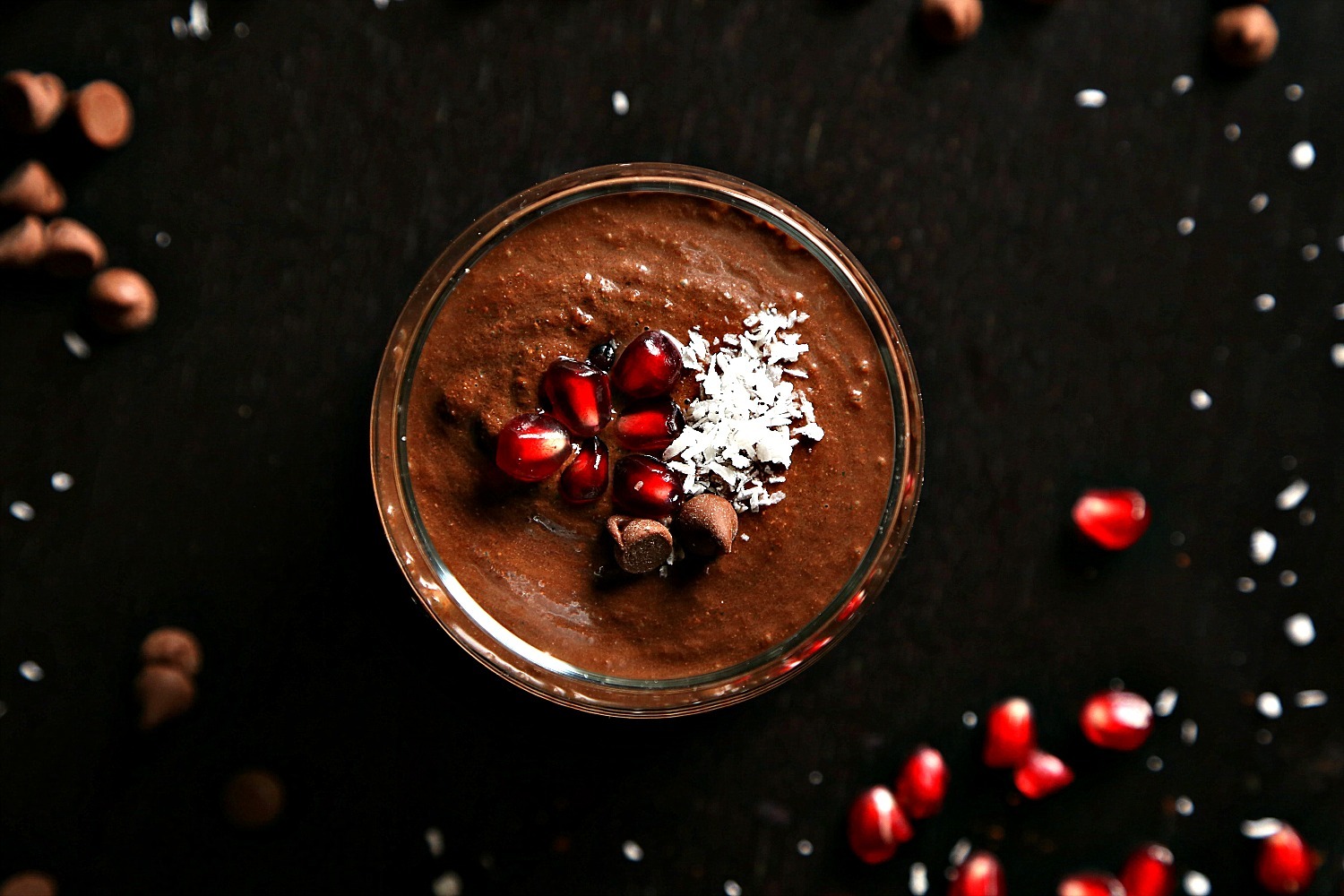 I used pomegranate in the smoothie, to support local farmers, pomegranate is healthy and affordable and all the health benefits can be a real gift for anyone you care about. You don't have to use strawberries and  fancy raspberries. Pomegranate is even healthier!
Let's go to the recipe! Enjoy!
Pomegranate Chocolate Smoothie
Ingredients
1 cup of Pomegranate arils
4 Tb yogurt (strained)
A handful of mint
A handful of parsley
Half an avocado
2 Tb coco powder
Optional:
1 Tb chocolate chips (dark of milk)
Water (optional)
Instructions
In a small bowl strain yogurt to get rid of the water*
Mix coco powder with yogurt in a small bowl.
Add avocado, pomegranate , mint and parsley in he blender, and add yogurt mix gradually.
Mix all until you get a smooth consistency and the smoothie is drinkable
Refrigerate any leftovers.
Notes
You can keep the yogurt un-strained, but it's water many not get you a think consistency. you can water the water of yogurt (whey protein for other recipes)

Add water if the mix is too thick. Plain water or the yogurt water you strained